The Neve was another traverse that had been on my to-do list for an age (or at least since I arrived in September). With the ski season rapidly coming to an end, it was the final chance to do the classic ski traverse. Everyone always talks about how 'easy' the Neve is (although, it's rated as an advanced traverse), so Myself, Duncan Pawson and Alexandre Jobin decided to do it in a single day rather than the usual two or three day versions. To top it all off we also wanted to summit Mt. Garibaldi the same day, a serious undertaking but we thought it was an achievable goal as we were experienced skiers.
On Friday the 28th of April, the day after I had finished my final exam in UBC we set out to do the traverse. I collected the guys at 2.15AM and we drove to the Diamond head parking lot, just East of Squamish. We had only the bare minimum with us in an effort to shed weight; Avi gear, Glacier equipment, 2 litres of water and some food for the day and that was about it. Because of my small pack, I couldn't even fit my emergency blanket, which I would usually bring on these days. We hoped that with our light packs we could bomb along, although there is no doubt that some essential emergency gear was left behind.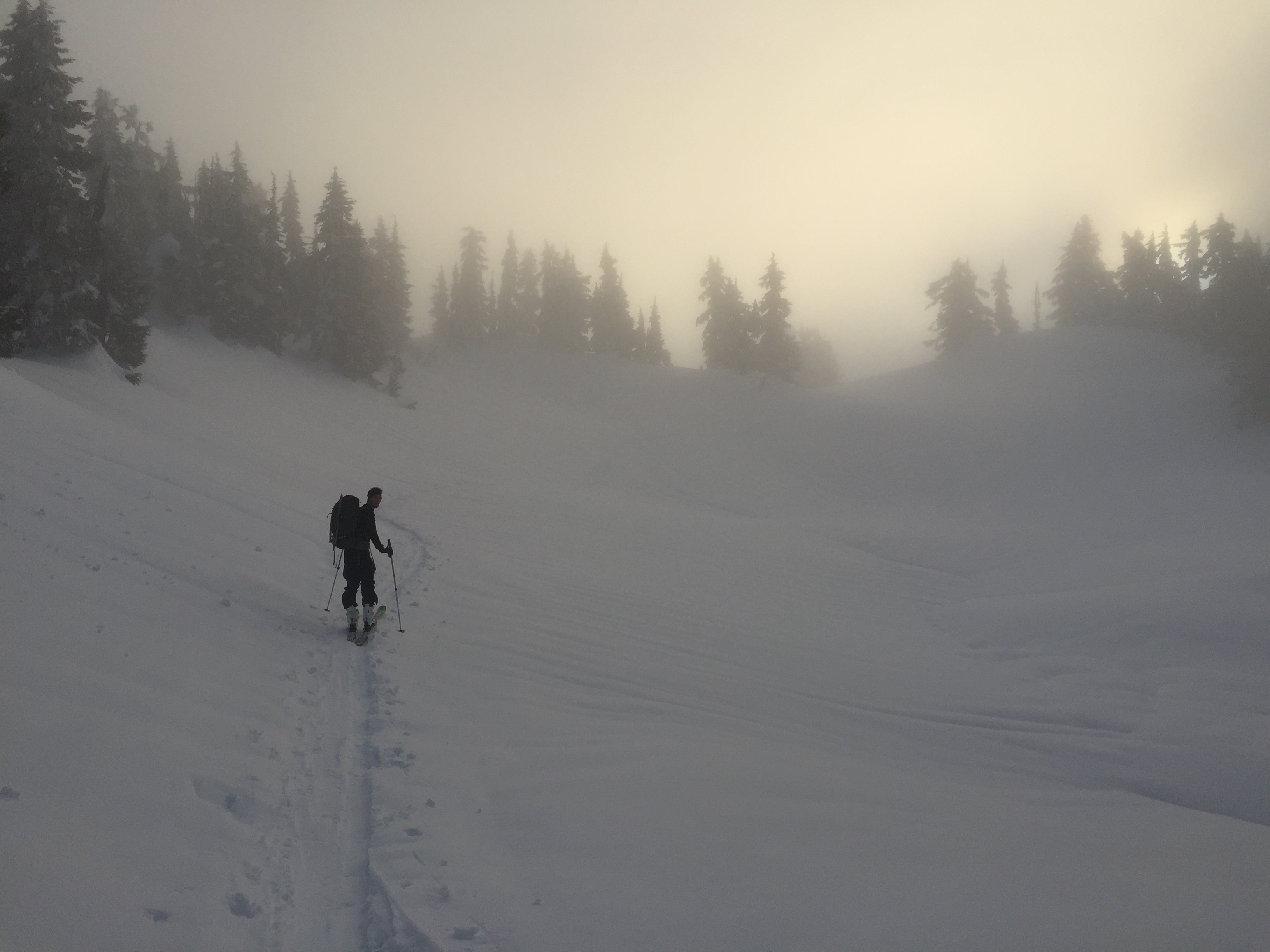 :-: Alex, an early-morning skin up to Elfin lakes, Shane :-:
We were able to start skinning directly from the trailhead at 930 metres, where we had parked and after only a tiny bit of expected faff, we set off at 4.30AM. We were following the Elfin lakes trail North-Eastward where 11km away, the Elfin hut sat. The hut is booked out summer long and has spectacular, uninhibited views in all directions; from the Mamquam Icefield in East to the mysterious Tantalus range across the Squamish river to the West. However, there's no doubt that during the Winter it's a lot more barren and it's common that all 33 bunks will be empty.
It was a simple trail to follow and after about an hour of speedy skinning we had reached the 5km mark at the Red Heather warming hut. I had been on the trail once before, on a sunny October weekend when I had had an unexpected encounter with a mama black bear and her two cubs, only 20 meters away from us. The worst-case scenario turned out fine as she seemed disinterested in us and plodded on her way.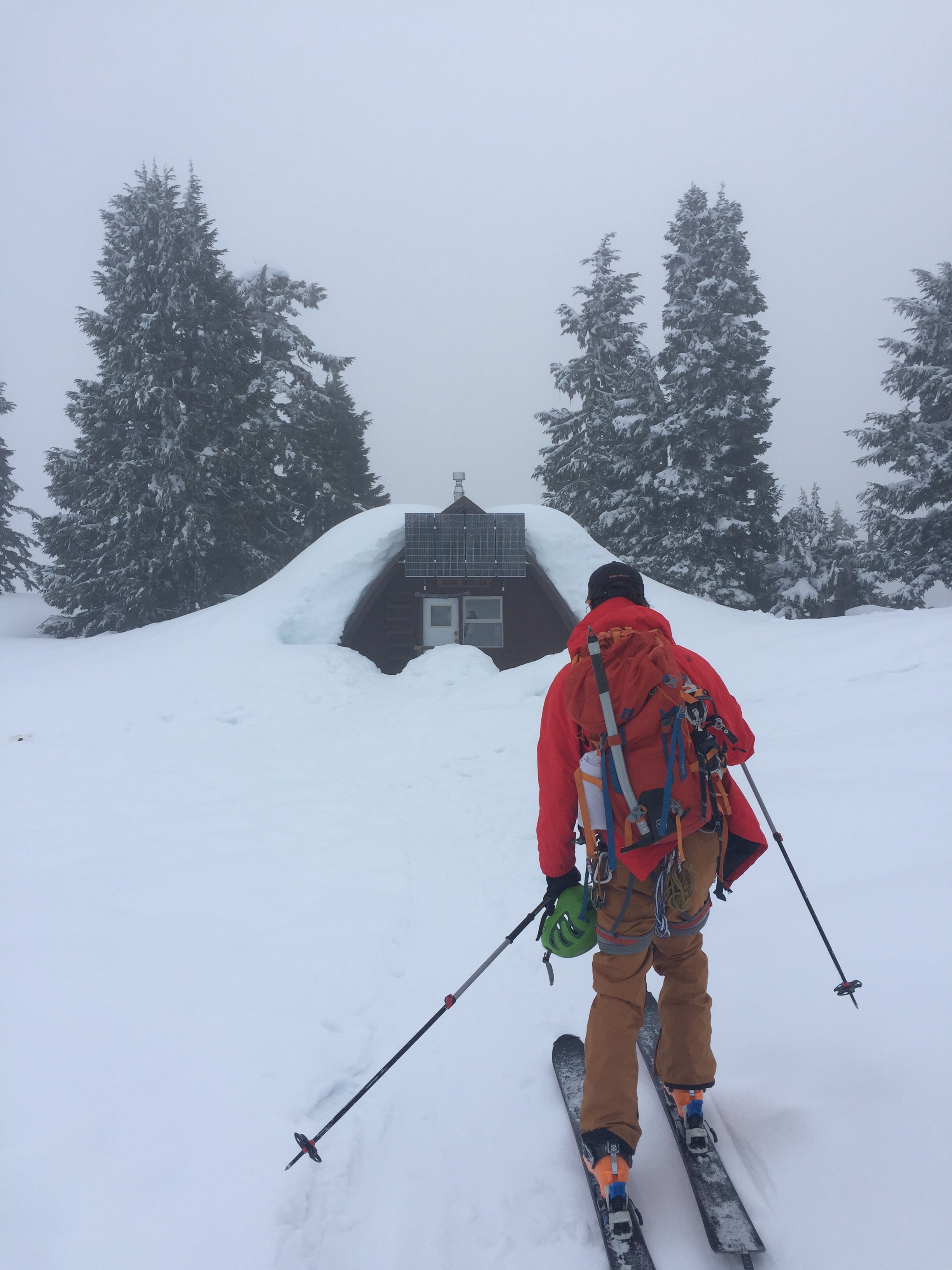 :-: Duncan, arriving at Elfin hut, Shane :-:
My tiny 32 liter backpack was a little heavier than expected – I was carrying the glacier rope and had 2kg of pasta (yes, seriously. A little overkill, I know…). I carried on at a decent pace, although slower than I would have liked and after 3 hours of touring, we hit Elfin hut at 7.30AM. It was a lot whiter than I remembered, the glacial-blue lakes beside the hut were completely frozen over. The weather was in-and-out; the beautiful blue skies that were predicted seemed to be shy of us. Little Elfin was a grimmer scene than I had painted in my mind. We stopped for a quick five-minute rest inside the hut, grabbing a mars bar and enjoying the surprising warmth inside– it seemed that someone had stayed there the night before and had turned the heat on (a luxury few huts have).
The easily navigated trail diminished somewhat as we made our way Northward past the hut. Luckily no wrong turns were made and soon we made it to the infamous Ring Creek, just East of Columnar Peak and the Gargoyles. There was evidence of giant avalanches recently passed, huge snow and ice boulders were strewn everywhere making navigation down the face very tricky business indeed – I'm not ashamed to say I fell more than a couple of times. It was not a pleasant place to be hanging around, we were bathed in sunshine and the snow would start getting unstable soon, best to be out of these sorts of places.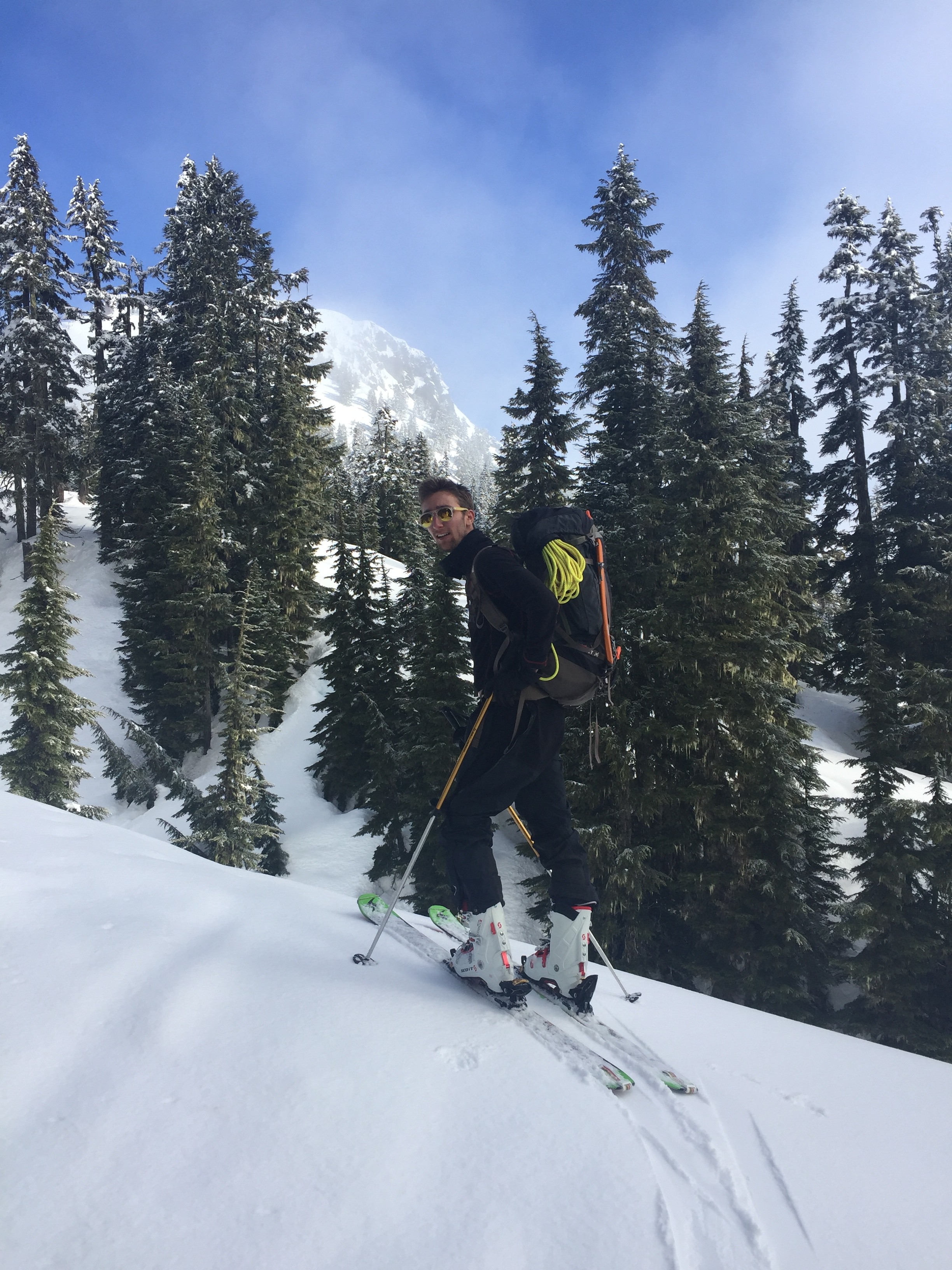 :-: Alex, just before hitting Ring Creek, Shane :-:
After enough falls, we safely made it to the base and could start the long skin from Ring Creek at 1300m to the start of the Garibaldi-Neve glacier at 1700m. The heavens had completely opened for us at this stage and the deep-blue sky was dotted with the occasional Toy Story cloud. It made for picturesque views as we skinned the gentle slope towards Opal Cone. A lone skier was breaking trail about a kilometre ahead, making it a wee bit easier for us. It was very relaxing, I have to say – although perhaps a little too relaxing on my behalf as I started to fall behind quite drastically. Duncan and Alex are extremely strong skiers and the fittest divils you'll meet; I wouldn't take myself as being slow, but my pace certainly wasn't matching theirs. They would ski ahead and then wait about 10 minutes for me to catch up, an unsustainable pace for them, it would seem.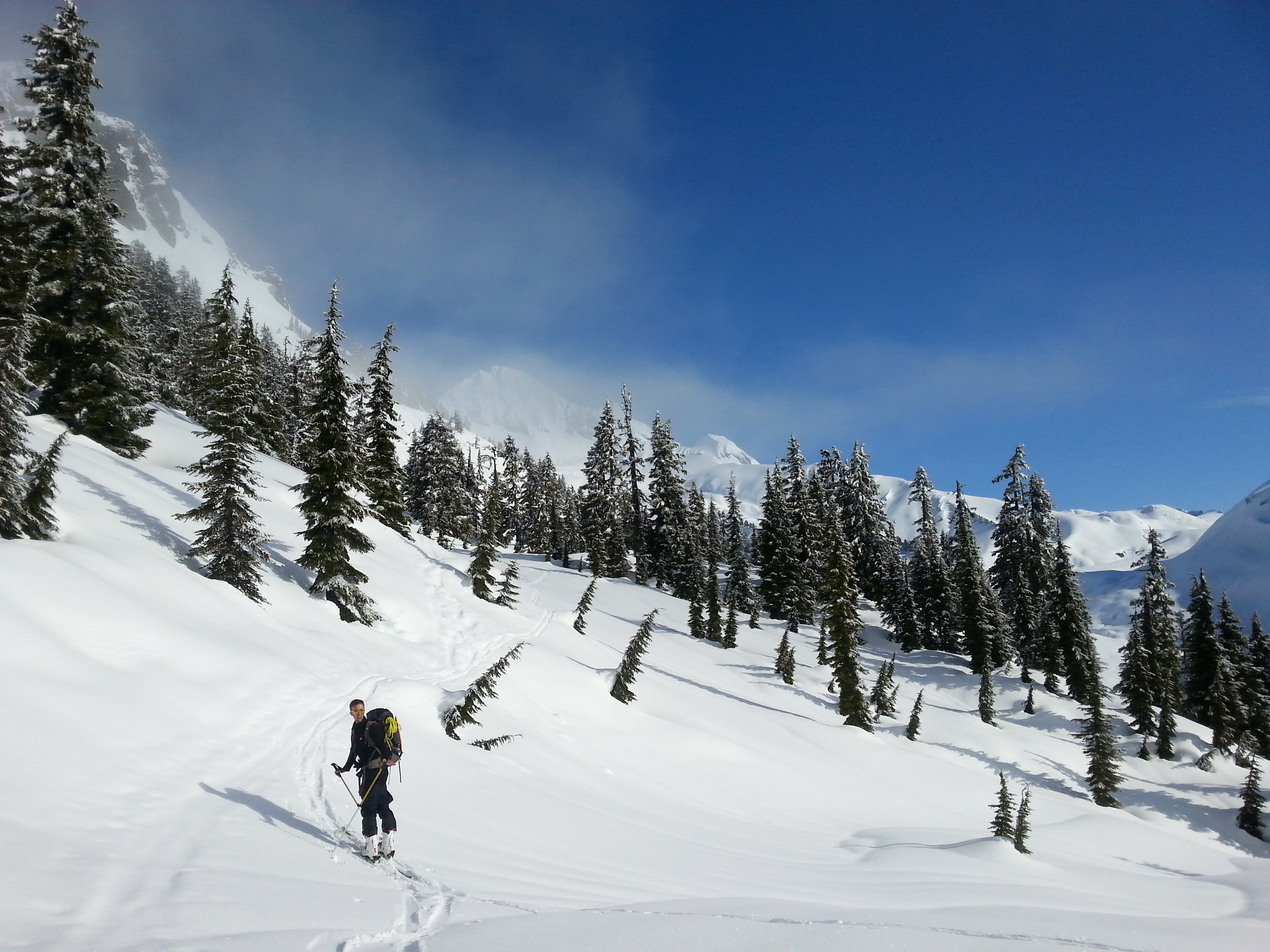 :-: Alex, just before hitting Ring Creek Pt.2, Duncan :-:
Eventually, at about 10:45AM, we reached the beginning of the massive Garibaldi-Neve glacier and they announced that they would like to continue together to reach their goal of summiting Mt. Garibaldi. I agreed to this as I felt guilty to be slowing the group down; We had seen a couple of people about 2km back, coming up from Rubble Creek and I thought I might join them instead as they seemed to be going at a gentler pace.
I bid farewell and good luck to my buddies and watched them disappear into the distance on Garibaldi glacier as I waited for the other two skiers. I sunbathed and monched on my pasta while I waited – a rather enjoyable experience, truth be told. It was a deep heat from the sun; the light bounced off the white snow and it warmed me to my bones. The valley came alive with sound while I rested; every thirty seconds or so, there would be an almighty crack as some faraway snow feature collapsed due to the warming. I was glad to be in a safe place, it sounded unsettlingly unstable.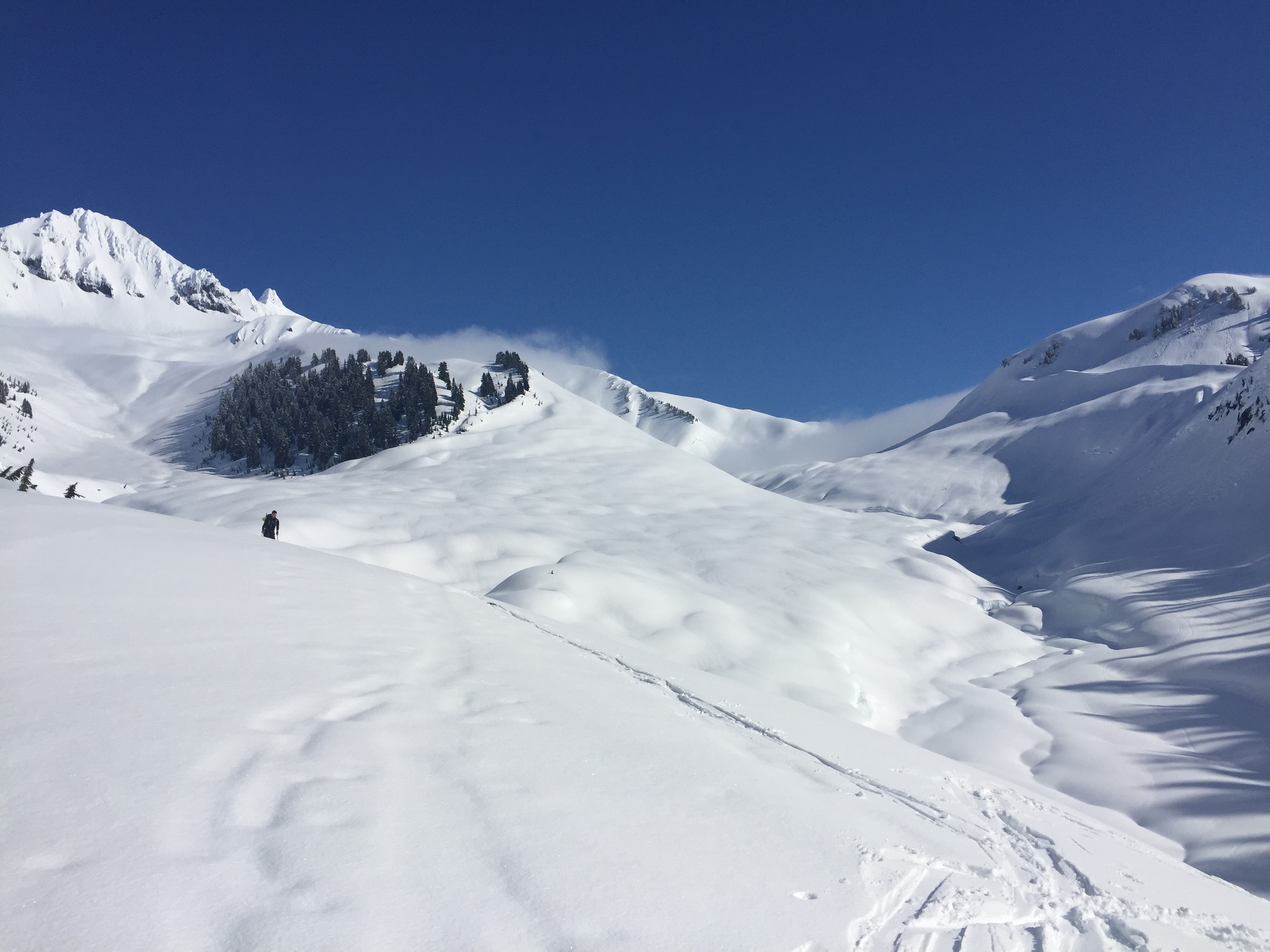 :-: The wonderful view over Ring Creek, before the perilous decent, Shane :-:
After about half an hour the two people arrived and they were lovely! Erin Elena had been in VOC a few years back and as it transpired I knew Julie Aeyelts roommate, Dylan Heerema – in fact I had toured with him only a couple weeks before on the Spearhead traverse! What a small world it is that in the middle of nowhere, I somehow had connections to both these ladies – it's a tight-knit mountaineering community, really. It also transpired that they were the people who had stayed in Elfin hut the night before and warmed it up so nicely for us.
We chilled out for another fifteen minutes or so as they got their breath back, ate some food and applied more sun cream. After enough time doing nothing, I think we were all ready to go. And so, at nearly 12 noon we set off across the ginormous glacier. I was confident that we could make good time across the glacier as it was a mellow incline. We followed Duncan and Alex's tracks but then, to my surprise they seemed to veer Eastward – It seemed way too early to be turning off and according to my map The Neve traverse pretty much went North right across the glacier. The three of us mutually decided that they had taken a wrong turn and we instead followed my compass which we followed due North.
:-: A relaxing tour up the creek, Shane :-:
"Only a fool goes out in the midday sun", said someone famous. It was true enough here, the high noon sun enveloped us in its heat which was only exacerbated by the reflective, white snow. I could feel sun cream mixed in my sweat dripping down my forehead – it stung my eyes and I had to wipe them clean a couple of times. I had already drank a liter and a half of my water leaving only half a liter for the rest of the traverse. This sun was sucking the moisture out of me, soon I'd be parched and prune-like. Luckily the girls had a stove with them so we could melt some snow if we needed.
Duncan and Alex had taken my glacier rope with them when they had left to do Garibaldi, so we were navigating the crevasse field without the safety and there was evidence of crevasses everywhere. We zig-zagged across it, avoiding the sags that were everywhere. We knew that in fact many of these were just wind-swept features, but we had no way of telling so we tried avoiding as many as we could. This made for very slow navigation and our distance was probably tripled due to our caution.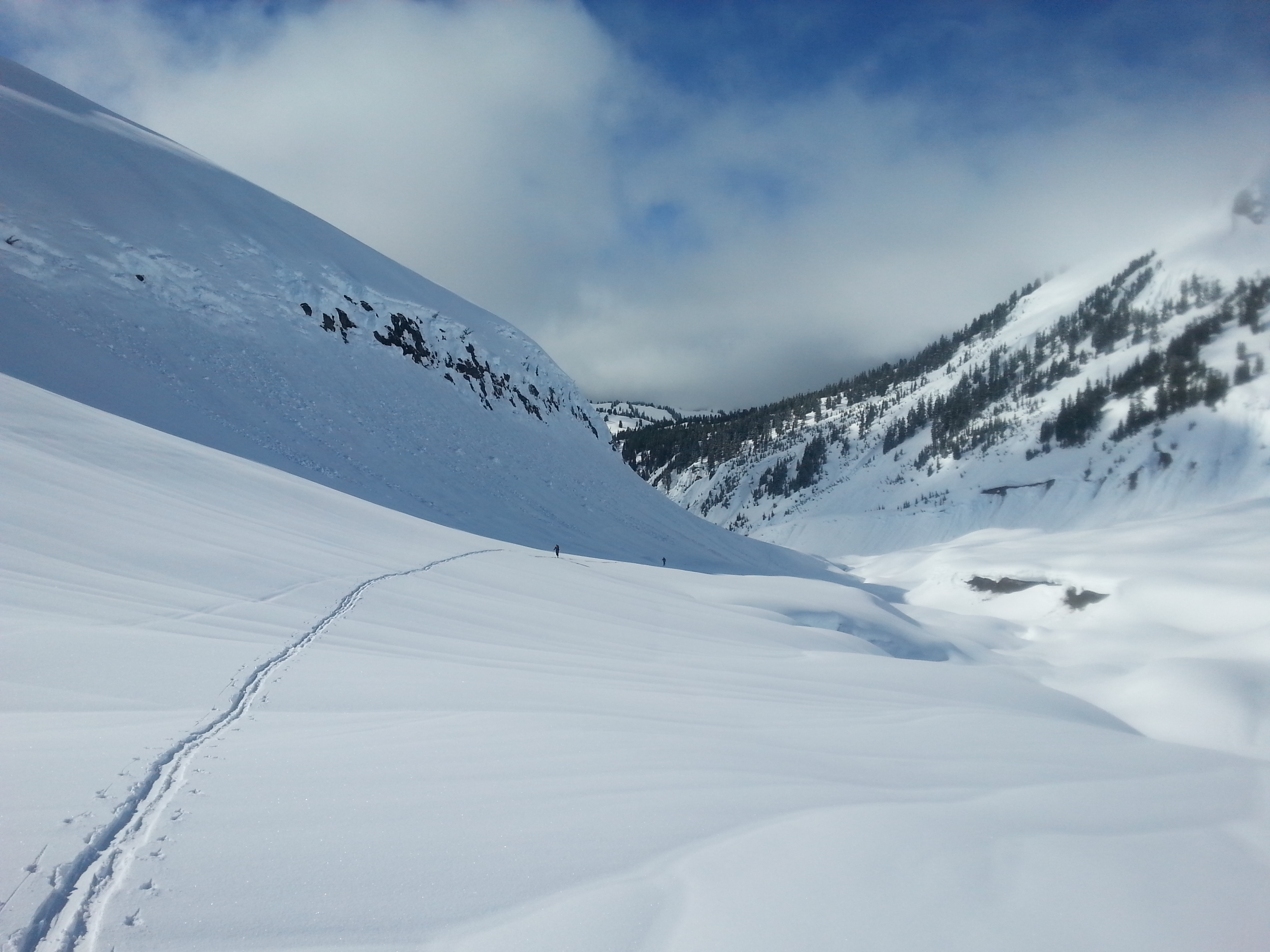 :-: The view back down Ring Creek, Duncan :-:
The weather had started to close in at this stage and we could see a storm front catching up with us from the south. I'd say we probably had an hour until the snow hit and I really wanted to be off this glacier when it did. We had covered a great distance and we could look back for kilometers of flat and see the direction from where we came (well… if it wasn't shrouded in a low-hanging cloud), it was quite a spectacular sight.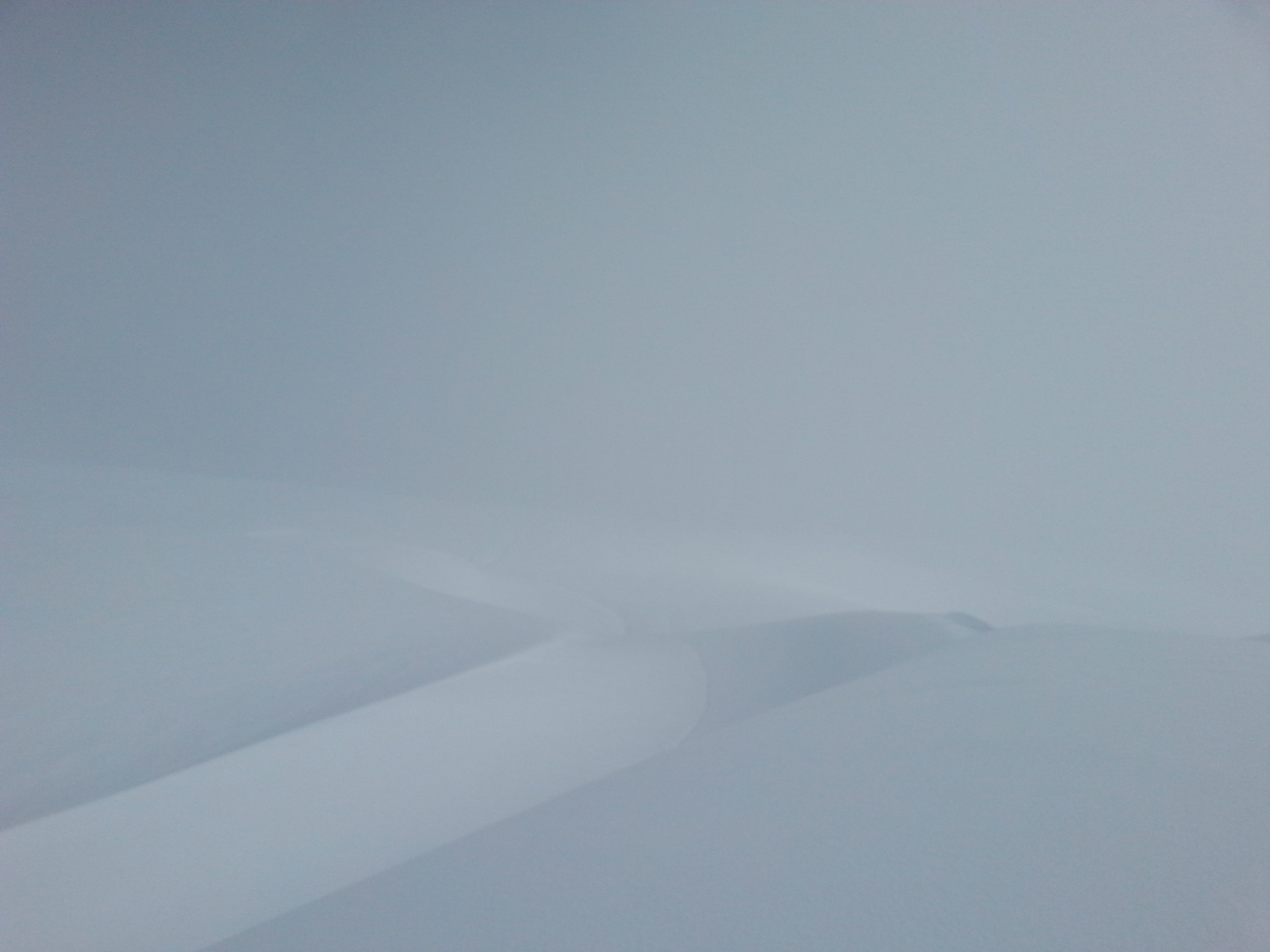 :-: Fantastic visibility on the Garibaldi Neve glacier, Duncan :-:
Up ahead it seemed to gain altitude a bit and this was promising, it did seem that we had traveled quite a distance without gaining much. We were about half-way up the slope when the storm finally caught up with us and bucketed with snow. We tried to navigate in it, but that didn't last very long as soon we could see nothing at all. We decided to instead hunker down and wait for it to pass.
We waited about 5 minutes to see if it would ease and when it didn't we started to dig a snow hole and put a tarp over the top of it. We all got under its shelter, happy to be out of the cold; what a difference from just a couple hours back! From sunbathing to snow-sheltering. We melted some snow when we were there and filled all our Nalgene's again. I had gone through a full 2 liters by that stage and it seemed obvious at this point that I had not come fully prepared, it was lucky I was with Erin and Julie. No matter! We were nearly off the glacier, we just had to get over this final lip and then we would be at the Garibaldi junction – this was where I had arranged to meet the guys after they had summited.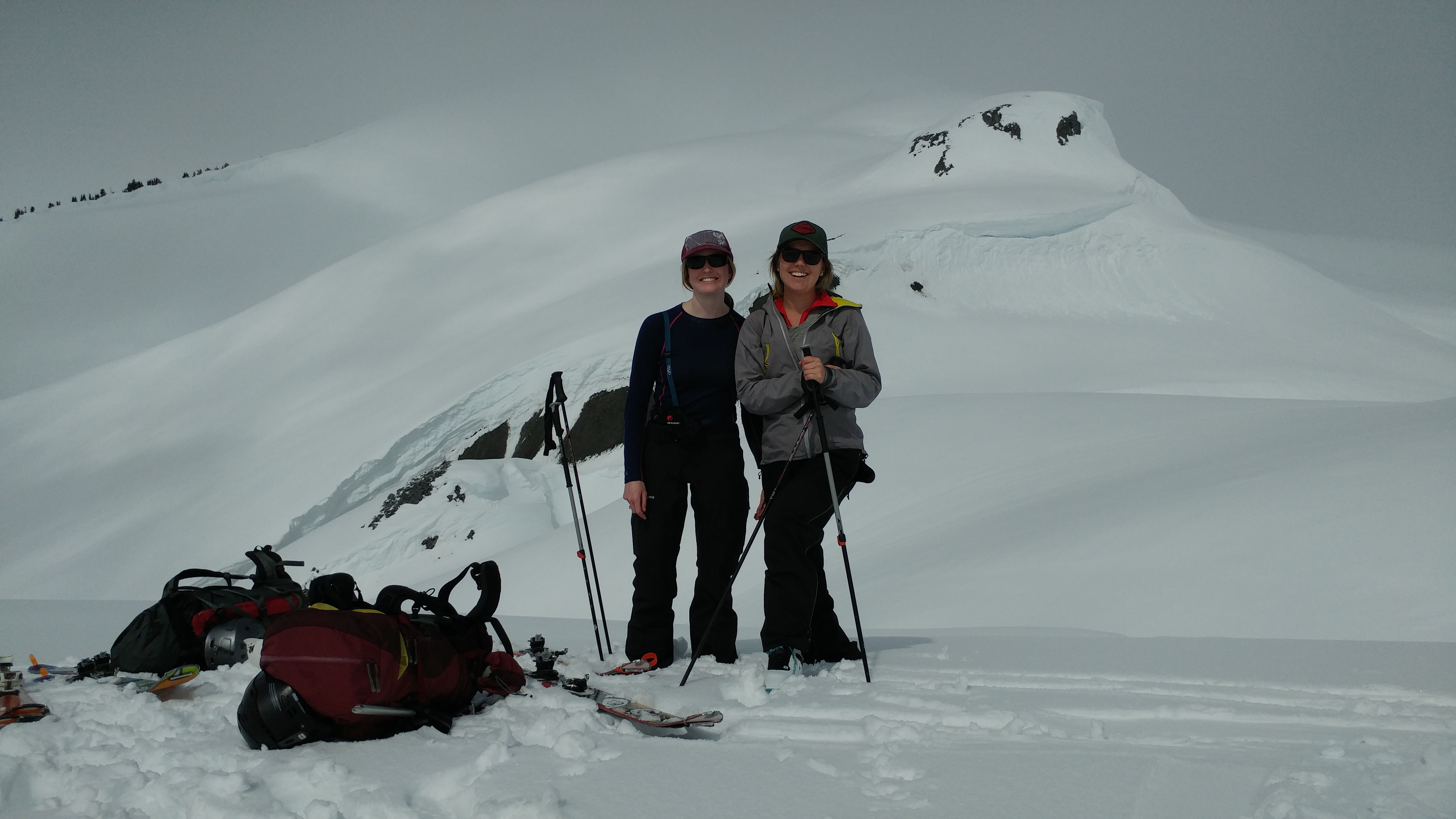 :-: Erin and Julie, Before starting to cross the glacier, Shane :-:
Before too long we could feel the warmth of the sun once more, beaming through the tarp, it seemed that we had scored a brief weather window. We quickly packed everything up and moved on while we had some visibility. Then we made it – we had got to the top of the slope and stood atop a round hill. "I think it's about time we take off our skins, Garibaldi lake should be just below us!" I said enthusiastically. We got some photos and absorbed the views. Enjoying the victory.
And then we started to question the views. Where is the Sharkfin? We should be right by its base. And then we started to question if we were actually at the junction. Shouldn't we see the others tracks? And then we started to realise that something had gone wrong – very wrong. Where were we?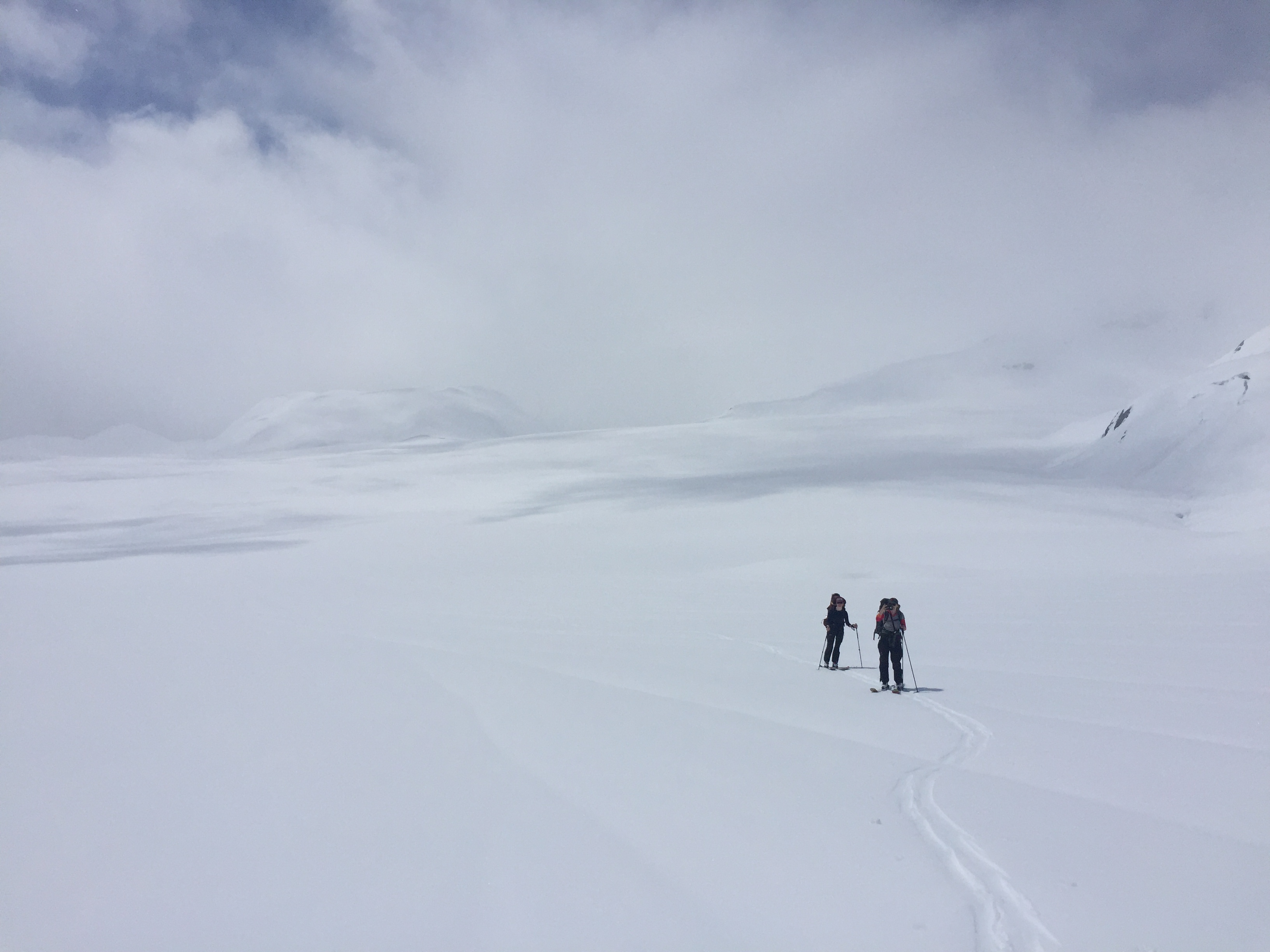 :-: "Photo or it didn't happen", white for miles on the glacier, Shane :-:
It took some time to work out that we had somehow travelled to the completely wrong side of the glacier, way further East than we were supposed to be. In fact, we were now between Bishop and South Pitt glaciers and right beside Viking ridge, kilometres off where we were supposed to be. And then we saw it; way off in the distance to the West was the Sharkfin – where we were supposed to be.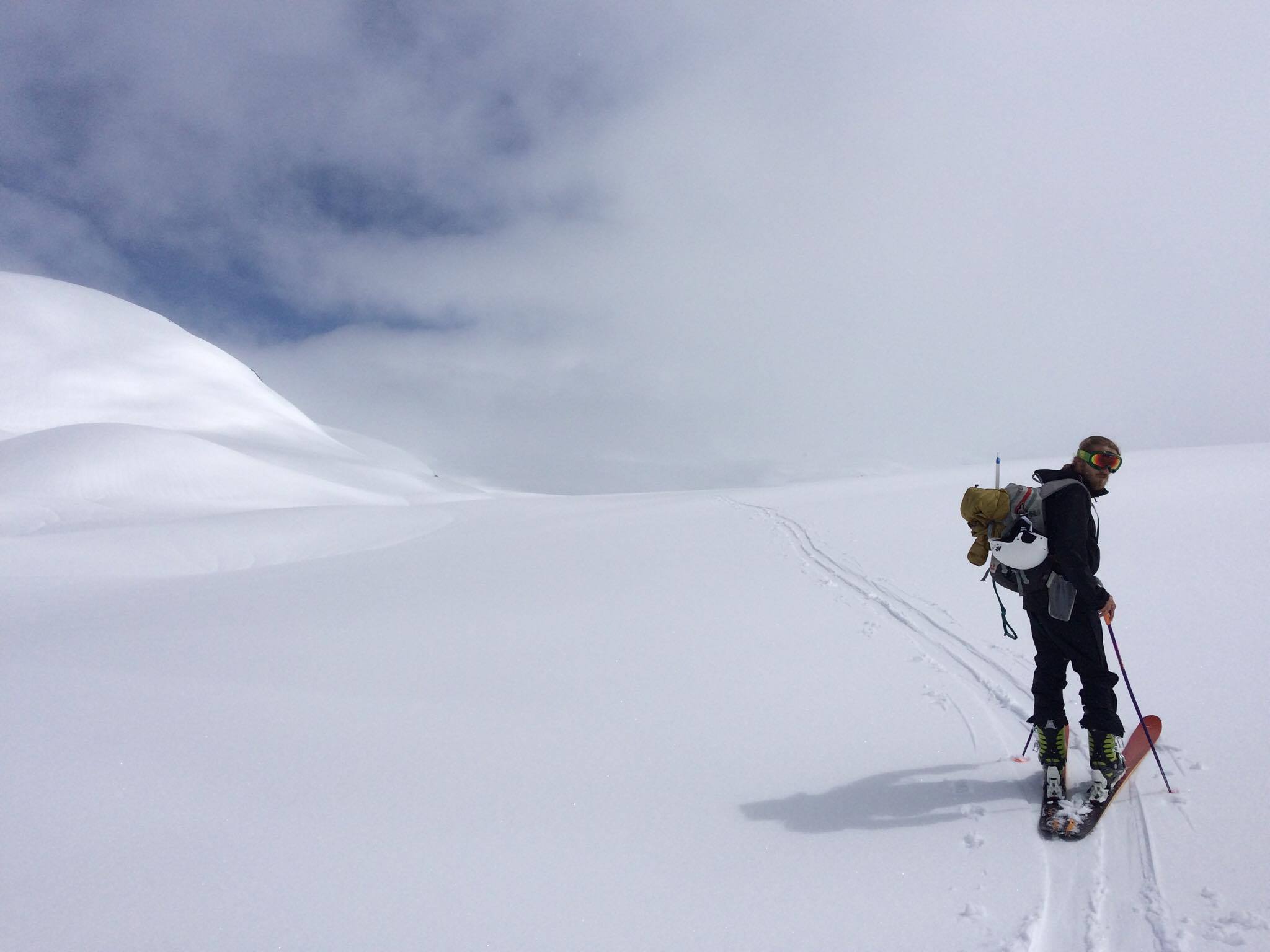 :-: Me, myself and a glacier, Erin :-:
Oh shit. It was about 2:45PM at this stage and way later than it should be. What a difference our predicament was now to just a couple hours ago; the possibility of having to dig a snow hole for the night was now very real. I think the worst part of all was that I had told my girlfriend, Georgie that I would be home at about 7PM that night, clearly that was not going to happen and I had no way of contacting her! The girls had sleeping bags and I knew that I could shelter with them, the last thing I wanted to see was a helicopter flying overhead.
I knew instantly how this had happened and it wasn't as obvious as it seemed. For the first time in my life my lack of compass declination calculation had screwed me over. See, your compass points to Magnetic-North, which changes year-to-year, but your map is drawn with respect to true-North. When following compass bearings I have always been told how important it is to take declination into account (which is the difference between True-North and Magnetic-North and currently this difference is about 16 degrees East in South-West British Columbia). But I never really did this and to be honest it had never caused me a problem… until now.
:-: Sheltering from a storm on the glacier, Shane :-:
A small bit of panic set in as we tried to determine a new route of getting back on track. Cliffs lay just North of where we were and to our West, preventing us from cutting back to the trail easily. It seemed like the only option was to go back the way we came and so we did. We started the long skin back down the slope following our up-tracks, although this time being far less cautious of the sagging – dodging only the largest. I was really anxious to finish the traverse and a wee bit of type 3 fun had set in, if truth be told. I was bombing ahead, fueled by adrenaline, trying to find the quickest way up to the Junction. The girls were being much more methodical and cautious; as emergency nurses, they knew the importance of keeping a cool head and thinking rationally.
I saw a steep slope off the glacier and there was a single set of skin tracks that led up it (it was probably that lone skier we had seen hours earlier). I stopped and waited for the others to catch up and then expressed my desire to follow the tracks. I was blinded by my urge to get out of this place, and I know that now, in hindsight. It was a 45 degree face that had been warmed all day by the sun and to top it all off, there was a huge bergschrund at the bottom of it. What in the world was I even thinking? It was the classic lemming line mentality, I saw another persons skin tracks and that gave me a false sense of security – this was avalanche central. It would have been a stupid thing to do and the girls told me that – grudgingly I accepted that we would not be taking the shortcut and we continued to follow our tracks back the way we came.

:-: Enjoying the wrong view, near Viking Ridge, Shane :-:
And then we were back where we had been four hours ago – at the turnoff where I thought that Duncan and Alex had gone the wrong way. It was now 4PM or so but at least we knew where we were…ish. I was still adrenaline fueled and eager to keep a good pace so I stormed up the face, scouting ahead to see where the trail went, stopping every so often to wait for the others. The visibility was very on-and-off and we would go through bouts of being able to see nothing at all.
Eventually we reached a point where my map said to 'stay below rock spur'. I could see the rock spur, but the tracks kept going uphill and above it. This time it seemed that the guys really had taken the wrong turn. I edged down to check out the conditions on the supposed trail – I saw a huge open crevasse and a bergschrund to match it right where we were supposed to go and to top it off the visibility was pure awful. There was no way I would be trying this unless I could see and so we waited. We waited about 10 minutes but to no avail, the cloud just didn't seem to be lifting.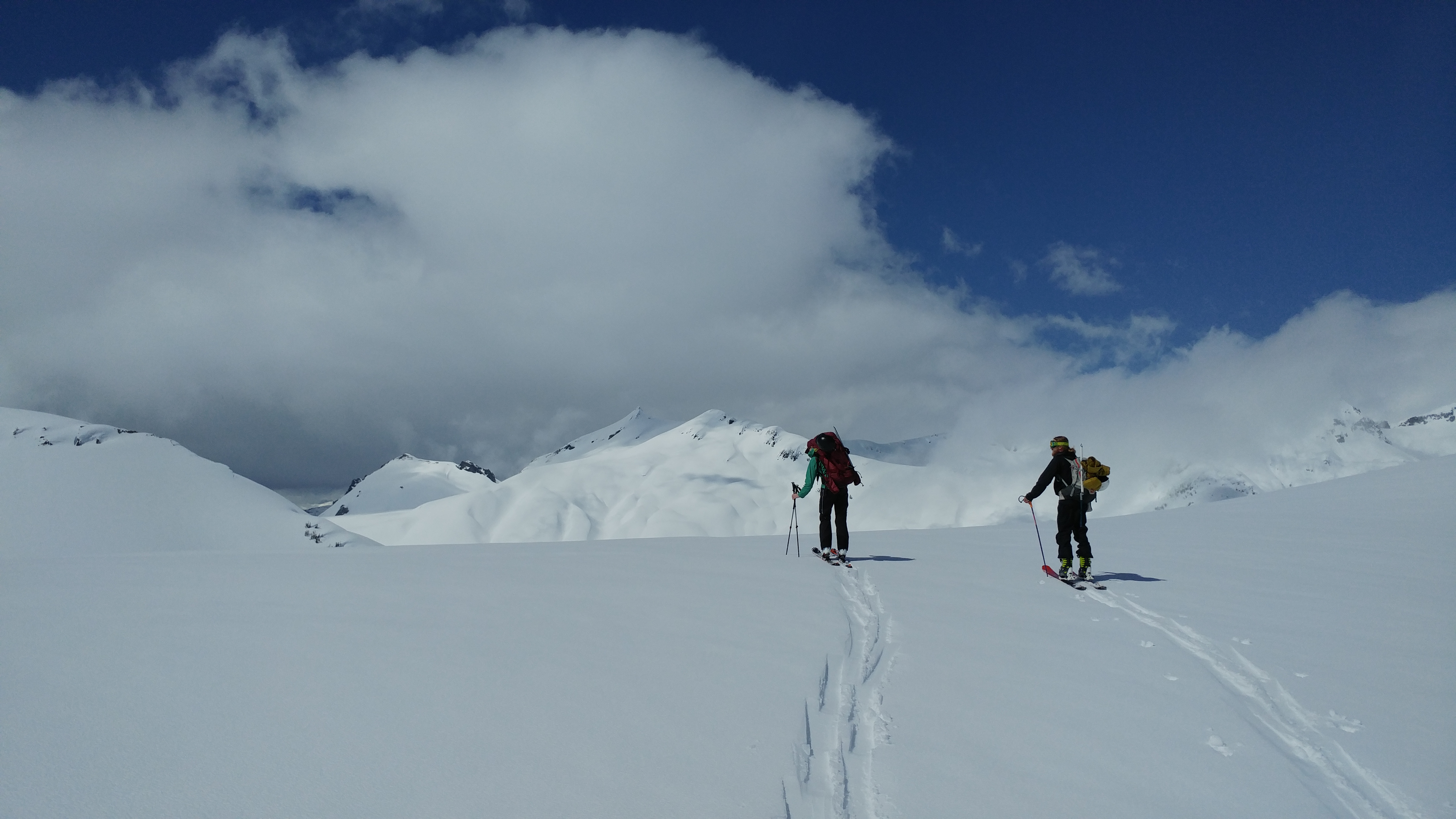 :-: Enjoying the wrong view Pt.2, Julie :-:
We decided instead to follow the guys tracks above the rock spur, safer it seemed than breaking our own trail. It seemed to go up and up and eventually it became apparent that we had hit the Diamond Head traverse, which is just West of the Neve and wraps around the base of the Tent and Mount Garibaldi which towered just above us. We were also a lot higher than we had planned to be and sat at nearly 2200m.
And then my phone dinged. And it dinged and it dinged and it dinged and messages flooded through and I had never been so happy to have technology in my life. We were at the Garibaldi Junction which as it turned out is the only part of the traverse with signal. I immediately sent Georgie a message saying that it was going to be way longer than expected and that I may need to stay a night. Next I sent Duncan a message saying that unfortunate things had happened and that they would have to hitch-hike back to Vancouver (I was supposed to be giving them a lift back). I was ecstatic, my mood was elevated immeasurably and there, right beside us, we could see the Sharkfin – the mountain and checkpoint we had been so far from earlier on.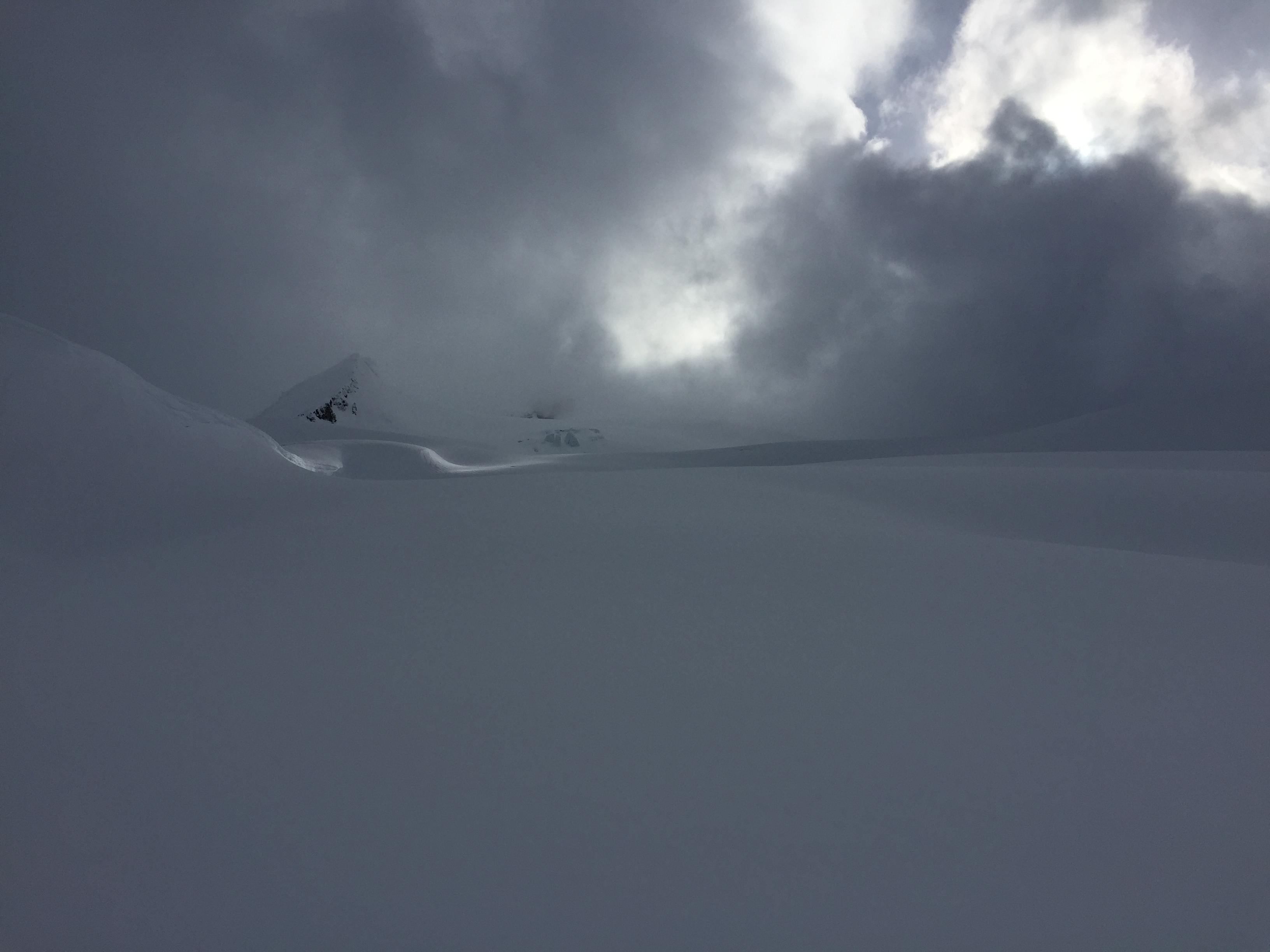 :-: Some Pathetic Fallacy - A storm brewing while we were lost on the glacier, Shane :-:
I knew that from here out it was 'easy'; we were only about halfway along the traverse in total and it was already 6PM, but at least we were off the damned glacier. There was two hours until sunset and there was no way we would be back to Erin's car by dark, in fact far from it, and we acknowledged that it would be a long, hard night. But at least now, the end was in sight (metaphorically). And so, we took off our skins and set off, we had reached the high point of the traverse and It was almost all downhill from here. Next stop: Garibaldi lake (1472m).
We skied down from the Junction and past the Sharkfin, enjoying the beautiful, fluffy snow despite our tiredness. It was perfect and there was 600 meters of it! We skied past some huge crevasses and seracs on the way down as we passed the Sharkfin. We were swathed in sunshine as we skied down, leaving the high mountain clouds behind us, shrouding Mt. Garibaldi and the Tent. It seemed that we had beaten the changeable weather system that is so infamous on the Garibaldi-Neve traverse.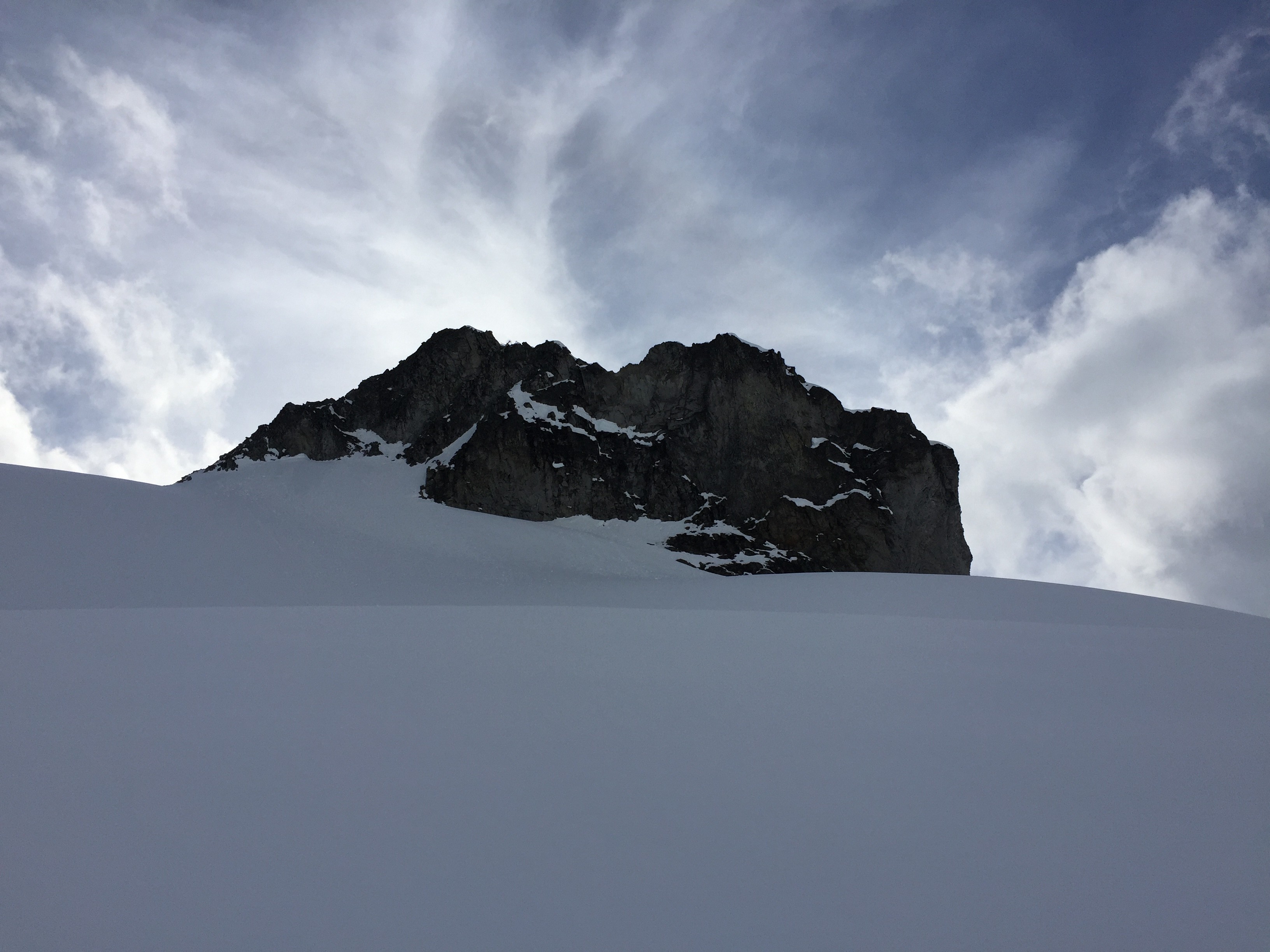 :-: The Shark Fin, Shane :-:
After a short time, we had plateaued out and reached another part of the Neve that was hard to navigate; to the West were beautiful powder fields that lead down to Warren glacier and a common wrong turn (although it does lead to Garibaldi lake, it takes a lot longer). Instead, we were to continue North through a col just beneath Glacier Pikes. We reskinned and worked our way up the col. It was only a short distance and would be our last uphill of the traverse – it's always that bit easier, mentally, when you know you don't have to worry about putting skins on again.
When we reached the top of the col we could look down and see Garibaldi lake, we were so close! In my mind, once we reached the lake we were basically done; the navigation was straightforward and it was all downhill from there out. I would kiss that lake when I got to it, I swore. The Spring snow was getting mighty slushy this low down and it was hard skiing, if not downright dangerous. Erin and Julie both had large overnight backpacks on which definitely did not make it any easier for them. It was a slow, methodical descent but soon enough we were by the lake's edge, just in time to catch the last blood-red rays of the sun as it dipped behind Mount Price.
:-: Leaving the Shark Fin behind us, Erin :-:
It was 8PM and we knew that this would probably be the last chance for a rest before we got back to the car and so we ate the last of our food and melted some more snow – filling up for the long journey home, which we estimated was about 5 hours away. When our bellies were full and our thirsts quenched and our energies replenished, we found that a new positive energy fell upon us – we were ready for whatever the rest of the traverse had to throw at us. And so, we set off into the dusk across the flat, white expanse of Garibaldi lake, doing that night what some people do in a whole day.
There was 6km to cover across the lake and it was a renowned one-foot-in-front-of-the-other grind. We skinned into the clear, moonless night, following the light of our headtorches. We passed by VOC's Burton hut as we crossed the lake but the possibility of staying a night there didn't really appeal to us – we wanted to get home tonight (in hindsight, there wouldn't have been any harm staying a night there).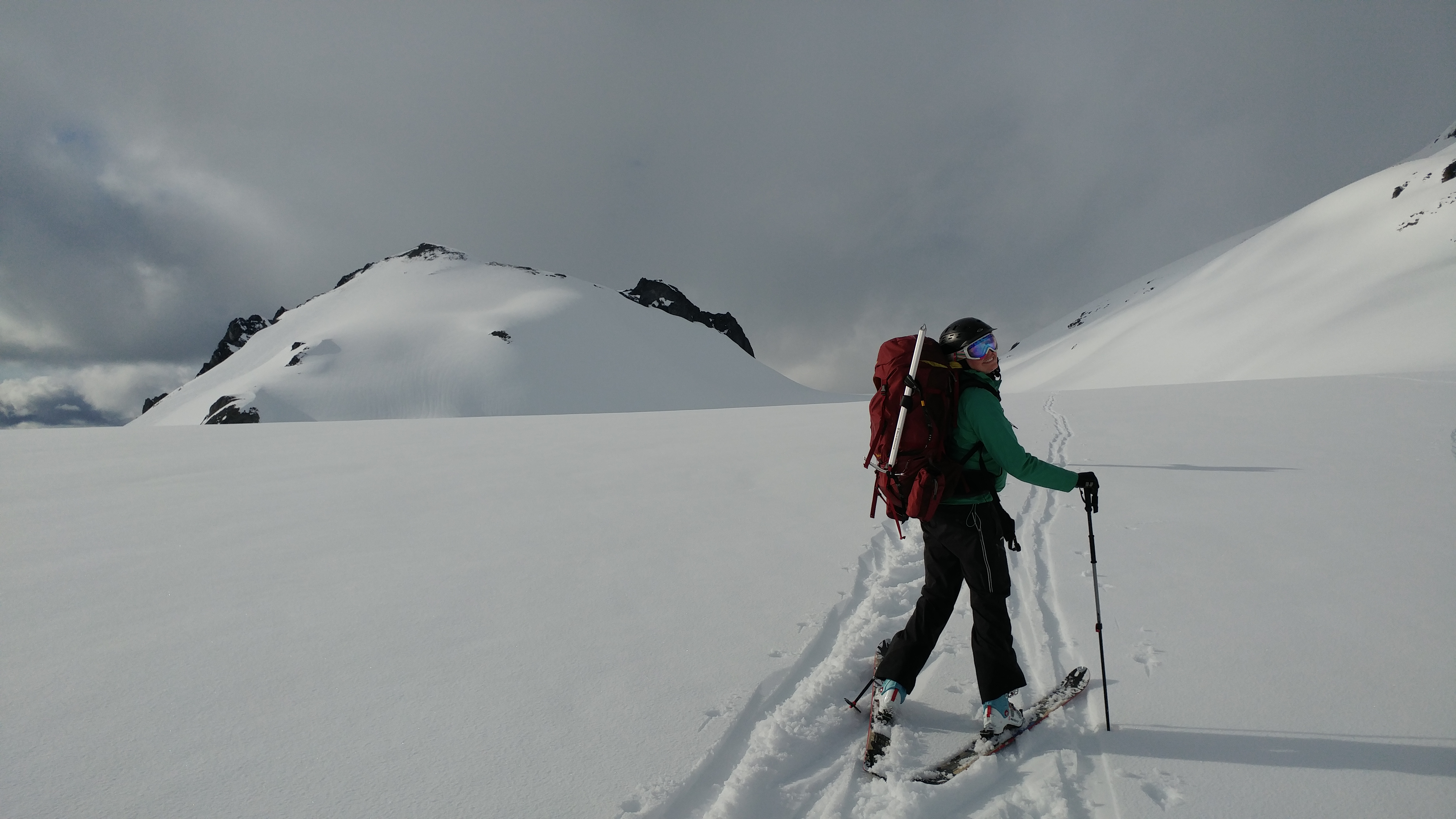 :-: Erin, happy to finally be off the glacier, Julie :-:
My first hallucinations started on the lake, as we approached 20 hours of ski touring; I saw shadows dance in the darkness in my peripheral vision – my eyes purely focused on the thin beam of light from my headtorch. I would fall for the mind-games every so often and look to the side to see nothing but kilometres of frozen lake disappearing into the darkness. And the same happened to the two girls, they imagined that their hands were glowing in the dark, like green, luminous glow-worms.
And it seemed like the end would never come – it just went on and on. About halfway across the lake I put my earphones in and blared some Fleetwood Mac; generally, I would scoff at listening to music in the backcountry, but in the darkness and after a long day I felt it was acceptable. We kept following Duncan and Alex's tracks across the lake – a security in the darkness. Then after about an hour and a half we made it across the lake and close to the Garibaldi lake campground.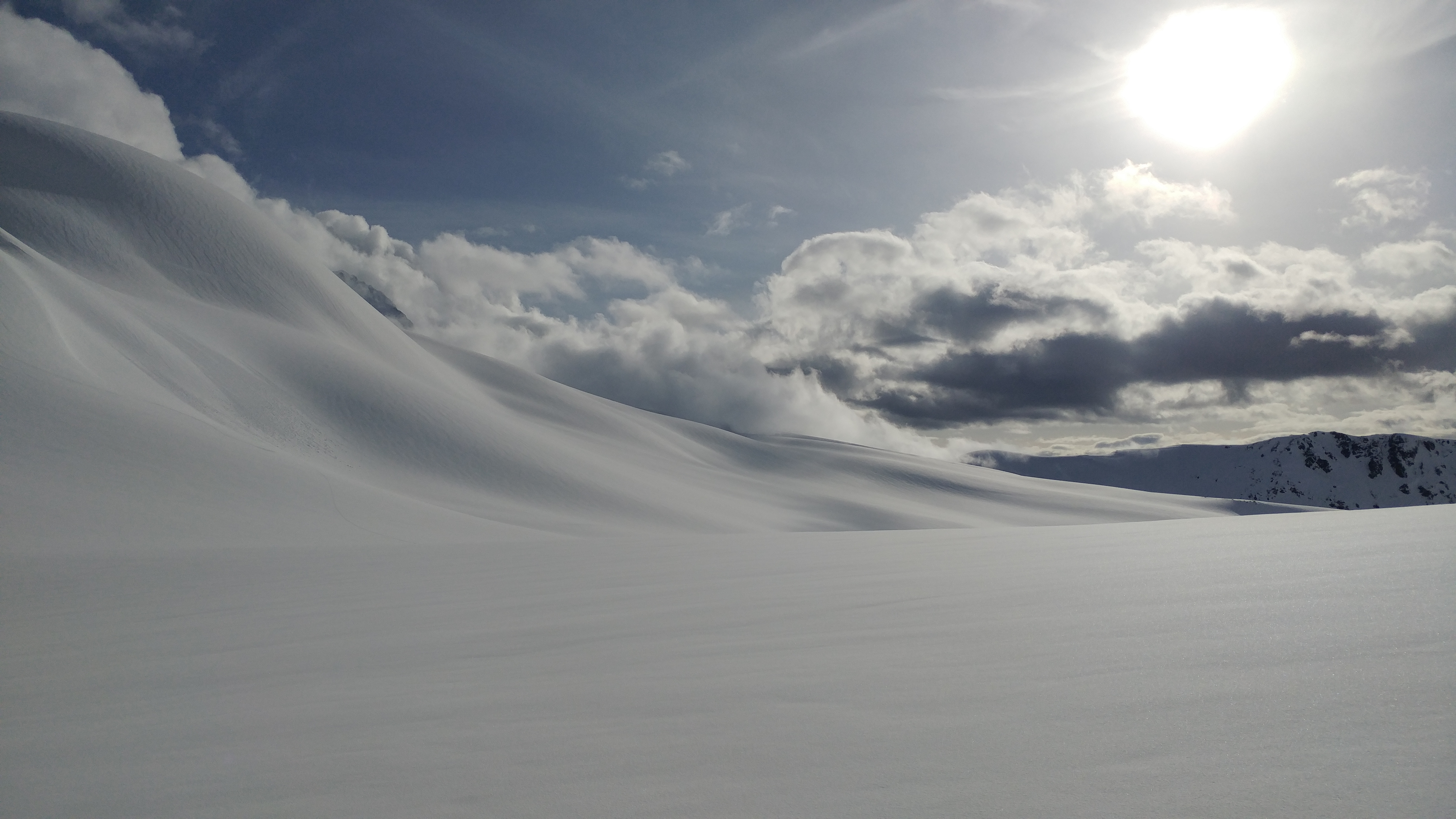 :-: A very pretty view leading down to Warren glacier, Julie :-:
There was no great "yippee!" after crossing the lake; it had been a serious grind and the fatigue was getting to us. What's more, there were tracks everywhere on this side of the lake and we quickly lost sight of the guy's trail. Ski tracks criss-crossed in all directions and it made for relatively difficult trail-finding. We followed a creek that led out of Garibaldi lake and it quickly turned to bushwhacking – an unpleasant experience in the night. We followed a multitude of different small trails, swinging our way around the trees and changing our course when we thought we spotted a 'well-trodden trail' just above us, which oftentimes turned out to be nothing at all.
At this point, the hours kind of blended together in an awful concoction of hard Type-3 fun. Thinking back, I can't really pull the memories apart from each other as I was suffering heavily from exhaustion. At some point, we managed to find the 'Garibaldi lake trail' signs and we were over the moon every time we passed one – it was very comforting knowing that we were on the right track.
:-: And another very pretty view looking the same direction, Shane :-:
After some hours of inefficient movement through the garibaldi jungle we hit Lesser Garibaldi lake (which we thought we had already reached some time back). The lake had a lot of snow-shoe and ski tracks around the edges but had started to thaw out heavily. Erin and Julie had taken off their skis some time back and decided to boot-pack it, meaning that they had to be very careful of their foot placement in case they went right through the ice.
We made it around the lake thankfully event-free and continued our way along the now very well-trodden path. Eventually we passed Barrier lake and then finally, came across the most wonderful sight: The Garibaldi junction! It was the 6km mark from the parking lot and separated the Black Tusk trail from Garibaldi lake. The end was so close I could smell it! It was 1AM at this stage and obviously way later than we had expected. There also so happened to be signal so I rang Georgie (who was out partying) and let her know that I would be sleeping in the car overnight.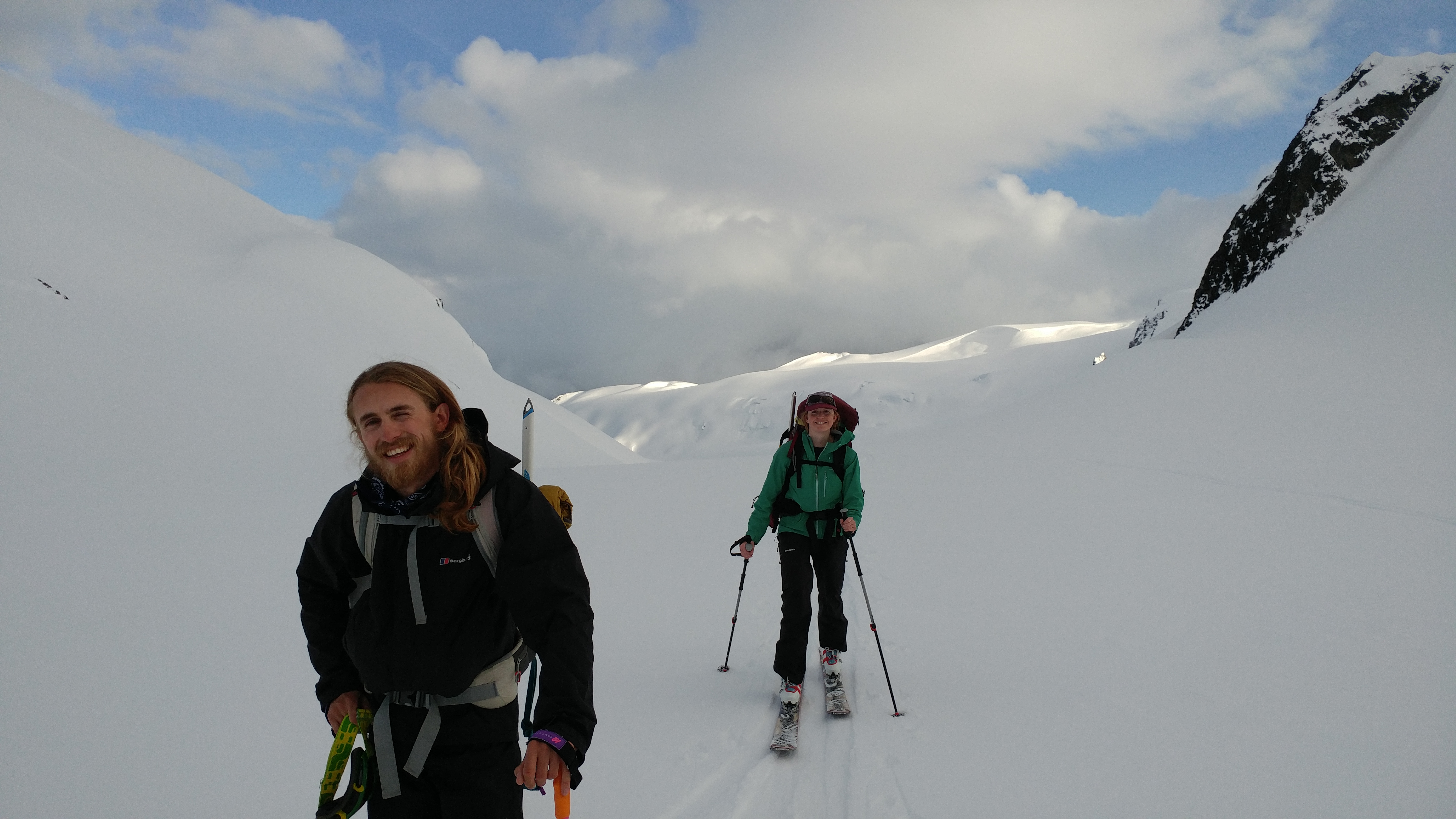 :-: Myself and Erin, an easy skin through the col, Julie :-:
There was still the very worst and final part to come though… The infamous Rubble Creek switchbacks. It's always the worst part of ski touring in BC and its consistently there – the switchbacks through the treeline at the tail end of an exhausting day. And boy, oh boy, had this been one hell of a day. And so, we started off down them.
With my lighter pack, I was a lot faster than Erin and Julie and would end up skiing ahead and waiting 10 minutes for them. Each time I would stop I would start to fall asleep on my feet and so eventually I started to sit down and go into a semi-conscious state while I waited. Then about halfway down the switchbacks, every time I stopped, I started to hallucinate again. They were not very visual hallucinations, but my brain was doing cartwheels – fighting the urge to fall asleep it was kind of like dreaming while I was awake. I've never really had an experience like it.
:-: Perhaps, the prettiest view of all – finally at Garibaldi lake, Shane :-:
When the snow disappeared, in spring fashion we boot-packed and I was happy for it! It meant I could go at the girl's pace without having to stop all the time and after about two hours from the 6km junction, at 3AM we had made it to their car. I was too exhausted to be happy. I was too exhausted to feel anything. I collapsed beside the car and lay on my back for a while, allowing myself for the first time since 4.30AM the previous morning, to relax.
Erin drove me back to the Diamond head car park where I had left my van – I couldn't even keep my eyes open on the ride there and I was shaken awake when we reached the parking lot. I got my stuff out of the trunk and after some very fond farewells to these two amazing ladies who I had met per chance, I fell into a dreamless, cold and interrupted sleep in my own car. I would wake up every half an hour or so and drive a little further down the mountain before having to pull over again for fear of falling asleep at the wheel. I could feel the temperatures rise as I descended more and it helped with getting a deeper sleep. Eventually, I made it to the Squamish MacDonald's and in the bright, morning light, I fell asleep for hours. I finally made it back to my apartment at around noon that day having left 35 hours prior.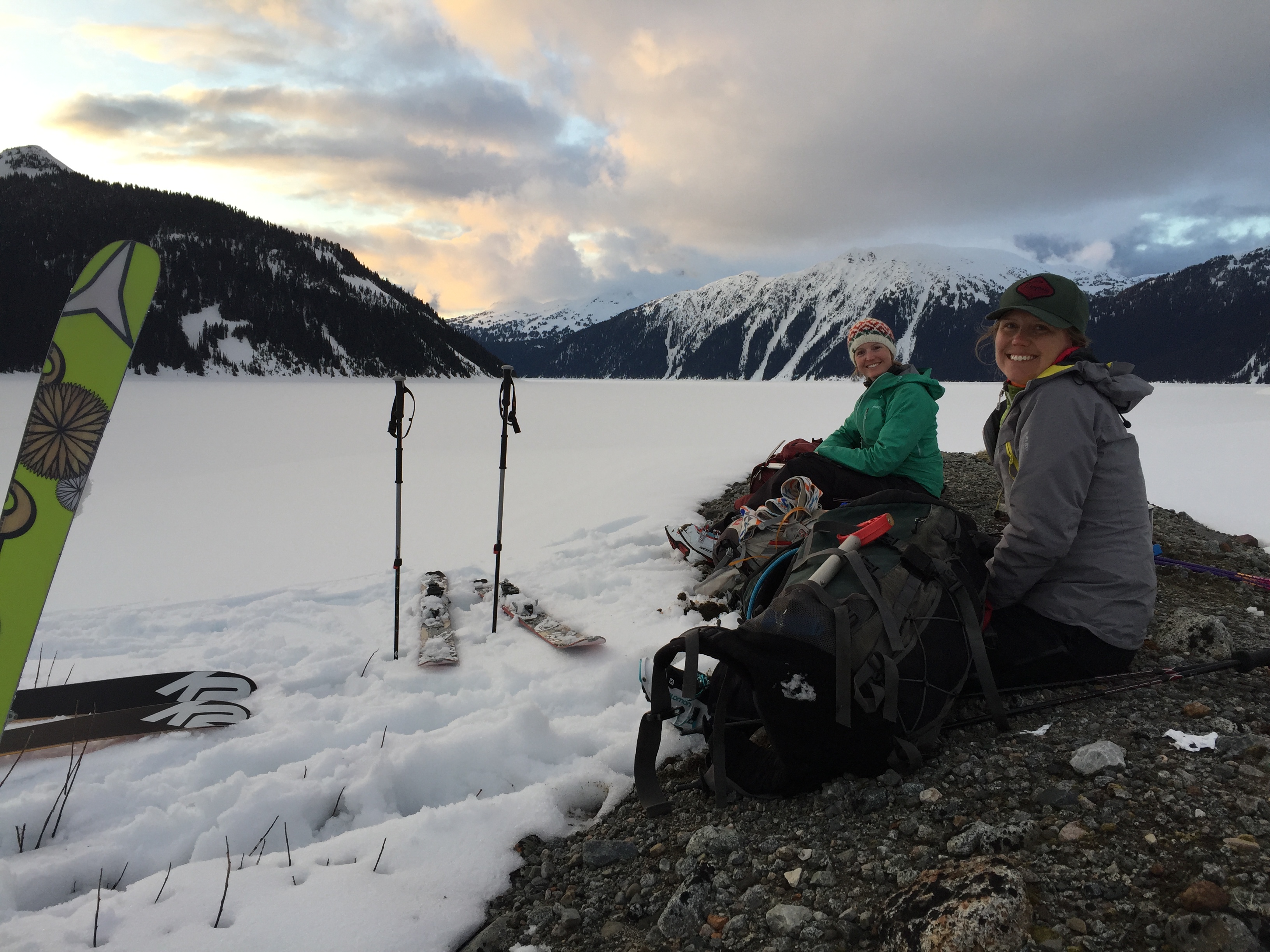 :-: Dusk, resting and eating before crossing the lake, Shane :-:
It had been a 22.5-hour day of mountaineering and I had covered about 50km and without a doubt, it had been the hardest day of my life. It's hard to summarize the traverse in a paragraph, let alone in an entire trip report, but one thing is for sure – I will remember that day for the rest of my life. I learned so much in such a short period of time and if I'm honest, I got very lucky that it didn't turn out worse.
I learned to never skimp on vital gear. Just because you think it will be a day trip, doesn't mean it will be; bring an emergency blanket, bring a stove, bring medical supplies, bring the right gear! A couple extra kilograms won't kill you, but it might save your life.
I learned, truly that a team is only as strong as their weakest man. I believe that Duncan and Alex were wrong for leaving me that day, even if they did have my consent. The end goal of summiting Mt. Garibaldi blinded them. I have huge respect for these guys and am good friends with them so no more need be said on this matter.
I learned the importance of calculating compass declination! It was the main reason we were delayed so badly on the traverse and if I hadn't met Erin and Julie and their stove, it could have had even worse repercussions. Never again will I be following a compass and map without first factoring it in. Still… It was definitely an interesting way to get lost and with a life full of adventure ahead of me, I feel like it needed to happen at some time.
I learned the importance of keeping a cool head. While coming back along the Garibaldi Neve glacier, I looked at a sun warmed, 45 degree slope with a bergschrund at the bottom and somehow thought it would be okay to go up it – in fact, I didn't even think about it. I let adrenaline and haste get the better of me. My mum always told me that the most important thing in life is to 'always stay in control', and I let my emotions take control.
As the Irish would say "Don't be an eejit! Yih feckin' gobshite, yih". Which roughly translates to "Don't be an idiot".I completed the Neve traverse safely and with my equal share of luck and misfortune and I learned oh-so-much. I can see why Baldwin rates the traverse as advanced – it's the route-finding that's hard, not the skiing. I would urge every skier to do the famous traverse, but go with someone who has done it before! (I guess a GPS would do also…). The weather systems in the area are renowned for their changeability and we got the full brunt of it. It was a fantastic privilege to get it under my belt and I might even consider doing it again in the future (although maybe in a couple of days this time…).
Below, Duncan has written about himself and Alex's journey from when they left me. A very enjoyable read!
 Duncan and Alex's adventures up Mt. Garibaldi
---
43 km, 2417m elevation gain, 16 hrs … GO:
Just before stepping onto Bishop Glacier, we took a short rest to eat some food and contemplate the logistics of pushing on with the original plan (complete the traverse and attain the summit of Mt. Garibaldi). After a short break and thoughtful discussion as a team, we decided that Alex and I would go on ahead to try and push for the summit, after which we would meet Shane at the junction on the high point of the traverse (just below the base of Mt. Garibaldi). It was a relatively straight shot across the glacier to the junction. Before separating, we noted the route on the map to ensure everyone had a sense of where to go. Due to Alex having done the traverse the week prior, we figured it best if Shane kept the map and followed our tracks across the glacier. There was a group of two girls behind us that we figured Shane could join so that no one would travel alone.
Due to the low lying cloud layer, visibility was relatively poor while crossing the glacier (despite the obvious blue skies above the clouds). Luckily, Alex had a good sense of the direction we needed to travel and recognized many of the landmarks amidst the sea of white. As we began to gain the ridge to the junction, the sun popped out making the ascent incredibly tiresome and hot, as the sun's rays beamed off the glacier. Tired and way too warm, we reached the junction where we had lunch and decided whether we would push for the summit.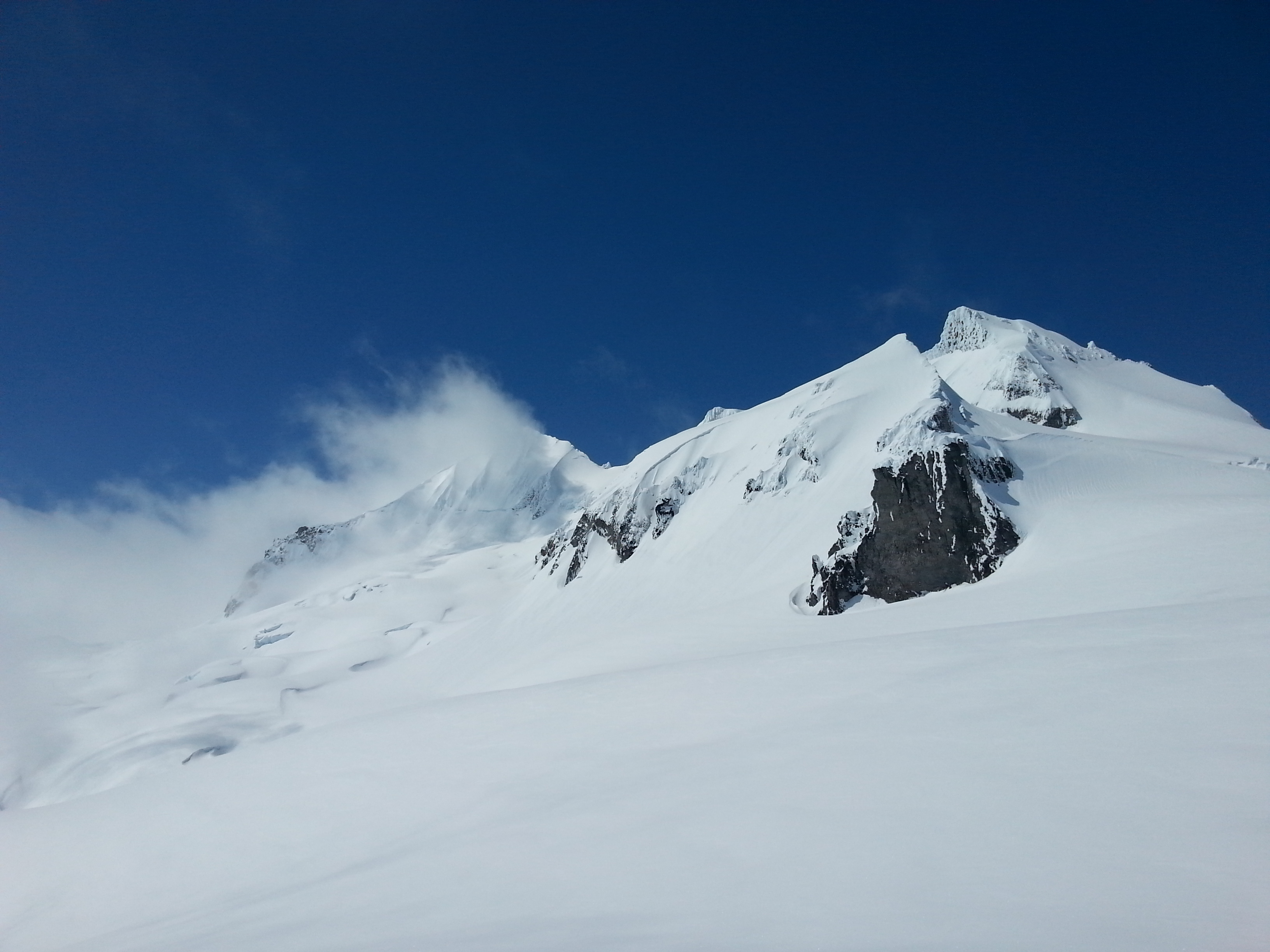 :-: Approaching the junction, with Mt. Garibaldi in the background looming over the other peaks, Duncan :-:
Although the sun was beating down on us, we felt pretty good and Garibaldi was looming just overhead so we decided to go for it. We roped up for the initial part of the ascent as we passed over some obvious crevasses and downhill of some potentially dangerous seracs. According to the topo, the summit of Garibaldi was 500m above the junction; however it looked much higher in person. I asked Alex doubtingly, "Are you sure this is Garibaldi and it isn't that smaller peak over there? (a sub peak off the shoulder of Garibaldi)". We unroped after crossing the obviously crevassed section (the snow bridges felt stable and we were more comfortable going on without the constant tug of the rope). I found a previous uptrack that took a good line on the mountain and followed it, with Alex just behind.
As we continued up the mountain we saw Shane and the two girls on the glacier following our tracks and thought, "Oh, they may beat us to the junction, we'll have to be relatively quick". Worried that if Shane waits at the junction for us for too long he'll think we ditched him and continued on, or that something may have happened to us.
I eventually reached the formidable bergschrund about 80-100m from the summit. I saw where the previous crew had crossed (over a snow bridge that spanned the width of the large crevasse). I prodded it with my ski pole – it felt stable. The bergschrund was about a meter in width with much of it exposed, save a couple snow bridged areas. After admiring the deep chasm, I took off my skis and strapped them to my pack (the slope is about 45 degrees until the summit – too steep to skin up). Herein is where I made a couple regrettable mistakes.
In the essence of saving time and seeing that the snow pack was quite deep, I decided crampons would likely not provide any additional benefit and so I didn't put them on (minor mistake).
The snow bridge felt quite stable, it had been crossed what looked like recently, and Alex was a couple kick turns behind me. I decided to give it a go and quickly cross it, unroped. Trying to spread my weight out as much as possible, I got low and placed my foot on the bridge for a short moment before getting my entire body over. Nothing happened, the snow bridge held and it felt solid.
Instead of waiting for Alex to reach the bergschrund and giving him the option of roping up, I decided to push on so I wouldn't have to rest on a 45 degree slope with a man sized crevasse just below me.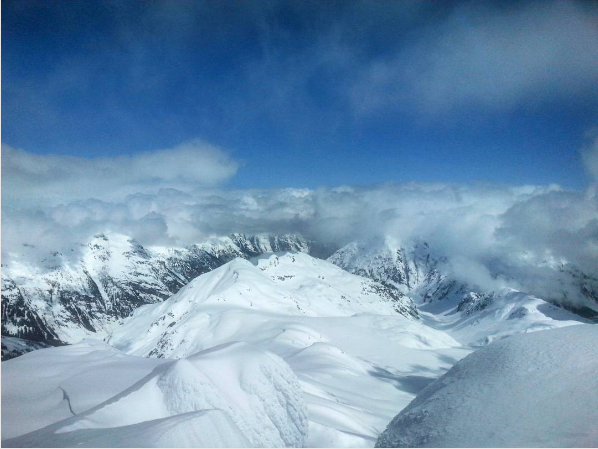 :-: Summit view from Garibaldi, Alex :-:
Although the latter point may have been a good choice given that I had already crossed the bergschrund and was at risk by waiting just above the crevasse, it does not excuse point #2. I should have waited for Alex. There was no reason for me to push on alone. I would have to wait on the summit anyway. I felt as if the bridge was stable, but I didn't know for sure. It could have collapsed as I crossed it and it could have collapsed as Alex crossed it. It was spring and the day had been quite warm with periodic direct sunlight illuminating the mountain. I had known this and I had even considered it when deciding to solo the bergschrund. Luckily it didn't collapse and we were both fine. This was a mistake on my part and one which I wouldn't make again. I was worried about time, was hot and tired, and didn't do good decision making. In addition to crossing the schrund, the slope to the summit was quite steep and although there were good feet in the snow, it would have been nice to have had the option to rope up in case someone lost their balance and fell backwards.
I would like to note that if I were alone I would have made the same decision and been okay with it; but I wasn't alone. The benefit of having a partner is that you don't have to take risks like this, or that these risks can at least be mitigated. Anyway, lesson learned.
Moving on to my first point, the choice to not put on crampons (Alex didn't either) would have been fine had I followed the straight snow line to summit. However, as post holing through waist deep powder isn't my forte, I decided to trend right where there was rock and ice – something my ice axe could grip onto so I wouldn't sink every step. This decision was good, except that now my feet kept slipping. I never felt at risk of falling down, it was just incredibly tiring as I'd essentially dig my axe into the ice/rock features and then pull myself up with arms, occasionally getting a nice foot hold on the rock.
:-: Skis on the summit and a neighbouring ridge-line behind, Duncan :-:
I eventually reached the ridgeline where it was an easy 10m of pretty much flat cruising to the summit. I even threw my skis back on to make the final push more enjoyable. The summit was incredible. The clouds would periodically disperse allowing for the sun to illuminate the vast array of glacier carved, mountain backdrops that Garibaldi Provincial Park has to offer. I had reception up here and made a couple phone calls. I received an anonymous text in a strange format that I didn't recognize; I figured I'd look at it later and just take in the views. I walked down a bit to watch Alex ascending up the slope. He had crossed the bergschrund and was making his way up the steep slope, sticking to the snow clad portion. We were able to communicate easy enough and celebrated as soon as he topped out. We were ecstatic. "It's done!", we thought. We had completed half of the traverse, summited Garibaldi, and felt great. It was pretty much all downhill from here – literally.
After taking a couple photos and eating some snacks we figured we should probably ski down to meet up with Shane. The ski down was incredible – blower pow and one long steep slope. Baldwin lists the bergschrund as a hazard on the descent, and we were aware of this. However, it ended up making for a rad feature that you would hit and gap, soaring through the air for a brief moment. We made for the junction, enjoying the ski down every second of the way. The descent began at 45+° and slowly eased up after crossing the schrund. The roundtrip time from the junction to the summit and back was about 2.5 hrs.
When we arrived at the junction, however, Shane wasn't there. Worried, we started shouting his name in case he was waiting elsewhere – no answer. I remembered the strange text that I had received on the summit, I decided to check it. It was a message from a satellite phone from one of the girls Shane was travelling with. It read, "Hey Duncan, Shane here. I'm skiing with 2 girls currently at top of Glacier – under shark fin. Will cya at rubble creek. Or update you else." Shark fin being the mountain just before crossing onto Garibaldi Lake from the glacier, we thought "perfect, they're ahead of us, we'll meet them at the parking lot. Maybe they'll even have the car waiting for us!". On top of that, Alex noticed ski tracks leading from the junction towards the lake; we were sure they were ahead of us. We skied down from the junction and ascended the last bit of real uphill before crossing onto the lake.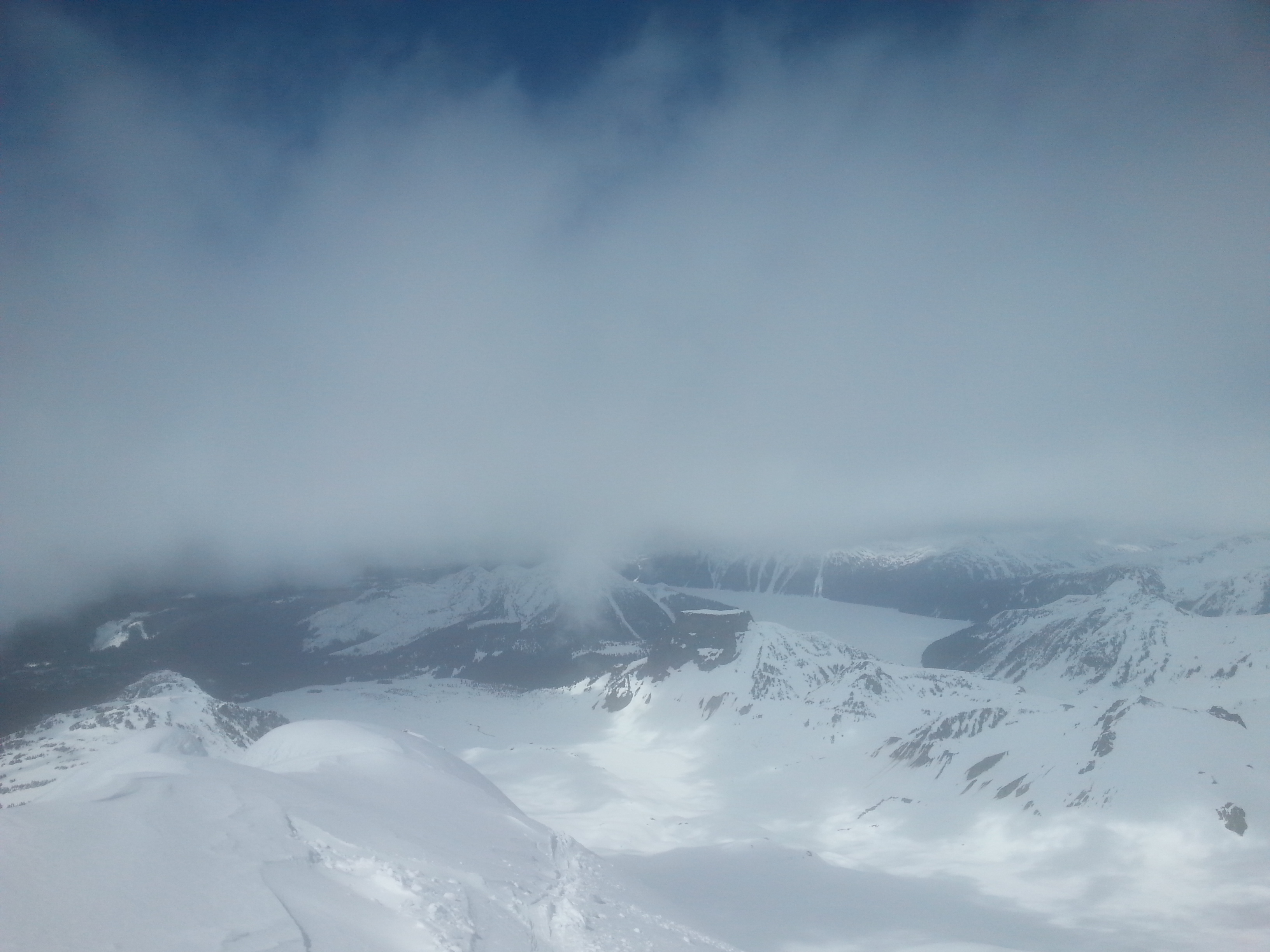 :-: Looking at the decent line, with Garibaldi lake in the background, Duncan :-:
Travelling across the lake was the worst. It was 6km of boring, flat terrain. The surrounding scenery was beautiful but unchanging. We were out of water by this point (knowing that there were streams on the other side of the lake we had finished our water before crossing). It took us 1.5 hrs to cross the lake which we felt like forever. We'd continually eat the accumulate slush on our skis to stay relatively hydrated. As soon as we crossed, I rushed to fill up our water bottles. We had one last snack and made our way to the eventual descent trail.
The ski to the descent trail was relatively uneventful, with short uphill and downhill sequences. Eventually we reached the brutal switchbacks that continue for 6.5km to the parking lot at Rubble Creek. The upper section was manageable but the lower section was filled with branches, dirt, and other signs of spring skiing. We carried our skis on our packs down the last 2km or so. We had done it, completed the Neve and summited Garibaldi in a single day. The whole trip involved about 43km of travel with 2417m elevation gain and took 16hrs. We were ecstatic … that was until I received another text from the same sat phone.
Shane wasn't at the parking lot. In fact they were never under the Shark Fin as previously noted. They had gotten lost on the glacier and ended up traversing all the way across it to the far end. It was 8:21pm and they had just started skinning across the lake (they wouldn't be down for another 4hrs or so). They had confirmed that they were okay and didn't need help which we were glad to hear. However, now we were stuck at the parking lot.
Luckily there were a group of friendly hikers that we had passed on the switchbacks. They were kind enough to drive us to the highway where we could attempt to hitchhike somewhere (they didn't have enough room for us and our gear to go all the way to Vancouver). After 20 minutes of no success hitchhiking, I called my roommate in Vancouver to see if he would be willing to make the drive up and "rescue" us – he was happy too. In the meantime someone stopped and offered us a ride to Squamish which we took. She kindly dropped us off at the McDonalds where we sat and gorged ourselves until our ride showed up, all the while talking about the amazing adventure we just had.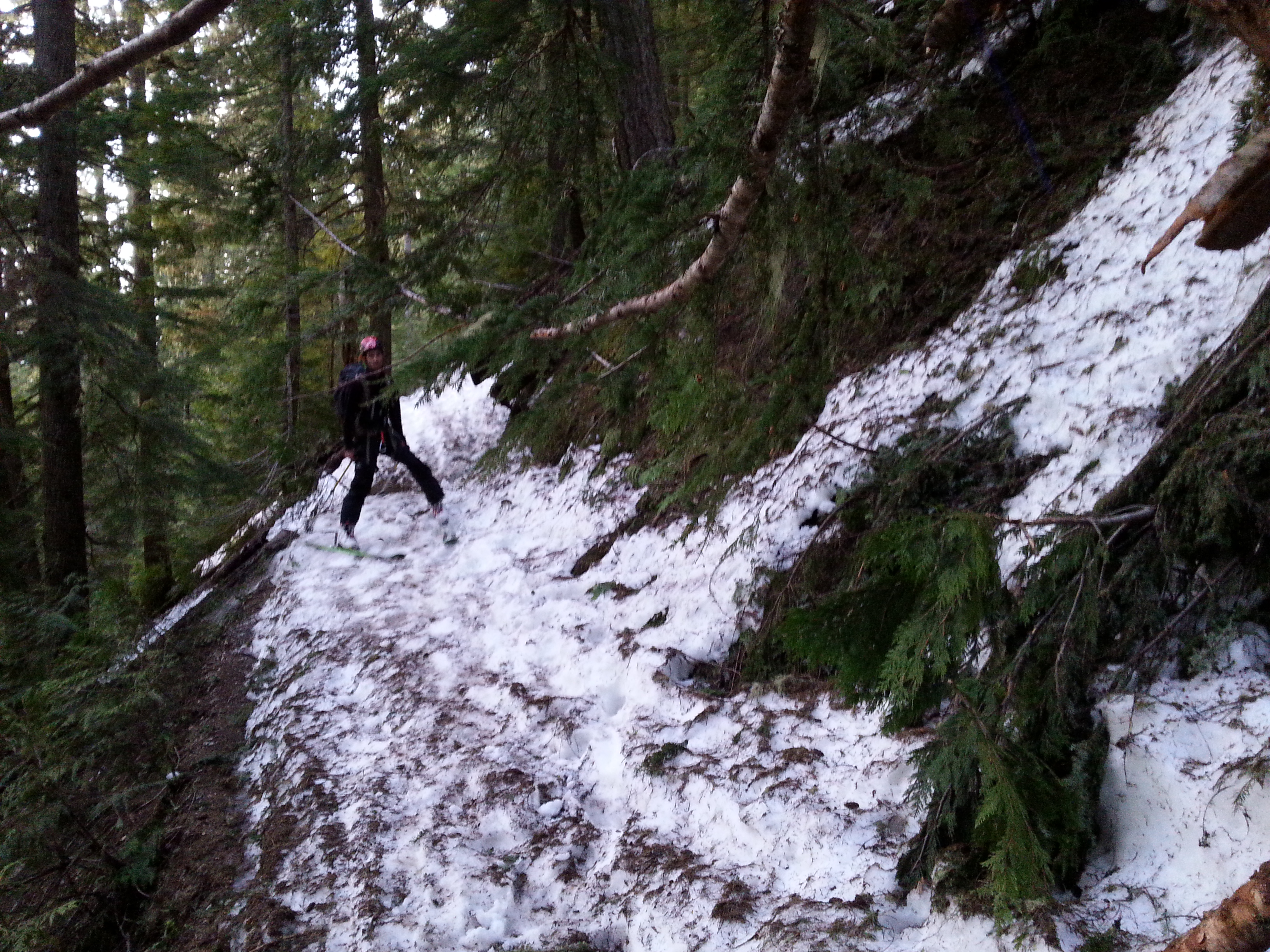 :-: Gross skiing down the switchbacks to Rubble Creek, Duncan :-:
All the while, Alex and I remained in continual contact with Shane and the girls to ensure they were okay. I messaged a bunch of our friends who knew we were out to keep them updated on the situation. All was okay, everyone got out safely, and fun was had by all.
The biggest regret of the trip: neither Alex nor I took a photo of one another on the summit. It's as if it never happened now
Lessons learned:
You don't need to solo if you have a partner
Don't separate in the backcountry
If you're doing the Neve and relying on hitchhiking back to your car, try and get the Whistler rush. One of those ski bums has got to pick you up