It's not really a cable car; it's a steel cable with a pulley on it and a couple of hauling lines. You put on a climbing harness and clip onto the pulley and haul yourself across.
Personnel. I advertised on the VOC notice board but the trip was mid-week, and most people are only available on weekends. So in the end it was just Kevin and I. Kevin is a climber so I was counting on him to rescue me if I did something stupid like getting stuck half way across the cable. (I did and he did!)
Why are we doing this? Our Brew Hut was our most accessible hut until the Authorities removed their bridge across Roe Creek last fall. I don't think they intend to replace the bridge. Somebody put a steel cable across the river and seemed to do a pretty competent job. I wanted to see if a wimp like myself with zero climbing ability could use the cable to get to Brew, and could we learn anything from using it. Could it be used for the Alcoholic Traverse later this year?  Kevin had another reason. He is planning a trip to the Bugaboos in August and wanted to see if various things, like his approach shoes, would be suitable. They weren't.
The weather was important. We had just broken all sorts of temperature records but some clouds and even a bit of rain was forecast. Still it was uncomfortably hot and Roe was in flood from melting snow.
We stopped at the famous old cabin to take pictures. The snowmobile cabin at Brandywine was similarly burned down. Accident? We wonder if somebody is deliberately burning down cabins/huts.
Famous old cabin, December 2020
Famous old cabin, July 2021
At the cable Kevin went across without incident after he helped me put on my harness. I attempted to follow but somehow managed to get the hauling line tangled in such a way that I got stuck half way across. Kevin came back and grabbed my pack mid stream and then I was able to untangle the haul line and complete the crossing. The crossing on the way back was about twice as fast but still took us about 15 minutes.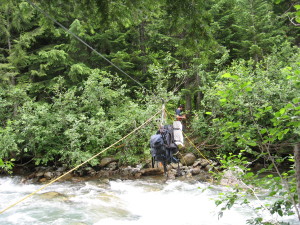 Packs coming across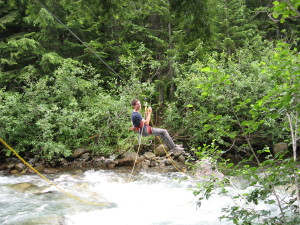 Kevin coming across
About 2 kms past the crossing we noticed that the mosquitoes were very bad and we had left the DEET in the Jeep. Too bad about that.
The deactivation of the road seemed very strange. Normally cross ditches are dug to prevent the road from turning into a stream and getting eroded. But some of these were huge and did not make sense. And once you have taken out the bridge and put big logs across the road to stop traffic, you do not need to put more logs across the road. The traffic is already stopped.
Ambitious road deactivation?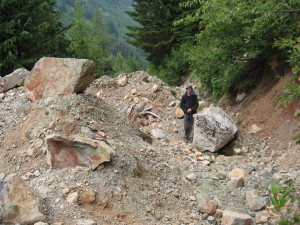 Ambitious
Soon we got very hot and resorted to soaking our shirts in streams, then putting them back on. At the lake we found plenty of snow and the mosquitoes quit bothering us. We put snow in our hats. Very nice.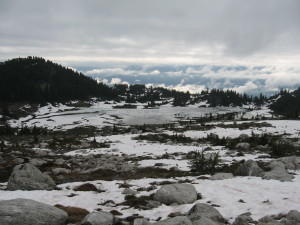 Lake No Swimming
At the Hut we rested for a while, then Kevin went off to climb Mt Brew, which took only a few minutes. I noted that the upstairs window had been left open. Maybe we need another sign. Maybe we already have too many signs. I emptied the donation box and brought down the money. I located the hut log book and wrote in it. I studied the door latch (passage set) as I was supposed to bring it down for repair but the required screwdriver was lost. I found the installation instructions which may help. We started the wood heater and burned every piece of useless abandoned plastic we could find, because we know that the VOC is afraid of burning plastic. The door on the heater is once again suffering from neglect as it does not seal properly, so it burns wood too fast and sends the heat up the chimney. Caitlin replaced the heater door about ten years ago. Want to replace it again? Next trip up there somebody should bring some paper towels to clean the window on the heater door. There seems to be plenty of firewood; we won't use much as long as access remains difficult. We repaired/tested the Coleman stove, and now it works fine. The solar lighting is still fine and it has been OK for 6 years now, so successful. The hut is generally in excellent shape. It needs a small cooking pot. The last one I sent up there is in the outhouse full of used toilet paper and charred shit. I hope that VOC is geting over it's burning-toilet-paper fetish.
The next day we had more typical Brew weather. No scenery. We were in a big cloud. It even rained a few drops, which were most welcome. With nothing left to do up there we did not loiter.
Recommendations for the Alcoholic Traverse:
Bring DEET. Bring mosquito nets.
Start at the Brandywine end and go counterclockwise. The getaway car might want to drive up the night before and put stuff like harnesses, slings, carabiners at the Brew end of the Tyrolean.
Not everybody needs harnesses slings and carabiners because you can send them back across.
Use a hauling line to drag people across rather than having people propel themselves across. Easier and faster. Wear gloves.
Send packs across separately, one pack at a time. Very fast and easy.
Avoid dangling hauling lines which tend to get caught on rocks in the stream.
Send drivers across first so they can go back to the start of the traverse to get their cars while others take their time crossing.
Conclusions: The Tyrolean will work for the Alcoholic Traverse, though it will not provide convenient year round access to the Brew Hut. It is 9.4 km from the Tyrolean to the hut, as measured with my GPS. On the way down this took us about 5 hours including numerous stops for snacks and to kill mosquitoes. The way up took a bit longer.
As usual, click on the pics to see more detail.