On September 25th, a car carrying four VOCer winded along the beautiful Mt Seymour road; they are Roland Burton, Carla, Gulen Bayraktar, and me, Kung-Ping Lin. As a new UBC student, I am so excited to have this chance to take a tiny sip of the anticipated British Columbia hiking. Our plan was to hike to the first peak of Mt. Seymour, the Pump peak, and visit the adorable Mystery Lake on our way.
When we arrived at the parking lot, the sun was shining and the clouds were hiding. What can one ask more for a lovely one-day trip? We wandered through the lush forest of cedars, firs, pines, and the ferns and mosses beneath them, dressed with thousands of smithereens of sunshine. Occasionally, we encountered some little red mushrooms sitting peacefully alongside the trail. Along with Rolland's tales about many audacious and hilarious hiking trips during his incredible outdooring career, we had arrived at the Mystery Lake. The mysterious (big) pond reflected the absolute blue of the clear sky and the emerald of the conifers, perfect for some exaggerated Instagram photos. We continued going upward, the road started to become rocky and soon led us to a small hill of a giant rock, the Brockton Point. We had our lunch here. Ravens were soaring over the mountain and jays were hopping through the woods.
Carla decided to leave and wait for the rest of us in the parking lot, leaving Roland, Gulen, and me toward the Pump peak. The route was a bit crowded with friendly hikers and their small pet bears ("Oh look at this grizzly bear and that black bear, how cute!"). The path soon became rocky and steep (again), with the glorious landscape of the Great Vancouver suddenly emerging from the edges of the rock. The summit was slightly crowded with people having lunch, and the view was superb. With ravens hovering and showing off their diving skills, we sat down and enjoyed 360 degrees of ultimate scenery. In the south, the Great Vancouver was a blanket beneath us, and the gorgeous snowy Mount Baker was shining in the distance. In the North lay the beautiful British Columbia mountains with various lakes and lush valleys hidden.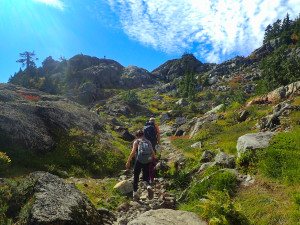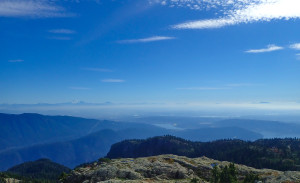 Heading back was fast. And we were all satisfied when we were driving back home in Carla and Roland's warm and comfy car. Thank Roland for organizing, Carla for a nice and smooth drive, and Gulen for her countless funny stories and great jokes!