Sept. 5, 2022
After a few years of hearing amazing things about the Clarke-Outrigger Traverse, but trips never quite coming together, I decided I would just go for it. Unfortunately my visit to BC was quite short, and I only had time for a day trip. It seemed pretty long, but I figured I could manage it.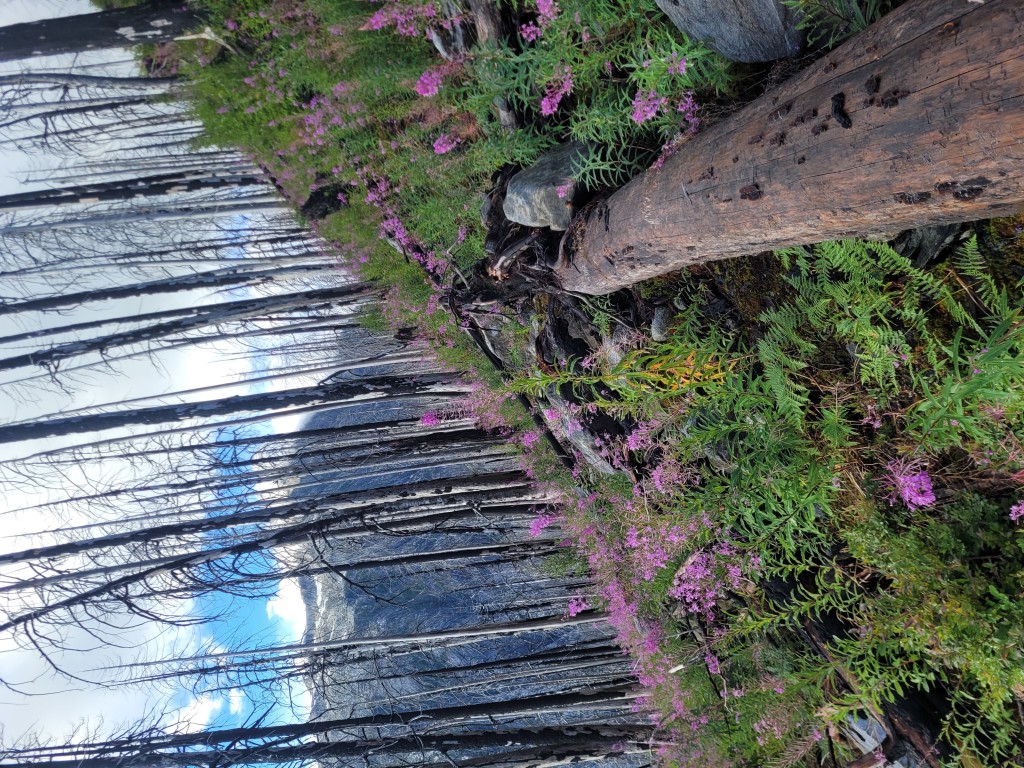 I bashed an Evo to the bottom of the Outrigger spur and set off at 6:30 am. The bushwack to the alpine was honestly quite pleasant. The burntout forest is growing back and I was surrounded by hummingbirds feasting on all the new flowers. Falling snow in the alpine added ambiance, but I was reassured by a clearing trend in the forecast.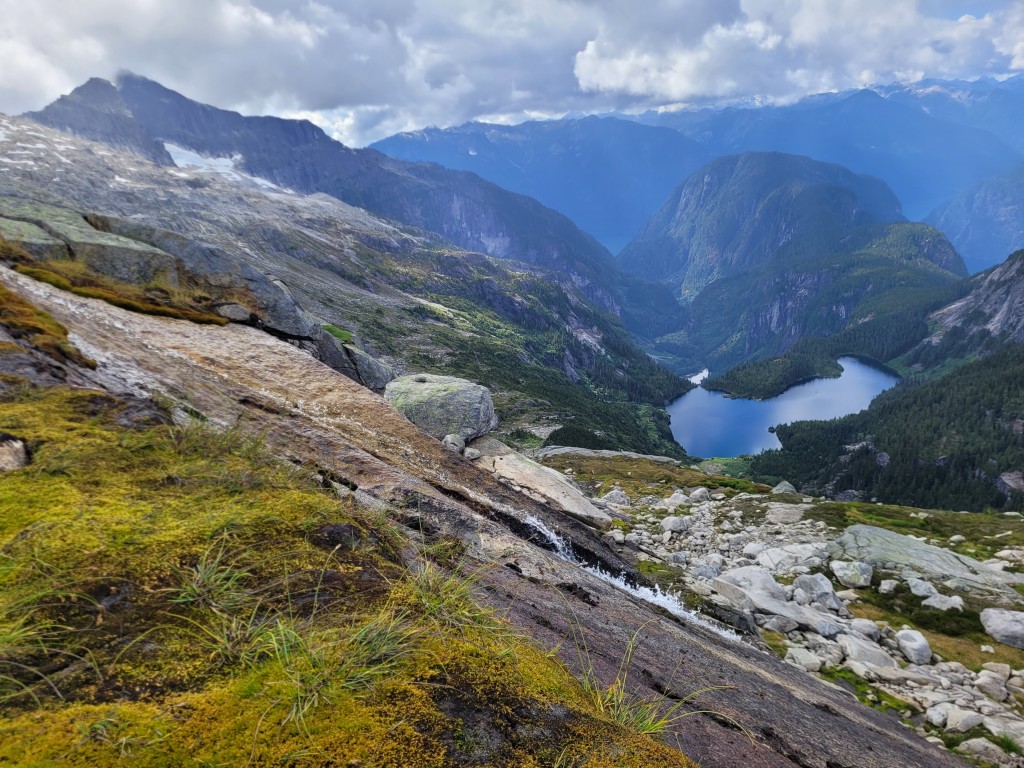 It was just as stunning as everyone said, and got even better as the sun came out in the afternoon. There's a few tricky bits, and I was happy to have the gpx track from a 2019 VOC party, but I was mostly quite footloose with my micro-routefinding. Occasionally I'd have to backtrack, but mostly my carelessness was rewarded with fun scrambling.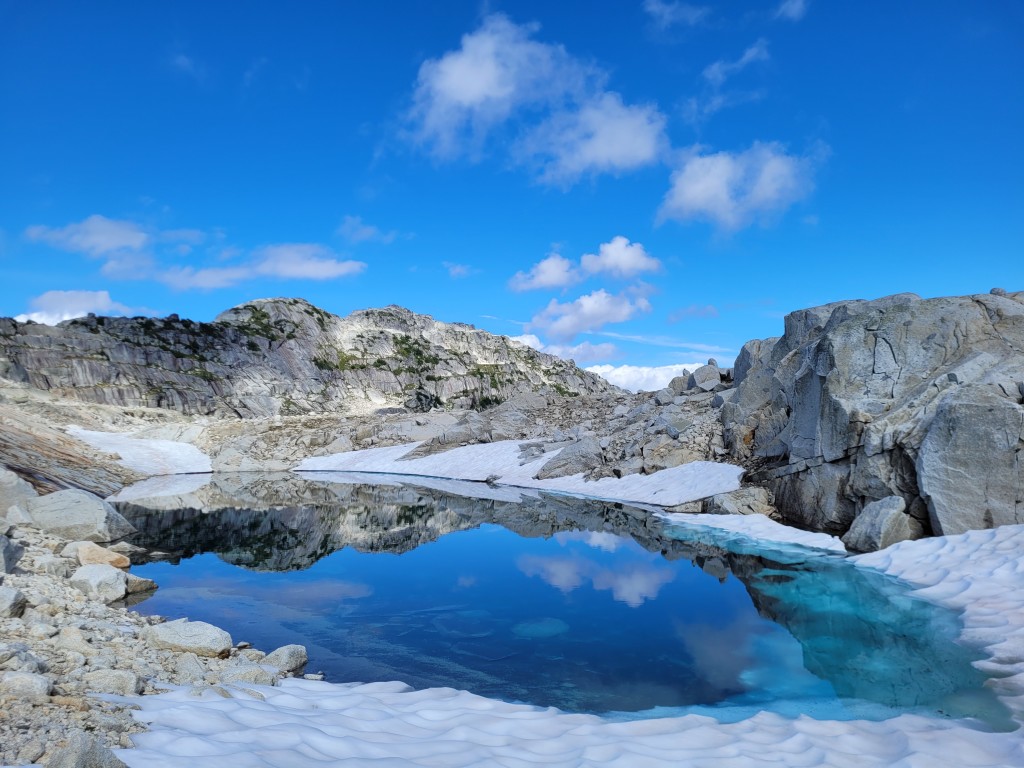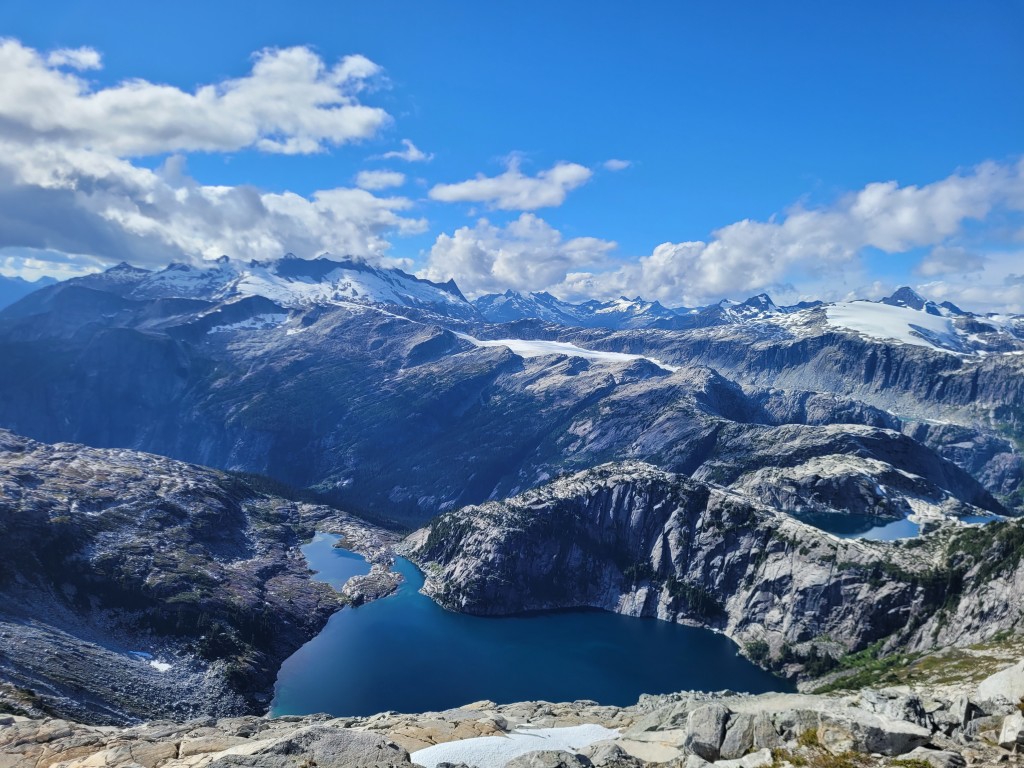 After stopping to chat with a couple who had hiked up from Princess Louisa, I took the exposed snow slope southeast of the subsummit, then climbed the ridge directly up Clarke to bypass the glacier. I was glad to have crampons and an axe.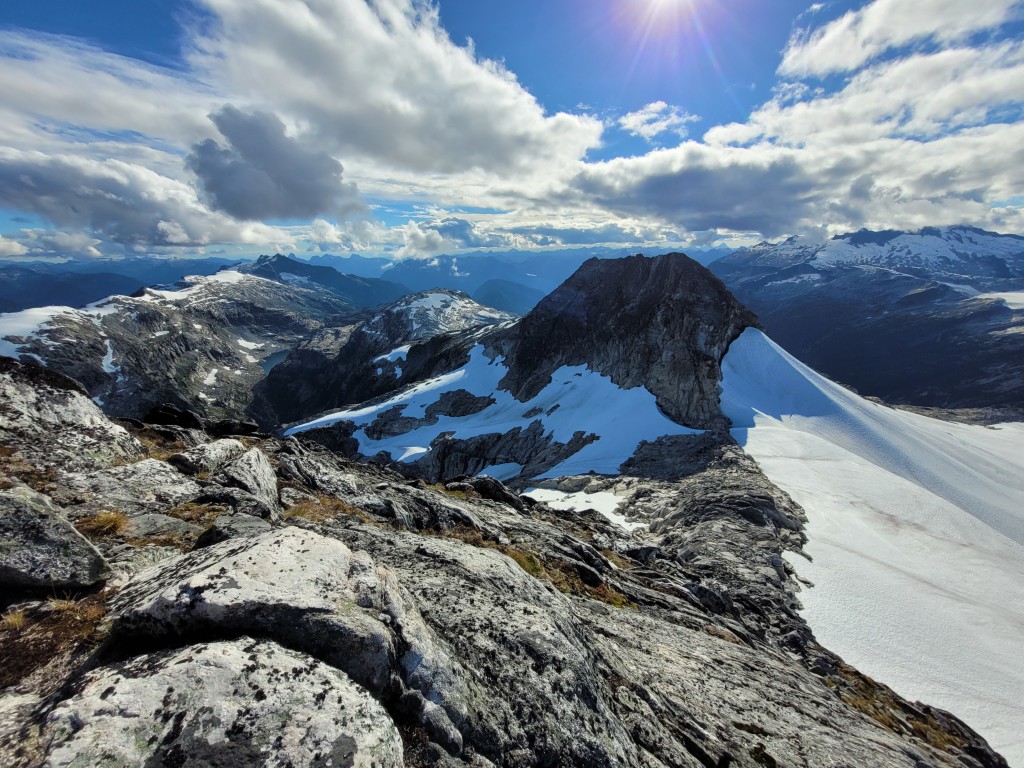 Somehow I had reception on all the summits, so I texted my emergency contact that I was feeling strong for the descent. I wish I could have hung out there longer, but running down the snow in the evening light was almost as blissful.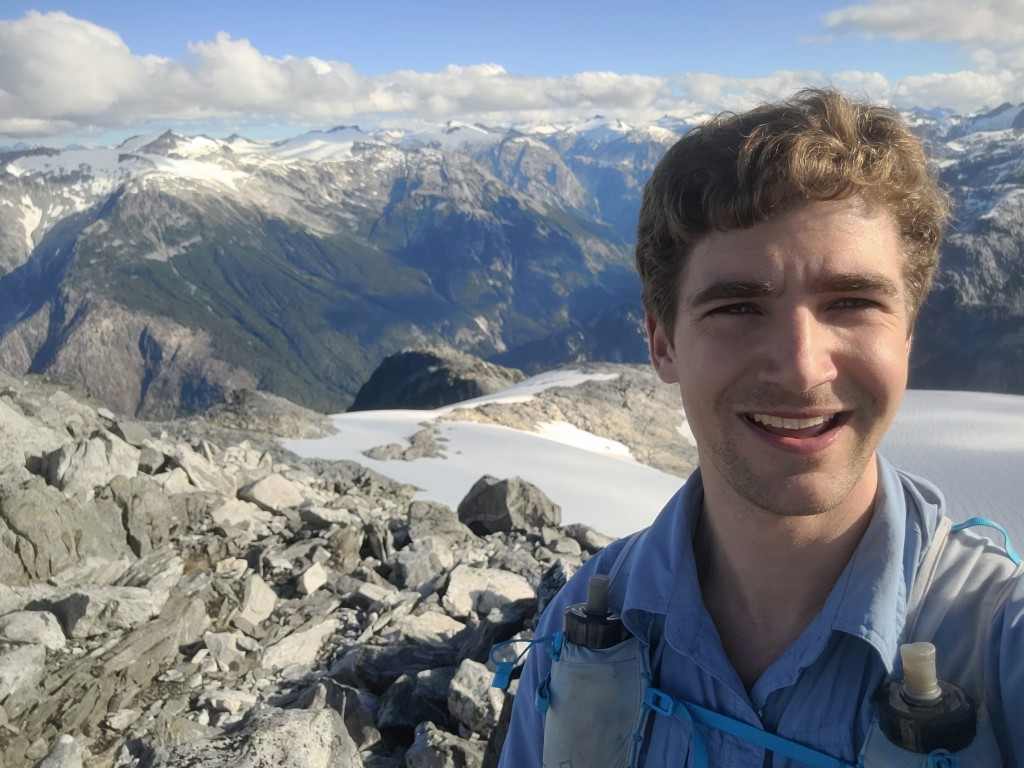 The tarns were so plentiful in the alpine (I could have used a cup instead of a bottle) I got complacent and didn't bother filling at Bug Lake, leading to some mild dehydration. There were no insects to be found, but the "trail" certainly lived up to its reputation. As darkness fell, and my three gpx tracks continually diverged, it often seemed faster to just bushwack a distance and pick up the trail later than find it in the dark. I didn't enjoy this as much, but maybe I just had the wrong attitude. Devil's Club is basically acupuncture, right?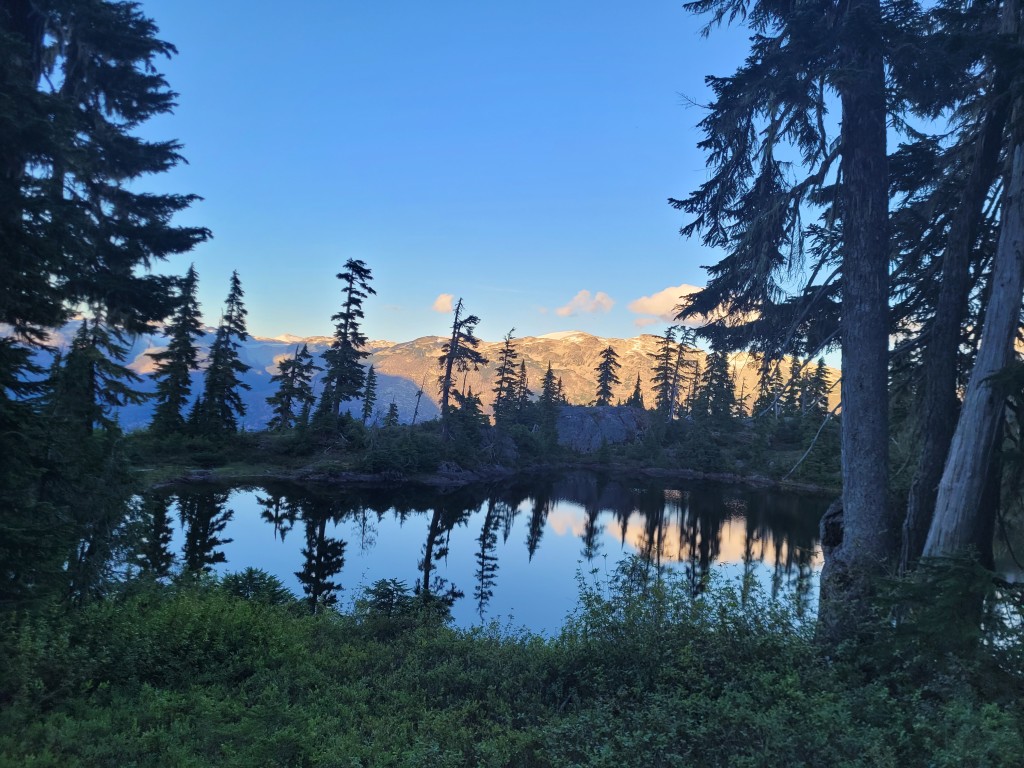 The logging road is also disappearing into the jungle, and I was trying to move as fast as I could when I pulled out my phone to check how much farther. I must not have been looking where I was going because my right leg disappeared into a hole when I expected solid ground. A good whack on my left knee stopping me from falling further.
I regained my composure and pulled myself out and looked back into the hole that had almost swallowed me. Unmistakably, this was someone's home, someone much larger than me. If was occupied that night, they must have been a heavy sleeper. I didn't stick around to investigate further.
The logging road finally cleared off, but I wasn't able to run much. I got back to the car 16h51m after I left.
My Gaia track recorded 44.1km. I don't know how to make Gaia pin my track to the map and smooth it, but the caltopo track from the 2019 VOC party shows 3660m elevation gain.
Probably one of my favourite days in the mountains so far!