Members can
insert new events into the calendar
and signup for trips, but please read the
instructions
before posting.
VOC trips are organized by members like yourself, not professional guides. The trips go into wilderness areas where assistance is unavailable and unexpected events can occur. You could be seriously injured or die. You are responsible for your own actions. Please use caution.
***Avalanche Companion Rescue Course @ Wreck Beach*** · Sunday, December 13th
Warning: This is an old trip - it already happened
Warning, this trip has been cancelled : Bad excuse I know; but need all time for studying. I need to pass uni too you know! Will start it up again in New Year.
Details Page: Where you can see brief trip details (publicly viewable).
This trip does not have an associated Wiki Page.
Message Board Thread: Discuss this trip with other members here.
Organized by:
Zack Wentz
.
Start:
Sunday, Dec. 13th, 3:30 pm
End:
Sunday, Dec. 13th, 7:00 pm
Pre-trip meeting location:
Top of Trail 6 Stairs - Wreck BeachDescription:
Hey all AST 1 prospectives, new backcountry skiers, or prospective members of winter VOC trips! We've heard from y'all that you're super stoked to learn how to travel with minimal risk in the mountains this winter! That's awesome; but unfortunately we live in Vancouver and a proper mountain with snow is nearly a 30-minute drive from campus. But have no fear; your solution is here! I know we're all mountain people, but why not learn the skill of companion rescue on Wreck Beach?! This is one of the 5 major learning goals for AST 1 courses, and dramatically reduces your influence as a liability on winter backcountry trips. Just think....who would wanna learn digging up buried packs in freezing cold, polar weather when you could learn it and practice it at sea-level in this beautiful spot: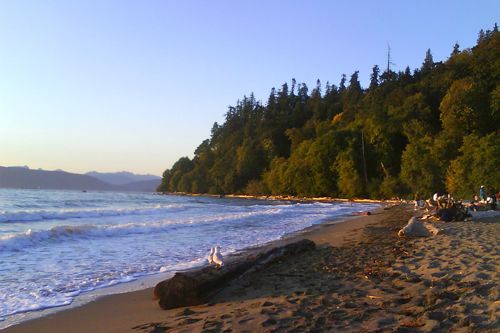 I rest my case. Clinics will discuss avalanche companion rescue, which is the skill to save your partner if they were to get caught in an avalanche. Note: This is NOT a substitute for a proper AST 1 course; please do not take this course and opt out of AST 1. We merely wish to provide practice for VOCers to refine their rescue skills and create an environment of learning low-risk travel practices in the backcountry. This event will be hosted bi-weekly on Thursday or Monday evenings, so if you don't make it out now surely sign up again for the next event! Get stoked to get safe out there!!

**In addition, I as well as other VOCers will be leading winter backcountry trips where you may or may not be exposed to avalanche terrain. We generally will prioritize participants who have this companion rescue experience over those without it. Not only that, but some trips will REQUIRE that you have this experience and have it practiced. These requirements are the BARE MINIMUM to participate on these future trips, so if you desire to do any of these trips in the future, sign up now! Spaces are limited!!**
Posted: 2015-12-10 10:10:56
Last modified: 2015-12-12 20:34:24