Members can
insert new events into the calendar
and signup for trips, but please read the
instructions
before posting.
VOC trips are organized by members like yourself, not professional guides. The trips go into wilderness areas where assistance is unavailable and unexpected events can occur. You could be seriously injured or die. You are responsible for your own actions. Please use caution.
Intro to Backcountry Skiing · Sat. Feb. 6th - Sun. Feb. 7th
Warning: This is an old trip - it already happened
Details Page: Where you can see brief trip details (publicly viewable).
This trip does not have an associated Wiki Page.
Message Board Thread: Discuss this trip with other members here.
Organized by:
Anna Geller
.
Start:
Saturday, Feb. 6th
End:
Sunday, Feb. 7th
Pre-trip meeting:
Wednesday, Feb. 3rd, 7:00 pm
Pre-trip meeting location:
ClubroomDescription:
Love skiing but tired of icy, crowded, and expensive resorts? Want more of this...
(NOT EXACTLY AS ILLUSTRATED)
.... and less of this?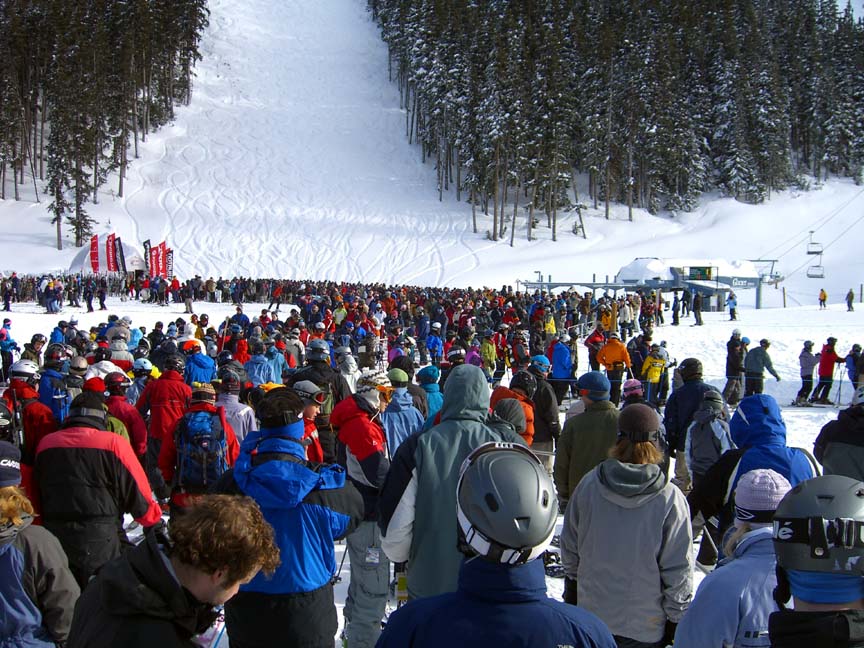 (NOT QUITE LIKE THIS, EITHER)
Then look no further! This trip is just as it sounds, it is an introduction to skiing in the backcountry! Location will be Fat Dog Creek in Manning Park. The plan is to go up about 6.5km and tent in the snow, then ski some laps in the area. No backcountry ski experience is necessary, though participants must have spent some time on skis and should be able to descend a blue run cleanly in a resort. While we will stick to easy terrain, the weight of an overnight pack makes skiing much more difficult, and thus, this trip is not suitable for those who haven't skied before. Splitboarders and/or snowboarders with snowshoes are most certainly welcome, though I can't guarantee that an experienced snowboarder will be on the trip. Participants must also have some overnight backpacking experience, and winter camping experience would definitely be helpful, as we are camping on snow. Some good trips to go on to prepare for this one are Winter Longhike and Tele School, for winter camping and telemark skiing respectively. For what to bring, please refer to the VOC gear list under the winter overnight section.
I am also looking for experienced backcountry skiiers (with AST1 or equivalent) to help me lead this trip. I'll limit the number of participants according to how many experienced people sign up and to how many car spots we have. If the group is large, I will split it us up and send smaller groups to different locations to avoid congestion. Questions? Ask here on the associated message board thread :)
Posted: 2015-12-23 22:34:41
Last modified: 2016-02-01 15:41:16