Members can
insert new events into the calendar
and signup for trips, but please read the
instructions
before posting.
VOC trips are organized by members like yourself, not professional guides. The trips go into wilderness areas where assistance is unavailable and unexpected events can occur. You could be seriously injured or die. You are responsible for your own actions. Please use caution.
The May bikepacking expedition · Sat. Apr. 30th - Fri. May. 6th
Warning: This is an old trip - it already happened
Details Page: Where you can see brief trip details (publicly viewable).
This trip does not have an associated Wiki Page.
Message Board Thread: Discuss this trip with other members here.
Organized by:
Ilia Capralov
.
Start:
Saturday, Apr. 30th
End:
Friday, May. 6th
Pre-trip meeting:
Wednesday, Apr. 20th, 2:00 pm
Pre-trip meeting location:
VOC clubroomDescription:
This trip is a compilation of awesome trails and logging roads from Sunshine cost and Vancouver Island looped in a 6-day bikepacking trip! It is going to be a nice break between terms and a great opening of bikepacking season!
Overview
The first part is of the trip is bluntly stolen from bikepacking.com. The route starts at Langdale and follows singletrack bike trails to Earls Cove. Here is what they say about it:
"This route loosely follows Stages 3 and 4 of the world-famous BC Bike Race, for that same "ultimate singletrack experience" without the mayhem and expense of an organized event. Nowhere else have I found extensive wood-work stunts, and purpose-built trails on a bikepacking route. The result is a two or three day ride consisting of great mountain biking through heavy forest. The route passes through the town of Sechelt at around half-way, making resupply and logistics easy. The riding, however, is heavy with proper, technical mountain biking. The result is a great intro to bikepacking for those coming from a mountain biking background, wanting to try a one or two night ride."
If you don't want to do the whole loop, you can stop here, at Earls Cove, and ride 39 km to Halfmoon Bay where you can catch a bus to ferry terminal. This will make you an awesome weekend trip!
After that we take a ferry to Saltery Bay, ride to Powel River on the highway and then take one more ferry to Courtenay, which is across Strait of Georgia. In the same day, if time allows, we can drop off our stuff on the campground at Commox Lake and ride a few hours on mountain biking trails in Courtenay area. If the group comes to a consensus, we may extend our riding in Commox area for one more day.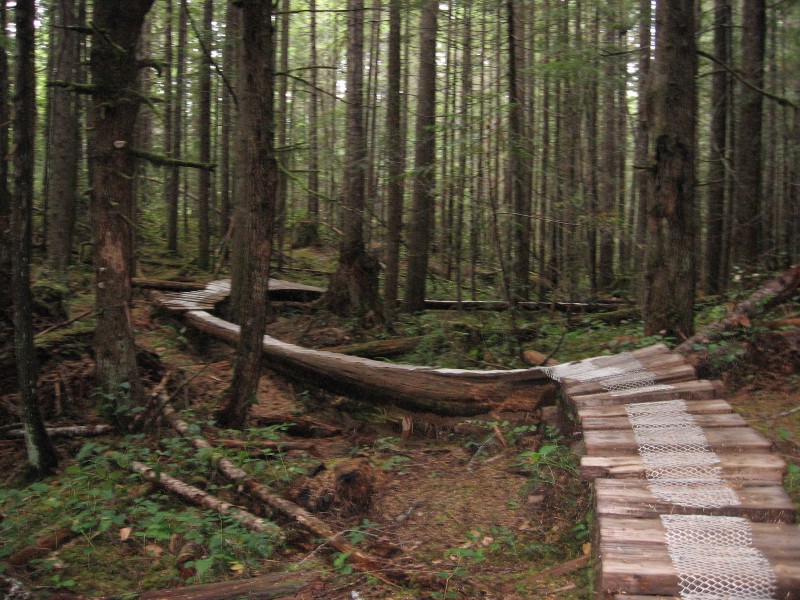 We will have 3 full days on the Island (not counting the day we take a ferry to Comox and possible mountain biking day in Comox area). In the next part of the trip we will explore lots of gravel logging roads and mossy trails which will lead us South to Port Alberni, then to Cowichan Lake (not the town) and then to Nanaimo. The gorgeous sceneries of high and snowy mountains, a long beautiful Alberni Inlet and ancient mossy forests with huge trees are guaranteed!
Here is the plan. You can download a kml layer which includes the same track and approximate overnight spots. This plan is not a final cut! I am sure that some of you will find some flaws in it, and I invite everyone interested to contribute with your advices!
Challenges or "To Go or Not to Go?"
The first segment of the trip is ranked 5/10 on bikepacking.com website, so every participant should have decent experience and confidence on mountain trails. We will keep the speed around 10-12 km/h to keep up with the schedule and the daily elevation gain will sometimes exceed 1500 m. The trip is planned the way so that we could warm up a bit after the long winter, so the distance we will ride daily will gradually grow from 50 to 85 km. So make sure that you are comfortable with this load. The trip is designed for mountain bikes only, since almost about 90% of the trip is going to be off-road (unpaved). Most (if not all) overnights will be in tents, sometimes on campgrounds, sometimes wild. If you are new to outdoor camping, or bike touring, or you are not sure in your physical abilities, let me know before the pre-trip meeting. We might even make a one-day trial trip to let you estimate your abilities!
PS.
The pre-trip meeting will be held so early to make sure that everyone has enough time to buy some missing gear after we figure out whether it is needed or not.
Posted: 2016-04-07 17:19:27
Last modified: 2016-04-17 20:06:59