Members can
insert new events into the calendar
and signup for trips, but please read the
instructions
before posting.
VOC trips are organized by members like yourself, not professional guides. The trips go into wilderness areas where assistance is unavailable and unexpected events can occur. You could be seriously injured or die. You are responsible for your own actions. Please use caution.
Hike 'The Chief' on Sunday! · Sunday, March 19th
Warning: This is an old trip - it already happened
Details Page: Where you can see brief trip details (publicly viewable).
This trip does not have an associated Wiki Page.
This trip does not have an associated Message Board Thread.
Organized by:
Tim Fisher
.
Start:
Sunday, Mar. 19th, 8:30 am
End:
Sunday, Mar. 19th, 4:00 pmDescription:
Calling out to VOC drivers! We need another car on this trip. Please consider joining :)
-----------
Hey Hikers! Let's go to 'The Chief' for some winter hiking. Come hang out with your fellow VOCers and enjoy a beautiful day - the weather prediction for the weekend is SUNSHINE!! Beginners are welcome, all you need is sturdy footwear, warm clothes and a pack lunch. We'll meet at 8:30am Sunday at Waterfront Station on Sunday for carpooling, by popular vote we may have a Ramen dinner together at the end of the trip!
------
The backside trail of the Chief is an ideal destination if you are interested in a short hike that can be done in a morning. Although not nearly as popular as the Grouse Grind, this trail is quite busy. It's worthwhile for the beautiful view of Howe Sound at the top and to be able to say that you've "climbed" the Chief.
All trails can be accessed through the Chief campground. The turn-off is located just south of Squamish on highway 99. You can park in the climber's parking lot (right by the highway) and walk all the way through the campground to the stairs at the top of the big boulder at the back. Alternatively, the trail system can be accessed via Shannon Falls. Go past the falls heading in a northwesterly direction, following the signs to the Chief; this way is nicer. The parking lot at the Chief is free, the parking lot at Shannon Falls is not free.
There are three peaks, the first and second being very popular, and the third being visited a little less. The first and second can be reached in under two hours.
More photos here: https://www.flickr.com/search/?text=stawamus%20chief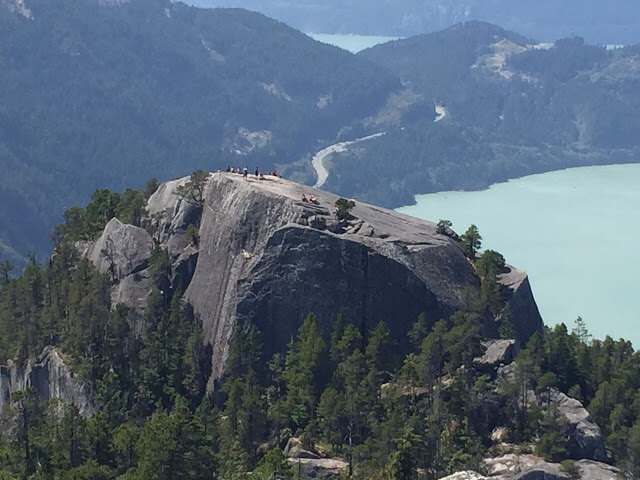 Posted: 2017-03-13 23:46:11
Last modified: 2017-03-16 20:18:02