Members can
insert new events into the calendar
and signup for trips, but please read the
instructions
before posting.
VOC trips are organized by members like yourself, not professional guides. The trips go into wilderness areas where assistance is unavailable and unexpected events can occur. You could be seriously injured or die. You are responsible for your own actions. Please use caution.
[workhike] VOC Journal Editing Party! · Monday, January 15th
Warning: This is an old trip - it already happened
Details Page: Where you can see brief trip details (publicly viewable).
This trip does not have an associated Wiki Page.
This trip does not have an associated Message Board Thread.
Organized by:
Lucy Buchanan-Parker
.
Start:
Monday, Jan. 15th, 5:00 pm
End:
Monday, Jan. 15th, 6:30 pm
Pre-trip meeting location:
clubroomDescription:
Come and help your friendly VOC Journal Editor edit the 50+ articles that have been submitted for this year's journal! Counts as a workhike, and more importantly you'll have my undying gratitude!
This is mainly an endeavor in proofreading and making small changes for clarity if needed. Each article will be proofread twice, so there's no pressure to be perfect although it would be good if you can catch major errors.
Snacks and "beverages" will be available!
I'll be in the clubroom from about 5pm, but feel free to come later if you need to.
Please bring your own laptop.
Please use the signup tool so I know how many people to expect.
If you want to help out but can't make the meeting, send me an email for instructions on how to do it remotely. There will also be another opportunity to help out once the articles get laid out in their book format.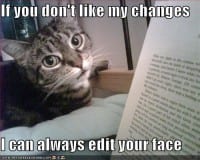 Posted: 2018-01-10 21:31:25
Last modified: 2018-01-10 21:33:24