Members can
insert new events into the calendar
and signup for trips, but please read the
instructions
before posting.
VOC trips are organized by members like yourself, not professional guides. The trips go into wilderness areas where assistance is unavailable and unexpected events can occur. You could be seriously injured or die. You are responsible for your own actions. Please use caution.
Williamson Lake Hike & Foley Peak Scramble · Sat. Aug. 24th - Sun. Aug. 25th
Warning: This is an old trip - it already happened
Details Page: Where you can see brief trip details (publicly viewable).
This trip does not have an associated Wiki Page.
This trip does not have an associated Message Board Thread.
Organized by:
Luc Harvey
.
Start:
Saturday, Aug. 24th, 5:00 am
End:
Sunday, Aug. 25th, 6:00 pm
Pre-trip meeting:
Wednesday, Aug. 21st, 7:00 pm
Pre-trip meeting location:
VOC ClubroomDescription:
Who's ever been hiking in the West Chilliwack area?! I sure haven't! I've had these maps of the area for the last year and still haven't checked it out!
Anyway, Foley Peak, accessed via Williamson Lake, is an amazing, rather steep pyramid shaped peak in the west Chilliwack area along Cheam Ridge. It rises above Foley Glacier and gives you an incredible 360 degree view of the area.
With all it's incredible views, Foley Peak appears to have good amount of technical scrambling involved with a bit of glacier travel as well. Therefore, this is an intermediate friendly trip ONLY. You should have some exposed scrambling or multi-pitch rock climbing experience.
Take a look at the GoPro video on youtube of the scramble to get a better idea of what you would be in for if you came on this trip: https://www.youtube.com/watch?v=Acay9tZuRXQ
The plan will be to drive up to Chilliwack Saturday morning, hike up to Williamson Lake and camp there Saturday night. We will then get up early Sunday morning, scramble up to summit Foley Peak hopefully by early afternoon (with daypacks only), and then descend back to the lake, pick up our overnight packs and make our way down to the car.
This is a tentative trip as I posted it quite late and it will also depend on weather. Furthermore, if you would like to hike with us up to the Glacier but are not comfortable summiting Foley Peak, that's cool too!
Based on further research that I have yet to do, there's a good chance that you will need glacier travel equipment including ice axe, crampons, helmet and maybe a harness (for short roping in case people are uncomfortable with some of the scrambling sections).
Pre-trip is on Wednesday night at 7 pm. You must attend the pretrip to come on the trip. If you want to join but can't make it to the meeting, please email or text me to let me know.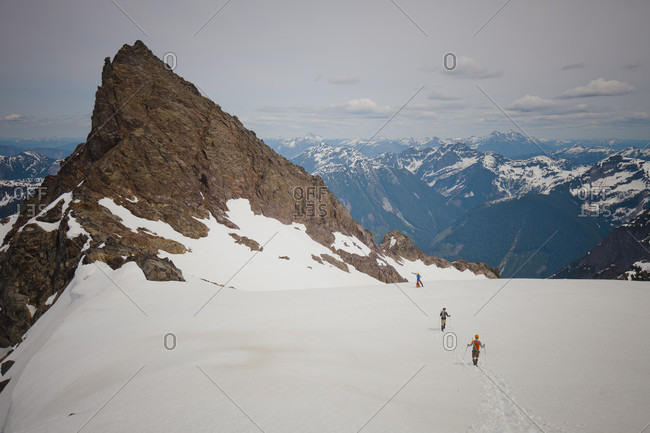 Posted: 2019-08-11 22:04:26
Last modified: 2019-08-20 07:09:41