Members can
insert new events into the calendar
and signup for trips, but please read the
instructions
before posting.
VOC trips are organized by members like yourself, not professional guides. The trips go into wilderness areas where assistance is unavailable and unexpected events can occur. You could be seriously injured or die. You are responsible for your own actions. Please use caution.
[Climbing] Machine Learning for greater stoke · Wednesday, November 30th
Warning: This is an old trip - it already happened
Details Page: Where you can see brief trip details (publicly viewable).
This trip does not have an associated Wiki Page.
This trip does not have an associated Message Board Thread.
External Link: For extra information not hosted on the VOC site.
Organized by:
Sumit Meghlani
.
Start:
Wednesday, Nov. 30thDescription:
Collective Intelligence = Collective Improvement
can machine help man conquer rock?
I have been in the VOC for 3 years, made a lot of friends and learnt a bit about outdoors along the way. I would like to contribute back to club by helping those who perhaps dont have much time or are shy to ask for help.
Climbing is a great sport, but the progression is often not linear and some can get bogged down on lower grades. I want to use Machine Learning to fix that.
I got inspired of Lara Thompson's (also a VOC member!) Blog, she was able to obtain a dataset of 600 climbers from reddit and anlayse it to derive insights that helped her form a training plan.
There is also Lattice Training that offers personalized training plans at a certain price for those who prefer.
I have a server that can host a form helping me collect data, which i can use with my Machine Learning models to provide personalized insights to whoever submits the form.
Fig1: shows the dataset we currently have, as can be seen the female participation wasn't great on reddit, causing noisy estimates.
Fig2: pull-ups/ push-ups to V-grade relationship
Fig3: the finger strength to recent V grade relationship
Climbing Insights and report:

There will be a Radar Graph like this, along with some insights like the ones shown above, compiled in a report with suggested workouts (and climbs).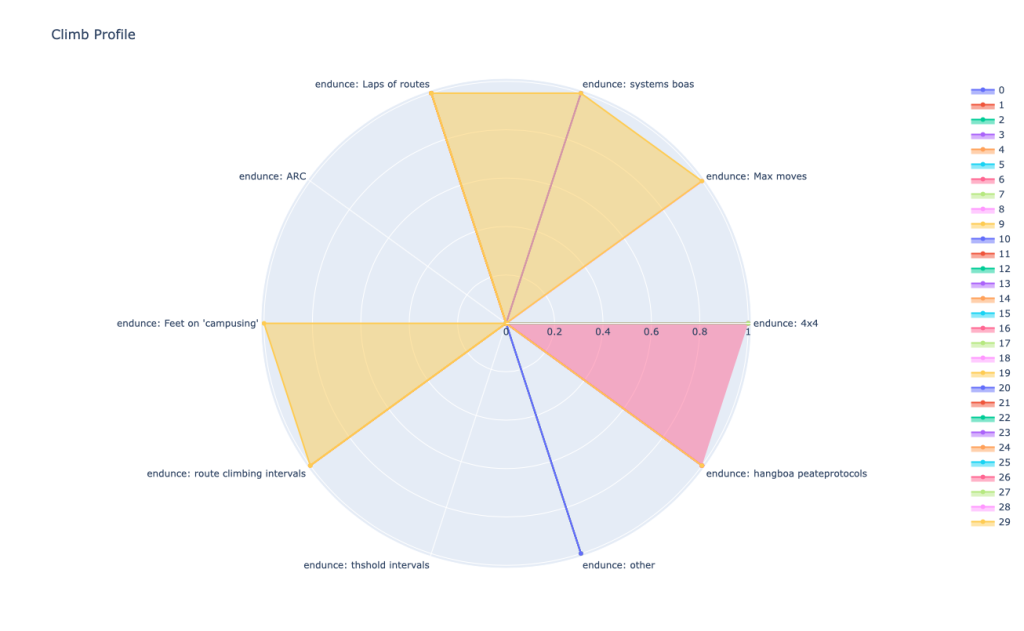 Fig4,5,6: a climbing profile sample
Like any trip this requires interest and participation, but its sort of unique in the way that we dont need to organize for drivers or go outside.
how it works:
you access the server -> create an account -> fill the form with personal characteristics, climbing history and training schedule -> submit and check your metrics on the leaderboard.
i run the ML model on my personal home cluster over the weekend, and then send you the report by email or your choice of communication.
I plan to be completely transparent with how i use the data, will maintain a blog on my personal website.
Questions:
Anton asked for more information on the questions, so here it goes.
Personal

First Name

Last Name
Sex
Height
Weight
BMI
Arm span
Years spent climbing
Climbing
Hardest Grade
CLimbing Location
Hardest Grade (Frequency)
Recent Hardest Grade
Recent Hardest Grade (Frequency)
Normal Grade
Normal Grade ( Frequency)
Training
Climbing Frequency (week)
Climbing Frequency (hours)
Training for Climbing (hours)
hangboard Frequency
hangboard style
hangboard grip
max weight hang x2 open and half crimp
normal hang x2 open and half crimp
minimum edge used x2 open and half crimp
Campus Board Frequency
Endurance Training type
Endurance Training Frequency
Strength Training type
Strength Training Frequency
Other Training
Maximum Pull- ups
Maximum Push-ups
Max L-sit (time s)
Future:
I would like to use the data to suggest outdoor routes to climb based on climbing profiles, wouldn't that be something.


Posted: 2022-11-16 21:52:13
Last modified: 2022-11-22 16:36:35