Members can
insert new events into the calendar
and signup for trips, but please read the
instructions
before posting.
VOC trips are organized by members like yourself, not professional guides. The trips go into wilderness areas where assistance is unavailable and unexpected events can occur. You could be seriously injured or die. You are responsible for your own actions. Please use caution.
Beginner friendly Wedgemount Lake trip · Sat. Oct. 26th - Sun. Oct. 27th
Warning: This is an old trip - it already happened
Details Page: Where you can see brief trip details (publicly viewable).
This trip does not have an associated Wiki Page.
Message Board Thread: Discuss this trip with other members here.
Organized by:
Clemens Adolphs
.
Start:
Saturday, Oct. 26th
End:
Sunday, Oct. 27th
Pre-trip meeting:
Wednesday, Oct. 23rd, 7:00 pm
Pre-trip meeting location:
IBLC 261 (Gearswap room)Description:
Wedgemount Lake is a beautiful destination to go to and explore, so I suggest we go there and check it out.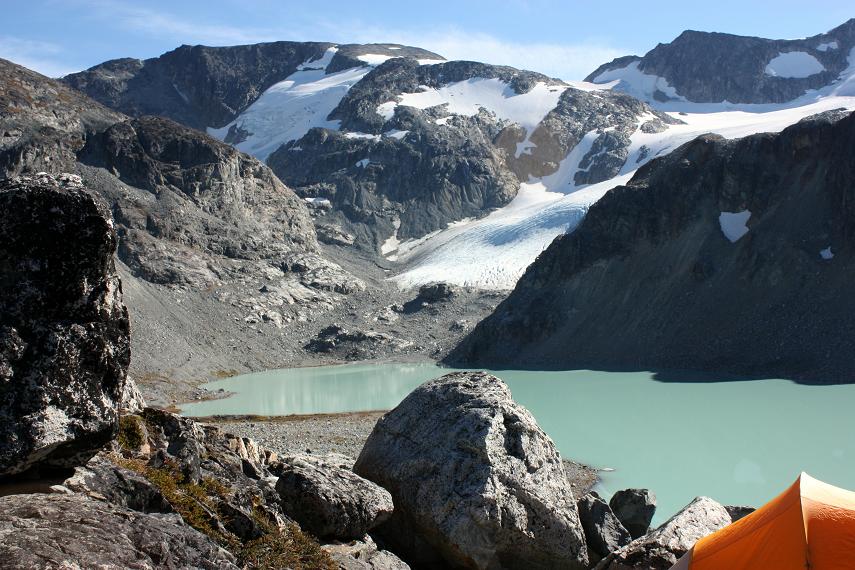 The Plan
The precise plan is somewhat tentative and depends on what people want to do. If weather and conditions are nice, we can make it an overnight trip. We hike in on the first day, and then do a scramble of Weart or Parkhurst on the second day, or maybe just explore the glacier. People who don't feel like doing the extra scramble can hang out by the lake. We should definitely check out the cool ice formations where the Wedgemount Glacier flows into the lake. Although there is a hut at the lake, I'd say we bring our own tents. The hut is rather small and costs money. There's good camping around the hut.
Here's Weart. It get's 3 stars in the "Scrambles in Southwest BC" guidebook and I hear good things about it. If the picture looks steep and scary to you, don't worry. Things often look steeper and worse than they actually are, because on the big picture you don't see all the nice steps.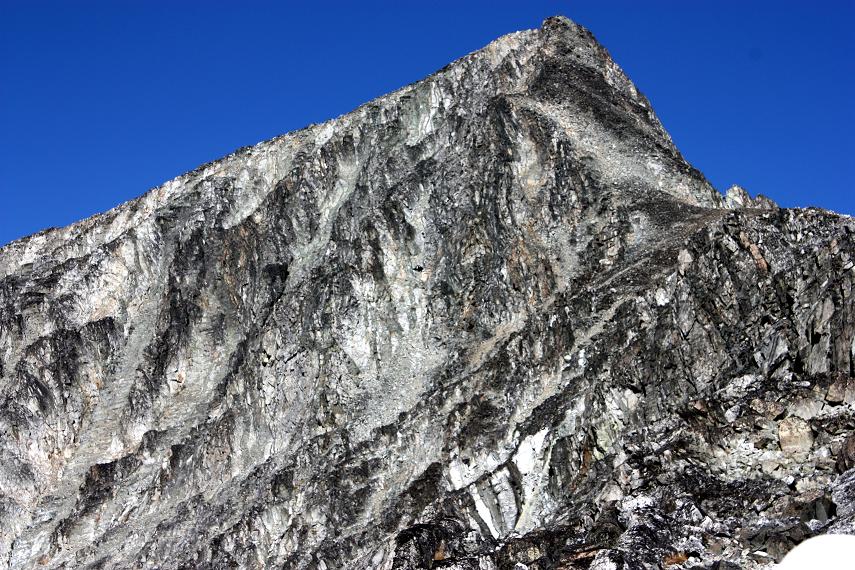 Alternatively, if conditions aren't too good or if people just aren't keen for it, we can also just do a day trip: Hike in, hang out, hike out. No need for overnight gear then, which means we're faster.
What does it mean?
The approach to the lake is on a maintained trail that is steep and rough in some sections, but not scary. However, hiking boots are absolutely mandatory. Anything else is just asking for sprained ankles. Bring hiking poles if you have them. They make you faster on the way up and make your knees happy on the way down.
The hike to the lake should take around 3 hours, maybe a bit more depending on how fast and fit we are, but don't worry: If we do it as a two-day trip we have all the time in the world to hike up, and if it's a one-day trip you'll have a light pack anyway.
For scrambling up Weart or Parkhurst, the required gear depends a bit on the conditions. There might be snow fields to cross, so an ice axe can come in handy. You can rent it from the club and I'd teach you how to use it for stopping yourself sliding down a snow slope (or how to use it to never start sliding in the first place). Since some of the rock on Weart is loose, a helmet is another must.
We will not bring crampons. The chance that we'd need them on the scramble is too low to warrant their extra weight and having them poke holes in your pack.
Gear
Reasonable hiking boots are a must, and if we do the scramble, helmets and an ice axe are a must as well. Other than that, please check out the hiking day trip / hiking tent trip gear lists here. Please ask me before you decide to not bring something that is on the list.
Logistics
I've booked a co-op car that seats a total of 7, and if I'm the only "leader" that's a group size I'm comfortable with taking up there. If another experienced person joins, we can take another car load up.
Posted: 2013-09-10 10:06:07
Last modified: 2013-10-19 16:26:36