Members can
insert new events into the calendar
and signup for trips, but please read the
instructions
before posting.
VOC trips are organized by members like yourself, not professional guides. The trips go into wilderness areas where assistance is unavailable and unexpected events can occur. You could be seriously injured or die. You are responsible for your own actions. Please use caution.
[workhike] Long weekend Harrison Hut Trail Building Extravaganza Workhike · Sat. Aug. 2nd - Mon. Aug. 4th
Warning: This is an old trip - it already happened
Details Page: Where you can see brief trip details (publicly viewable).
This trip does not have an associated Wiki Page.
Message Board Thread: Discuss this trip with other members here.
Organized by:
Clemens Adolphs
.
Start:
Saturday, Aug. 2nd, 5:00 am
End:
Monday, Aug. 4th, 11:59 pm
Pre-trip meeting:
Wednesday, Jul. 30th, 7:00 pm
Pre-trip meeting location:
ClubroomDescription:
Another long weekend, another great opportunity to go work on the trail of our most remote hut, the Harrison Hut. After a giant landslide cut it off from the outside world, the VOC managed to establish - over the course of many years and with the invaluable help of countless volunteers - a new trail.
From the description of the last workhike: The trail, especially the second section, still needs lots of work to be user-friendly. We will work on the trail bed, move dirt and smooth sidehills, and install logs with rebars if needed, etc. People who had done similar works will be useful, but no experience is required for this trip (as long as you can hike with an overnight pack) - we can all learn these things together. This is a great opportunity to contribute to the club and our outdoor community - I'm sure you'll be proud to say that you worked on building a backcountry trail for others to use!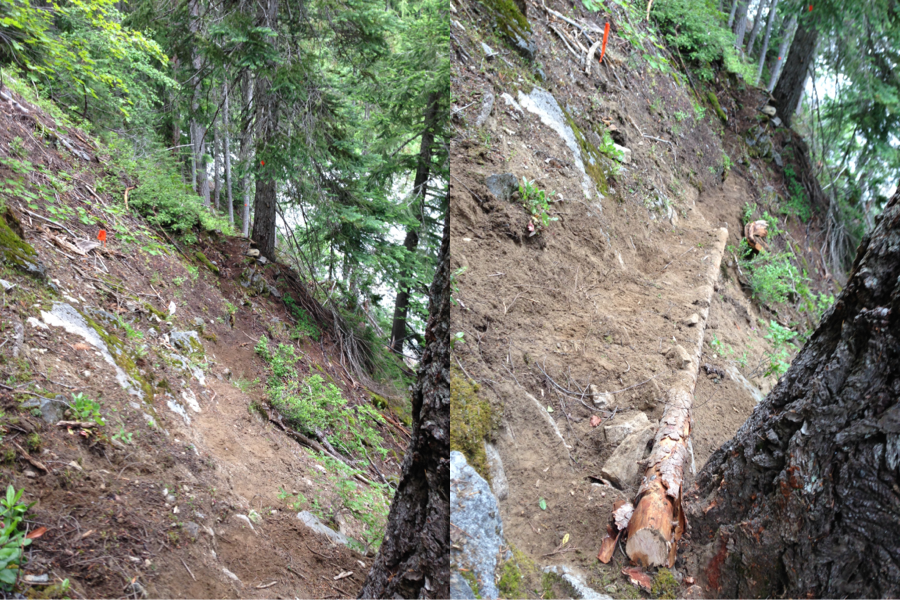 We'd camp at the end of the logging road section, because that's a good spot and reasonably close to the section of trail we'd be working on.
Depending on the number of people and drivers we get and what their preferences are, we can drive to the trailhead Friday evening, then hike in early Saturday. Details will be figured out soon.
Any questions? Ask them in the message board.
Pre-trip meeting will be Wednesday 30th of July, 7pm in the clubroom.
Posted: 2014-07-14 16:01:44
Last modified: 2018-10-21 00:51:38