Members can
insert new events into the calendar
and signup for trips, but please read the
instructions
before posting.
VOC trips are organized by members like yourself, not professional guides. The trips go into wilderness areas where assistance is unavailable and unexpected events can occur. You could be seriously injured or die. You are responsible for your own actions. Please use caution.
September long weekend - Harrison Trail workhike! · Sat. Aug. 30th - Mon. Sep. 1st
Warning: This is an old trip - it already happened
Details Page: Where you can see brief trip details (publicly viewable).
This trip does not have an associated Wiki Page.
Message Board Thread: Discuss this trip with other members here.
Organized by:
Magda Price
.
Start:
Saturday, Aug. 30th, 5:00 am
End:
Monday, Sep. 1stDescription:
2014.8.27: Pre-trip meeting canceled due to scheduling conflicts. Will e-mail participants with organizational details.
Several VOC members have spearheaded the development of a "geologically-safe" trail to the mysterious Harrison Hut since access was cut off most recently by a massive land slide in 2010. Join the legacy of VOCers who are dedicated to establishing access to this beautiful alpine location!
WHEN: Ideally leave on Friday evening, but depends on drivers. It takes ~5 hours to get to the trailhead (including picking ppl up & gas), so if we can wake up Saturday morning & just start hiking, it's a much more relaxed day.
WHAT: The trail, especially the second half, still needs lots of work to be user-friendly. We will work on the trail bed, move dirt and smooth sidehills, and install logs with rebar if needed (see before & after photo below). Gas will be covered by the club & you will be given many Cliff bars (if you want to carry them!), but remember this is a work hike, so we will be working! This is a great opportunity to contribute to the club and our outdoor community - I'm sure you'll be proud to say that you worked on building a backcountry trail for others to use!
WHO: A small group (1-2 carloads of people). People who have done similar work will be useful, but no experience is required for this trip - we can all learn these things together. The key is that you feel confident in your hiking & backpacking abilities since this trail isn't yet beginner friendly, is long (~13 km) and there is a lot of gain & loss of elevation.
Any questions? Ask them in the message board.
Pre-trip meeting is mandatory & will be Wednesday August 27, 6:30pm in the clubroom.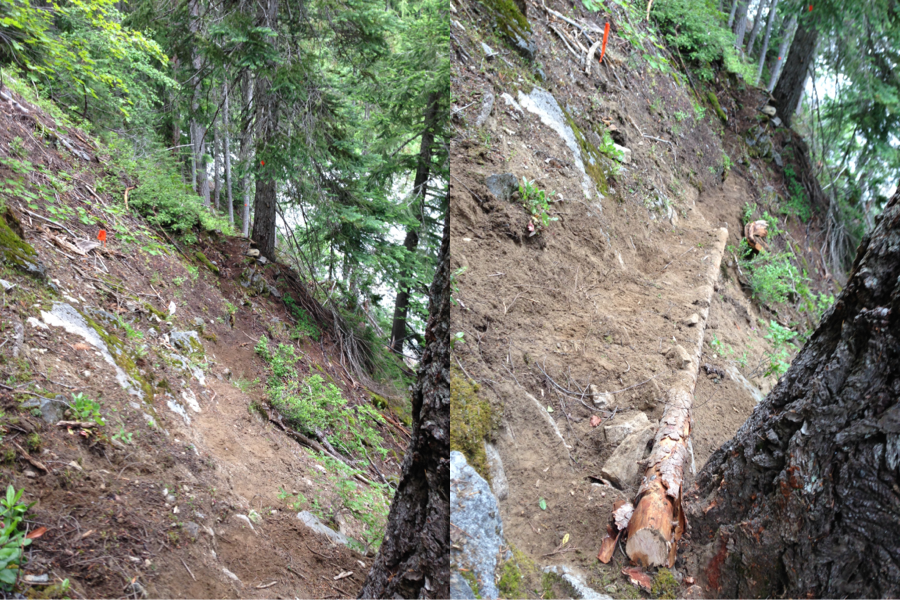 Posted: 2014-08-19 12:49:05
Last modified: 2014-08-27 14:36:13