Members can
insert new events into the calendar
and signup for trips, but please read the
instructions
before posting.
VOC trips are organized by members like yourself, not professional guides. The trips go into wilderness areas where assistance is unavailable and unexpected events can occur. You could be seriously injured or die. You are responsible for your own actions. Please use caution.
Wedge Mountain via North East Arete · Sat. Jul. 9th - Sun. Jul. 10th
Warning: This is an old trip - it already happened
Details Page: Where you can see brief trip details (publicly viewable).
This trip does not have an associated Wiki Page.
This trip does not have an associated Message Board Thread.
Organized by:
Matteo Agnoloni
.
Start:
Saturday, Jul. 9th
End:
Sunday, Jul. 10th
Pre-trip meeting:
Tuesday, Jul. 5th, 6:30 pm
Pre-trip meeting location:
Outside clubroomDescription:
The north east arete of Wedge is a classic and very aesthetic mountaineering route. Although it doesn't require high technical ability, it is very exposed. The picture below shows pretty much the whole ridge. This route follows the ridge straight to the summit.
Right now I am setting the timeline to two days, though if an overwhelming majority wants to do it in one day, that is also possible. Two days allows us to also enjoy the area around Wedgemount Lake. Hiking in to the lake would be done on the first day, which involves approximately 7km and 1200m of elevation gain (very steep hike!). The second day would involve glacier travel, the ridge traverse to the summit, descending the ridge back to the lake, and back to the car. Elevation gain from lake to summit is a bit under 1000m.
For this trip you want to have crevasse rescue skills, HIGH confidence in travelling on glaciers and steep snow, and you want to be comfortable with sustained exposure. It should be noted that a fall while on the ridge could have serious consequences. If you have any questions, please don't hesitate to shoot me an email.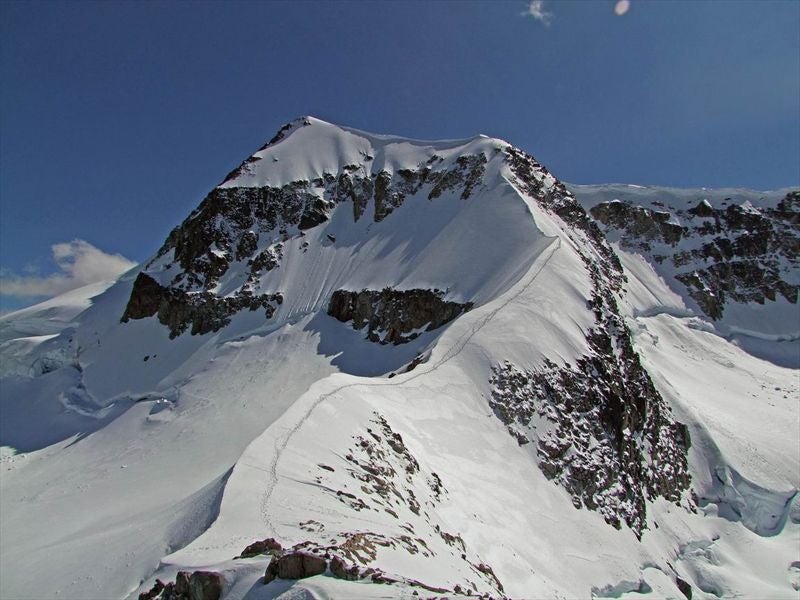 Posted: 2016-04-30 00:55:59
Last modified: 2016-07-08 07:58:04