Members can
insert new events into the calendar
and signup for trips, but please read the
instructions
before posting.
VOC trips are organized by members like yourself, not professional guides. The trips go into wilderness areas where assistance is unavailable and unexpected events can occur. You could be seriously injured or die. You are responsible for your own actions. Please use caution.
Beginner friendly intro to gong-showing; backcountry skiing at Helm · Saturday, November 4th
Warning: This is an old trip - it already happened
Details Page: Where you can see brief trip details (publicly viewable).
This trip does not have an associated Wiki Page.
Message Board Thread: Discuss this trip with other members here.
Organized by:
Ross Campbell
.
Start:
Saturday, Nov. 4th, 7:00 am
Pre-trip meeting:
Tuesday, Oct. 31st, 6:00 pm
Pre-trip meeting location:
In or around the club roomDescription:
It's finally that time of year. It's time to ski!
Will this be the first ski trip of the year? - Maybe.
Will there actually be snow to make skiing possible? - Probably
Do you need to have any prior experience and/or innate ability? - Most certainly not!
Do you want to (very slowly) learn how to ski? Can you already ski and find you enjoy runs of the mellow persuasion? Alternatively, can you already ski but want to try out this strange free-heeled tele thing? Do you like the idea of falling over a lot? Do you like the idea of helping people who fall over a lot? Do you want to see what the backcountry looks like once it is covered in a beautiful blanket of white? Have you just recovered from your last skiing injury and want to find out how bad the PTSD is going to be? Are you a sadistic prick and enjoy watching others struggle?
If you answer yes to any of the above questions then this is the trip for you!
The club has skis available to rent, and while there are certainly easier ways to learn the art, I've yet to find a cheaper one! Red Heather is the perfect destination to give it a go. It has plenty of small mellow hills. At no point are you forced to make your way through dense trees. The approach from the car is only a couple of hours hike/skin, as the snow line permits. There is a nice cabin up there, with a wood burning stove, to get you back to a comfortable temperature whenever the rolling around in the snow has got a bit too much. The views over the Tantalus range are also very nice indeed!
This trip can be either a day-trip or overnight, as you prefer (depending on what drivers want to do of course...). If camping overnight, we can enjoy the warmth and shelter of the hut into the night, but we can't sleep in it, so we shall need to bring tents. Finding tent spots for those who do not own one is almost never a problem. If you want to experience the joys of camping in snow for the first time this would be a very good time to start!
For a better idea of what to expect see:
http://www.ubc-voc.com/2012/11/27/red-heather-skiing-fun-for-all-the-voc
Any questions/concerns? Just ask!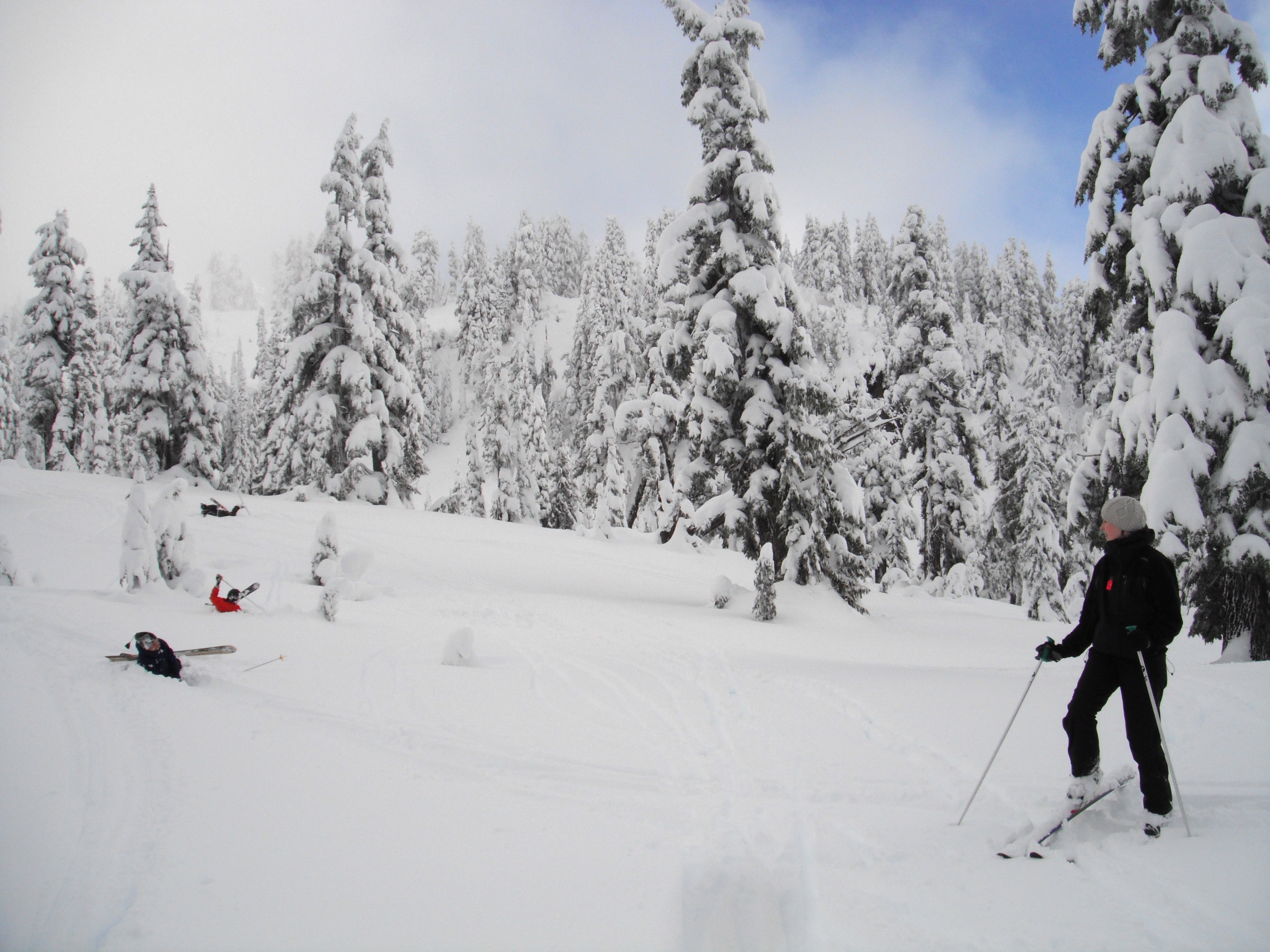 Posted: 2017-10-10 19:32:10
Last modified: 2017-10-30 16:15:37