Members can
insert new events into the calendar
and signup for trips, but please read the
instructions
before posting.
VOC trips are organized by members like yourself, not professional guides. The trips go into wilderness areas where assistance is unavailable and unexpected events can occur. You could be seriously injured or die. You are responsible for your own actions. Please use caution.
Castle Towers intermediate-advanced scrambling · Sat. Aug. 2nd - Mon. Aug. 4th
Warning: This is an old trip - it already happened
Warning, this trip has been cancelled
Details Page: Where you can see brief trip details (publicly viewable).
This trip does not have an associated Wiki Page.
This trip does not have an associated Message Board Thread.
This trip does not use the signup tool.
Wikitext Page: From where you can cut and paste information formatted for the wiki.
Printable List Page: Which generates a printable list of participants.
Edit Page: Where the trip organizer can edit the entry for this trip.
Modify Signups: Where the trip organizer can change signup classes.
Organized by:
Ben Heaps
.
Start:
Saturday, Aug. 2nd, 6:00 am
End:
Monday, Aug. 4th, 6:00 pm
Pre-trip meeting:
Thursday, Jul. 31st, 6:00 pm
Pre-trip meeting location:
outside clubroomDescription:
Castle Towers scrambling. from cheakamus lake parking lot.
I completed the scramble last year and looking to do it again.
Read about it in the scrambles book. Last year camped on gentian ridge, and attempted castle towers on the first day, turned around an hour from the summit. Second day we summited, returned to campsite then back to car in 13 hours, with very few short breaks.
This year I'm thinking three short days with extra time on the summit. I am not a rockclimber but there is a short rockclimb to the true summit about 200 feet? above the hikers summit. There is also a rockclimb called phyllis' engine not far from castle towers.
I will not be making safety calls for the group, this trip is not beginner friendly, make your own decisions, climb what you want and get back to the campsite at the agreed time. Join me in the scramble to the castle towers but make your own safety calls.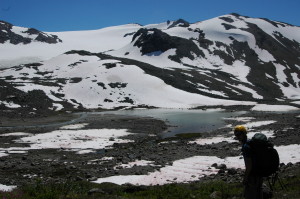 gentian ridge (snow ridge) campsite
Campsite and castle towers sunset day 1
Black tusk from scramble
Posted: 2014-06-09 10:29:38
Last modified: 2014-07-31 20:22:47