"The Spearhead is a classic. First completed in 1964 over the course of 9 days by members of the Varsity Outdoors Club, it's only right that a trip be organized this, the centennial year". This is what I wrote in the trip description to try an entice some adventure-loving VOCers to do the Spearhead Traverse. The multi-day (although some nutters do it in a single day) ski tour between Blackcomb and Whistler is renowned in British Columbia and is considered one of the top 50 ski tours in North America. We completed it over the Easter weekend in two days and it's easy to see the attraction of it: the challenging traverse rewards with it's incredible views and fantastic skiing. In 14.5 hours we covered 39km with 14 glacier crossings, an elevation gain of 2266m and a high point of 2610m (The Garmin even said we had a top speed of 67km/hr). The Spearhead was challenging not only physically, but mentally too – I found myself pushed to my very limits and you will see why in the journal to come. I would urge anyone with a lust for the great outdoors to experience the wild and wonderful traverse and to see just how far you can push your body and mind.
The Spearhead is an advanced tour and I let the prerequisites mirror that. AST, crevasse rescue, advanced skiing ability, good physical fitness and winter camping experience were all necessary for the trip, so when ten people turned up to the pre-trip meeting I was a little surprised. There was no way I could run the trip with that many people so we split the group in two with Matthias Leonhardt, Duncan Pawson, Dylan Heerema and Alexandre Jobin being in my group. The other half set about organizing their own, three-day version of the trip. We discussed the vitals at the pre-trip (food, shelter, route-finding and gear) and at the end, quickly ran over the basics of crevasse rescue to jog everyone's memory.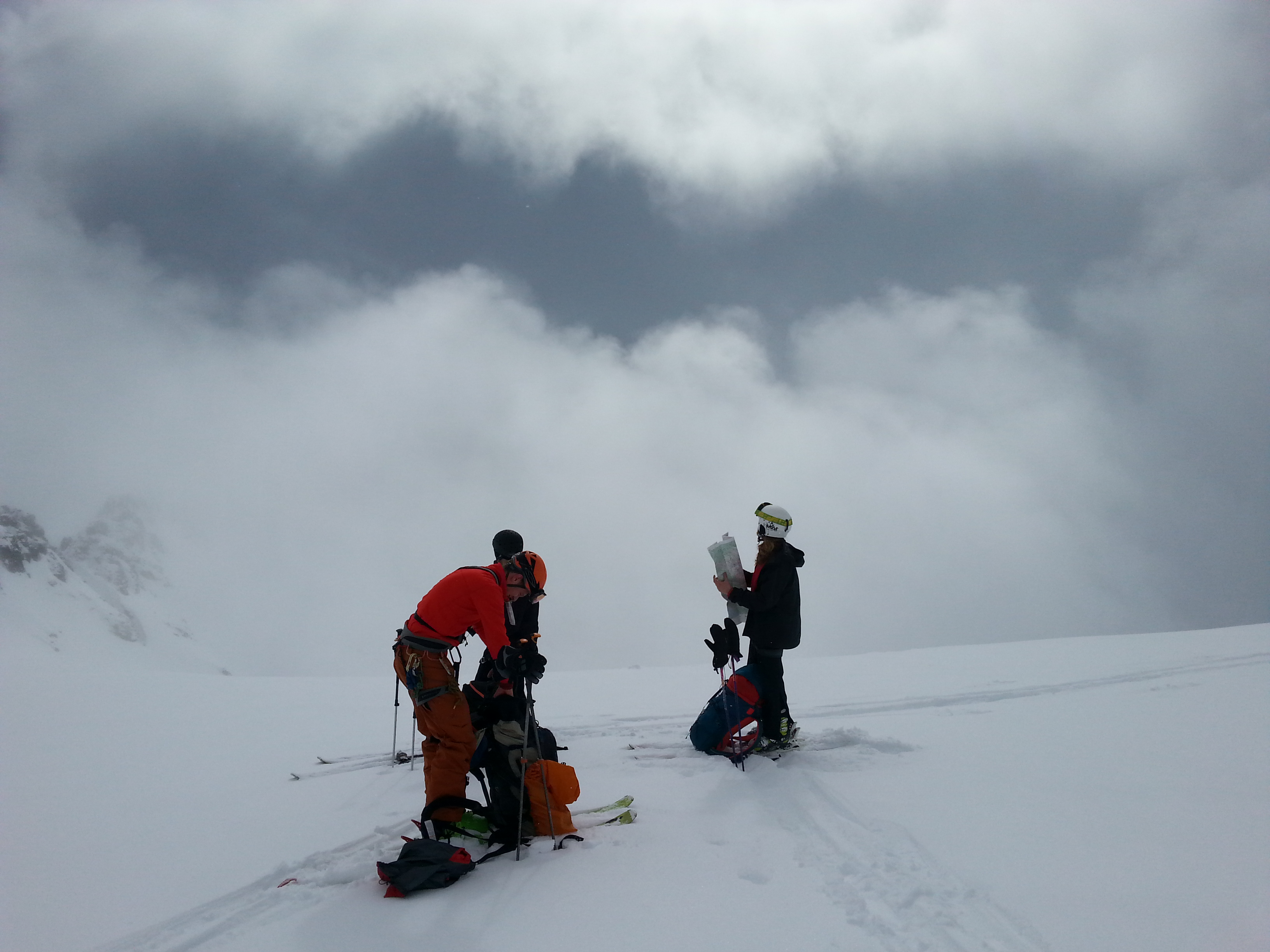 :-: Route-finding below The Spearhead, Matthias:-:
We would start of the traverse from Blackcomb glacier – accessible by ski lift (a bit different to when the traverse was first completed from Alta lake). As such, a 2AM alpine start on Saturday would be pointless when the upper lifts only open at 8.30 or so. I collected Alexandre and Duncan at 5.30AM from UBC campus while Dylan drove Matt. We met at Whistler at 7.30, had a quick coffee, filled up our bellies with water and took the Gondola straight out of Blackcomb. Although we had made it on one of the first lifts of the morning, in classic Whistler fashion the Glacier express chair hadn't opened yet so we waited in the Glacier creek lodge, looking out into the horrible weather that hadn't been forecast.
When the lift finally opened, we scooted up it, onto the Showcase T-bar and then we were onto Blackcomb Glacier: the true start of the Spearhead traverse. We skied across the famous glacier to the base of our first climb, just below the Spearhead peak. We took our skins out of our bags and pulled them apart. So Sticky! A lot different to how they would be by the end of tomorrow. I didn't count how many times I took my skins on and off my skis on the Spearhead, but I'd estimate somewhere around twenty times. Never in any tour I've ever done have I taken my skins off so much.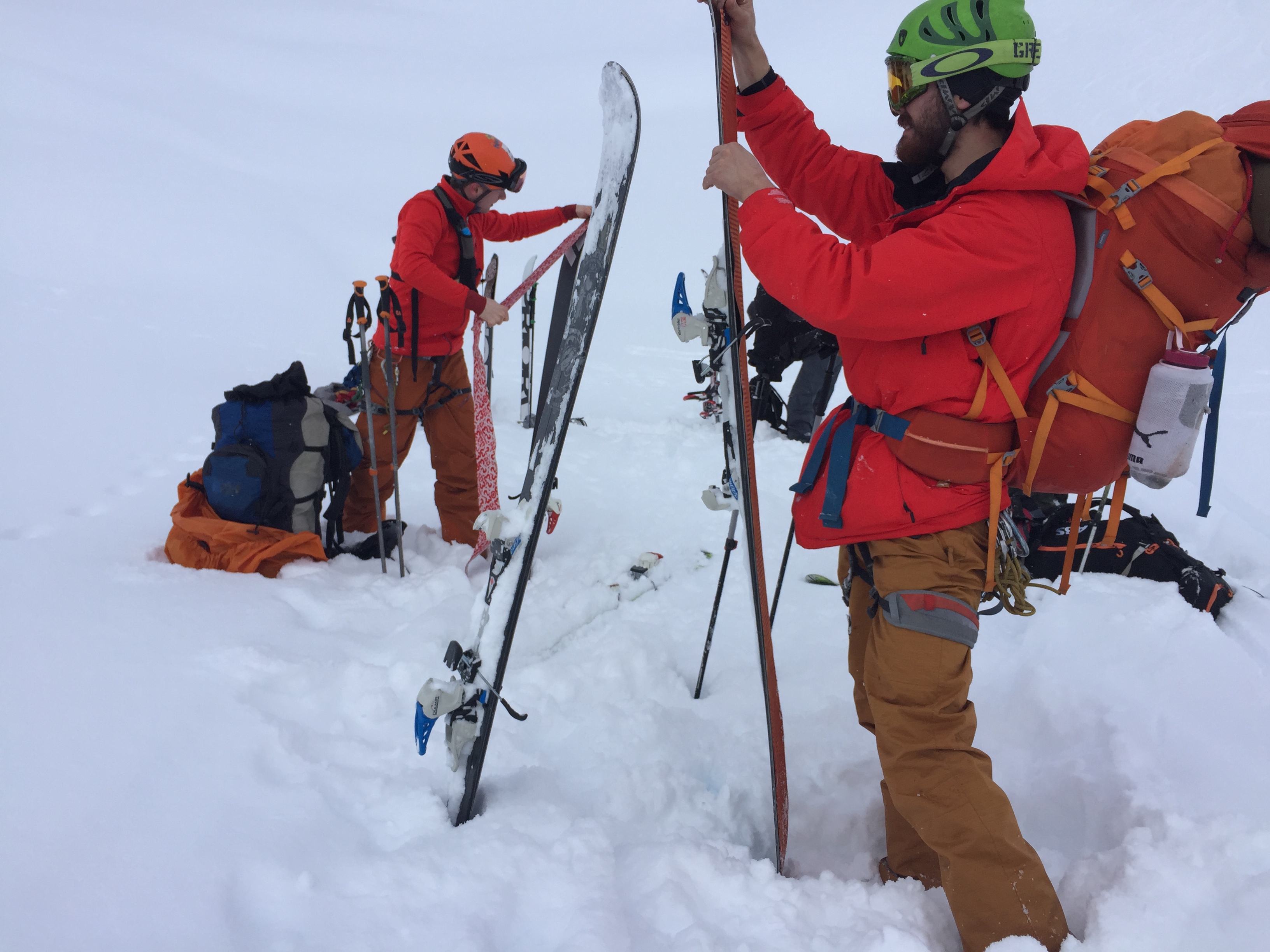 :-: Skinning up, a very common sight on the traverse, Shane :-:
There were fast folk who had made it onto the mountain earlier than us that morning and a lovely skin track had been laid out for us to follow, welcomed after the heavy snowfall the night before. Energized, we started our way up the incline – zig-zagging here and there but generally following the lemming line. We skinned about 150 meters up to the east col with the towering Spearhead to our left. Although, we couldn't see very much with the persistent snow; our navigation came primarily from my map and compass and Dylan's GPS.
After reaching the col we had our first descent of the traverse: a steep ski down Circle glacier and our first taste of the gorgeous snow quality to come. It was bliss. We floated and carved through the snow towards the frozen Decker lake. Our heavy backpacks: unnoticeable, as we were weightless. The snow was perfect – spring skiing, what's that? When we all made it to the bottom we had the necessary post-ski discussion and watched as the sun poked its little head out. In the warmth of the faint sun we redonned our skins and made our way across Decker glacier.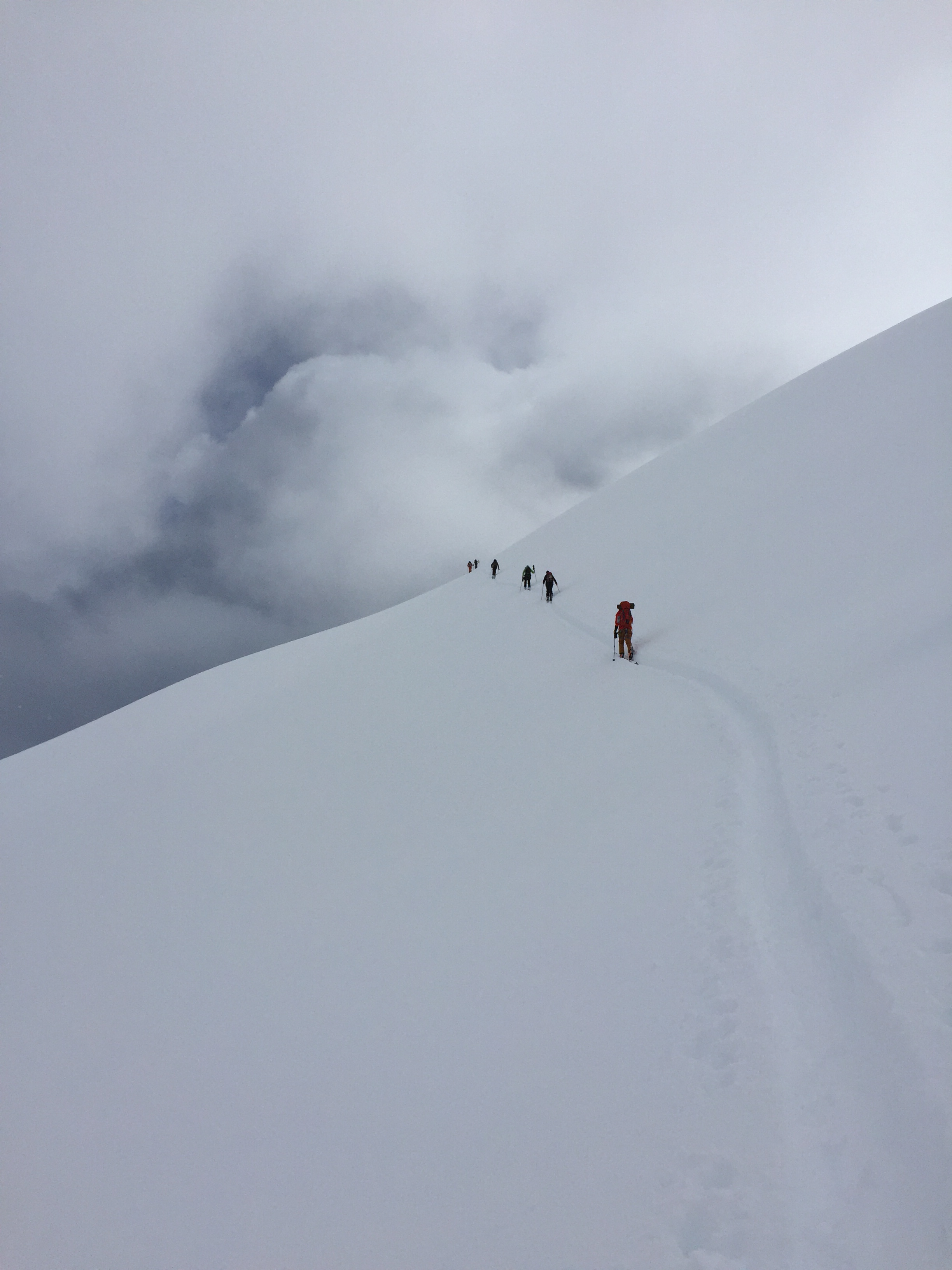 :-: The long hike up Decker, Matthias :-:
As we traversed the glacier, we looked at the first of two lakes to our left. 10 years ago, these lakes weren't even here but have formed in recent years as a direct result of global warming melting the Decker glacier. The terrain features around these parts change year-to-year as parts of the ice break or melt away. Some parts are becoming trickier to navigate on skis.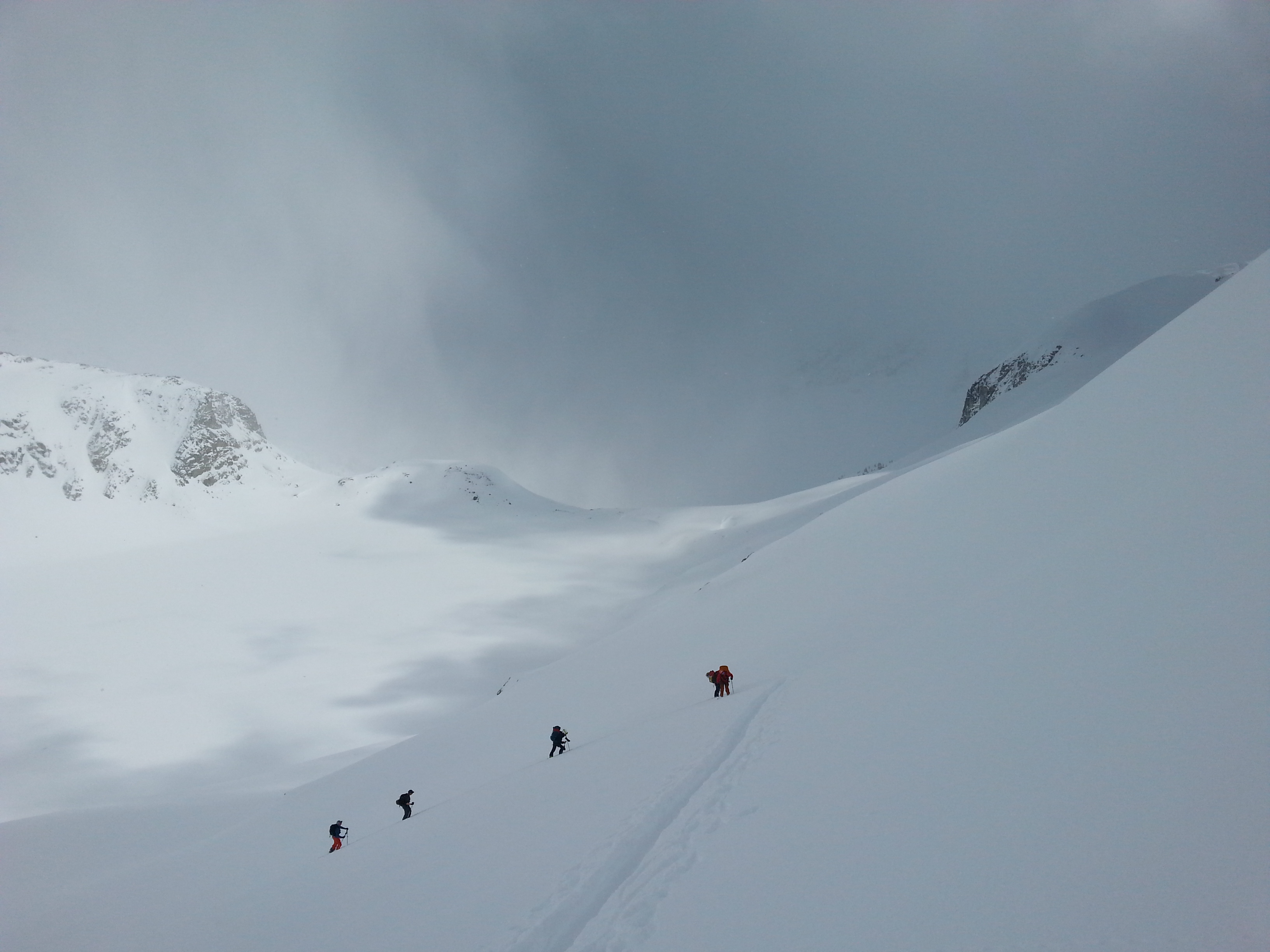 :-: The long hike up Decker, Part-2, Duncan :-:
We started skinning up towards the Decker-Trorey ridge and it got steep fast. We tracked 200 meters up and I was quite envious that I was not skiing back down towards the lakes. It was a 35 degree, elongated, perfect power, alpine run the whole way down and getting up was a bitch. But, soon enough with jelly-legs we made it to the arete. The weather had really come in at this stage and it stayed like that for the rest of the day. Into the whiteness, we started to ski down to Trorey glacier, still following our compass which was pointing due-east (or thereabouts). The ski down to Trorey was steep and hard to navigate in the poor visibility but before we knew it we were down the ridge and had to get our skins back on.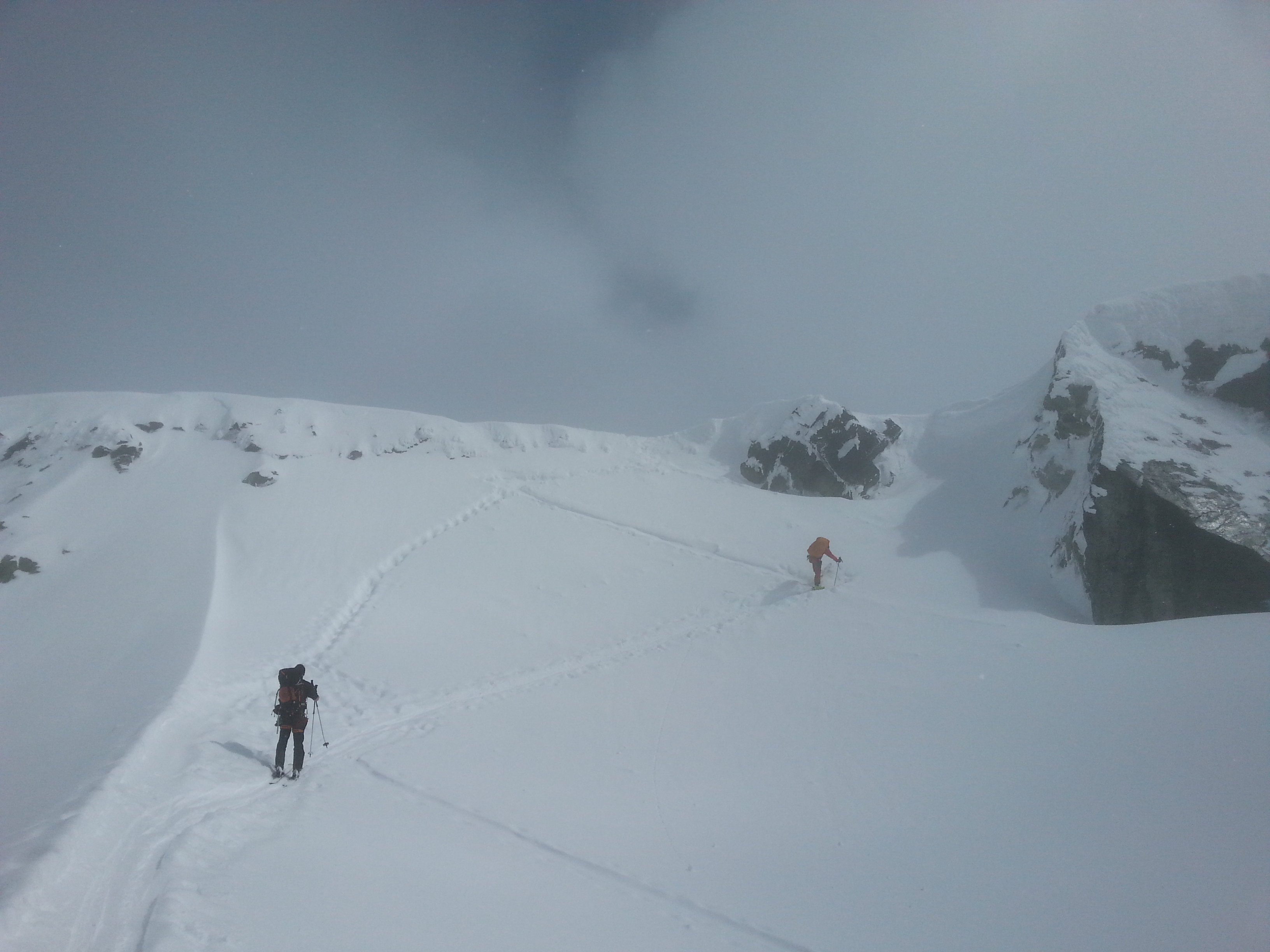 :-: A tricky ascent to the Decker-Trorey ridge, Duncan :-:
I decided that it was time for my first mars bar of the day (I had two. And that was all I had until dinner tonight, apart from some useless Jolly Ranchers). With frozen caramel stuck to my beard and icicles dangling from my moustache we started to skin over towards Mount Pattison where our first challenge would lie. There was a 250 meter climb to the arête below Pattison which was hard enough, but when we got there we realised that we didn't know where to go. Most of day-tourers had now disappeared as this was too far committed along the Traverse so we were left at the front of the crowd, breaking trail. We saw a couple making their way South, up towards Pattison but per Dylan's GPS that was blatantly the wrong way. To our left and beneath us was a huge cornice. This was apparently what we were supposed to get below and there were a couple of problems with that: firstly, we didn't actually know how to get down to it, secondly, we'd be on a heavily crevassed glacier directly below an ominous 15-meter cornice. Hmm…
Duncan went down a wee bit to try and find a non-death route and disappeared for a couple of minutes before shouting back up that he'd found the route. We slinked, trepidly down the left side of the cornice where there was a small entrance down to Tremor glacier. It was no great relief once we were down though as the cornice towered above directly above. Strewn everywhere about us were large chunks that had fallen from above and as spring rolled in the conditions wouldn't be getting any better. We practically sprinted out of there (or as fast as trail-breaking would allow) and tried to dodge the evident sagging from the crevasses around us. We stopped moving when we were sufficiently far away from the cornice. Whew… That was unpleasant.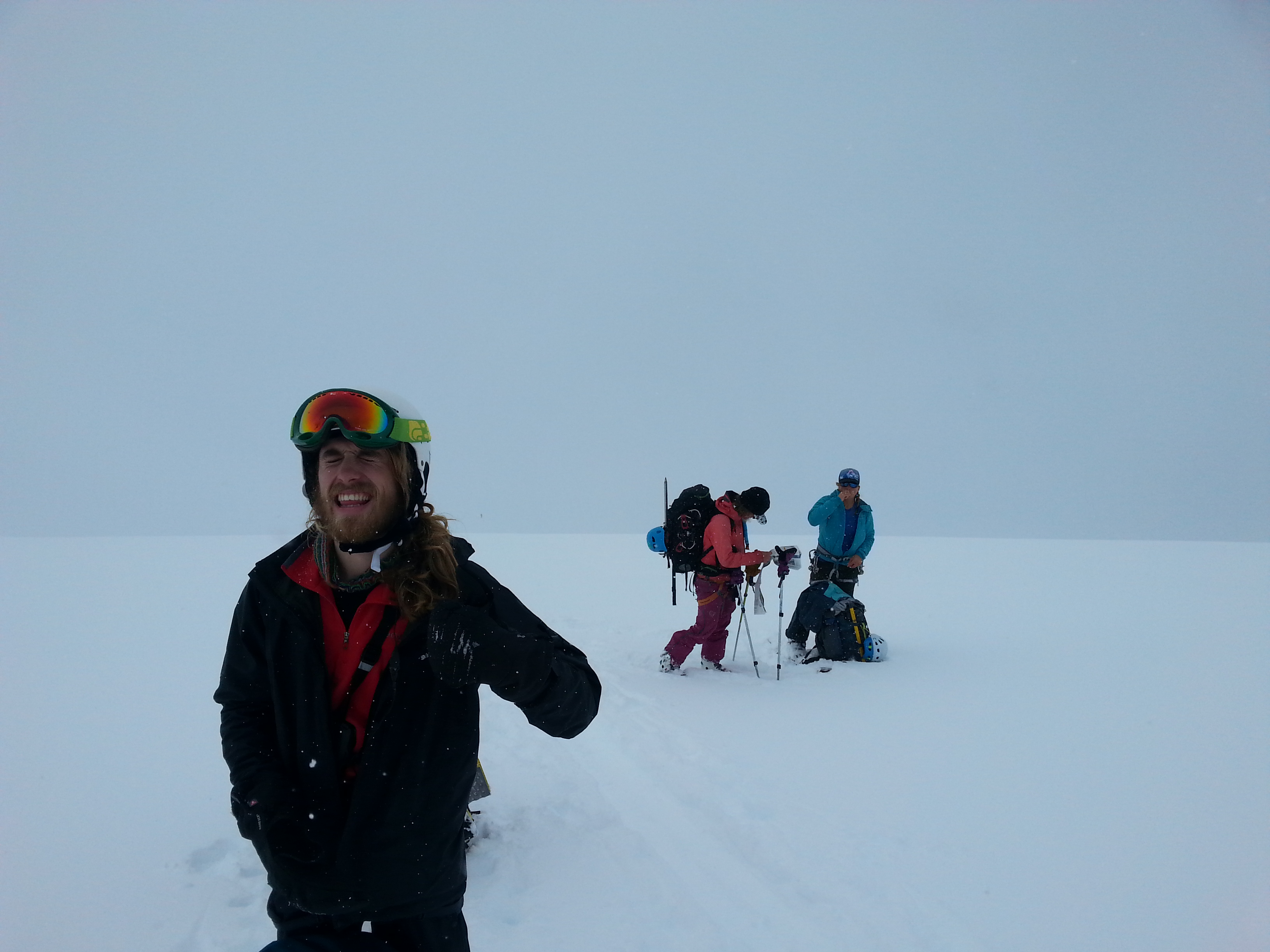 :-: Me, recovering after the grind up Tremor glacier, Duncan :-:
We navigated the white-out along the flat for a while until we needed to make our decision on where to go. Going by our trusty compass and map companions we saw that we had to veer south-east towards the Shudder-Tremor col. By this stage, I was knackered, it had been a non-stop day and no matter how many Jolly Ranchers I sucked on the energy just wasn't coming back to me. The awful, awful weather definitely didn't help morale. And so, we started up to the col with 300 endless meters to the top. I was trailing far behind the group at this stage – I had never really thought I'd see myself lagging but this group was extremely strong, I was happy to be surrounded by such powerful skiers. Head hanging in exhaustion, step-by-step I plodded my skis up the slope. Every movement sapped a little more from me. And then, the tiny col was in front of me; only a couple of meters wide and separating two huge mountains. I fell through the col and onto the flat plateau. I needed at least ten minutes to recover from that climb, it had taken the last of the day's energy from me. And so, I ate my second Mars bar.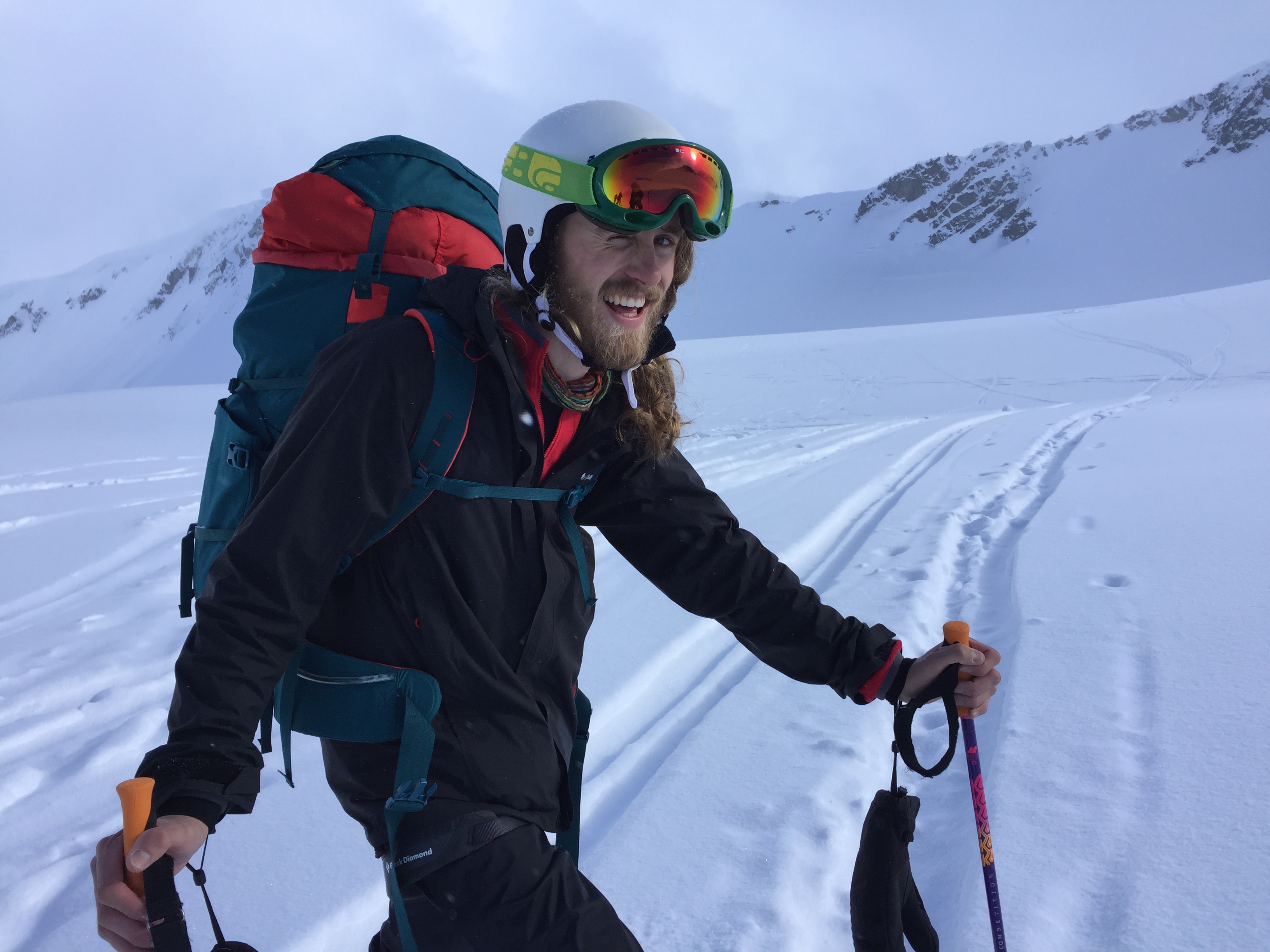 :-: Me, Part-2, on Platform Glacier, Duncan :-:
The good thing was that it was basically all downhill to our planned camp on Naden glacier that night. There were a couple other teams of skiers at the top of the col, resting as we were. I chatted with them in between the puffing and panting, it seemed that most people were looking to camp quite soon (on Platform glacier, or in that area). We really wanted to push on a little further than that though, to try and gain as much ground as possible so that we could be done with the traverse early-ish on Sunday. It was supposed to be a blue bird day on Sunday – that's beautiful and all, but after the storm slabs and wind slabs that will have formed and the heat of the sun, the snowpack would be very unstable. Best to be off the mountain sooner rather than later.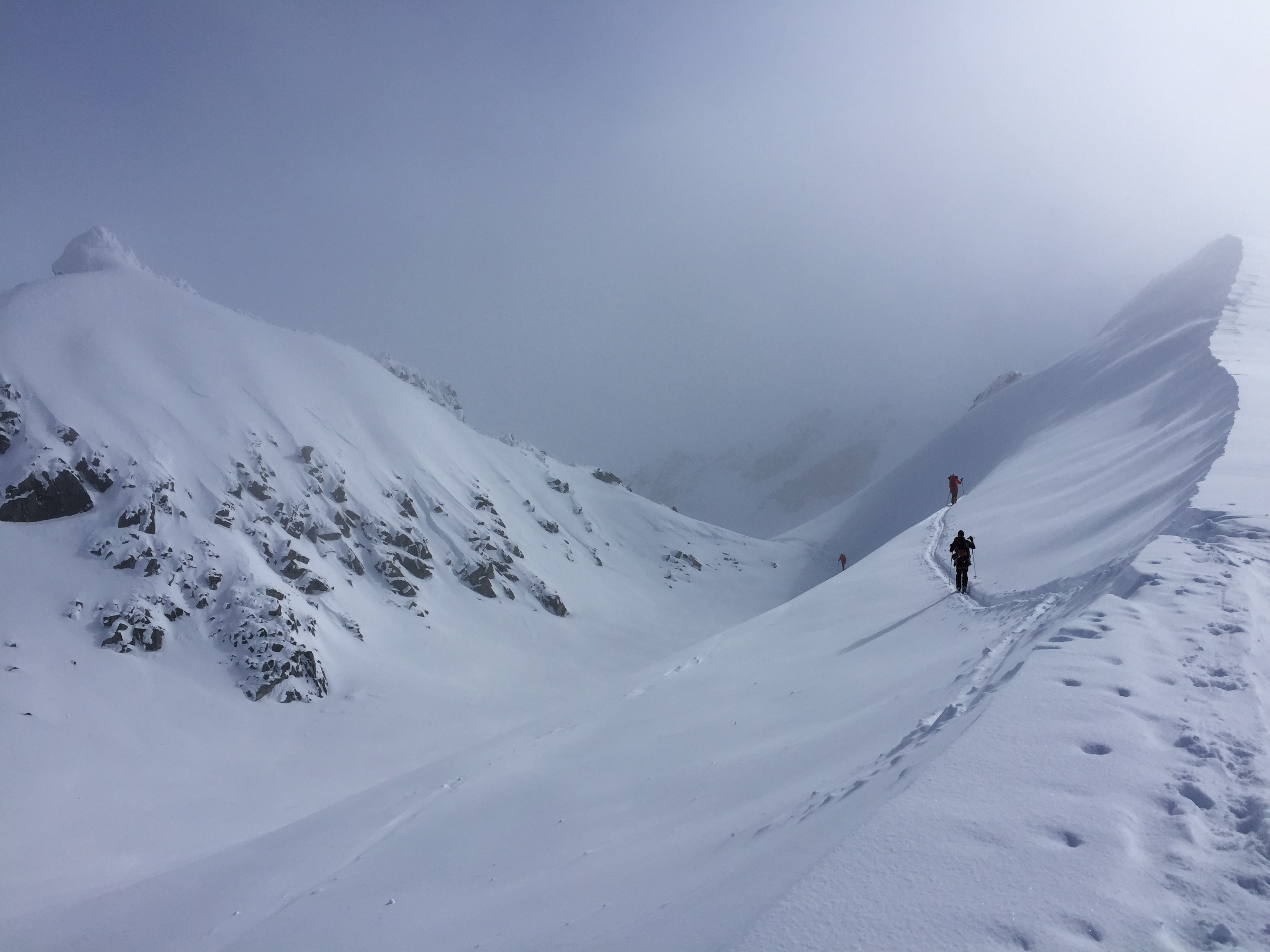 :-: Crossing from Platform to Ripsaw glacier, Shane :-:
After about fifteen minutes we pushed on reluctantly (at least, on my behalf). It was a beautiful ski down from the col onto Platform glacier and the sun had actually come out! It was looking like blue would roll in for the evening and stay with us into the night. There were a couple of tents dotted close-by on our left, some smart folk soaking in the sunshine and the incredible view all the way up Fitzsimmons Creek. We skinned past them, south towards Ripsaw glacier, making our own tracks. There was a short but quite technical ski down Ripsaw which involved side-slipping down a steep couloir (forgive us, but we were knackered and had rather heavy backpacks on. Not really the time for steep-skiing)

:-: Our beautiful campsite for the evening, Shane :-:
The couloir led directly onto Naden glacier, our planned campsite! Unfortunately, the gods had not favoured us this Saturday though as a massive snow storm had engulfed us. It was nuking and visibility was next to nought. We were on Naden but we really had no idea where we were relatively speaking. After pushing into the blizzard for about 10 minutes we called it. There was no telling which was up in this thing, the snow on the ground was indecipherable from the white sky. So disorientating it was that if you looked up for too long you would start to feel nauseous. We decided to set up camp where we were and not a step further.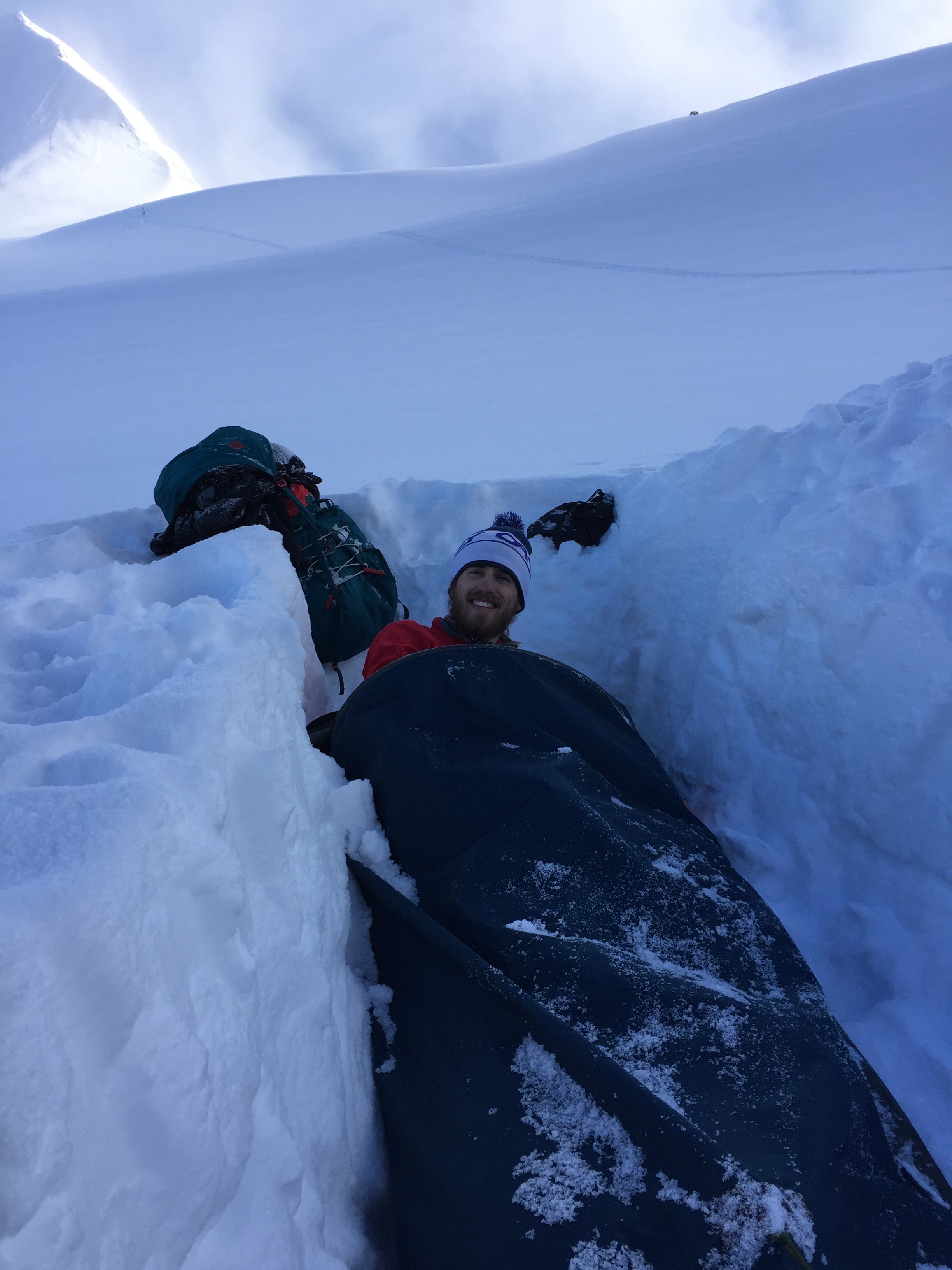 :-: Curled up in my bivy for the night, Duncan :-:
To say I was tired would be an understatement. I was shaking. My lack of food had bit me in the butt and hastily I started to dig out a snowhole to place my bivy in. Dylan and Matt shared one tent while Duncan and Alex shared another. In the storm we dug and dug, the hard work kept us warm and averted our focus from our bellies. Eventually, with the tents and bivy erected, we could think about food. The snow had started to mellow out, it fell lazily down and the huge crystals floated onto our tents and clothes. I'd never seen them so big, you could see with the bare eye the uniqueness of each snowflake, without sounding cliché.
I puffed up my sleeping bag and got in the bivy. Still fully clothed, I dozily watched as my water slowly boiled for my Chili-pasta dinner. The bodily-shaking soon came to an end when I had eaten some food and I felt my usual self again. I started to be able to converse with the rest of my group again and we found ourselves merry and in fits of giggles, probably delirious after the strenuous day. And as we chatted the skies cleared above us – for real this time, it seemed that it was here to stay. We watched light from the beautiful sunset set the mountains around us on fire. A nearby unnamed peak was set alight in a late-evening pink, even the spindrift that the wind whipped off it was glowing. The campsite was picturesque, a true mountaineers camp, tents dug a meter down in an ocean of white.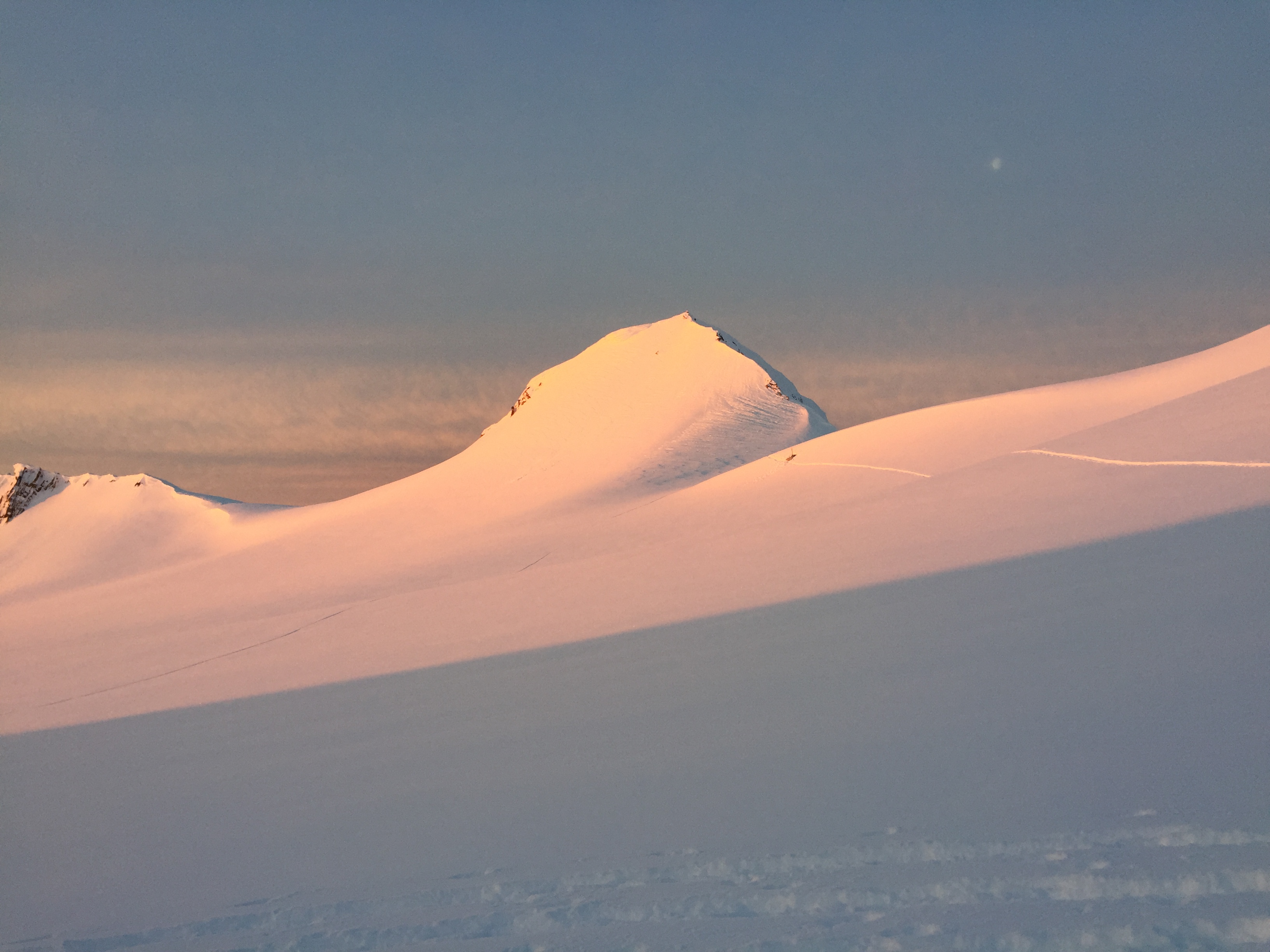 :-: The sun rising on a nameless peak beside camp, Shane :-:
As the sun set and the starry vista rose, the temperature started to plummet. When it reached about -10 degrees we decided to hit the hay. I crawled contently into my bivy and stargazed for a while – truly at peace in the silence of the mountains. I zipped up my bivy, rolled over and fell asleep.
The alarm dinged at 4AM and it was time to rise – a glorious day awaited us. The sky was a cloudless, star-speckled black that showed no sign of bad weather. With haste, we made our porridge and packed up our gear. In typical camping fashion (no matter if you're on top of a mountain on an alpine expedition or by the sea with some beers), packing up took longer than expected. It was nearly 6AM by the time we were leaving camp and navigating south towards the end of the Naden glacier. We crossed a couple other tents on the way out, late risers it would seem. An early wakening was key in my mind, with the sun blazing on the snow today, it would be very unstable.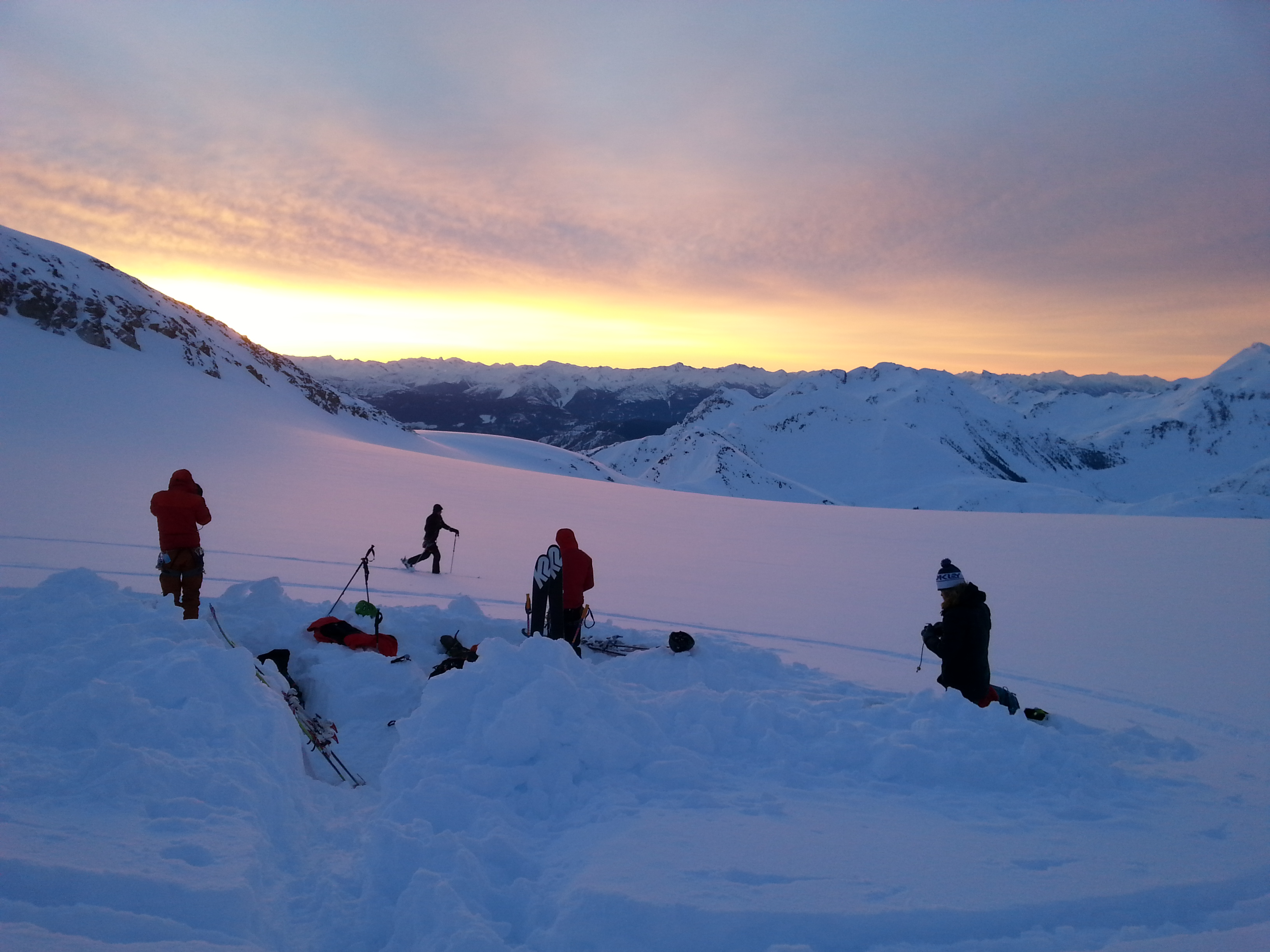 :-: Matt was packed up super early and tried to keep warm by doing laps, Duncan :-:
We skinned up to couloir ridge and looked at the alternate Spearhead route down Macbeth glacier and out the far side. We would instead be cutting Macbeth short and skiing up to an arete on our left and towards Iago glacier. Cautiously feeling out the early-morning snow we cut onto the ridge and looked at the enormous drop below us. We were traversing a 45 degree slope that went all the way down to Lawsuit lake which was 600 meters below us. Horrible consequences if one were to slip. The sun was already so high in the sky and the steep slope was South-East facing, it seemed all the worst-case scenarios were aligning. The snow was very slabby, there were evident shooting cracks with every step taken in the new storm snow and there was a cornice to our right, about 100 meters above us. Truly this was a horrible place to be; fast, careful movement was imperative. There was about 300 meters of this terrain to cross and the end couldn't come sooner. Then, about halfway across the face my right leg suddenly gave out from under me and my knee came crashing down. A large crack shot 5 meters in front of me and behind me.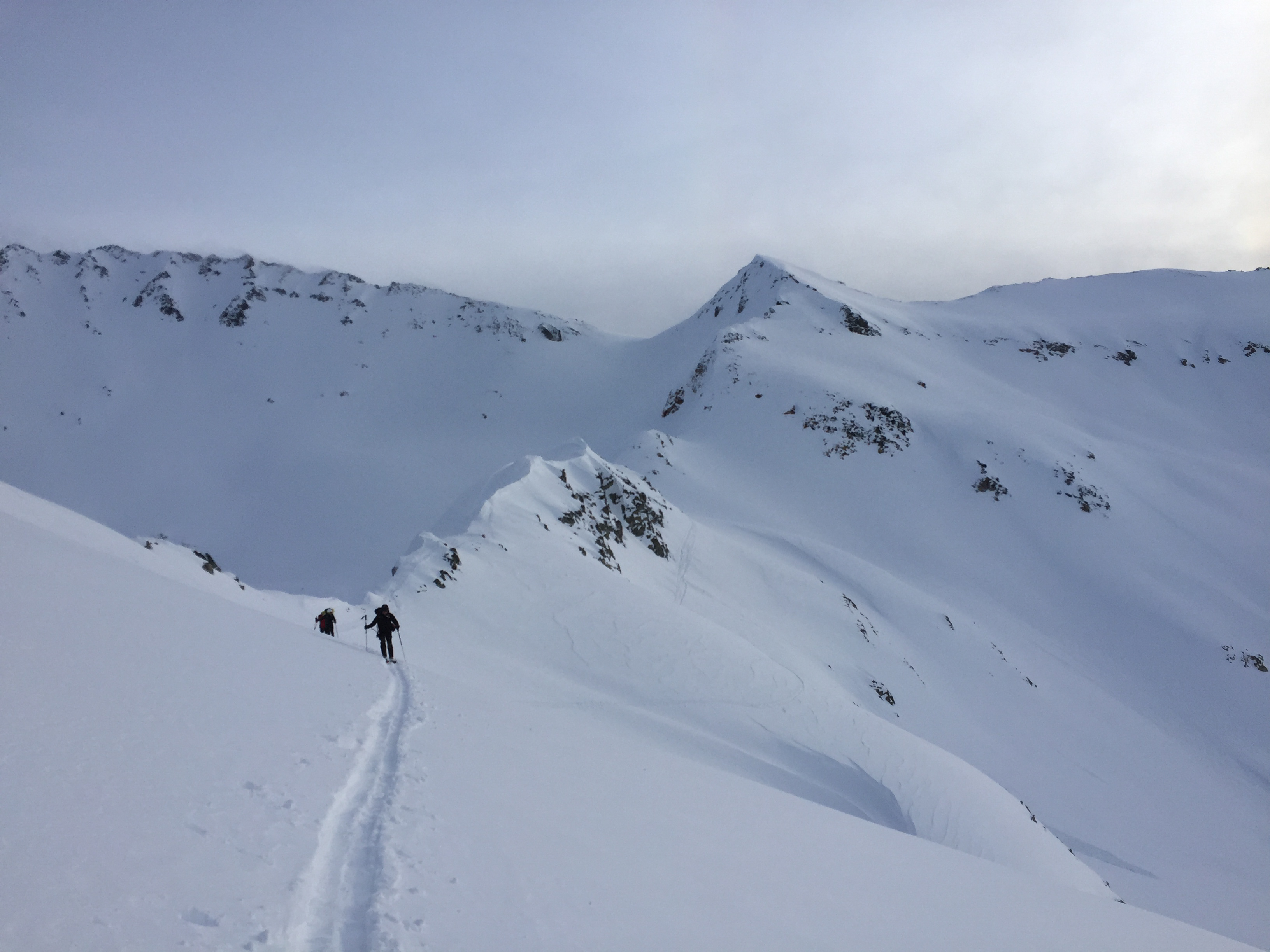 :-: Trying not to look down, Skinning up Iago glacier, Matthias :-:
There was silence and no one moved. After a few moments, it was clear that the slab had not given, I was lucky this time. It turned out that my snow-covered skin had come off my right ski, causing it to slip. I told everyone to go ahead as quick as possible and that I would catch up (there's no waiting for people in terrain like this). I wrapped a voile strap around my ski, holding the skin in place and continued – thoroughly spooked.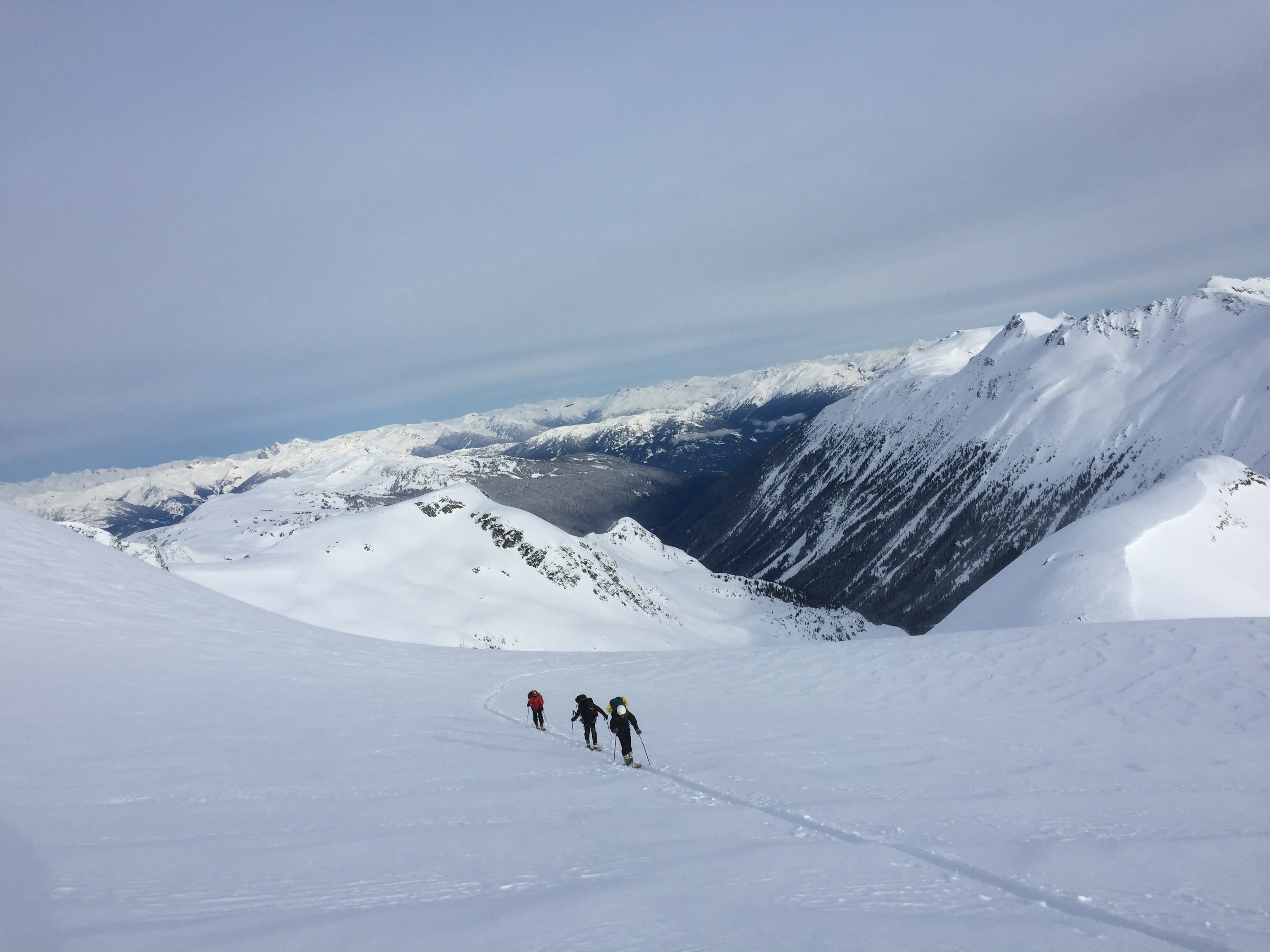 :-: Fitzsimmons Creek below us, Matthias :-: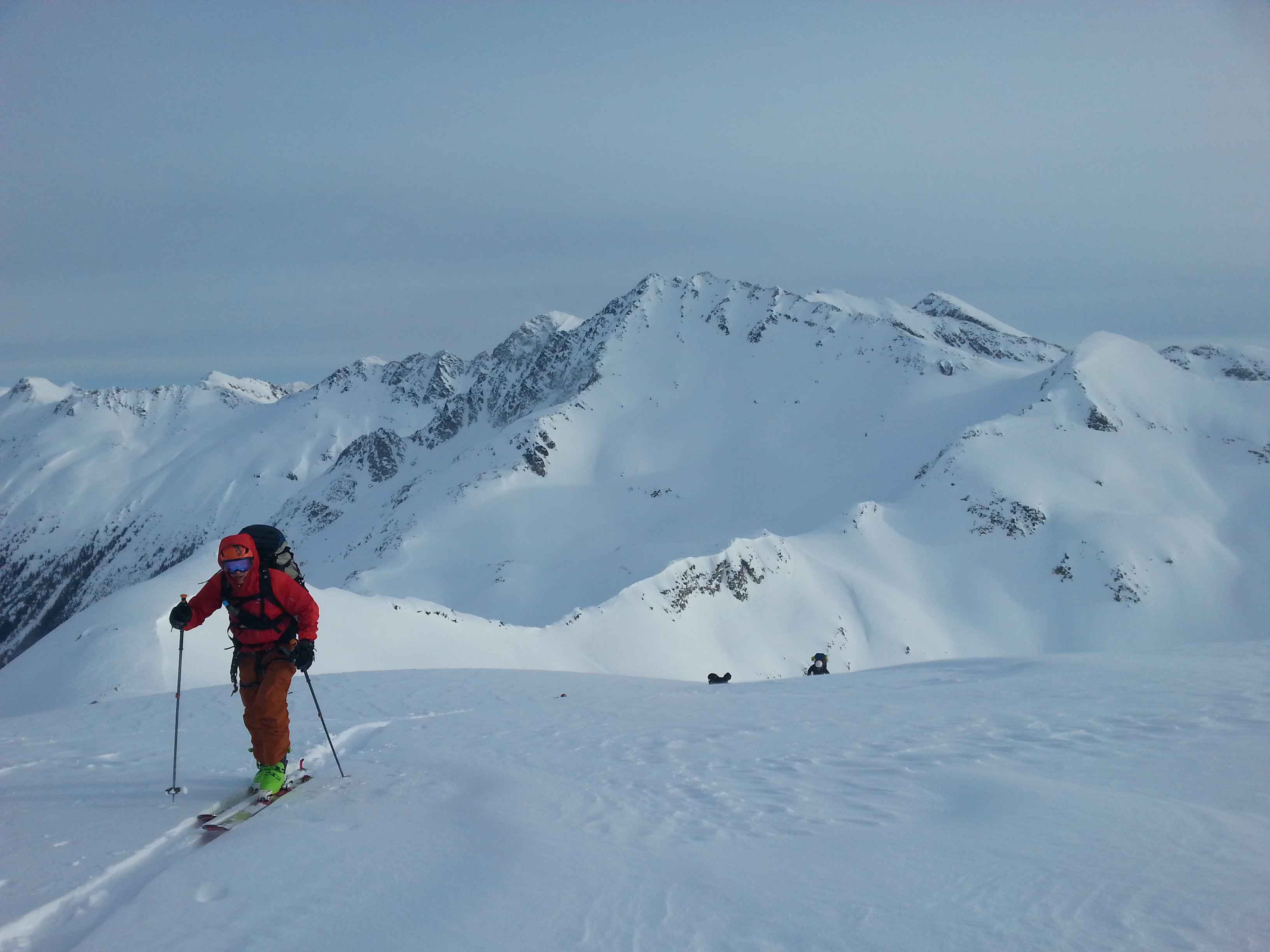 :-: Dylan, topping out at Iago glacier, Duncan :-:
Eventually we left the touchy snow and stood on a plateau on Iago that overlooked the entire spearhead traverse – We were just below the famous Mt. Fitzsimmons along with a handful of other beautiful peaks and they stood tall and proud in the cloudless sunshine. We started to skin up to the base of Mt. Iago which was about 150 meters above us. We were fully energized and stormed up the slope and before long we were at the top and looked down onto the enormous Diavolo glacier – the largest glacier on this trip. Best part? The ski down! Perfect powder lines awaited us and we couldn't wait to shred them. As a group, with blue skies above and the wind chirping at our cheeks we made our beautiful turns down the face, soaking in every moment of it. Looking back up we could see our 'S's, all parallel to each other.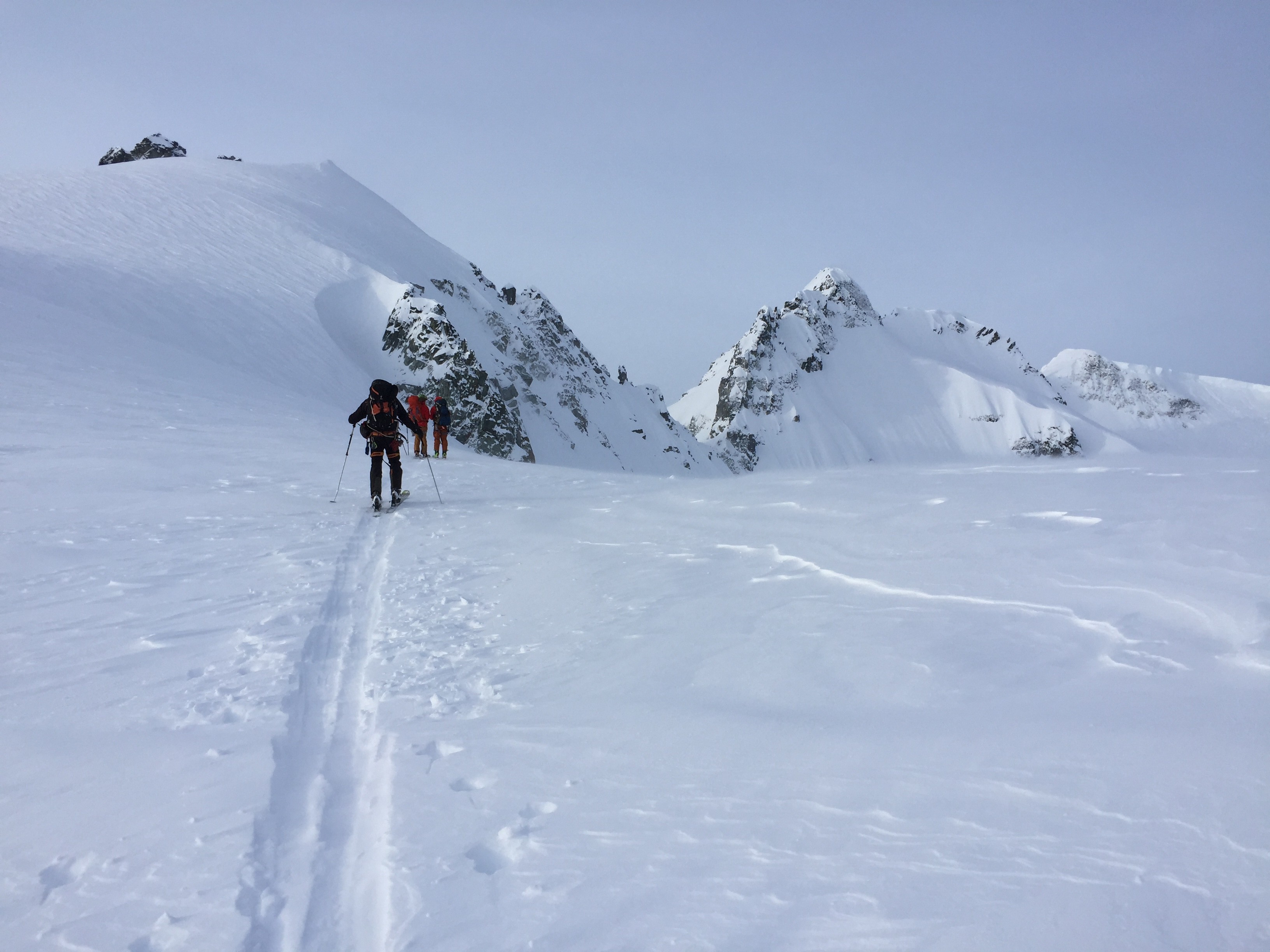 :-: In the shadow of Mount Fitzsimmons, Shane :-:
When we reached the base we allowed ourselves fifteen minutes to chat about the run, recuperate some energy and prepare for the giant climb ahead. It was the last big ascent of the spearhead and it was going to be unforgiving, with the sun high in the sky we would be skinning 400 meters up to the base of Mt. Benvolio. It would be the high point of our traverse at 2610m. And so, with sweat beading from my nose we started the trudge up.
:-: Freshies, skiing down to Diavolo glacier, Matthias :-:
The views on the way up were magnificent – We were skiing on a humungous glacier on a blue bird and there were many sizeable peaks around. Cheakamus, Iago, Fitzsimmons, Benvolio, Diavolo and Angelo all dwarfed us. Many layers were shed on the ascent and by the top I was practically naked. Eventually, we reached the Benvolio-Fitzsimmons col but chose to instead continue up and wrap around the left side on Benvolio. A couple of hours back we had seen a huge cornice that had collapsed just below the col and the standard route was no longer navigable (at least safely).
When we finally reached the true high point we were ecstatic – we knew that it was mostly downhill from here all the way back to whistler (even though we were only just past half-way along the traverse). After a short rest, we took our skins off and chucked them in our backpacks, no longer caring for their well-being. We skied down onto the Fitzsimmons glacier and traversed to the base of Overlord mountain where we wrapped around the right side of it. The wind was ferocious here – the terrain was utterly barren as any ounce of snow was whipped off the mountain, sastrugi was painted across the plateau, it gnarled and curled around the base of the mountain.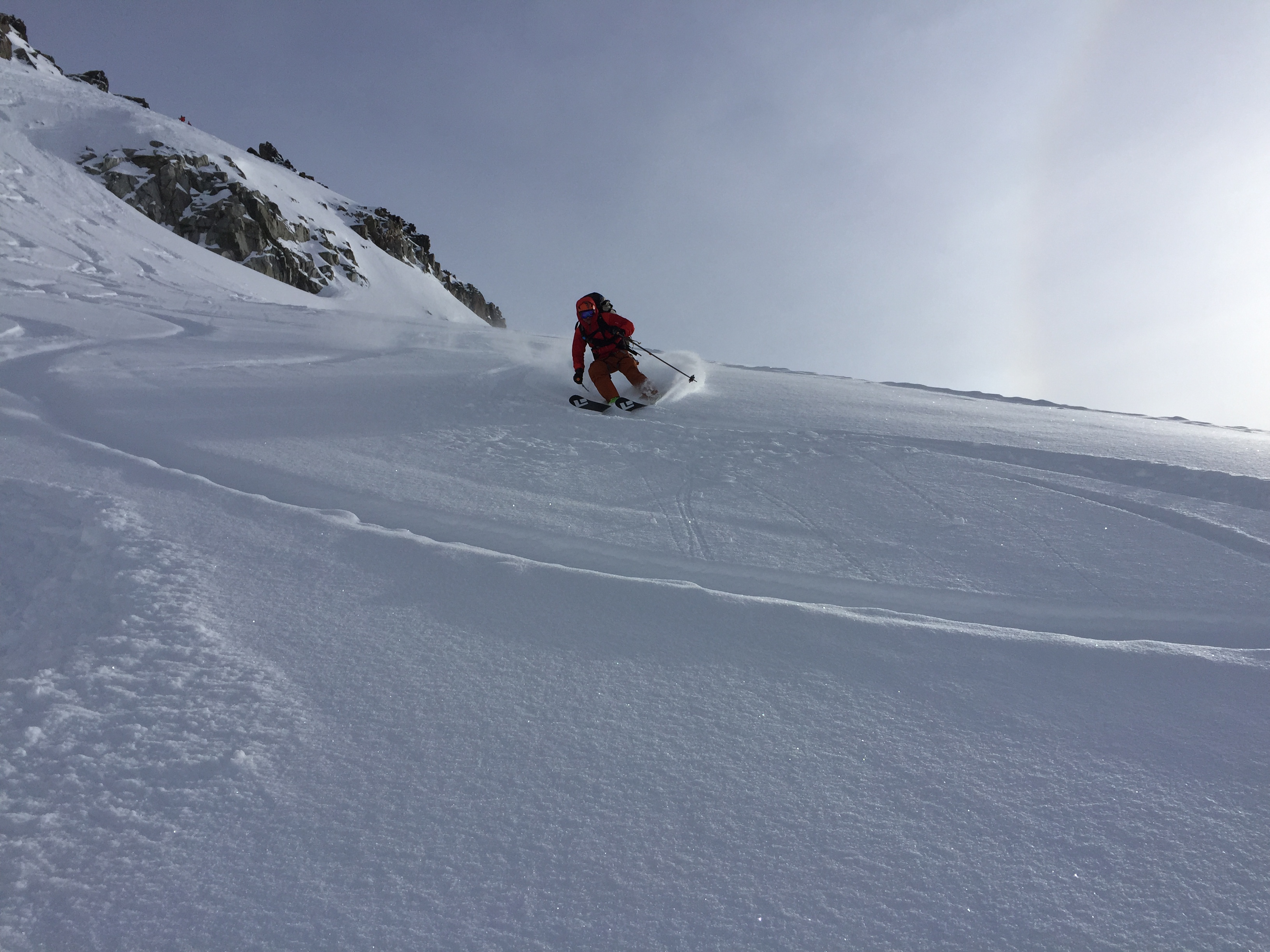 :-: Dylan, Ripping down Diavolo, Shane :-:
Eventually we dropped out of the wind and onto the leeside of Overlord mountain – I could finally hear myself think again. But now we had a decision to make: my map said to go south-west down a steep wind-loaded slope, but it looked like there was an alternate and longer route north that also led down to Overlord glacier.  Snow still blew in our faces and we wanted to get out of this area fast. We decided to follow the map and Dylan started to side-slip his was down the narrow slope, feeling out the snow quality for the rest of us. And then, to my horror I watched a shooting crack fire 10 meters to each side of him. And this time, it gave…
The 15m wide slab started moving downhill and with it, Dylan. I watched as he slid but then after only moving about a meter, he managed to pull off the moving slab and stay static as the snow moved on. The slab got faster and widened dramatically. We watched as the entire mountain side gave way and slid into the distance. An enormous amount of snow was moving, and eventually after about 80 meters or so it came to a halt. We were all speechless, personally, I had never seen anything quite like it – it was a full-blown size 2 avalanche with a 30cm crown.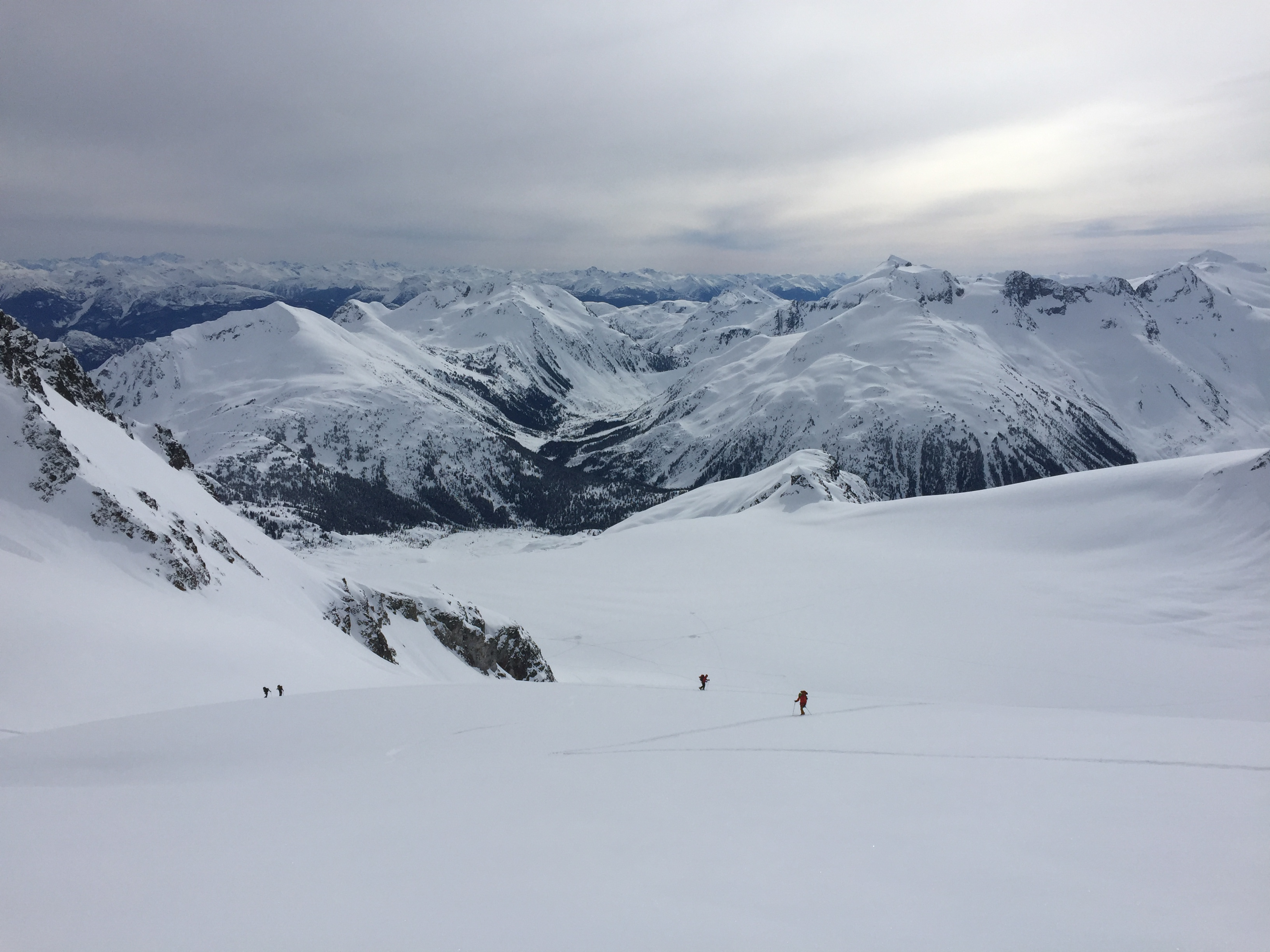 :-: The long climb up to Mount Benvolio, Matthias :-:
Dylan was a bit shook up so I led the rest of the way down the touchy slope. There was one shooting crack after another and I had never been less confident in skiing in my life. Eventually we were away from the wind-loaded face and onto more steady snow. Avalanche.ca had predicted considerable in the alpine, but I think that this scenario goes to show how different one place can be to another. In hindsight, that specific aspect and face should have been extreme. Far more snow had fallen the evening before than forecast and the wind had been howling causing a great deal of storm and wind loading. The forecast should be read, ingested and acknowledged but when you are in the backcountry it's just so important that you yourself evaluate the terrain. We were all avalanche trained and strong skiers and I believe we could have saved Dylan had he been caught in it. Still, we got lucky that afternoon.
We skinned for a couple of kilometres across Overlord glacier, deciding to stay lower on the glacier rather than on the suggested route below Whirlwind peak which cut under some large cornices. At the end of the glacier we started to skin up the south side of fissile peak and ended up skiing over one of the largest cornices I'd ever seen (we had seen some negligent people ski under the cornice rather than over it). And now, we knew that we had made it; we had nearly 500 meters of vertical powder skiing right in front of us. We were literally shaking in excitement, people travel all the way from whistler just to ski what we were about to ski. We looked down the untouched, blank canvas, Fissile peak to our right, Russet lake and the Himmelbach hut somewhere in the distance and the end in sight. And we started skiing.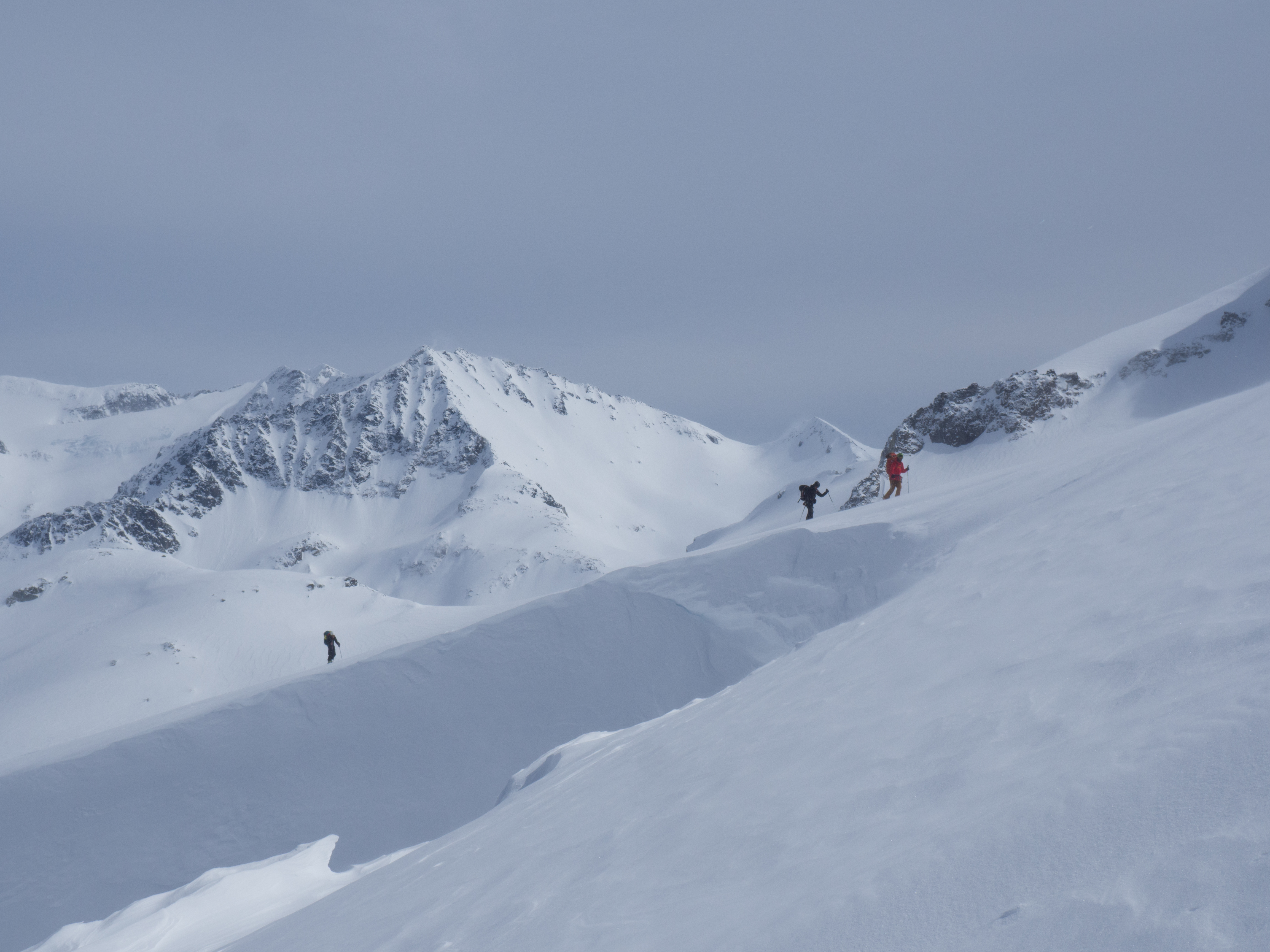 :-: Navigating a huge cornice, south of Fissile Peak, Matthias :-:
Floating, gliding, sliding, riding and whatever other verb that my thesaurus doesn't provide, couldn't describe the skiing. It was the best snow I had skied in my 18 years of skiing and it was endless. We ripped carves and turned effortlessly as we descended, a smile beaming from cheek to cheek. "F*&K YEAH!". Eventually, after about 15 minutes of bliss we were just above Russet lake where we would have to don our skins for the final time. Lazily, we stuck them back on – all of us utterly content. "Anyone up for Mag99's on the way home?".
It was only a short skin above the lake when we took off the skins again, this time for good. We were still at 1900m and we were descending all the way back to the car at 600m. We started to ski down again, enjoying our turns and enjoying the terrain change as we started to enter the treeline. It was incredibly fun swerving in and out of trees on the untouched terrain as we worked our way North-West and back towards the Singing Pass trail, which would lead us all the way home.
:-:  Looking back towards Fissile Peak, the end of the traverse, Duncan :-:
Finally, when enough fun was had we had made it to the bottom of the run and to the start of the trail. We all knew what lay ahead and we would take the good with the bad. This would be my second time on the Singing Pass and I knew just what kind of hell it would be…. We had over 10km of bushwhacking and tree-swinging, swearing and exhaustion to go as we navigated the narrow and poorly marked little trail. It's classic BC style really, it's well known that the end of a ski tour in the Pacific North-West is really, really shit.
And so, we started along the trail and I won't bore you with the gory, whiney details but it was unpleasant. And then, we were back in Whistler village, tired, destroyed but happy. Very happy indeed! We had done the Spearhead in two days! High fives were exchanged and we made our way to the furniture warehouse for some cheap grub before heading home.
What an adventure it was, the Spearhead – I don't think I truly captured in this report how hard I found it. I underestimated it, I think. "I mean it's only Whistler backcountry, right? I've done loads of the runs already". The Spearhead traverse is a really challenging traverse and should not be taken lightly, that is the warning that I would give to anyone considering it. I think that a 3-day Spearhead traverse would also be lovely – a little bit more relaxed and with the possibility of bagging some peaks along the way. I found my body pushed to its very limits, evident due to the illness that came over me for the next week, it had run me down. But truly, it's one hell of a traverse; In my life I had never crossed so many glaciers as I did in two days, you crane your neck to look up at some truly magnificent mountains and meet amazing people doing amazing things along the way. Oh, and the skiing was just incredible, get out there and SHRED SOME POW, MAN!