Photo credits: A: Adrian Armstrong     R: Ryan Stelzer
Leaving Vancouver and stopping at Squamish Mcdonalds we started up the trail at 7:40 AM. The weather was perfect on the first day. It took me 3 hours 5 minutes to get to the lake, an improvement on my last time of half hour. The entire group was up in 3 hours 15 minutes.
The sights once reaching wedgemount lake are unbelievable, my favorite "trail end" in Garibaldi Park.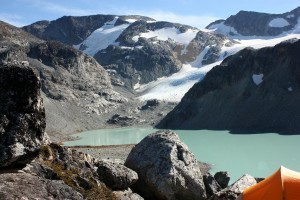 A
After setting up camp on the first day, we set off to the planned objective rethel and parkhurst, two short but respectable peaks to the south of the lake (camp is on the north side of the lake). First we made our way around to the lake drainage (at the east end of the lake), this is an annoying section that involved up down, bushwhacking and some rock faces. Then we sidehilled a rock slope along the south side of the lake towards a zig zag couloir/route up to a col. Upon arriving at the bottom of the route to the col the fast group deemed that we were not going to have time to climb rethel and parkhurst so the fast group did a rock face downclimb and returned to camp via the north side of wedgemount lake and the slow group explored a bit and returned to the lake via the way we came arriving back at camp at 8pm?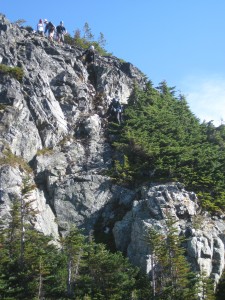 R: downclimbing to wedgemount lake drainage
Day 2: Objective Mt. Weart. A massive peak north of wedgemout lake. 1100m vertical gain from wedgemount lake hut. The views atop mt weart are out of this world. The scramble can be done without any rockclimbing, although doing some easy rockclimbing moves saves a little bit of time.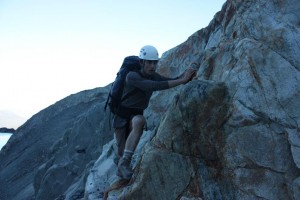 A: Ian doing some rockclimbing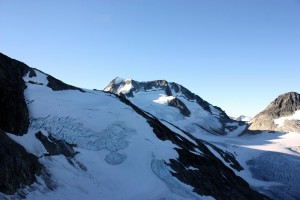 A: the mountain in the background is wedge, the highest peak in garibaldi park, as you get higher on weart the view of wedge gets better and better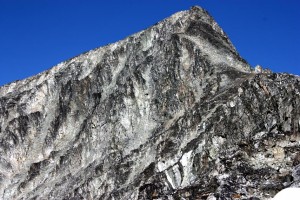 A: there it is, the final slope up Weart, looks dangerous and steep to the non scrambler but its not as steep as it looks, the danger is in the unstable rock so you have to choose your steps very carefully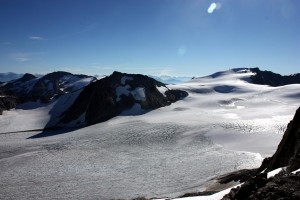 A: untouched glacier to the northwest of Weart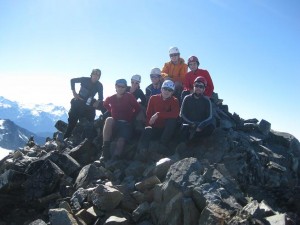 R: weart summit shot
MORE TRIP WEART PICTURES TO COME, email links or photos to [email protected] and I will add them
Day 3: we had until noon to scramble as we needed to return to vancouver, so we broke into to groups. The fast group successfully climbed rethel and parkhurst, a great accomplishment! The other group attempted mount weart and was very close to the summit but had to turn back because we ran out of time.
Rethel and Parkhurst Scrambling photos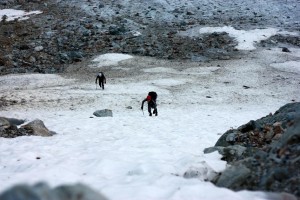 A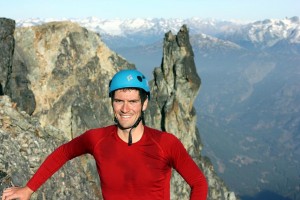 A
PLEASE EMAIL COOK CLIMB PHOTOS TO  [email protected] and I will add them