Here I was, completely disturbed by the sound of my alarm clock while it was still pitch black outside. I don't know how I did it but somehow I was able to get my stuff together and ride my hot ride (1990 Miele, friction shifter, many, many problems) to our meeting point, the VAG, sometimes also known as the Vancouver Art Gallery. To say the truth I was everything but physically prepared for this trip. I panicked after I had barely made "Google time" to our meeting point. I called Kevin after crossing Burrard Bridge and with a defeated sigh I said, "I can't do it! I barely made Google time!" On the other line of the phone… silence… and then… "Just do it, come. You committed! You have to." It was actually this moment, which defined my whole mindset throughout the day. I was going to get through this, go into it and enjoy the "free fall" feel of the adventure.
Once I met Nick and Kevin we had just gotten notice of the first flat tire of the trip, Jeff's fancy ride had decided it had definitely not agreed to going on this trip.
The prodigious Jeff caught up to us few minutes after arrival to Horseshoe Bay after much a hilly route on Marine Drive. I, on one side, was hoping my body would make it alive to the end of the trip.
We met Omar while waiting to board the ferry while sipping on some Blenz coffee; a true wild, outdoors experience.
I hereby name Omar the king of customizing bikes for touring; panniers made out of plastic recycling bins covered with aluminum foil as insulators, tightly covered with cut out plastic bags previously used as chess mats for kids. Within these exotic looking things rested four days worth of meals, clothing, extra layers for weather change, a hammock, a stove and pot(s).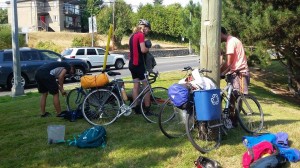 I was so looking forward to two hours of sleep on the ferry ride but somehow Kevin's deep analysis of "Vicuñas" was much more interesting. Did you know that male vicuñas have a harem of lady vicuñas that follow them around? When frightened, the females all run away and the male stays to make a high pitch alarm sound to spit on the attacker.
Enough said about animals, we each decided to act as one by putting ourselves through 100km of bike riding under the bare sun.
Of course some prep and checking of bikes had to be done. So we got through that sort of "faffing" mostly with the help of Jeff who had all the tools for it.
The real journey started with Kevin, Nick, Omar, Jeff, and myself (Jess J). Dan had said he might join us later, leaving Vancouver in the afternoon after his class.
After five flat tire incidents from Jeff's bike, some swimming in the sea, Omar's yoga stretching breaks, and of course Tim Horton's, we made it to Buckley Bay. Seconds away to missing the ferry we managed to buy food and drinks for dinner and still make it! Those pretzel hot dog buns were completely worth it though.
Getting through Denman Island was torture! I was going at a dead man's pace. My legs were failing on me. We had travelled a total of 120 km and I was no longer up for dealing with the complications of my old friction shifter or the soreness of my legs. Luckily Kevin had planned for the scenic route around rather than the shorter and torturous route up the centre mountain on the island. To him my legs say… thank you.
We finally did arrive to the ferry terminal; Jeff of course was the last one due to a flat tire…again. I couldn't think of anything else but the full and filling, bubbly, soothing feeling of a cold beer running down my throat. I don't even know how but I drank three full beers as if they were water on a hot day. Feeling warm and reenergized I remember crossing Hornby Island in complete bliss. I had made it…I survived! I was also ahead of everyone…crazy what a couple of drinks can do! Oh wait…no… Jeff had to fix another flat tire!
Little Tribune was our destination. Behold … civilization. Curious town people kindly wondered where these odd, dirty looking bunch of bikers were headed to in their land. And without a question directed us to the campsite. But what is a VOC trip without a bit of rebellness? Naturally we discretely made our way to Tribune Bay Provincial Park where camping is not necessarily allowed. So we went on into the deepness of the woods to find the most secluded camping site, completely surrounded by lush, old trees and thorny bushes (we'll have a reminder of these on our legs for a long time). So we settled our things and went out to the beach to cook our dinner on some wooden tables.
While our bellies were getting full of pretzel-bun hotdogs and beer, we saw a light in the distance flashing. For a moment we were scared it might be a police officer, our guess was close enough though. It was Dan, the master Jedi of bike riding of the group after finishing his journey from Vancouver to Buckley Bay in half the time we did. Tis sad to say.
Good thing he brought wine or else his presence would have been an insult to our physical abilities.
About an hour later we saw another light flashing in the distance. I panicked as the guys said, "Just be calm, our story is that we are staying at the camping sight across the forest, we're not breaking any rules."
The light got closer and closer until it got to our faces and through our table full of beer and wine and food. With an intimidating, deep voice the policeman said, "Grab your shit and leave now!"
"Yep!! J" My thoughts: Darn it… why hadn't I told my parents I was going on this trip beforehand so they could come and bail me out of jail.
Like scolded puppies we walked out the trail towards the legal camping site. We waited and waited until it felt safe to go back to our nitch.
Next morning it was time to forget about outdoors life skills and experience the comfort of the great Hornby island civilization…"The Co-op" had everything you could ever need: Coffee! Donuts! WIFI! After breakfast we decided that we wanted to check out the free store. On the way was a local farmers market going on within the forest. The market was interesting full of island hippies selling cool crafts and locally grown produce. From there we went on to the free store which was located at the top of a hill I guess the work of making you go up the hill is a way to make you pay for the "free' stuff. We found candy! Nick found the perfect skiing boots…for free. This was a painful experience as he had to choose between having to deal with the burden of riding with the boot's weight or save his body this discomfort.
After indulging in some free store action Jeff, Kevin, Omar and I decided to head to the beach while we waited for Dan and Nick to do some shenanigans. But they never came. Instead we found this letter on our bikes when we headed back: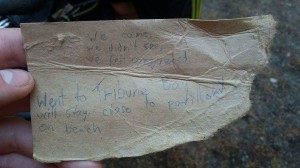 We met up at the beach on Tribune Bay Provincial Park in which we got pretty drunk on a game of "Frisbee Wine"; throwing a Frisbee and a bag of wine interchangeably while standing in the water. We then chilled by the sunset, playing around with wood logs, weird yoga posses and Omar's hammock.
Later on at night, we went to another beach and in Omar and Kevin's search for a special substance we met an interesting pair of guys with interesting insight on Central American culture. We then went on to the beach cooked ourselves some dinner. Needless to say skinny-dipping was involved, a mixture of languages was spoken and tales were shared.
Jeff and I decided to stay on schedule and return to Vancouver the next day. Our Sunday consisted of a journey of hitchhiking, me getting convinced that robots will take over the world by Jeff, and more biking.
The rest of the guys were consumed by the island life and were never seen again.