DAY 1 – 48 HOURS REMAIN
Saturday November 26, 2016:
5:00 am – wake up.
5:15 am – actually wake up.
Shower? Nah.
Breakfast? Too late.
The day started off with a classic bit of rainfall…well lots of rainfall. Everyone had a nice taste for wet clothes before the trip had really begun. After a quick Canadian breakfast at Timmies in Squamish, the rain had converted to its much more acceptable cousin – snow. However, the weather did have a bit of trouble of letting go, and it couldn't quite shake the rain, so it decided to compromise by going for the wet, heavy snow that is often seen in the fall/spring. As a result, we figured we couldn't make it up the access road to Helm Creek (our original planned destination) and decided to head for Taylor Meadows.
While quite comfortably plowing through the ever increasing snow that was accumulating on the road up to Taylor Meadows we came across some Jerrys that decided to go full send in the all-season tires. They clearly missed the memo that says "By the way, all-season actually means every season except for those that fall between November and April". Not to worry, our team and another quickly came to the rescue and successfully pushed their car out of the way.
Now at the parking lot, the snow continuing to fall, we got our stuff ready while another acted as chauffeur and shuttled the remainder of our crew who couldn't make it up the road. We were 11 in all. With our outer shell struggling to combat the 100% humidity in the air and the thick snow falling, we were ready to set off up the uptrack ~ 9:45am.
Not having to break trail made the initial portion of the trip relatively smooth and quick. That is until we ran into a traffic jam resembling that which only occurs when people don't know how to use the automatic machines in grocery stores.
Turns out all this snow was too much for the trees to handle and they were failing under the applied load. We were hearing reports of 100 ft trees falling over and a women almost being crushed. This had many of the groups in a sort of frenzy, with most parties turning around (at least 5 different groups). We decided to push on and suss it out for ourselves, with the reasoning that as we get higher up the snow will become less dense and therefore safer. The victimized woman wasn't too pleased with our decision, which is totally fair given that she was probably in shock.
We continued along the trail with an increased distance of separation and a heightened awareness of tree architecture. Those that looked like the Leaning Tower of Pisa would be called out and passed down the line like a game of Telephone (similar to the protocol taken when crossing a crevasse). With snow bombs falling off trees every couple minutes, and occasionally blanketing someone in a white mist, it made for an ominous experience. That being said, we did not observe any tree failures first hand.
We eventually reached the crime scene where two trees had recently fallen. Although I can imagine the whole event being quite scary and dangerous, I think there was a tad bit of over exaggeration. There were two trees that had clearly fallen, but neither were close to 100 ft long, and the remaining "felled trees" were actually small-medium sized branches. I'd imagine tree fall is a fairly regular occurrence each year, especially given all the fallen trees that you see just by walking along the trail or any forested trail for that matter. We figured it wasn't sensible to turn around as this could happen anytime and unfortunately it was this time that someone almost got injured. We drew up the analogy that it was similar to seeing an animal on the road and then turning around, because there could be more animals out there. We scrambled over the cumbersome foliage and pushed on.
Of course, now we were leading the charge and breaking trail since no one had come this far yet. This was definitely one of the more tiring uptracks I've been involved in establishing, as the snow was relatively dense. We had a good rotation system going though and it took a team effort to plow through.
Eventually another VOC team had caught up to us and helped in the trail blazing effort. Shortly after this, our way was blocked by yet another fallen tree, only this time we decided to cross it with the skis on. This caused an unexpected traffic jam as it acted more as a natural grind rail than anything. Coincidentally, this allowed for our whole team to meet up prior to the junction (we had previously split into two teams and agreed to meet at the Taylor Meadows junction).
By the time the first of us had reached the junction, we were soaked. We didn't linger long before pushing on. Our team was slowly trickling in and we had made it clear to just meet at the Taylor Meadows shelter instead.
From this point onward, the snow had become less dense as we expected and breaking trail was much more forgiving. The first of us reached the shelter around 2:45pm with everyone gathered there by 3:30pm. We realized that we wouldn't get any skiing in today as the light was fading, so we decided to practice some beacon searches/rescue scenarios and set up camp (poles/probes work great for tents if you forget snow pegs). Fortunately, although many of us decided/forgot to bring our backpack covers our sleeping bags had remained dry (or at least mine did :p).
That night we ate dinner and discussed our plan for sending turns the following the morning. By the way, do yourself a favour: go to Safeway and buy some dehydrated garlic mash potatoes – AMAZING.
We decided that we'd again break into two groups the following day and balance the experience levels of the groups. The two groups were TEAM 5:00 am (WOOOH!) and Team 6:00 am.
DAY 2 – 24 HOURS REMAIN
Sunday, November 28, 2016
5:00 am – wake up, realize it's actually 4:46 and you can still crush 4 mins of sleep.
5:00 am – wake up, realize those 4 mins were useless.
Get out of sleeping bag.
NOPE, Get back into sleeping bag.
Give yourself a quick pep talk.
Get back out of sleeping bag, throw on the down coat and snow pants (ahhhh).
Pack up.
Breakfast (YES, Oatmeal).
Send.
Well sort of send…
Given all the recent snowfall (~40 cm), we had decided as a group the previous night that going into the alpine would not be the safest idea, especially since Avalanche Canada was reporting "Considerable" for avy conditions in the alpine from Saturday. Eliot (our trip leader) performed a simple hand pat of the snow and had estimated there to be about 30cm of new snow around 2pm on the Saturday, which was higher than forcasted. We figured the avalanche risk might be higher than expected and so we were very safety consience.
We finished getting everything together and headed out, sticking to the treeline ~ 7:15 am.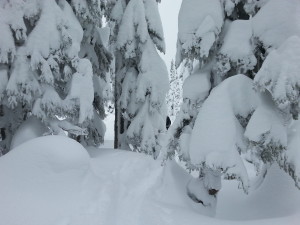 Breaking trail wasn't too tiring, since the snow was of the champagne pow variety. That being said, the shear amount of snow made for a relatively slow pace which doubled when the notorious Dynafaff starting acting up. Dan's heel piece kept rotating into downhill mode every 5-10 m of walking. Having tried several techniques to make it stay in place, including nicely asking it to do so (with a "pretty please" thrown in there), it just kept faffing about. We resorted to a different strategy. We assigned a personal assistant to follow Dan and defaff his binding as we broke trail.
Unfortunately, the trail involved a lot of flat sections and care had to be taken to avoid tree wells. We were gaining elevation, albeit rather slowly. We changed our plans of making it to the knoll near the top of the treeline, and headed for a "mini" knoll.
As luck would have it, another of our members started to get sick as we attempted to gain the last 100 m of elevation. We figured it best if we head down soon, and those of us that we're still feeling good could crush another lap – time permitting. We performed a quick hand pat compression test were off (there was no noticieable weak layer, and the snow seemed to have consolidated fairly well).
Time did not permit.
We had agreed for both groups to meet back at the shelter from 12:00pm – 12:30pm to eat lunch and finish packing everything for a 1:30pm departure back to the parking lot. Due to a combination of factors, including too much snow, too little angle of descent, and pole-snagging trees, we arrived back at our uptrack around 12:30pm. We started to head back to the shelter, when conveniently, team 6am showed up right behind us. Turns out they had a similar day of lots of touring, minimal skiing, and a good session of character building.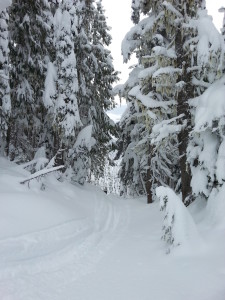 We ate lunch, finished packing and were on our way.
The skiing on the way down was surprisingly really fun. The many switchbacks offered some good snow and interesting obstacles. Cutting between switchbacks allowed for small pockets of good shredding. The descent gave the full perspective of the carnage that remained from previous days snowfall. There were a lot of new over turned trees that weren't there the day prior. One big tree in particular had been completely uprooted, whereas most sheared somewhere near their base or just lost branches. At this point we had broken into smaller groups and agreed to meet at the parking lot. On many occasions cutting trail proved to be effective in bypassing the war scene of fallen trees. However some groups decided to clamber over said trees which offered some interesting parkour experience.
Down at the parking lot, the snow was reverting back to its more wet form. Just as we started the adventure wet (and really just remained wet the whole time), we felt it was fitting to have concluded the adventure the same way. With everyone down at the parking lot just after sunset we were ready to head to Squamish and enjoy some Magg's Fried Chicken.
All in all, a really good trip, with great people, and some stellar character building! Lots of touring, not a lot of skiing, but that's just the way it goes sometimes.
Thanks to Elliot and Emily for having organized and led this trip! You made it that much more enjoyable and I'm looking forward to the next time I can ski with you guys!