January 21st/22nd 2017
The Black Tusk had been at the back of my mind since I arrived in Canada in September. The iconic stratovolcano standing at 2319m is visible for miles around and is a strikingly unique mountain. I had originally planned to hike the Tusk before winter kicked in, but life seemed to get in the way and before I knew it there was a snow base of over two meters. So, what better time to climb it than mid-January when snow conditions were far from optimal!
I held the pre-trip on the Tuesday prior to the weekend away. Chris Weizenegger, Heather Hughes-Adams, Duncan Pawson, Lukas Schreiber, Chris Cameron, Alastair White and Aurelien Pelissier were all part of the committed group. There was a lot to talk about at the meeting; everything from gear and rations to previous experience and our route to get there. But, by far the most important topic were the avalanche conditions. The past couple of weeks had seen the highest avalanche risk of the season and everyone knew that conditions were unstable. About a week before the trip, a first-person-perspective video of a snowboarder causing an avalanche had gone viral only a few kilometres from where we would be skiing (Chocolate Bowl, near Whistler). And, only slightly further out again there had been a class 3 near Duffey lakes on the Saturday just passed. I spent an hour and a half running through just about everything with the group and was confident in everyone's ability once we were out there.
:-: Touring to Black Tusk at sunrise - Shane :-:
Adventures like these are always exciting but for me this was going to be something special; it was the first trip I had organized for the VOC, I had been thinking about it for months and I could not wait. Excitement wasn't the half of it. I had some difficulty getting to sleep on the Friday night with mountain-top-thoughts whizzing and rattling through my brain; my body eager to go, all too early – not that it would know.
The alarm sounded at 4am and I needed no help getting out of bed. Everything had been packed the night before, one less thing to think about, but I like time in the morning to relax and prepare myself for the day. I had my porridge, did my stretches and at quarter to five, it was time to go. I'm normally an ultralight backpacker but my pack was heavier than usual this time; the ice axe, crampons, tarp and other odds-and-ends had all added significantly to the pack-weight. Heather had kindly offered to take all the bags, skis and a couple people in her Land Rover while Chris W. would drive the remaining stragglers (including myself). At 5am I was picked up by Chris who was surprisingly rested despite having slept in his UBC frat house on a Friday night. We popped round to collect Aurelien, Duncan and Chris C. and by half past we were already bombing through downtown and out onto the sea to sky.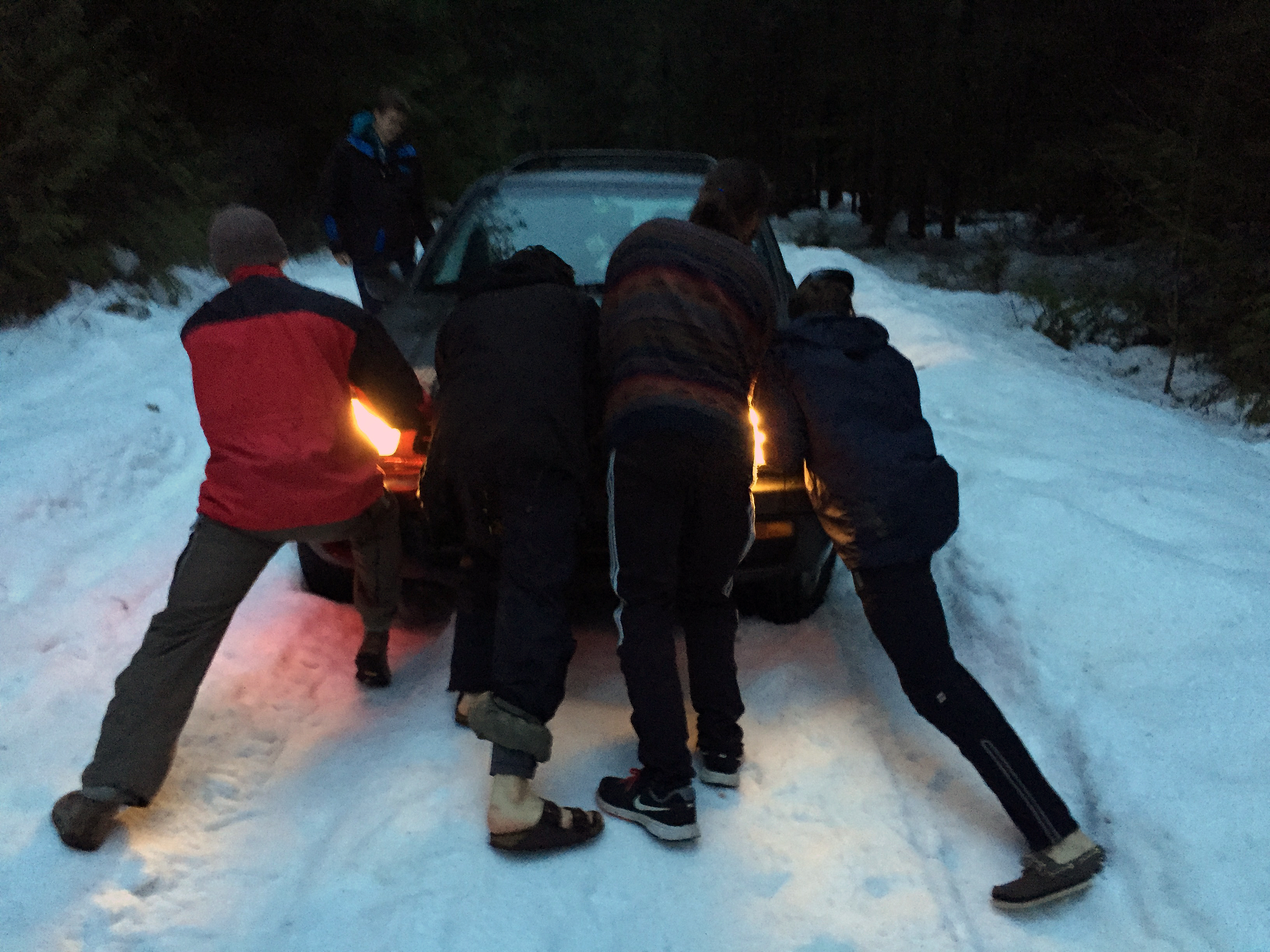 :-: Unstucking the car :-:
As per usual, the meeting point was Tim Hortons in Squamish. We had a quick coffee and a sticky bun, getting as much energy as we could for the next couple of days and before long we were on our way again. It was only another half an hour or so until we arrived at the rubble creek turn-off at Garibaldi. I had heard that there was free parking at the trailhead, about 3km up Daisy lake road so we started to drive up. Soon enough though, regrets had been made. We had successfully got Heather's truck nice n' stuck in the snow. It was a group effort getting it out, involving shovelling snow, laying down branches and a lot of pushing and shoving, but eventually we got it out of the rut. We parked the cars on the side of the road, got the gear out and after minimal faff (beacon/gear checks) we started the trek to the trailhead at 8.30am.
Energy was high in the group; most people were well rested and the stoke was through the roof. The trip I'd been dreaming of was finally about to happen and I couldn't wait to start. Although, it would be a fairly tough skin up; we had started at the bottom of the road at 360m elevation and it was nearly 2km to simply get to the trailhead at 600m, but it didn't take long as it was a gentle incline and well-trodden. At the top of Daisy lake road, the trail began; it zig-zagged, wiggled, waggled and switchbacked every which-way up a steep slope and would continue that way for 7.5km to the Taylor meadows hut at 1500m.
:-: Heading up to the Taylor meadows hut - Duncan :-:
It was a beautiful tour up and it was a fresh morning, with snow having fallen only the night before. You could hear the bubbling of the Rubble Creek river to the south, cutting through the snowy-silence. We crossed over several tiny streams on the way up, stopping occasionally to fill our water bottles or to take a photo. Luckily, we weren't the first to have headed up the trail since the last snowfall, making for a relatively easy ascent (we didn't have to break trail). It meant that you could enjoy the surroundings a little more and really take in the beauty of the environment. All along the gladed track there was evidence of recent avalanches; just the previous week there was an avi-risk of four in the tree-line, a very rare thing indeed. There were scuffs, slumps and boulders everywhere but thankfully now, the snow had stabilized a bit.
After a few hours, we hit the Taylor meadows hut, the 1150m ascent had people pretty tired so we stopped for a water and snack break. It was also time to whip out the map and discuss our plans. Originally, I had wanted to bivy at the base of the tusk (2150m), but by the time we left the hut it was 1pm and we were behind schedule. We instead decided to head to the Black Tusk junction at 1700m and find somewhere safe to camp there. I was very proud of the group for that hustle; people were lethargic after the strenuous skin that morning and somehow aroused themselves to continue up the final 500m push (even with the backpacks weighing ~15kg).
:-: Casting shadows under the evening sun - Shane :-:
Just after leaving the hut we made it to the famous Taylor meadows, the clouds had just lifted and conditions were starting to play to our favour. As we left the tree-line behind us, we entered the open, snowy expanse of the meadows. Our shadows were long and the light from the winter-evening sun bounced off the snow and up towards the mountains. It was incredibly beautiful touring through those glades, I had never experienced anything quite like it. It was utterly silent as we headed west, broken only by the occasional gasp of astonishment or from the shifting of snow as we broke trail. I think I will remember those meadows for a long time to come.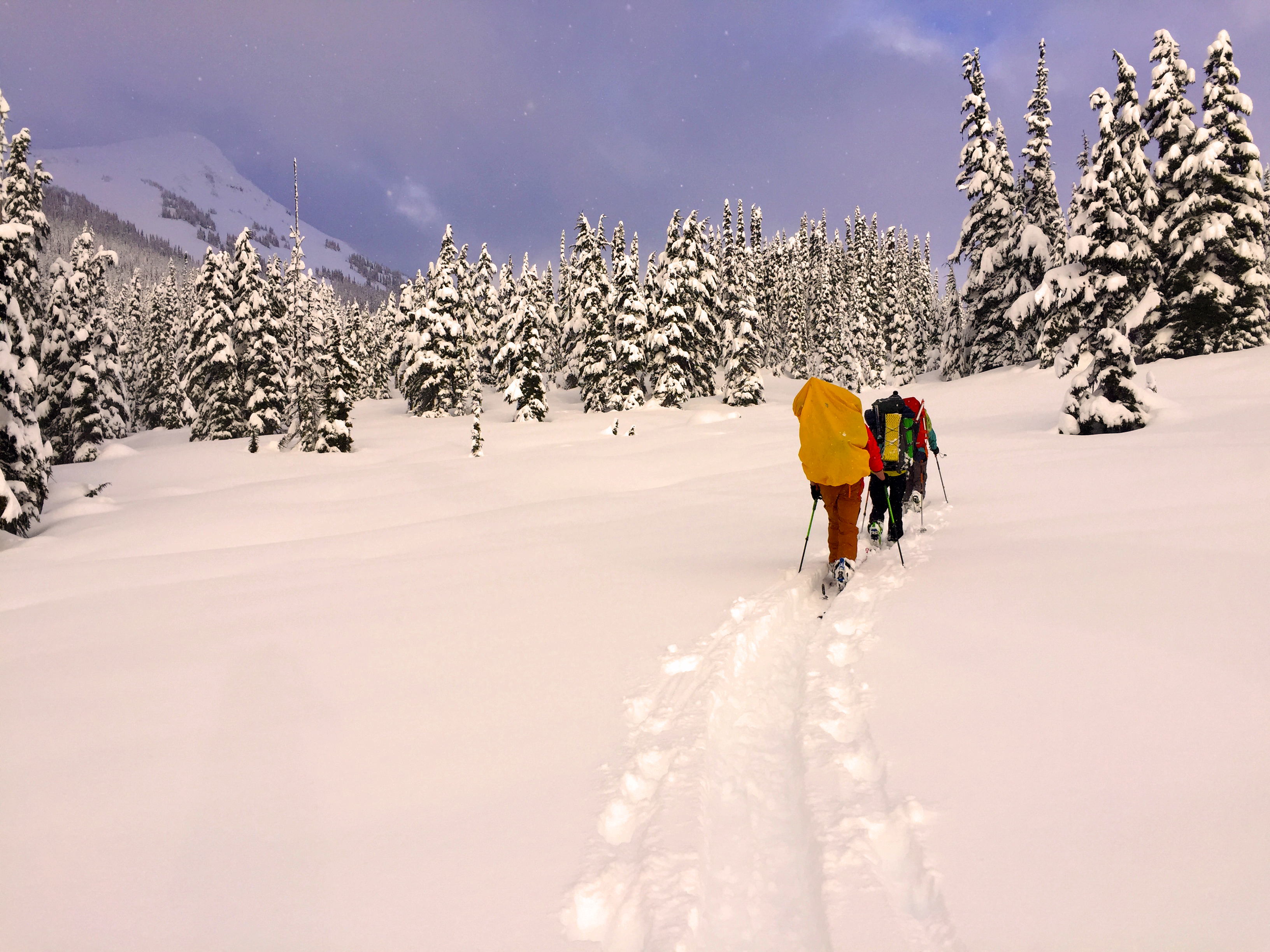 :-: Finding a place to camp - Shane :-:
We took turns breaking trail, with the leader falling to the back after their work was done. It was exhausting work and by 3pm, after two hour hours of graft, we were desperately on the lookout for a place to camp. The campsite would have to be below the alpine, where avalanche conditions were safe and where there were trees to use as shelter. To our left there was steep, complex terrain where the risk was high so we continued past it and eventually found a site at 1710m which we deemed suitable (it was past the main avi-chute). It was twilight and we had been blessed with a clear evening, we were drenched in the red, late-evening sun as we started to set up camp. There were eight of us in total and the group split into pairs for camping. Everyone was tired and hungry so there was no faffing when it came to setting up the shelters; the shovels were out and the team effort really sped up the process.
:-: Breaking trail with the gang – Shane:-:
That night I would be sleeping under my tarp with Lukas. I had to dig about 2m down to create a suitable snow-shelter for the tarp to go over (creating a heat-trap). Snow is a fantastic insulator and keeps you very warm, so although conditions weren't expected to drop too low, perhaps to -12°C, being snuggled by the warmth of the snow would be comforting. Just as night hit us, the shelters were all finished, we even had a kitchen and toilet area! And all for the best, because as the darkness engulfed us, on came the snow. It was nuking buckets and soon the three tents and tarp were invisible under the blanket of newly-fallen snow.
Having only had a couple of bars since breakfast, the group was ravenous. Post haste, with stomachs groaning to be filled, we set about cooking our food. We had split into pairs for cooking, with a stove carried by one partner and the food by the other. Most people's meals were minimal due to the rationing; boil-in-a-bag sort of thing, but Alastair and I had teamed up and managed to concoct a rather delicious chili-couscous dish (a staple of mine, at this stage). By the end, I was genuinely stuffed; a feeling not often had on these sorts of adventures.
:-: Setting up camp - Alastair :-:
As the snow cascaded down, so too did the temperature. People started to shiver and it being 7pm, bedtime was nearing. However, it was imperative that we melted snow for the morning's 4am expedition to the tusk. It is well known that melting snow takes a long time – it's practically an idiom, but boy-oh-boy when you need it, it really does seem to take an age. It took a whole hour to melt enough snow for everybody's nalgenes. You would expect it to be the freshest mountain-water that one could find, but when you're boiling water in the same container you cooked food in, you end up getting the occasional chili bit floating around and the distinct taste of kidney bean. Never mind, it would do.
The alarms were set for 4am and finally, after a 16-hour day it was time to scuttle into the scratcher and hit the hay.
I slept like a baby that night, eight hours of uninterrupted beauty-sleep, awakening only once after the awful nightmare that I had got a haircut. It seemed that I was one of the few though, most people had slept rough, waking up sporadically throughout the night to take a whizz or to clear snow off the tents. Magically, no-one needed a wakeup call, we were all up-and-at-it and by quarter past four everyone was huddling around their stove, cooking breakfast. We had awoken to a spectacular clear and star-spangled sky, the crescent moon lit up the mountains with a soft white glow and in the distance to the west you could even see Squamish at the end of Howe sound. The stars shone bright, unobscured by the light pollution of neighbouring towns and both mars and Venus were clearly visible; white, painted-dots on a black canvas.
:-: The morning ski up – Shane:-:
I had brought a hearty breakfast for myself and Alastair, a humungous ration-pack of porridge, granola, raisins and lucky charms which would prepare us well for the long day ahead. After some more snow was melted and I had a hot, fruit tea, we packed our bags and were ready to go. Aurelien had chosen to stay behind at camp that day; somehow, he had forgot to put his boots into walk-mode the previous day and had toured up 1400 meters! This had him bungled and blistered and he was more than happy to chill out and read at camp.
At 5.30am on the 22nd of January, the seven of us set off into the darkness of the morning. With such a good group, trail breaking up the steep ascent was less challenging, taking the task in turns. Just north of us was an unnamed peak which Heather had nicknamed Turtle mountain due to its amniotic shape. Per the map, the Black Tusk was just behind it and to the east. Once we neared the top of the tree-line, we started to traverse east, not wanting to break out from the protection that the trees gave us. We wanted to stay in the tree-line to minimise the risk of avalanche, however there were a couple of times when we had no option but to cross a small open-section. There was one specific section that nearly made us turn back; a 200-meter open slope (30° or so) over convex terrain. It was a spooky area but we mutually decided to cross it, it was the best option of a bad bunch. One-by-one we hurried across the slope and thankfully made it across without a single scuff.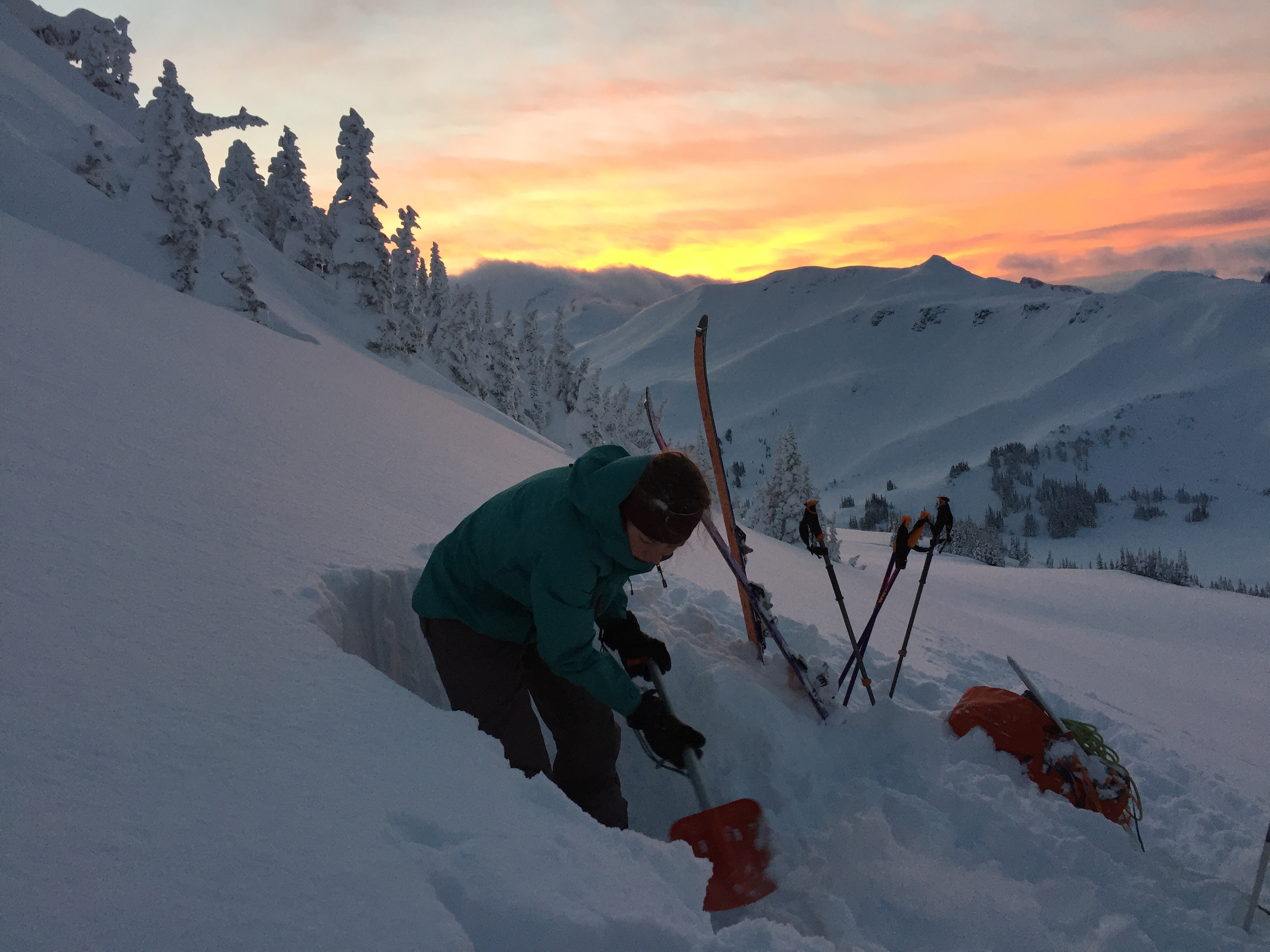 :-: Heather, Digging an extended column test – Shane :-:
As we left Turtle mountain behind us, in all its splendour, the Black Tusk came into view. There it was, our first view of this mysterious mountain since we started this expedition. A single, igneous tooth, protruding from the landscape, an enigma in shape and a sinister winter-climb. Truly this mountain lived up to its name.
:-: Lukas, Skiing away from the sunrise - Shane :-:
We had been looking for a suitable area to perform some snowpack tests and finally, in full view of the tusk, we found an area we deemed fit. The seven of us split into groups, digging out three separate tests to maximise our confidence. Duncan, Alastair and Chris W. dug out a rouche-block, Chris C and I dug a compression test and Heather and Lukas dug an extended column.
As we were digging, the sun rose in the east, blurred by the faintest of clouds which exacerbated its brilliance. An event few see; the rising sun peaking over the towering mountains. To put oneself outside of our creature comforts is to reap the benefits, remember that. Because as the wizard Merlin once said "It's up to you, how far you go. If you don't try, you'll never know!". The sun cast a blood red bloom over the mountains below and lit up the tusk entirely and we could not help but stop and observe our surroundings – how lucky we are to live where we live, far too many take it for granted.
After pulling ourselves away from the sunrise, it took about twenty-five minutes to prepare the tests fully and when they were all finished we went through and filmed each test individually. First up was the rutsch-block. Alastair donned his skis and carefully sidestepped above the isolated section. Foot-by-foot he gently lowered himself above the block and when I started filming, he made the first drop of his knees. Almost immediately the upper layer went; a crown of about 35cm. A horrendous result and not at all comforting. Displeased, we moved onto the compression test, I popped my shovel on top and did the first ten taps; all good. Next were the elbow taps, a small weakness occurred on tap six, but otherwise, it went fine. Finally, were the shoulder hits, a small translational-slide occurred on hit seven. We were pleased with the results of the compression test and moved onto the next test. Heather performed the extended column and the test went flawlessly. Overall, we were pleased with the results (bar the rutsch-block, of course), however we decided that it would be best to avoid complex, convex terrain with an inclination greater than 35°.
:-: Ever closer to the Tusk - Shane :-:
With our mountain in sight, we set off towards the tusk. The slope was mellow and made for an easy tour in relative safety. We followed the gentle gully that ran North between the Black Tusk and Turtle mountain and after about half an hour we had a decision to make; To the right was the Black Tusk shoulder, an arête about 150m above us that ran straight to the base of the Tusk. It would be possible to go straight up the side of the arête, but having just done our snowpack tests, we were unconvinced with this option, it was steep, uneven and very wind-swept. We decided instead to continue up the wide gully, where we saw on the map that it plateaued, from there we could then traverse up the arête from a better angle, putting us in a safer position. Decisions at this stage were a group effort, taking everyone's opinion and well-being into account.
After about fifteen minutes we made it to the plateau at 2050m and regrouped for a water break and some rest. We were now right below the Tusk, with the shoulder just up to the right, success was so close you could smell it. There was a large overhanging cornice that ran up to the top of the arête on the left side, and on the right, was a large rolling convex slope, it was imperative that we stay in between these two features which meant doing small switchbacks the whole way up the ascent. We skinned our way up the steep slope and it was tough work; the short switchbacks had us all pretty knackered. As we neared the top it started to get very wind-swept, the icy conditions were not allowing the skins any traction but, after the final exerted push, at 11am we reached the precipice of the Black Tusk shoulder.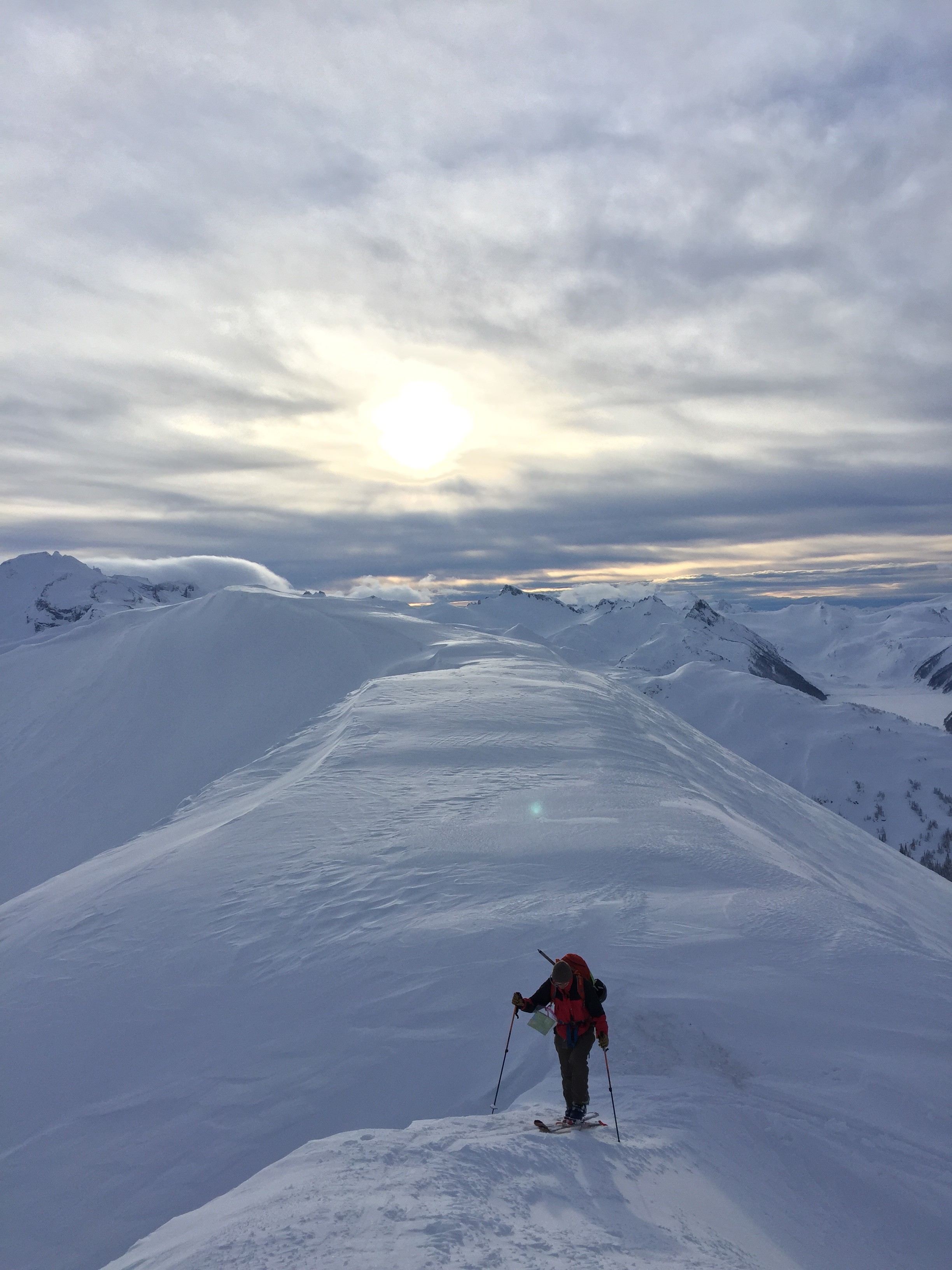 :-: Lukas, skiing onto the top of the arête - Shane :-:
This was the end of the line when it came to our skis, the hard-packed, shallow snow would not allow them to continue up the shoulder; it was crampons from here in. We took this as an opportunity to have some food and water, rejuvenate some energy and take in the shear magnificence of our surroundings. We were in good time too, I had set the turn-around time to be back at the base of the tusk for 1.30pm which gave us a full two and a half hours. We were buzzing, positively electric, ecstatic and any other adjective you could come up with to describe how excited we were to climb the beast. We had all donned our crampons except for Chris C. who was having difficulty with his; no matter how many times he tried they would keep falling apart once he put them on. Unfortunately, they were duds and the poor guy would have to stay behind.
:-: On our way up, Garibaldi lake and mountain in the background - Shane :-:
There were a few people in the group who had never used an ice axe/mountaineering axe before, so I gave a quick briefing on the ins-and-outs and when everyone was satisfied, we started our ascent. The ridge was a dawdle, we headed up at a leisurely pace, keeping a huge east-facing cornice to our right. Truly, everyone was enjoying being out in the geophysical extremes that mother nature had to offer.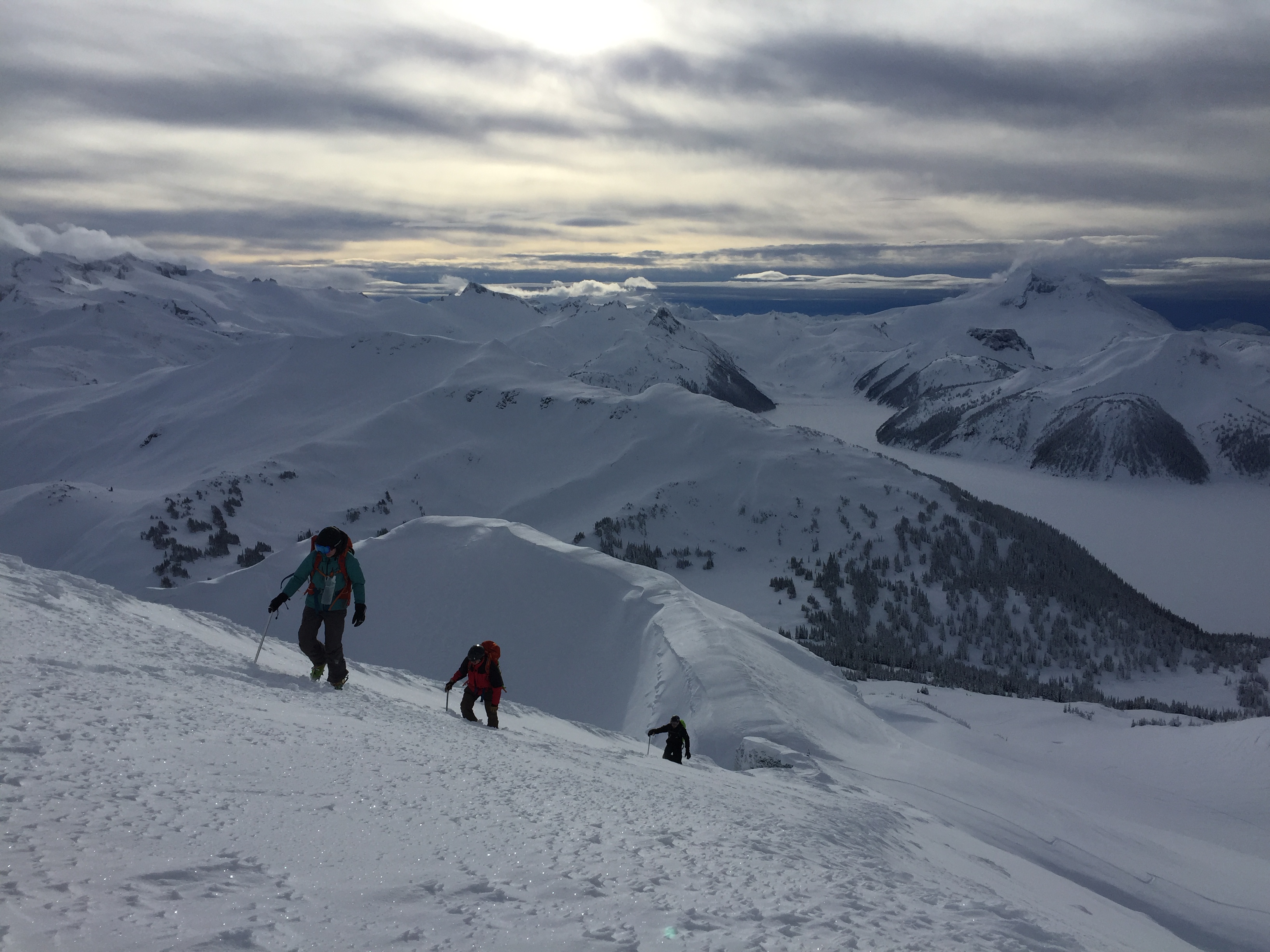 :-: The ascent - Shane :-:
Parts of the ridge were very soft, making it hard for the crampons to do their job, with our feet often plunging 50cm into the snow, whilst other parts were bare, wind-swept and rocky, making you cringe every time you heard rock-on-metal. At one point on the ridge, Alastair was leading when suddenly, he disappeared up to his chest in snow; he had fallen into a rocky hollow above the cornice. But, he managed to pull himself out of it, luckily without a scratch. Speaking to him afterwards about it, he said he was terrified, thinking he had fallen through the cornice. We weren't sure why that hollow had occurred but it was very unusual (possibly an ice-slide covering up a hole).
Soon, we reached the base of the Tusk, we craned our necks, looking up the vertical face of the mountain, what an intimidating climb. To a passer-by, it might look impenetrable but we knew that just to the west was a narrow gully that one could climb. Just below us, to the east of the cornice was a shear drop of about 200 meters and just beyond it: The Bishop's Mitre, a pencil-narrow peak, rumoured to be unclimbed.
:-: Surrounded by some amazing ice formations - Shane :-:
We edged along the west bank of the tusk, working our way over towards the gully, we hoped would be there. And, after only five minutes there it was, the passage, and our way up! We couldn't believe it at first, we had finally found what we were looking for, and I must admit I was pessimistic we would find it at all. But now came the fun part!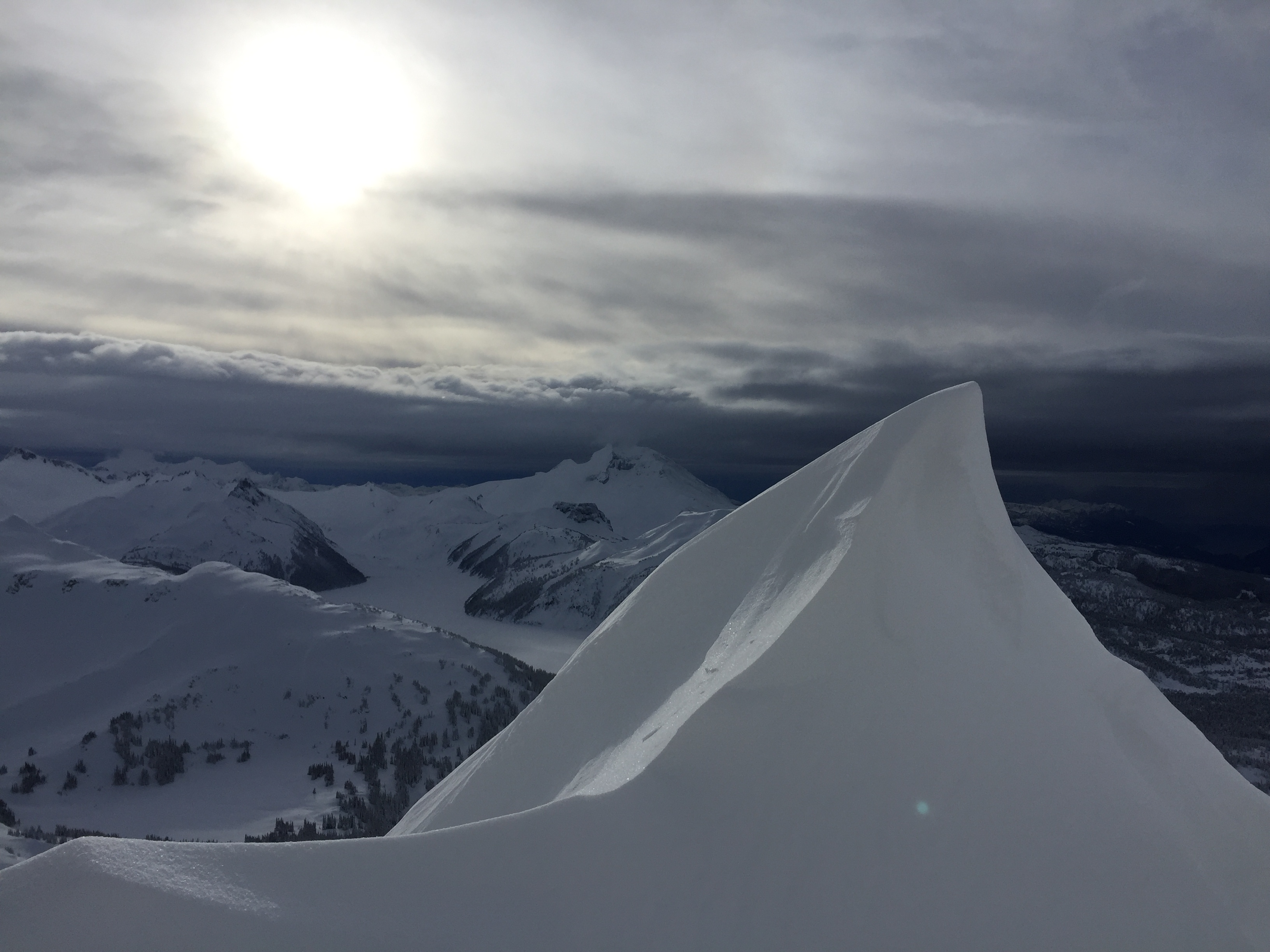 :-: A pretty snowbank at the base of the gully - Shane :-:
Duncan had kindly volunteered the previous day to solo up the chute; we needed someone to set the anchor at the top and he was well-experienced. From what we could see, the only tricky part of the climb was the start which was a steep, crumbly rock-face covered under a shallow snow-layer. But, it was a very narrow gully and would need our full attention. I had been keeping my eye to the south for the past half an hour, or so; a dark, ominous cloud was now hanging over Garibaldi lake and its surrounding mountains, which had previously been clear. It seemed that it was Northbound and I was eager to get everyone up and then back down.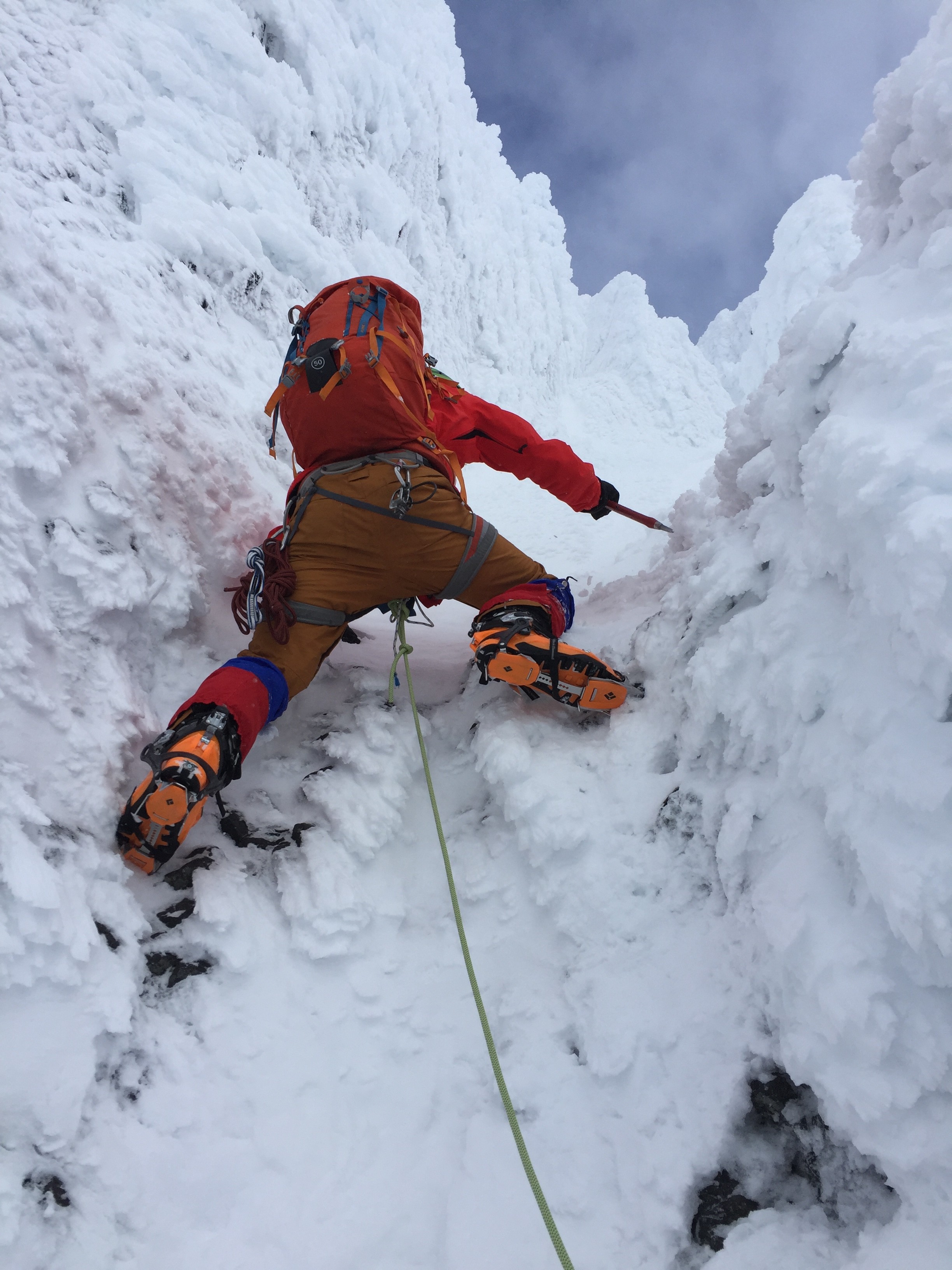 :-: Duncan, starting his free solo - Shane :-:
Rope wrapped around him, Duncan started his ascent up the face. At the beginning, we could converse well with him, but as he ventured further away and around the bend, the snow muffled and absorbed any communication we had. When he reached a point he deemed suitable, he dug out some snow and buried his Ice axe, creating a Deadman anchor. It was dodgy though, the snow was soft and shallow so as each of us climbed up, Duncan made sure to take most of the weight on his belay. Heather made the next ascent after Duncan. There was a good bit of waiting at the bottom of the gully as we waited for the rope to be passed down and then for the next climber to ascend. There was no doubt at this stage; the clouds were definitely coming in. Alastair and Chris W. had made the decision that today was not the day to climb the Tusk, with the weather window closing and with the long wait to climb up, it would be precarious to wait around. Together they descended back down to Chris W. and would ski back to camp.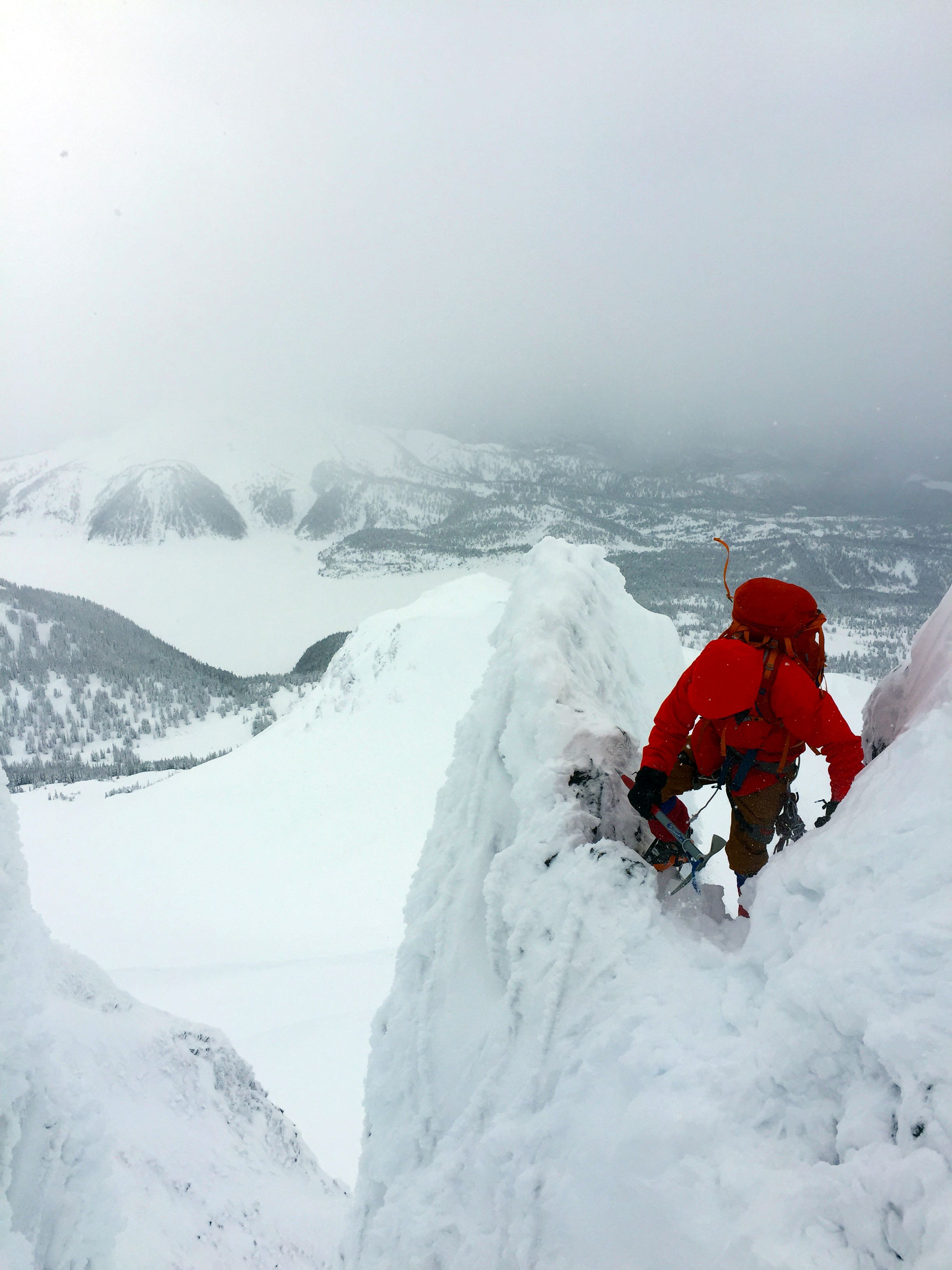 :-: Duncan, cresting over the first gully - Shane :-:
As Lukas started climbing up, I was left on my own at the bottom, tapping my foot and waiting eagerly to make my own climb. I watched as he rounded the bend and when he had disappeared out of sight I was truly on my own. A solitary enzyme on a vast, crumpled sheet. An insignificant black dot among spiny crags. It was soundless peace; the wind gently brushed my skin and the first snowflake fluttered down from the heavens, landing on my face. However, the calmness was in measured equilibrium with the excitement of the scenario and allotted anxiety over conditions. Then, I saw a red jacket downclimbing towards me; it was Lukas with the rope.  He threw it down to me and I tied in.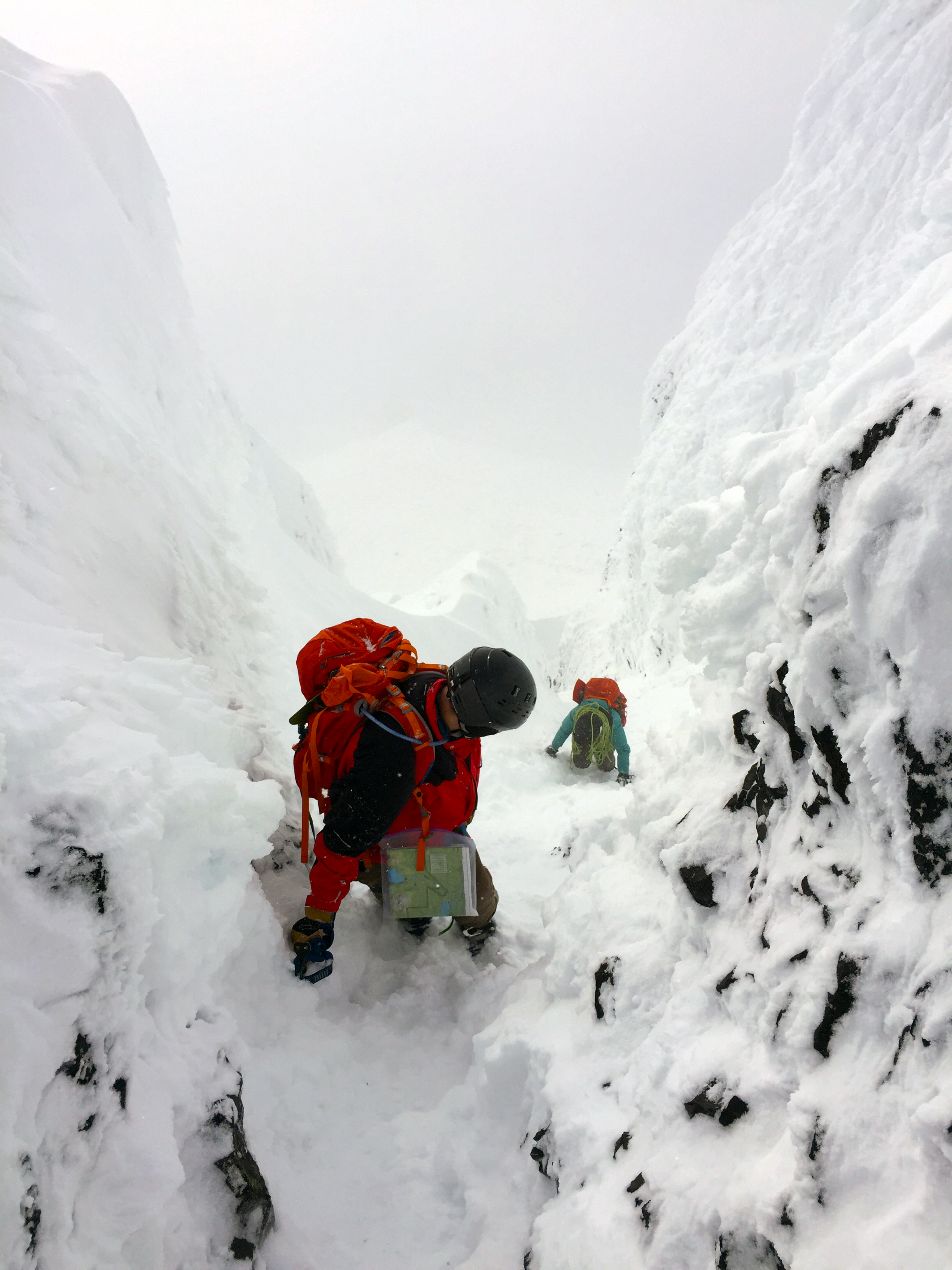 :-: Lukas, looking down at Heather - Shane :-:
I shouted 'climbing' and started my way up. The start was a tricky bit of rock and I looked far from elegant clambering up it – all elbows and knees. Soon though I was over it, digging my axe into the ground and well on my way up the snowy gully. To save weight, I had opted not to bring a climbing harness and instead to bring a long sling and a carabiner which can be used for a make-shift harness. It all sounds good on paper and it is good for rappelling but, I'm afraid for climbing it became a real pain; I ended up climbing while being belayed from a harness dangling around my legs, it would be easier without the thing! I was glad when I reached the other three and we were all stoked at being here.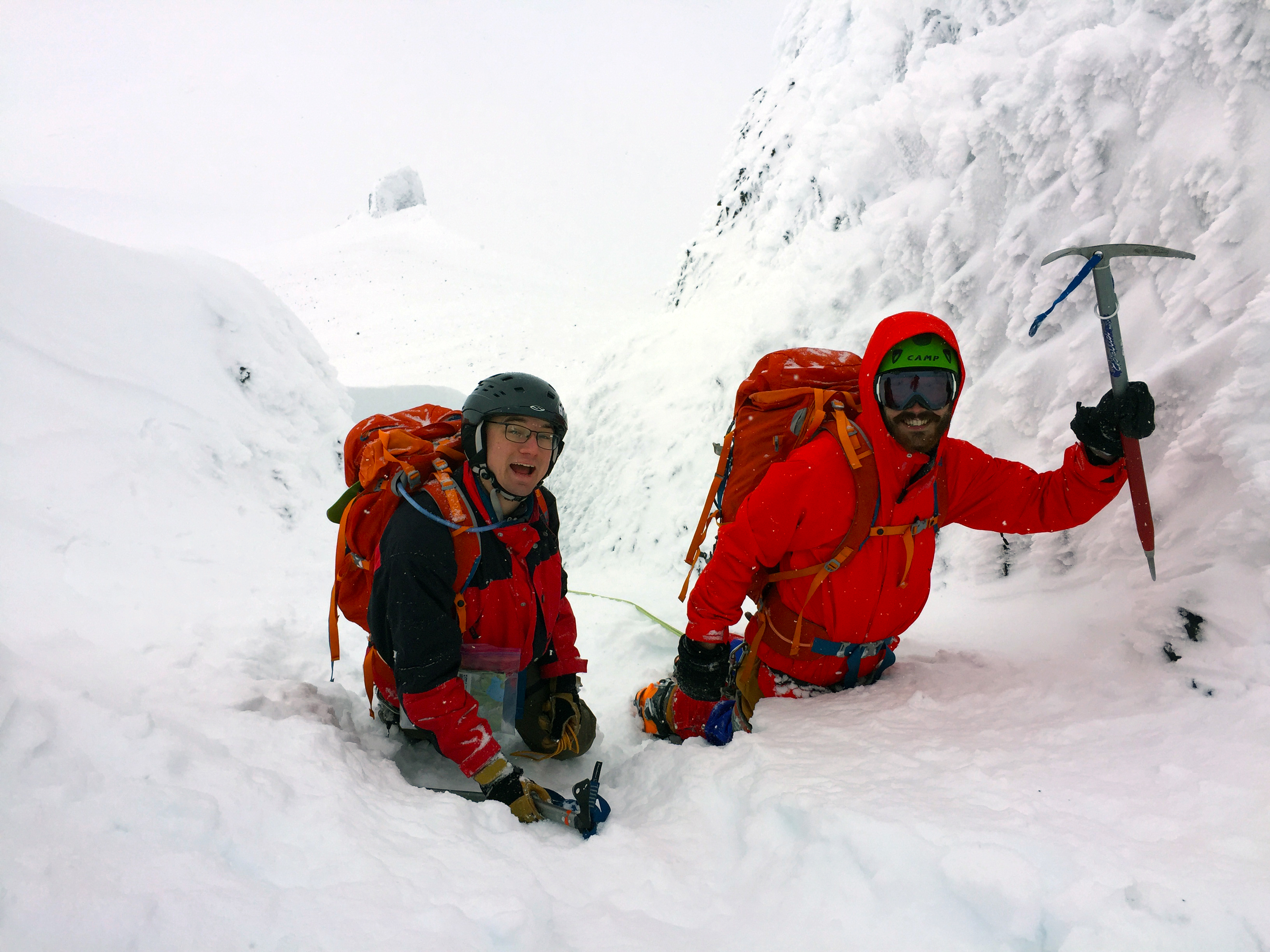 :-: The two lads; happy as larry - Shane :-:
We left the rope behind us as we continued up the mountain, merging with another steep chute that extended into the distance. We edged into the gully and kept going up, it got a lot steeper as we gained elevation and was slow-going. There was a point at the top of the gully where there was no evident ice or hard snow to dig the ice axe into and I spent a couple of minutes trying to find a safe and doable route up for myself and the rest of the gang. Eventually, with a shout I found a suitable hold and continued to storm up the route.
Then, I clambered over the final lip and stood on the final section of the climb. To my left was a 200-meter vertical drop into nothingness and, to my right, at 2319m, the summit of the Black Tusk. They say that most accidents occur within five minutes from your home. That analogy could be used here; this was no time for carelessness, it was a steep ascent with dire consequences. And so, I set off, one foot in front of another, lapping up every single moment of it, loving it. There was only ten meters left to the summit and as I got higher, the snow conditions got exponentially worse. I tried, I really did but no matter where I stuck it, my ice axe gave no hold. The weather had totally closed in and we were in the middle of a snow storm and so I made the decision; less than eight meters from the tippy-top, it was time to turn around. I looked down and told the guys and they understood. Perhaps, if I spent five minutes longer we could find a way up, but we simply didn't have that time.
:-: The final section - Shane :-:
I was proud of myself for that decision and I think I learnt something about myself that day. It takes a lot of will-power to turn away from a peak and one hears the horror stories of the people who could not turn their back on the precipice. The mountain will always be there. We turned around and started downclimbing, everyone satisfied, no one sour and all of us proud.
We downclimbed all the way to where we had set the anchor, picked up the rope and downclimbed some more. When we were just above the technical rocky section at the start of the gully we needed to set up some sort of anchor we could rappel off. Unfortunately, one did not exist and so once again, the incredible Duncan came to the rescue; as the heaviest of us, he offered to be a human anchor, acting as a body belay and letting us rappel off of him. One-by-one, we disappeared off the edge while Duncan firmly dug his axe and crampons into the snow, 'hanging on for dear life'. When we had all safely descended, he then proceeded to solo downclimb the rock face, rope-in-hand as we cheered him on. He planted his feet firmly on the ground at the bottom, not an ounce of smugness on his face.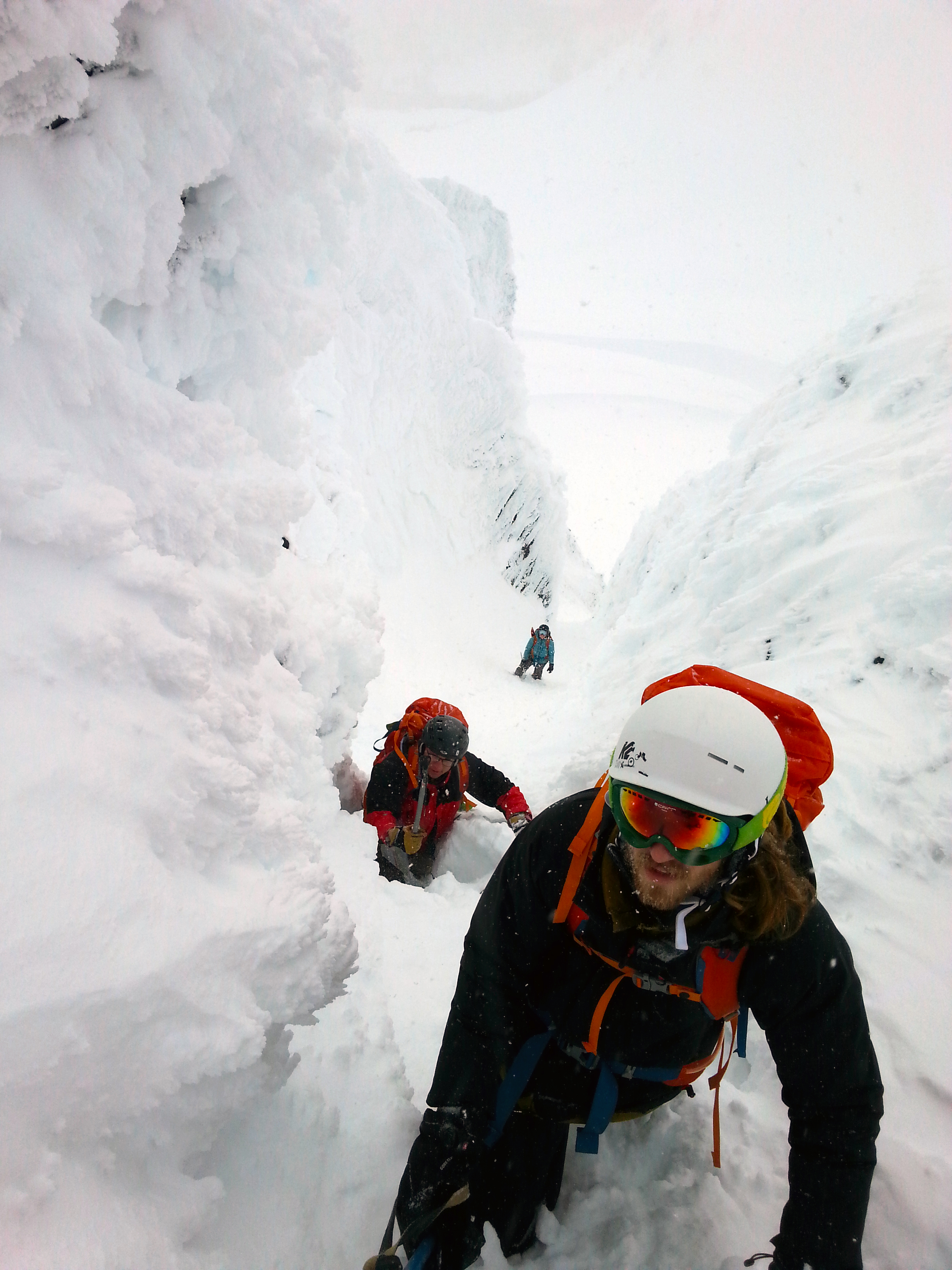 :-: Nearing the precipice - Duncan :-:
It was getting whiter and whiter and the mountains were losing their definition, hurriedly we started our descent along the arête and down to the skis. As we ventured further from the tusk, it disappeared into the clouds behind us, now, but a figment of the mind's eye. After a short time we arrived back at the skis, some warm, welcome colour against the plain white background. Hastily we took off our crampons and put on our backpacks and before long we were ready to go. Duncan took the head and I took the tail as we started to ski down into the blank nihility, our up-tracks being our frame of reference. 'Stay to the left! Remember, the cornice is on the right' I shouted. We slinked our way back down the way we came up, creating fresh tracks in the powder. And then, Heather Disappeared.
I looked around as I skied down, where was she? Then, I saw the top of a blue jacket poking over a ridge just to my right. She had skied off the cornice! I hastily went over to her, extended my pole, and helped her over and onto the slope. She was fine, and more nonchalant than I would have been and together we continued on down towards the other two. In complex terrain, when weather conditions are like that, skiing style tends to go out the window; your body goes into fight or flight mode and it becomes a game of survival. As a group, the four of us continued to ski down and out, enjoying what we could with the poor visibility, it was just lovely being out and making some fresh tracks. And, all too soon, after one of the most eventful mornings of my life we made it back to camp.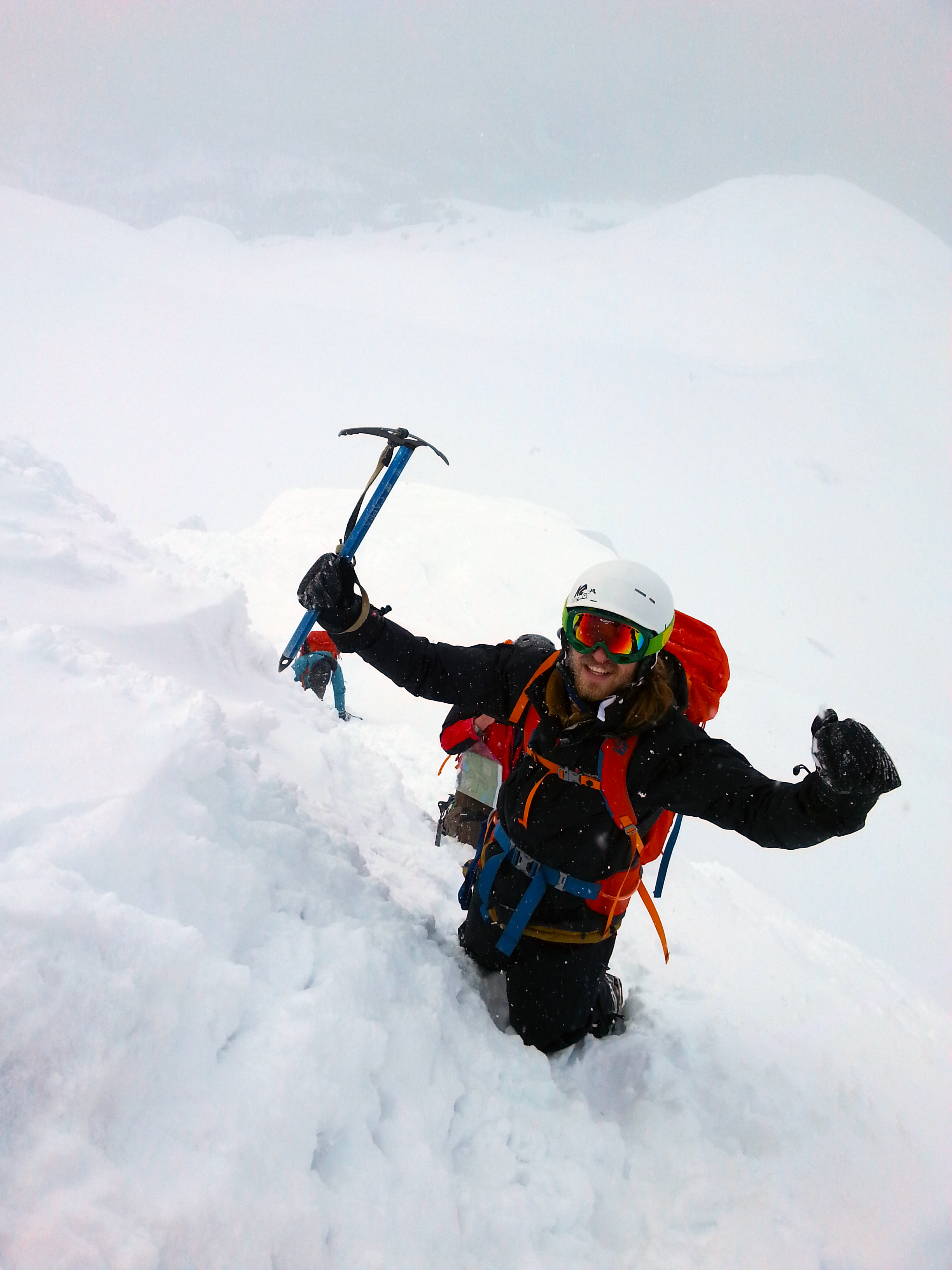 :-: Me, at the end of the line; as far as we dared go – Duncan :-:
We were happy to be reunited as a group once more and we had made good time that morning. Everyone had had their fill of adventure and it was time to pack up. Without dawdling we took down the tents, packed our kit away and were ready to go. At 3.30pm, with heavy bags on our backs, the eight musketeers set off down the mountain. We had 1300m to descend and more than likely we would need our headlamps before all was said and done. Together, we passed back through the snowy flatlands of Taylor meadows, still taking it all in, even in our exhausted states. Soon though the group split into posies of two or three and we made our own way down, everyone eager to get back to the cars. I skied down with Chris W. It was tough skiing with the backpacks and it seemed like the switchbacks would never end as we followed the exact same route we had taken up. There were sharp bends with high consequences that became harder to see as the evening light dulled. And then, near the end of our adventure I watched Chris fall awkwardly as he rounded a bend. He screamed in agony. 'My knee!'. His legs were contorted in a most unhuman way, the skis tearing at his joints. I took off my skis as fast as I could and then proceeded to release him from his. His leg sprung back to a normal position and he lay there, panting. He had not broken his knee, thank god – but there was definitely some damage done. We needed to get off this mountain.
Together, we slowly descended, and before long and in the black of night, we made it back to the cars. Safe and sound and satisfied and fulfilled. What an incredible weekend that had been, so many tales to tell with new friends made. I couldn't have asked for a better trip and was pleased to hear a couple people say it was the best tour they had ever done. Adventures like those don't come often, but when they do you must cherish them – engrave and etch them in your brain. Make your mind a place you can retreat to at any time to relish in memories like those.  I hope to run many trips this year, and hopefully one day to guide expeditions and I hope that any of them can live up to that weekend. Finally, I leave you with a quote:
"Ask what makes you come alive and go do it. Because what the world needs is people who have come alive." Howard Thurman