After 5 months of planning and with numerous people pulling out for various reasons the final climbing team was Luca Sommaruga, Heather Hughes-Adams and myself. It was a lot of work organizing a big mountain trip, who knew. I came to Canada from little, old Ireland with many big plans, not really expecting many to come into fruition; but, this year has been amazing and more than anything I could have ever hoped for. Mount Rainier was the pinnacle experience, a year of hardcore mountaineering with the VOC had taught me much and I felt that it was about time that I put my attained skills to the test and bagged a big one.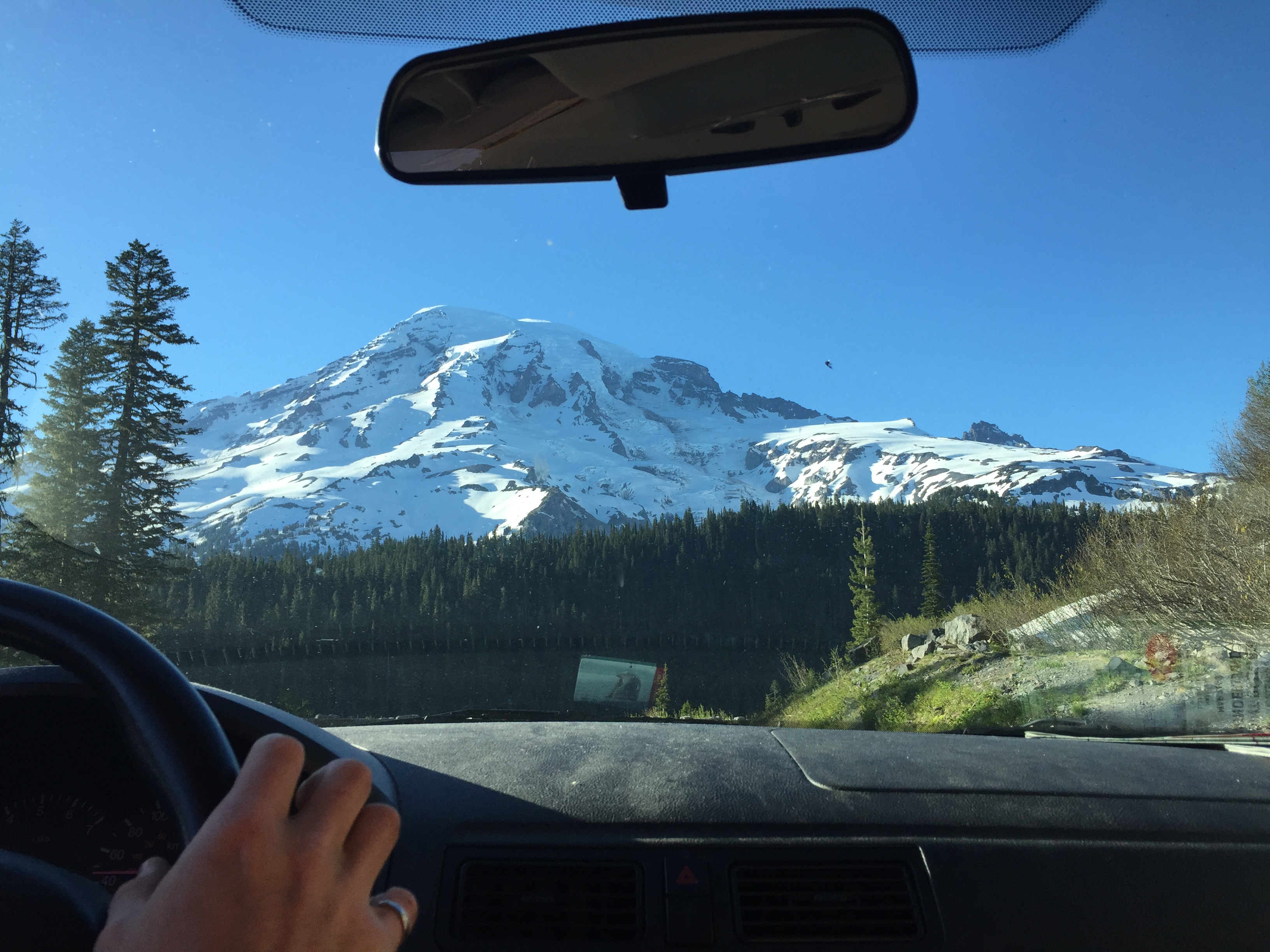 :-: Rainier through the windscreen :-:
Standing at 4'392m, the mountain also known by its native name as Mount Tahoma is the highest mountain in the Cascade Range and is the fourth most prominent peak in North America (4'026m: it's height in comparison to the surrounding area). It's the most heavily glaciated peak in the contiguous United States with 26 major glaciers and is even on the Decade Volcano list (one of 16 volcanoes across the world). With 10'000 climbers attempting it per annum, only 50% are successful at their attempt on the mountain, due primarily to fitness or altitude, although I could see bad visibly as being another big reason as some latter parts are very hard to navigate. In fact, there have been 421 deaths on the mountain in recorded history and people die every year attempting it, many of the bodies have yet to be found. I'm full of stats, I know… It's called Google, you should totally try it out.
I had originally organized for the trip to take place from the 7th to the 11th of June but as it grew closer to the time, the weather started to look real shabby, and two days before-hand, when 100cm+ of snow had fallen, we had to cancel it. After such a big-hype build-up, it was a big hit and I lost a bit of motivation. But, we reorganized it and the weekend of the 22nd to 25th of June was looking to be the best weather we could hope for – not a cloud in the forecast!
:-: Rainier at Dusk, the view from the parking lot :-:
And so, it happened! After pancakes and organizational faff at Luca's, on Thursday, 22nd June, we piled into his car and set off on a 6-hour road trip to Paradise, Washington – the base of Mt. Rainier. At the US border, as expected, we were pulled over and the car was searched. It's becoming rather annoying now, every time I've crossed, I've been searched. Thoroughly unpleasant. Maybe it was all the cocaine I had in the trunk though? Who knows!
We passed through some cute little Western towns on our ring-road path around the mountain to its South face. Enumclaw was particularly pretty and you could barely call Greenwater a town, it was so quaint! Mt. Rainier grew larger as we approached it and eventually it loomed above us, casting its great shadow upon us and for kilometres behind us. A jaw-dropping and intimidating peak that sent shivers down our spine. You wouldn't be human if the nerves didn't get to you in some way.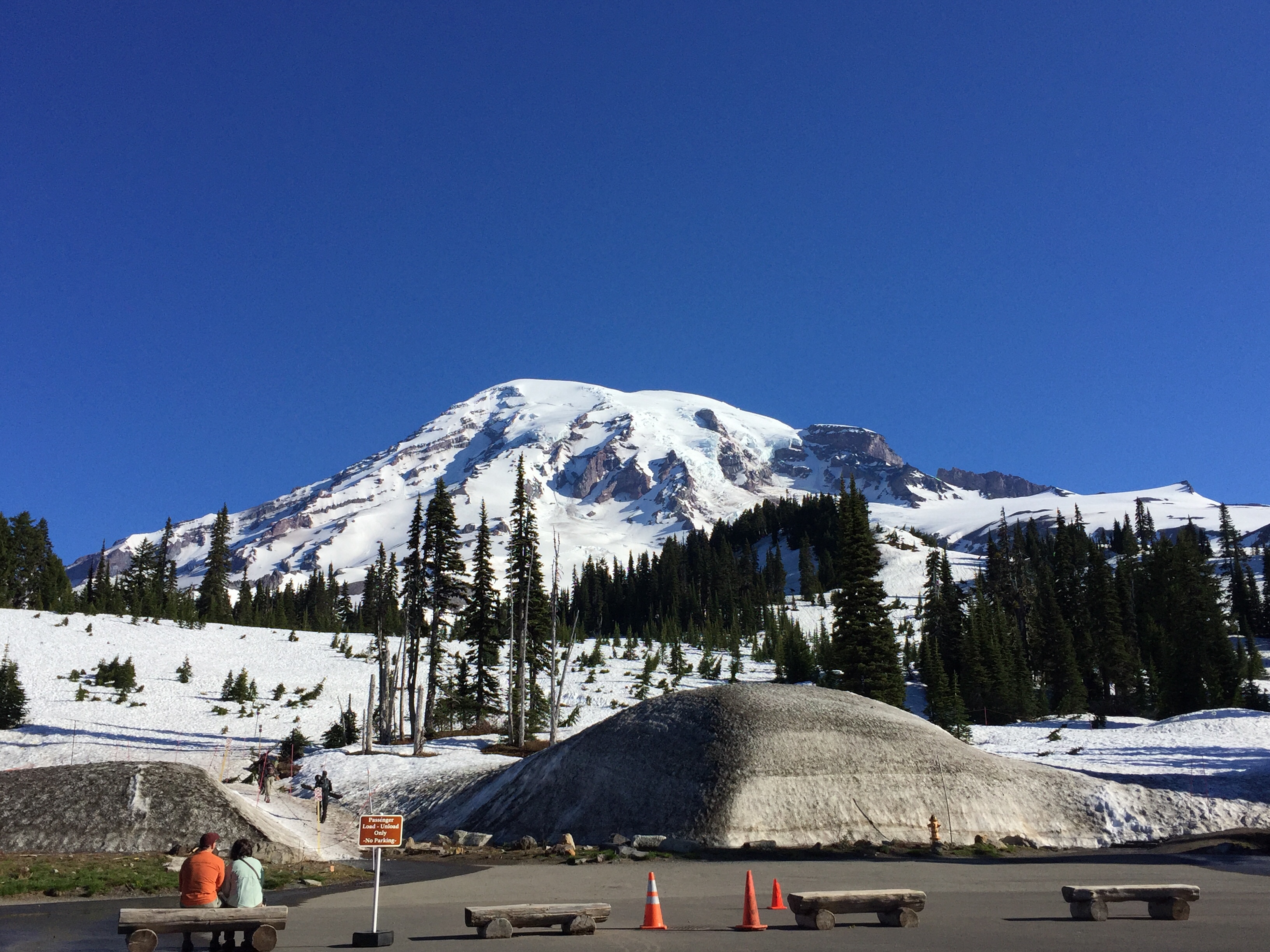 :-: The view from Paradise :-:
We pulled into the overnight parking lot at Jackson Visitor centre (1'645m). It was right beside the trailhead for the climb and was the place where we would buy our climbing and wilderness passes tomorrow morning from the rangers. It was dusk when we arrived and we pitched the tent on a patch of grass beside the car park.
If there was one thing we didn't skimp on, it was food. We had enough for four days on the mountain if we needed it, even though the plan was only for two. On the drive through Washington, we had popped into a Safeway for some fresh vegetables for our car park dinner and we enjoyed a feast of mushrooms, peppers, sausages, tomatoes and herbs over a rice base. It was a huge feast and we filled our bellies until we could fit no more – just what we needed before a big climb. Full of food and excitement, at 11PM, we drifted into a dreamless sleep, three peas in a pod tucked away in a tent.

:-: Setting off, Luca and Heather admiring the view :-:
Thankfully, there was no alpine start as the ranger station only opened at 7AM, so we treated ourselves to a lie-in and awoke at 6AM. We ate unlimited porridge and Heather even popped up to the Paradise inn and grabbed fresh coffee for us – a great start to a great weekend. We bought our passes from the rangers who were equally lovely as they were helpful and it even turned out that our climbing passes were valid for a whole year! It would be cool to come back in the future and try a different route.
We would be climbing Rainier via the Disappointment Cleaver, generally considered an easier route and is guide-maintained. People generally stay at Camp Muir or Ingraham Flats before making a summit push, although some nutters do it in a day (I'll leave that to the Ueli Stecks or Killian Jornets of the world). We had planned for a 2-day ascent, however we felt it wise to book an extra night on the mountain, just in case.
:-: Hiking up the Skyline trail, Heather with Mount St. Helens in the background :-:
And so, on the Friday a little later than expected, with our alpine packs donned and looking cool as shit, we started our hike up to Camp Muir. We had the bear minimum with us, Crevasse and avalanche rescue gear, some food and our sleep systems, trying to be as weight efficient as possible.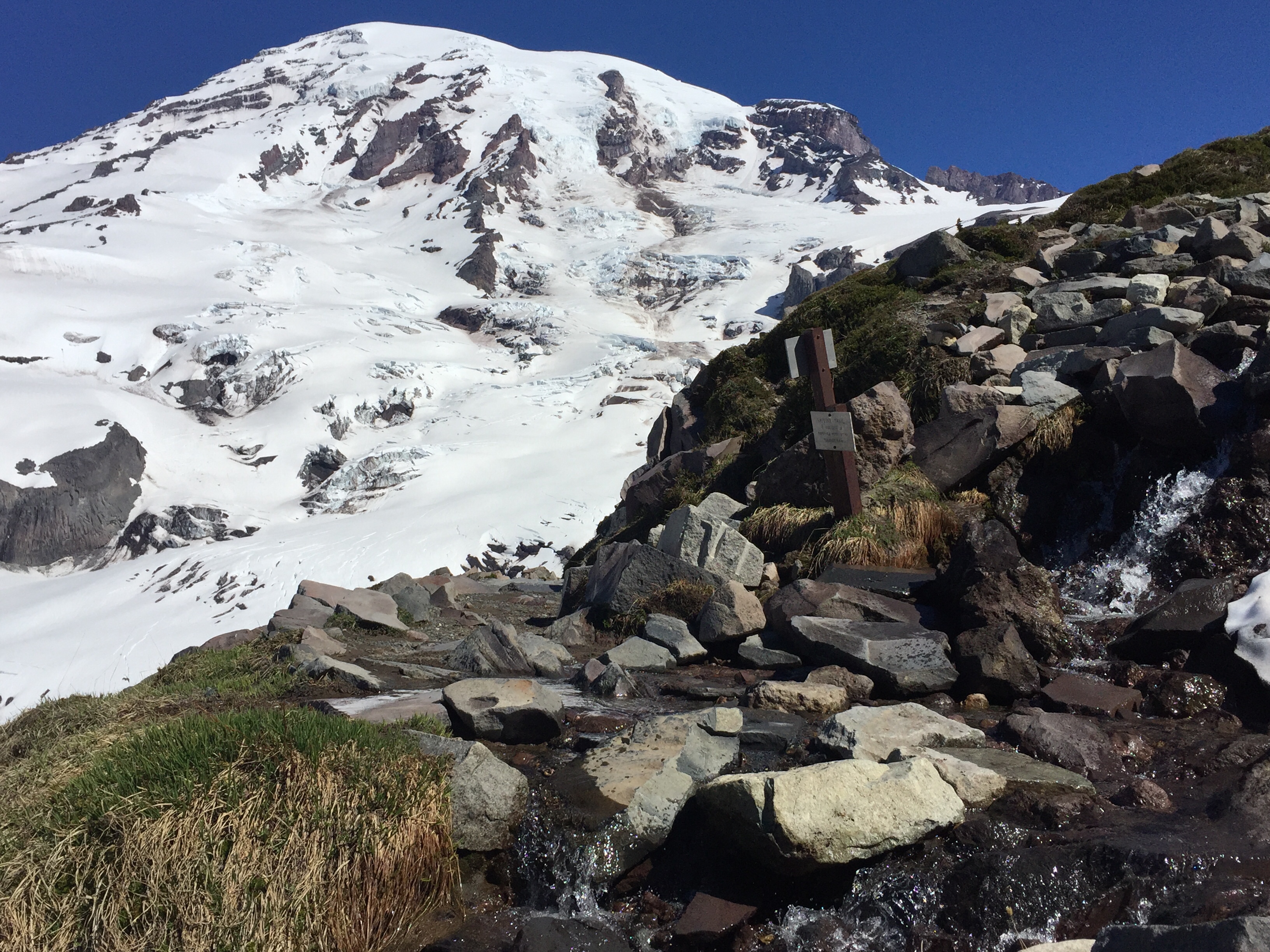 :-: The skyline trail, summer vibes breaking through the winter snow :-:
Almost immediately we took a wrong turn… We ended up looking Westward at a beautiful view of a creek at the Nisqually Vista viewpoint. Reluctantly we turned around and went back the way we came, blazing through the snow to make up time – although, it had only been a half-hour detour. We knew the direction of the trail we were looking for, so we set our compass declination (preventing the disastrous mistake that I had made on the 22-hour Neve ski traverse) and made a straight-shoot for the direction that we meant to go.
Soon enough we hit the trail and worked our way Northward once more. We wanted to try and stay off the beaten track a little bit on the way up, away from the crowds and there were many side projects to be had. Luca did a small bit of ice (hard snow) climbing on one steep pitch and we climbed a couple of rocky mounds greedily searching for an even more beautiful view. We saw some lovely wildlife on the way, a marmot scuttered across the snow, a couple of friendly chipmunks stared down at us from some rocks above, there were ravens, hawks and eagles and we even saw a Whiskey-Jack! I thought that they were native to Southwest B.C.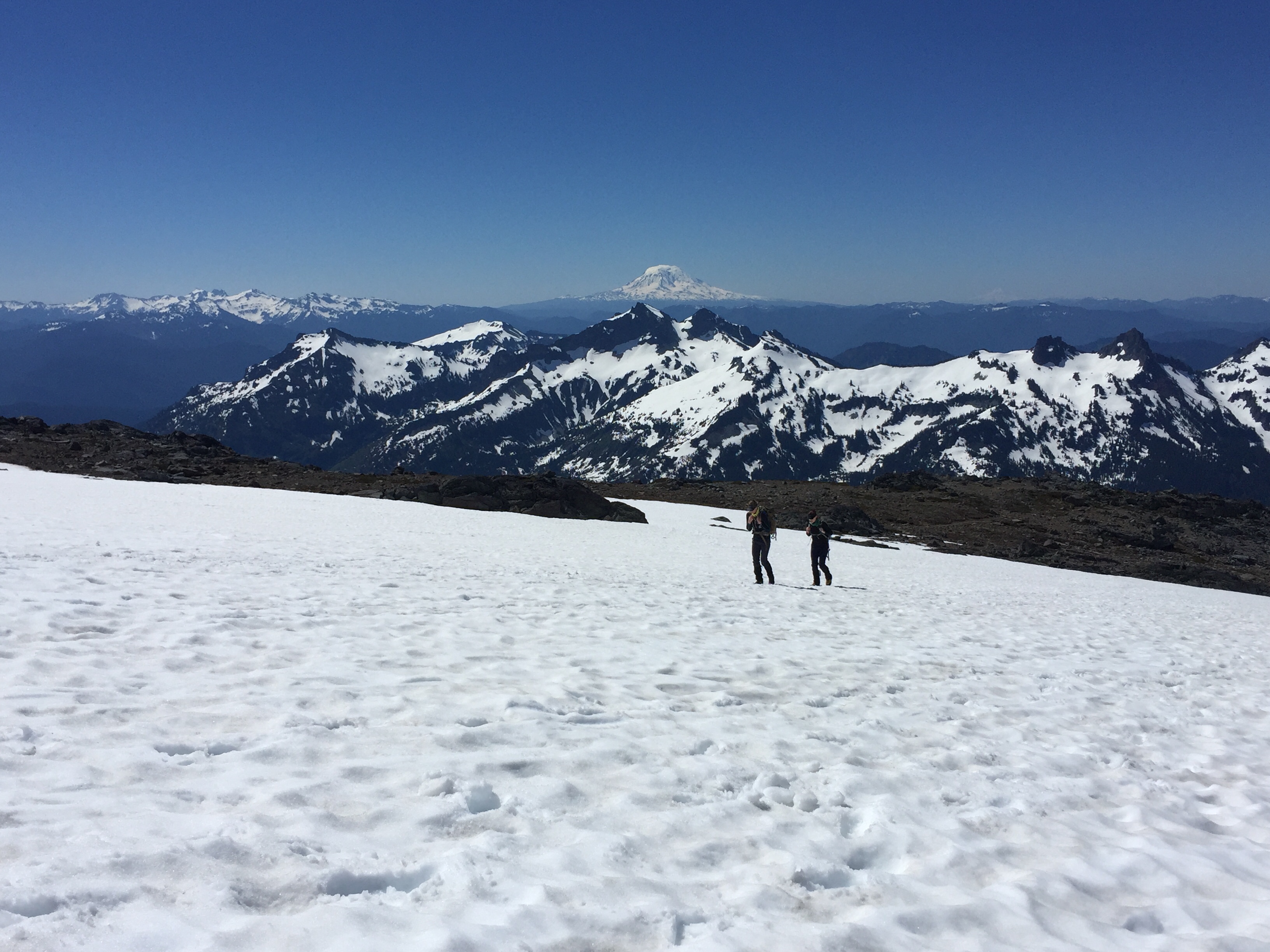 :-: Views of Mount Adams and hazy behind it, Mount Hood :-:
As we got higher and higher, we started to be able to see the surrounding lone peaks to the south. Mt. Adams, the nearest and beyond that Mt. Hood and far away in the hazy distance we could even see Mt. Jefferson. Just to the west was Mt. Saint Helens, it was a fantastically distinct mountain, I had read about it since I was a kid and it was awesome to see it with my own eyes – the iconic stratovolcano had blown its top off in 1980 and was 'the most economically destructive volcanic event in US history' - Wikipedia. Then, just North and out-of-sight was Mt. Baker, a popular climb to train for Rainier and an equally beautiful peak, visible from Vancouver. They were all stratovolcanoes and all very much active, it was very cool to have them all in one view.
It was pretty busy as the climb up to camp Muir is a popular day hiking route – although you would still need the proper apparel with you. On the way up, I got talking to a retired American couple and they were killing it. They told me how they were trying to visit every national park in the US and how they had climbed every iconic volcano on the West coast of the States. They had just come back from Italy and were heading to the Isle of Skye, Scotland in a couple of months (a place that I have experience with so I gave them some beta). They were truly and inspiration and I told them so. I think that it touched them. We sat on some rocks just south of Camp Muir (3'105m) and ate lunch together while they told us stories of their adventures.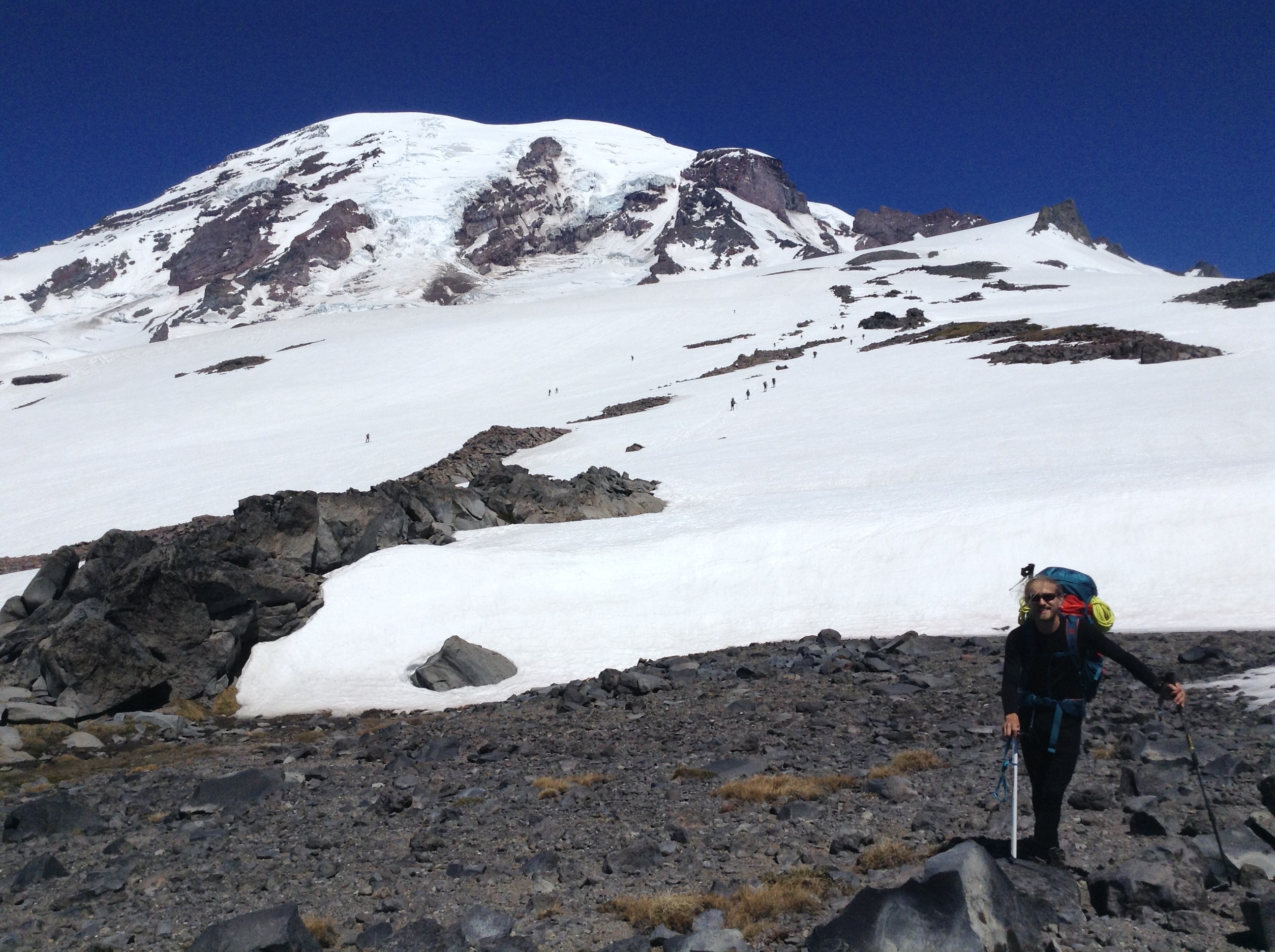 :-: Me, with a mountain and some lemmings in the background :-:
Luca had worked two 12-hour shifts in the two days prior and was utterly shattered and Heather was starting to complain of stomach pains – one of the early signs of altitude sickness. Together we made the decision that was would spend an extra night on the mountain, staying one night where we were and the next at Ingraham flats before making a summit push on the third day and returning home.
It was only 2PM which meant that we had all afternoon to enjoy ourselves. We had found a beautiful arete to sleep on, precariously overhanging Cowlitz Glacier and looking down over the Muir Snowfield. We set up bivys in our own private locations and sat out to enjoy the stunning views that were on offer. I have been on more glaciers than I can count and seen some fantastic things in the mountains, but Rainier took it in every category; every feature was colossal. The crevasses were hundreds of meters long and who knows how deep, from above you could look down into the deep, aqua-blue of their heart and see it fade into blackness. Giant cornices overhung the campsite and then there were the immeasurably huge seracs which were strewn everywhere, a sign of a very active glacier and impossible to fully perceive in size against the blank, white canvas of the surrounding snow.
:-: A guided lemming line, our first look at Rainier's huge glacial features :-:
I meditated in heaven on earth, the most beautiful place that I had ever been and let the sun warm my bones. At 3'000m with a resting heart-rate of nearly 100BPM, I found myself utterly at ease, I felt strong, I felt I had a total understanding of my body and I had the fitness and skills to take on anything that this mountain could throw at me. I felt out every part of my body and relaxed it, gaining total control.
:-: Luca photobombing, Bivying below Camp Muir :-:
As the sun slow-baked the mountain, it came alive with a cacophony of failing seracs and rockfall. It was consistent and every now-and-then there would be a particularly huge crack as some far-off feature failed, causing me to open an eye and awake from my meditation.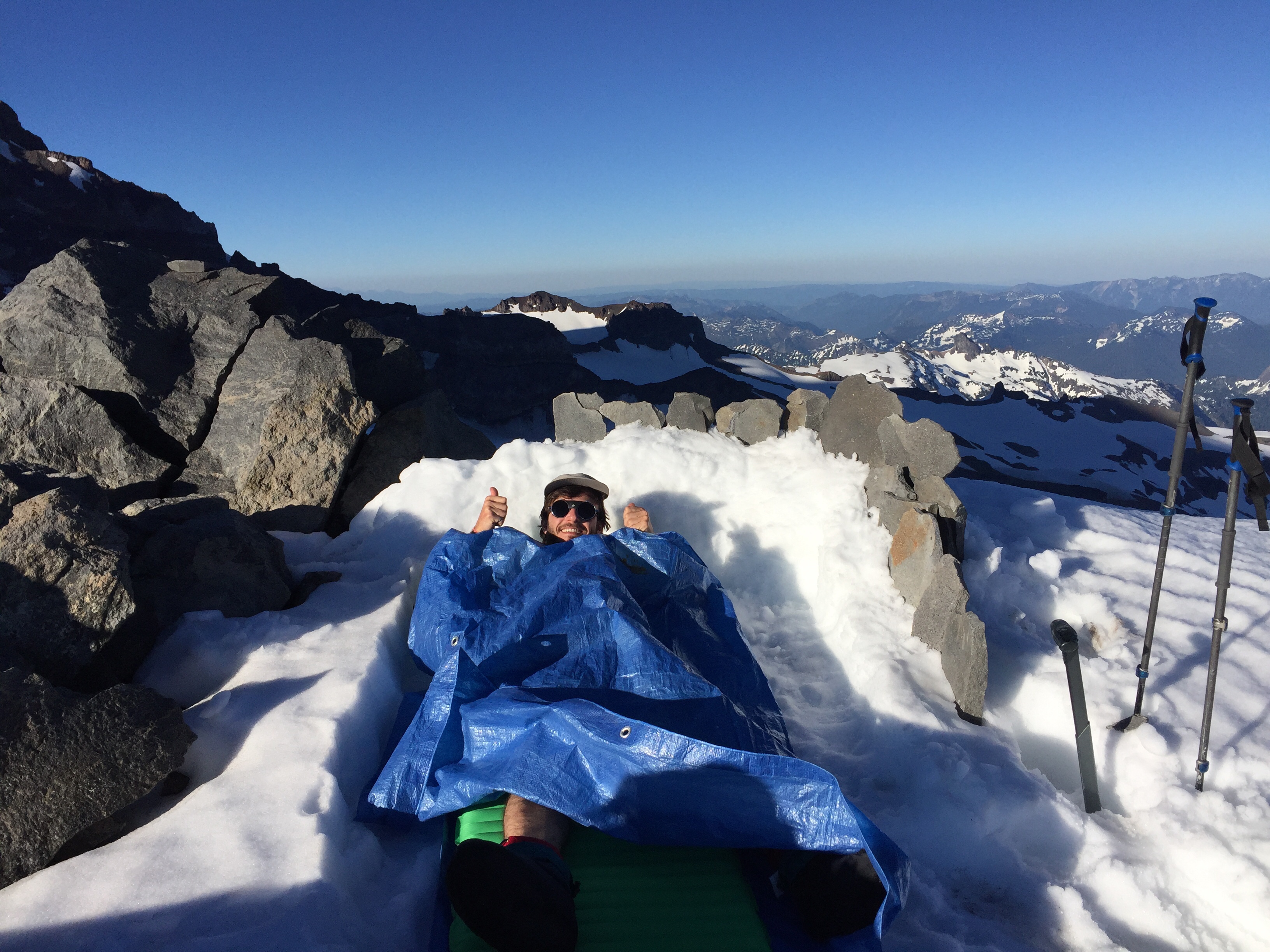 :-: Snug as a bug, in a rug :-:
We continuously melted snow to keep ourselves well hydrated and lathered on the sun cream (although, the harsh sun was still getting through the cracks). Eventually, we started to cook dinner, in no real hurry as tomorrow we were only heading up to the Ingraham flats a few hundred meters above us. We had more fantastic mountain cuisine that night and dined on pepper, sausage, onion, tomato and noodle soup with mashed potatoes and rice. As my old man might say, 'Life's a bitch and then you die'. Ironically of course.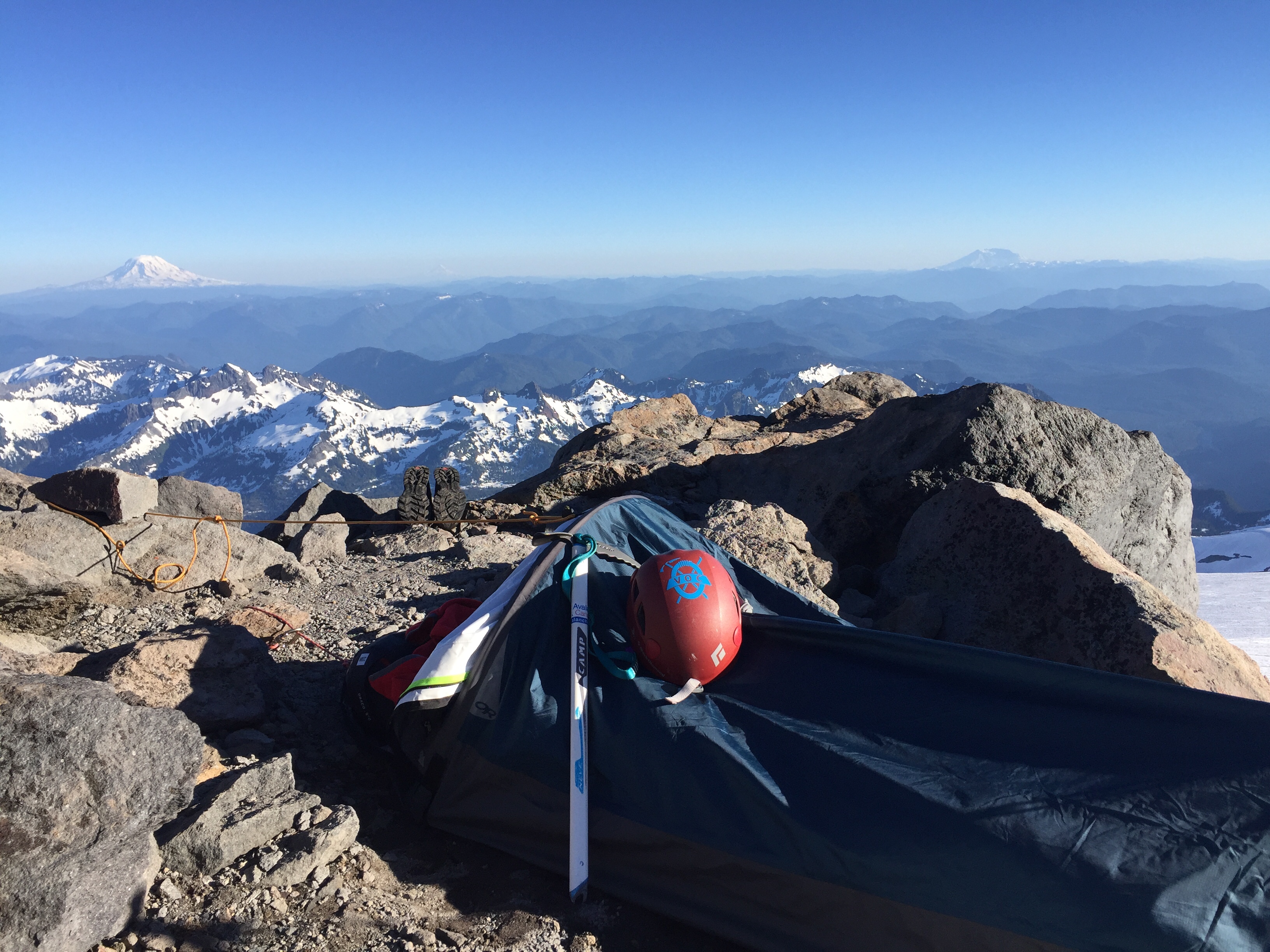 :-: Hard to imagine a more beautiful place to camp :-:
We fell asleep at 9PM while there was still plenty of light, although Rainier had cast its massive shadow upon us. It didn't get too cold that night – hovering around the 0 degrees mark and we slept for 12 straight hours. It was a deep, deep sleep and I barely stirred until 2AM when I had set my alarm, having heard about the wonderful starscapes that Rainier gets. I peeked my head out of my bivy and stared out into the star-spangled, black sky above. I put my hands behind my head and breathed deeply, watching the satellites saunter by and picking out what constellations I could (tricky when there were so many stars). But the magnificent thing was the white, milky banner that stretched East-West across the sky. It's not often that I get to see the Milky Way, but when I do, I really take the time to appreciate it – it's a rarity in an over-polluted world. Without realizing it, I was back asleep once more and awoke thoroughly refreshed at 9AM to a wonderful sunrise.
:-: Sunrise on our camp, precariously perched over Cowlitz glacier :-:
After another big porridge breakfast, we packed up camp and set off at 11AM towards the Ingraham flats. About 20 minutes later we reached Camp Muir and took it as an opportunity to use the solar toilet that was installed there. The famous stone-built camp was erected in 1921 in memory of John Muir, a famous mountaineer and environmentalist who was first to claim Rainier's summit. He was a conservationist and advocate of maintaining natures natural beauty and after climbing Rainier said that the mountain was better appreciated from below. It was an honour to see the camp with my own eyes and to be following in Muir's own footsteps.
Soon we were on our way again, moving under the roasting sun and crossing the upper section of the Cowlitz glacier up to Cathedral Gap. We had our helmets on at this stage due to the very real rockfall hazard we were passing under and tried to move as quickly as we could. We hiked from the glacier and onto the scree (talus) slope and did an easy scramble to the top of Cathedral Gap, happy to finally be out of the danger zone once we reached the top.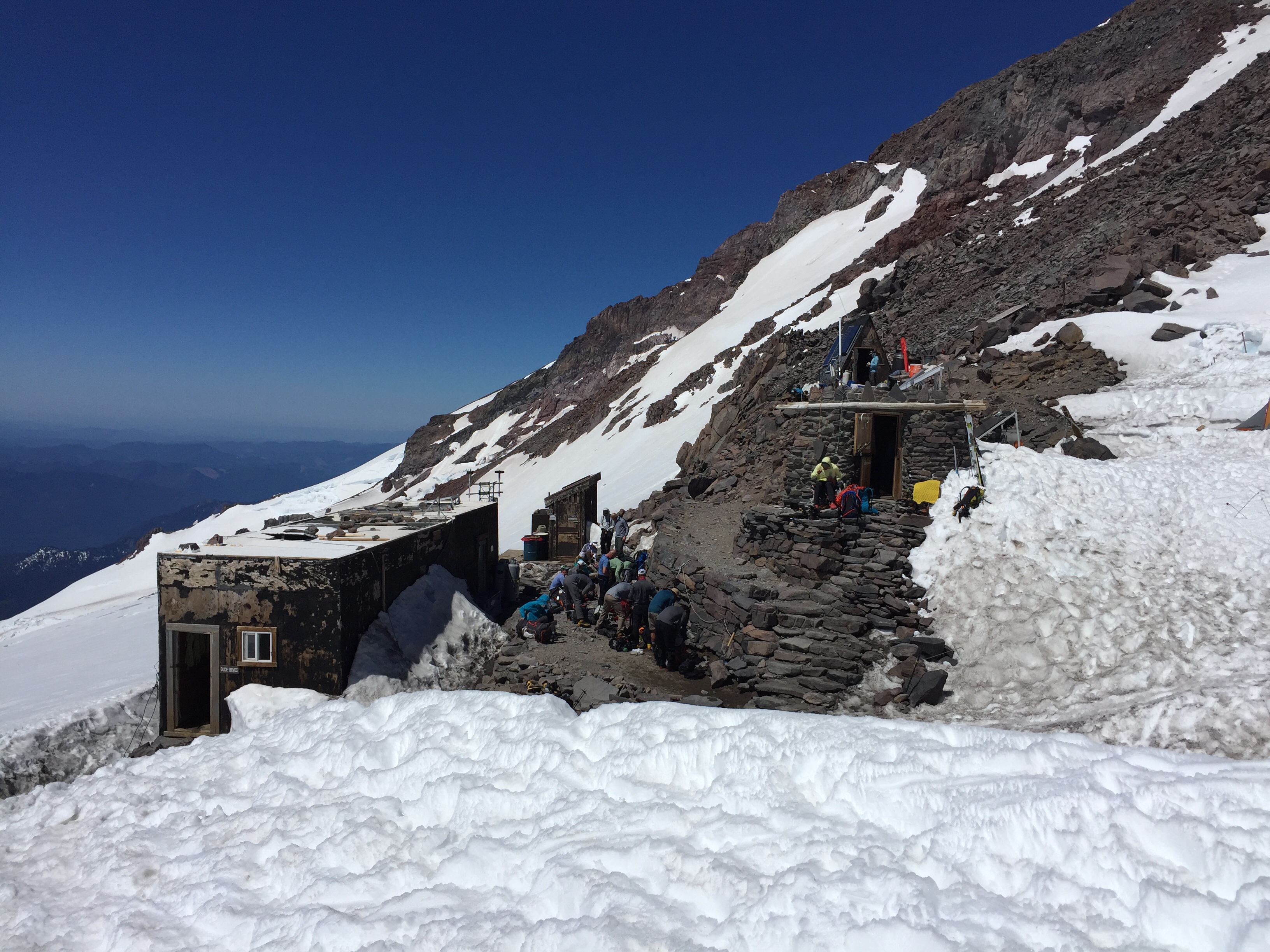 :-: Camp Muir (3'105m) :-:
There was a large guided Japanese team up here with us, taking selfies precariously close to a huge cornice – I don't quite know why the guide was okay with this. We greeted them politely and moved off swiftly. Although, before leaving a young boy caught my eye, I went over to his family and talked with them briefly – turned out he was only 10 years old! An incredible thing, I was totally impressed although seriously questioned his parent's decision to bring such a young lad up such a big mountain.
We walked for another 10 minutes or so before getting our first view of the Ingraham Flats (3350m) – our next campsite. It was magnificent, some tiny tents dotted under high-rise-sized seracs and surrounded by massive crevasses. This was the ultimate big mountain experience, an incredible high-camp and I felt like I was in the Himalaya.
:-: Little Tahoma Peak, above the very active Ingraham Glacier :-:
There were spots that other people had already dug out for tents previously so when we got to the flats all we had to do was throw down our bivys and we were set for the night. The heat however, was almost unbearable so Luca hastily erected his tarp and we huddled under it, sheltering from the heat-stroke-inducing sunshine. Heather was complaining of a bad headache due to the altitude so she took an ibuprofen and we all drank as much water as we could.
:-: Heather, at the top of Cathederal gap, the Japanese team behind :-:
After relaxing and reenergizing we started to melt snow and refill our Nalgenes. It takes such a long time at that altitude though, so instead of sitting around we decided to each do a crevasse rescue scenario as tomorrow we may well need it. As we set up scenarios and settled our differences, we listened to the scary sounds of failing seracs again – it was that time of day. There would be a large crack every five minutes or so and each time we would look up at the huge features just above us, hoping that they wouldn't move.
There were still people descending the Disappointment Cleaver from the summit, even this late in the day, it was crazy! When Luca was doing his practice scenario at about 3PM we saw two guys just down from the Cleaver on one of the sketchiest parts of the mountain, descending towards us. And then, there was an almighty 'CRACK!'. It was much louder than the previous ones, the kind of shit that makes your heart skip a beat and then we saw the serac just above our camp and right beside the two climbers start to fall…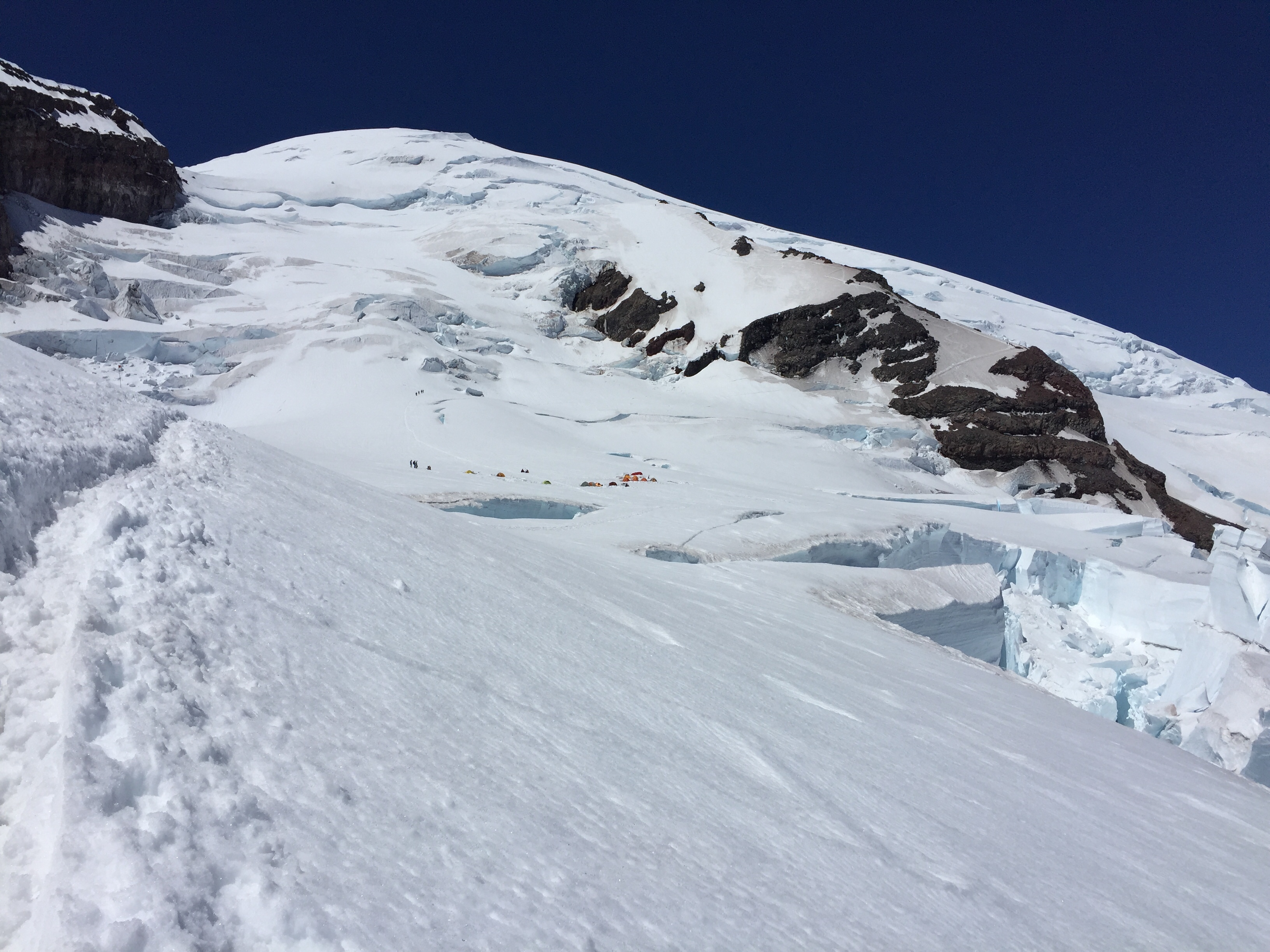 :-: My favourite photo: Our high-camp at Ingraham Flats, dwarfed by the mountain :-:
The first thing I did was reach for my ice axe and start to run to a safe location to our left. This thing was the size of a 4-story house and it wasn't stopping. As it crashed down the mountain it started to break apart into smaller, still terrifyingly huge pieces. The air was filled with its angry roar and the two climbers, right beside it could only stare in petrified horror. It came to a halt somewhere above, just out of sight – with some parts of it falling into a giant crevasse. And there was silence at the camp. We looked around, dazed, mesmerized and partly-hysterical at what had just happened.
It didn't take long for camp to get back to normal – just another day in the mountains, I guess. We finished up crevasse rescue and kept melting snow and drinking water – it seemed we could never melt enough of it. We had an alpine start for the summit at 11PM that night, which meant waking up for 10PM. We wanted to sleep as soon as possible so we started to cook dinner. We cooked up a delicious vegetable and sausage soup over polenta and mashed potatoes and could barely finish it – we were stuffed but there would be no breakfast before the climb so we knew we needed every calorie that we could get.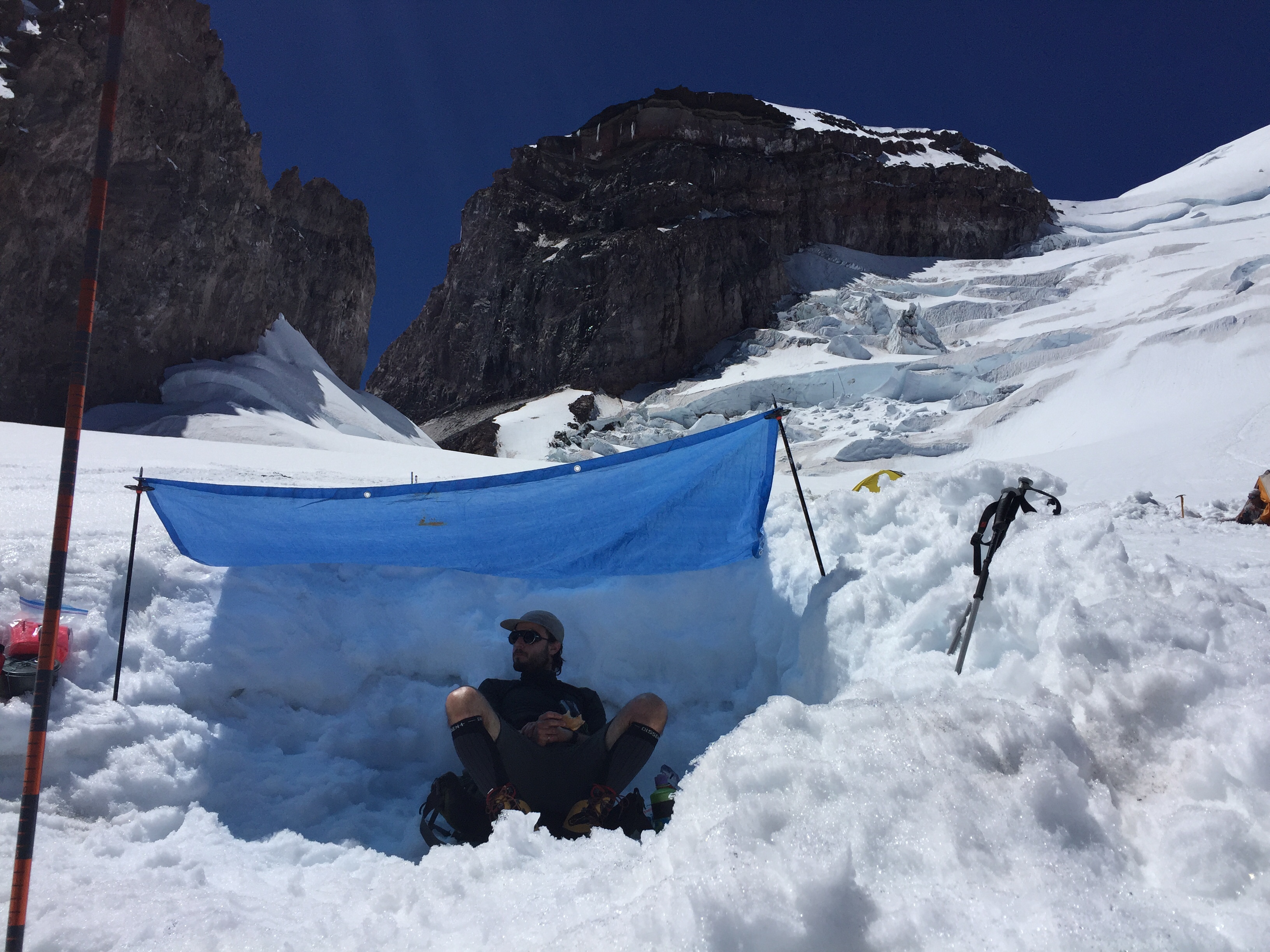 :-: Luca, Sheltering from the sweltering sun :-:
At about 5PM, after food, we hopped into our bivies and in broad daylight, tried to get some sleep. I think I slept the best with just over 3 hours of kip, Heather got about 2 hours but poor Luca couldn't get a wink. We drank a lot of water before bed and all of us were up sporadically that evening to take a pee.
We thought we would be first on the mountain as people normally start a bit later when camping at the Ingraham Flats, but at 10PM, as we were getting out of our bivies we saw headlamps approaching us from the near distance. This was disappointing as it looked like a guided team and we really didn't want to be stuck behind them. Hastily we gathered our things, wanting to set off as soon as possible. But morning faff is inevitable and by 10:45PM 2 teams had passed us and there was a third approaching. It was the Japanese group we had seen earlier that day.
We left our sleeping gear and unnecessaries at camp, trying to lighten the load as much as we could. At 11PM we roped up with Heather at the front, myself in the middle and Luca at the back. We set off for our summit push, managing to squeeze in just before the third Japanese team and soon there-after bypassing the second. It was the earliest alpine start I had ever had and it was bizarre leaving camp just as the sun set. The darkness engulfed us and it started to get pretty cold, probably hovering around the -5 degree mark. As we climbed higher, we looked down at the electric snake that followed us; a line of bright headlamps in the darkness, glimmering like stars hundreds of meters below.
:-: Heather with the electric snake hundreds of meters below :-:
We were on the sketchiest part of the mountain when we caught up with the first Japanese rope team at the base of the Disappointment Cleaver and got stuck behind the slow-moving team. It was an extremely steep slope to navigate and it disappeared over a concave bend hundreds of meters below us onto a glacial field; a fall from here would certainly be fatal. We clipped into the fixed lines that were supplied and lazily trudged our way across the mountain Eastwards, crossing under a massive cornice which made me feel very uncomfortable indeed given that I couldn't control the pace.
Eventually, at the first switchback, the Japanese team let us get ahead of them; we swung our ice axes into the hardpacked snow at the side of the trail, front-pointed our crampons and worked our way up the steep face without the fixed line. 'ooh, Professional!' I heard one of the elderly Japanese men shout from behind. We laughed and kept on going.
:-: An early-morning, rainbow sunrise with Venus above :-:
It was a long grind up the mountain but I felt really strong and knew without a shadow of a doubt I would make it. I was stoked that we would be first to summit the mountain today and I was stoked to learn that my body could handle the altitude so well. Today was a surreal day, a good day.
In the darkness, we could just make out Rainiers massive features as we passed them. We crossed snow bridges above huge crevasses, something which goes against every human instinct. We passed under cornices and seracs, following our headlamps dim glow – trusting the trail and trusting our rope. It was a slow, methodical pace up the mountain; we stopped occasionally to sip water or chew an energy bar, knowing full-well that you feel less thirsty in the cold and dehydration leads to a lack in performance.

:-: Sunrise panorama from East Crater :-:
As we climbed higher, closing in on the 4000m mark, the altitude was really getting to Heather, I could see it in her eyes and I could see it in Lucas. Gaining elevation meant more frequent breaks and we continuously checked GCS, asking basic mathematical questions to check the brains functionality. At one point Heather thought she might be sick, but she beasted it out and kept on going (she said she just thought of Alex Honnold fighting the altitude and how he kept on going).
Then as we left the 4000m mark behind us and worked our way up, we knew for sure that as a team we would be bagging this peak, we were too far committed to turn around; we'd push it to the end. My girlfriend, Georgie climbed Kilimanjaro when she was 16 and on that mountain the native porters have a 3 strikes and you're out rule; get sick 3 times and they get you the hell out of there. So, we were a long shot off that.

:-: The center of the crater :-:
The sun started to rise to the North-East, illuminating the mountain enough that we could turn our headlamps off. I know that in writing, people often exaggerate things – but, this was without a doubt the most beautiful sunrise that I had ever seen. The horizon was lit up like a rainbow; blood red outlined the mountains at the base and it worked up through the spectrum until a deep blue faded into the black night sky above. A lone Venus hovered brightly above the skyline. It was absolute magic and I couldn't keep the beaming smile off my face.
As we slowly climbed higher, it got brighter and brighter and I worried that we wouldn't make the summit for sunrise. We kept false peaking and up ahead Heather shouted back 'It just goes on and on, eh!'. And then, there were no more false peaks, just the peak. We had made it to East Crater. We walked side-by-side to the edge of the massive 300m wide volcano crater taking this victory as a group. One for all and all for one, we were the three musketeers.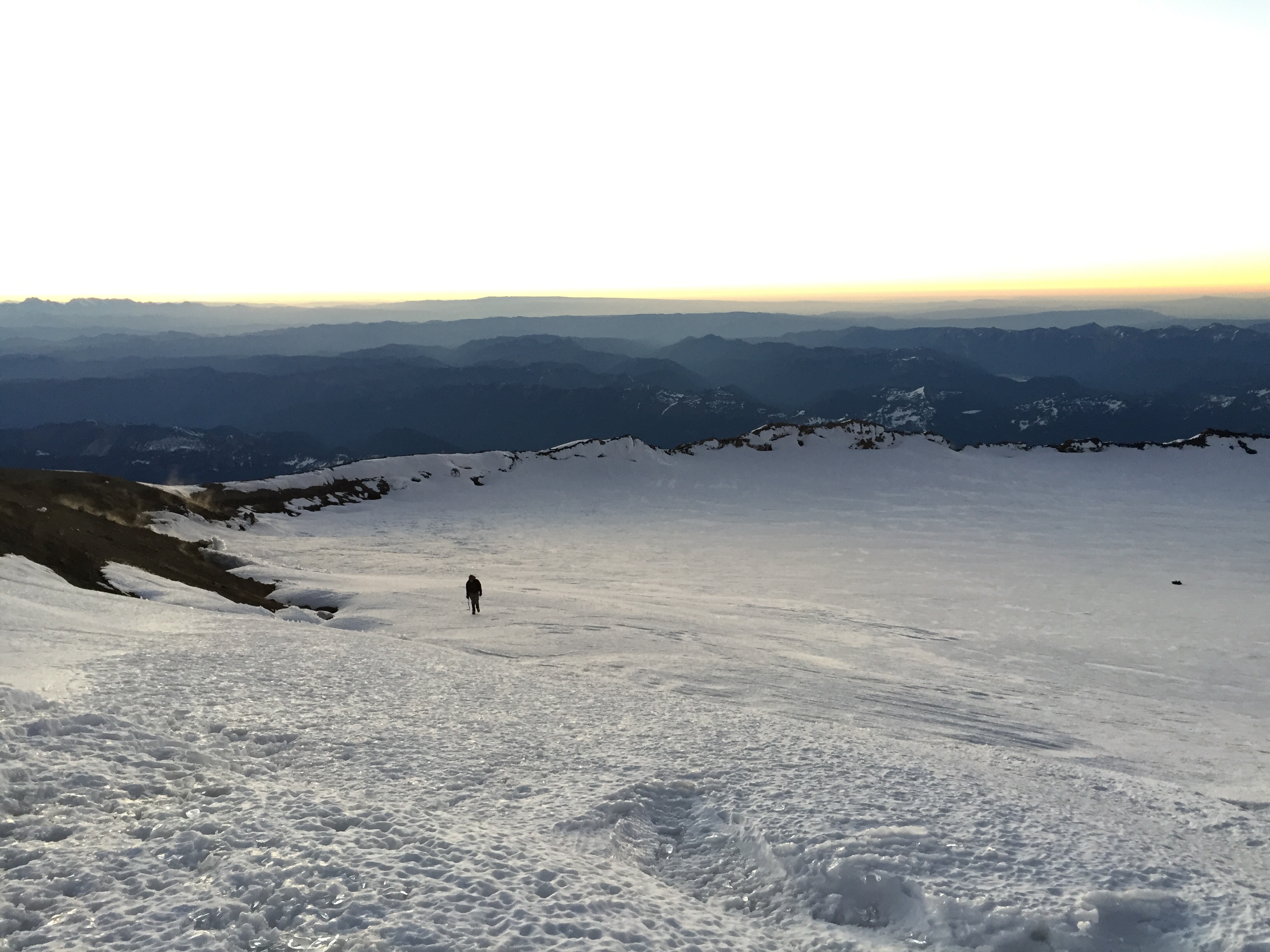 :-: The final grind to Columbia Crest, the ground steaming sulfur on the left :-:
It was 4.30AM and the sun had yet to rise, we had made it! We were ecstatic, in fact, we were so much more. I was full of energy and felt very dissimilar to how I usually feel at sea-level. I dropped my bag and ran up a nearby rubble pile, trying to get some altitude to enjoy the view (as if I wasn't high enough already). It was the highest I had ever been in my life and it was the same for the rest of the group. It was a colossal, 360 degree uninhibited vista that stretched for hundreds of miles into the distance. A mass of lights to the West – sleepy Seattle was waking up and we could see nearly every Volcano on the West coast. Below, you could see the Ingraham Flats, with people still leaving and below that camp Muir and even further below, Paradise.
:-: Good morning sunshine, on top of the world, looking down at the crater :-:
I walked contently back to the guys at the base of the rubble pile and together we started to cross the massive crater to the true summit on the other side, Columbia Crest (4'392m). About halfway across we dropped our backpacks and half-sprinted the rest of the way. As we closed in on Columbia Crest we watched the ashy ground smoke and smelled the sulfur, a reminder that hit home on just how active this mountain truly was. We climbed the steep snowy slope on the far side of the crater and then we were on top of the world.
:-: SUMMIT PHOTO! :-:
I monched on my summit apple and sat down to enjoy the sun as it rose above the horizon. Along with two young Seattleites, we were the first on the summit that morning, and the only ones to enjoy the magnificent sunrise. How humbled and honoured, invigorated and elated I was. We chilled there for a short while, soaking it all in and taking the mandatory summit photos.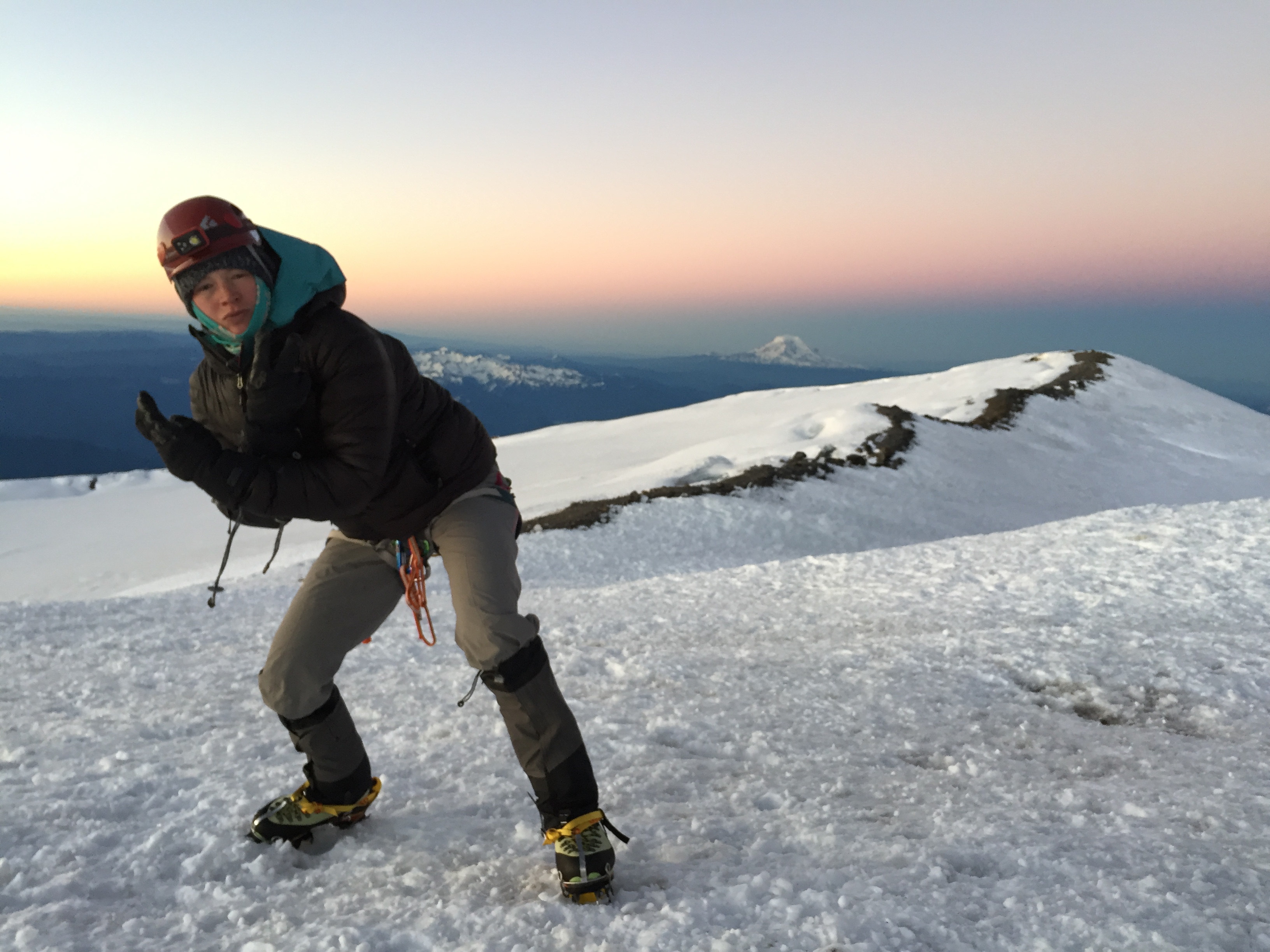 :-: And a bleary-eyed gangsta :-:
It was chilly so we headed back down to the bags and flung a tarp over us, taking a moment to rest. After I while I tried to melt some snow but at that altitude, my cheap summer stove which had worked below seemed to be toast. I guess we'd have to do without it; we still had another 2 liters or so anyway. A little later than we would have liked and a little bleary eyed, we started the big descent. The crater was very populated by this stage with all sorts, everyone from guided teams to solos to a military band. And the path back down was packed, unfortunately we were caught up in the lemming line.
The sun started to warm us nicely and before long we were taking off our down jackets, our mid-layers and shells. The sweltering heat had begun, totally juxtaposed from a few hours earlier. In the broad daylight, we could clearly see all the huge features that we could only just make out that morning. A lot scarier when you can actually see them, to be honest.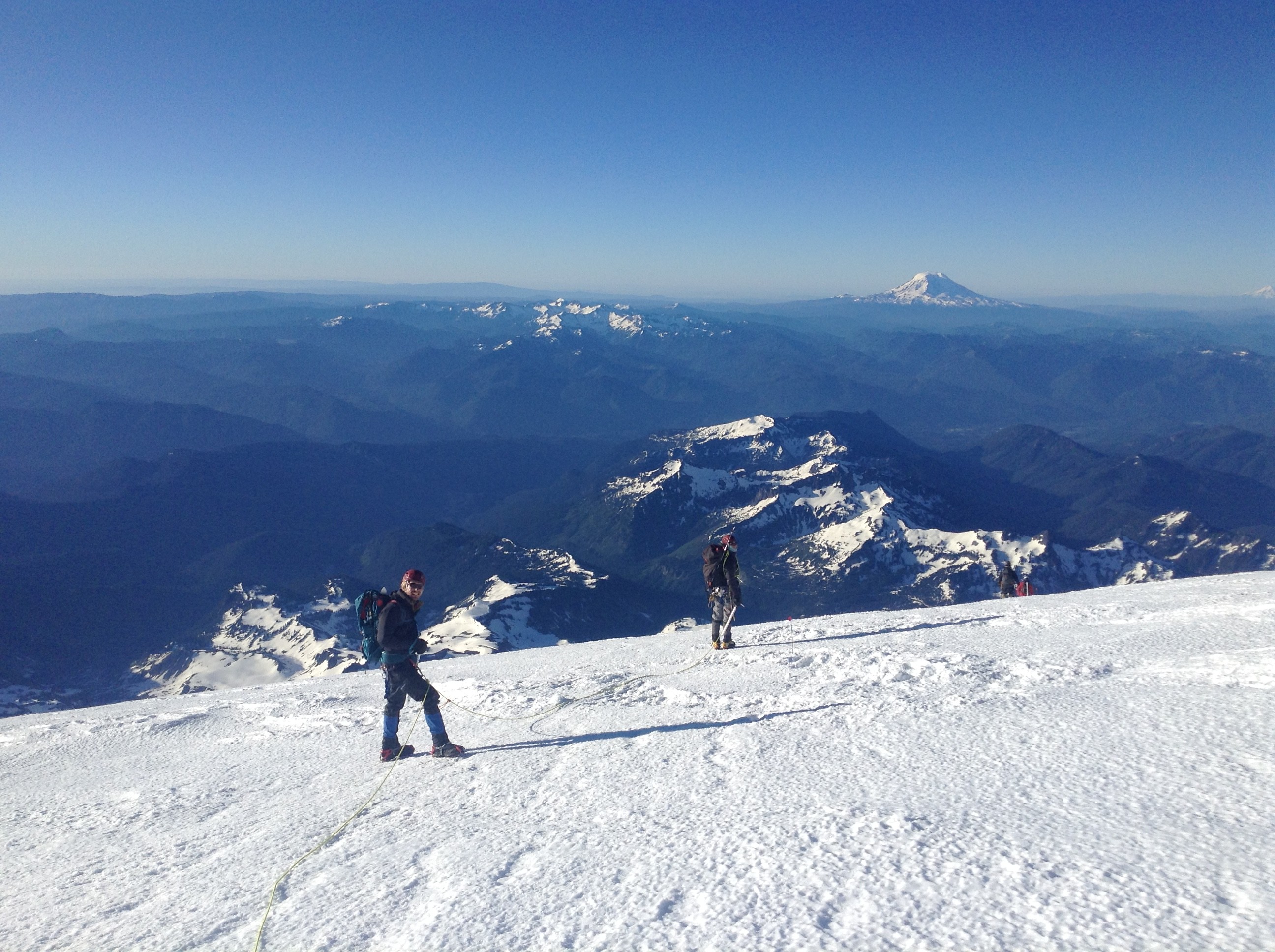 :-: Beginning the daunting descent home :-:
We skipped ahead of slow rope teams when we could, knowing we had a huge descent ahead of us, followed by a 6-hour drive back to Vancouver. We were very cautious though, well aware that most deaths in the mountains occur on the way back down.
:-: Traversing under the ridiculously huge cornice :-: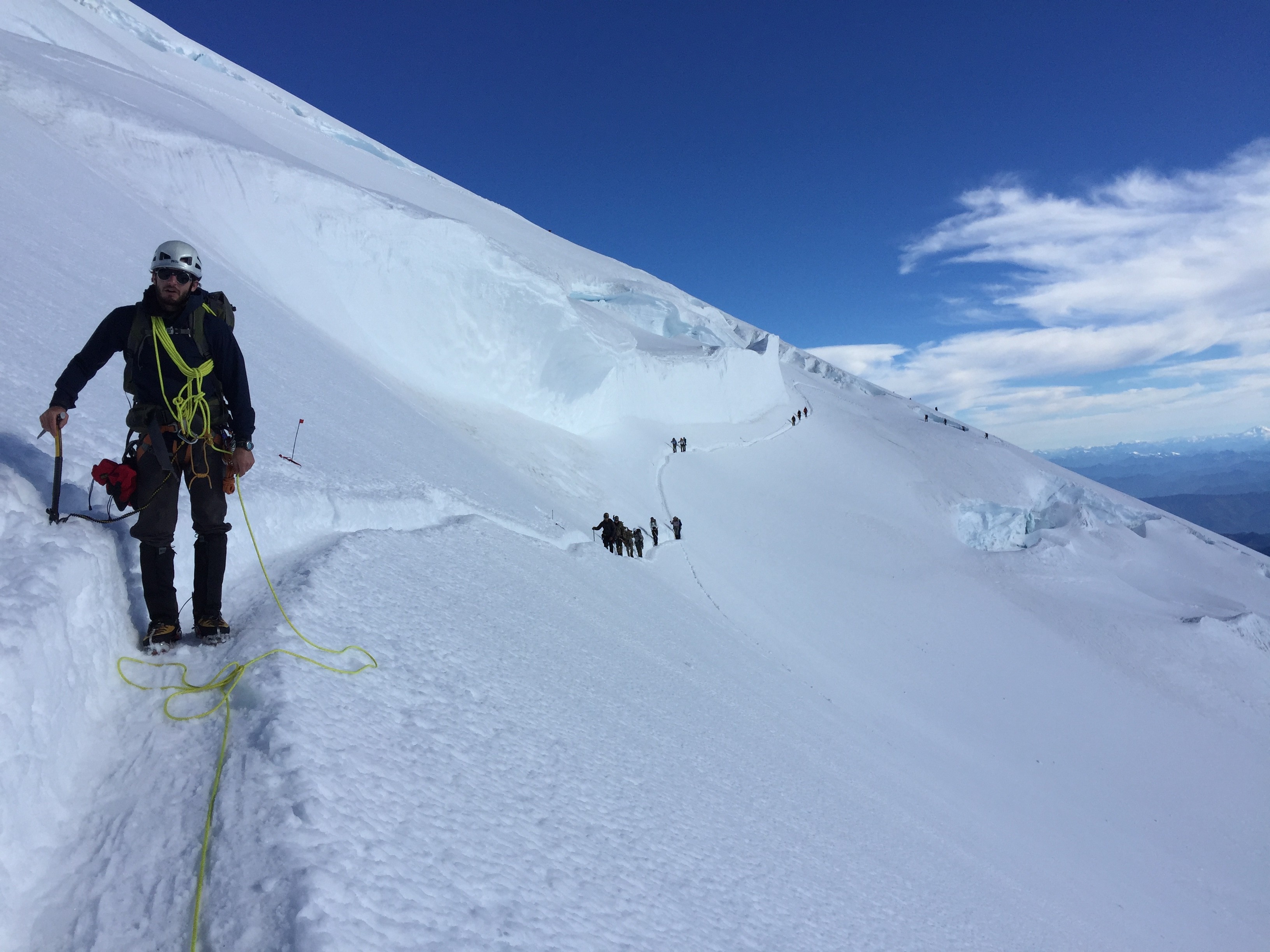 :-: Thankfully, passed the cornice :-:
Before long we were back at Ingraham Flats where we rested a while and melted snow for the return journey. It had already been nearly 12 hours since we had awoken that morning and each of us had only drank about a liter and half. Nowhere near enough. Thirst easily escapes you in the mountains. I put my head down in my bivy for about 15 minutes, sheltering from the scorching sun, before packing up camp and heading on once more.
We descended back down to camp Muir and whizzed on past it. We were moving very fast down the mountain and in some parts literally running. It was really fun! We were back in the safe zone and could unrope and let loose. With our gators and shell bottoms on we plunged knee-deep through the snow, letting gravity have its way with us. On the really steep pitches we glissaded, which as we descended further turned out to be most of the time. We pushed our glissade game harder and harder, Luca and I goading each other on. 'Chicken! Bwakkk', and then we'd, do it. One time, I literally jumped off a cornice and then near the bottom we both hit a massive glissade down a super steep slope. We picked up speed fast and whizzed by day hikers who laughed as we passed. Snow quickly piled up our pants, into our shoes and visibility was totally gone and after 30 seconds, the best glissade ever came to an adrenaline-fueled stop. It was a good way of keeping cool, that's for sure – we were soaked.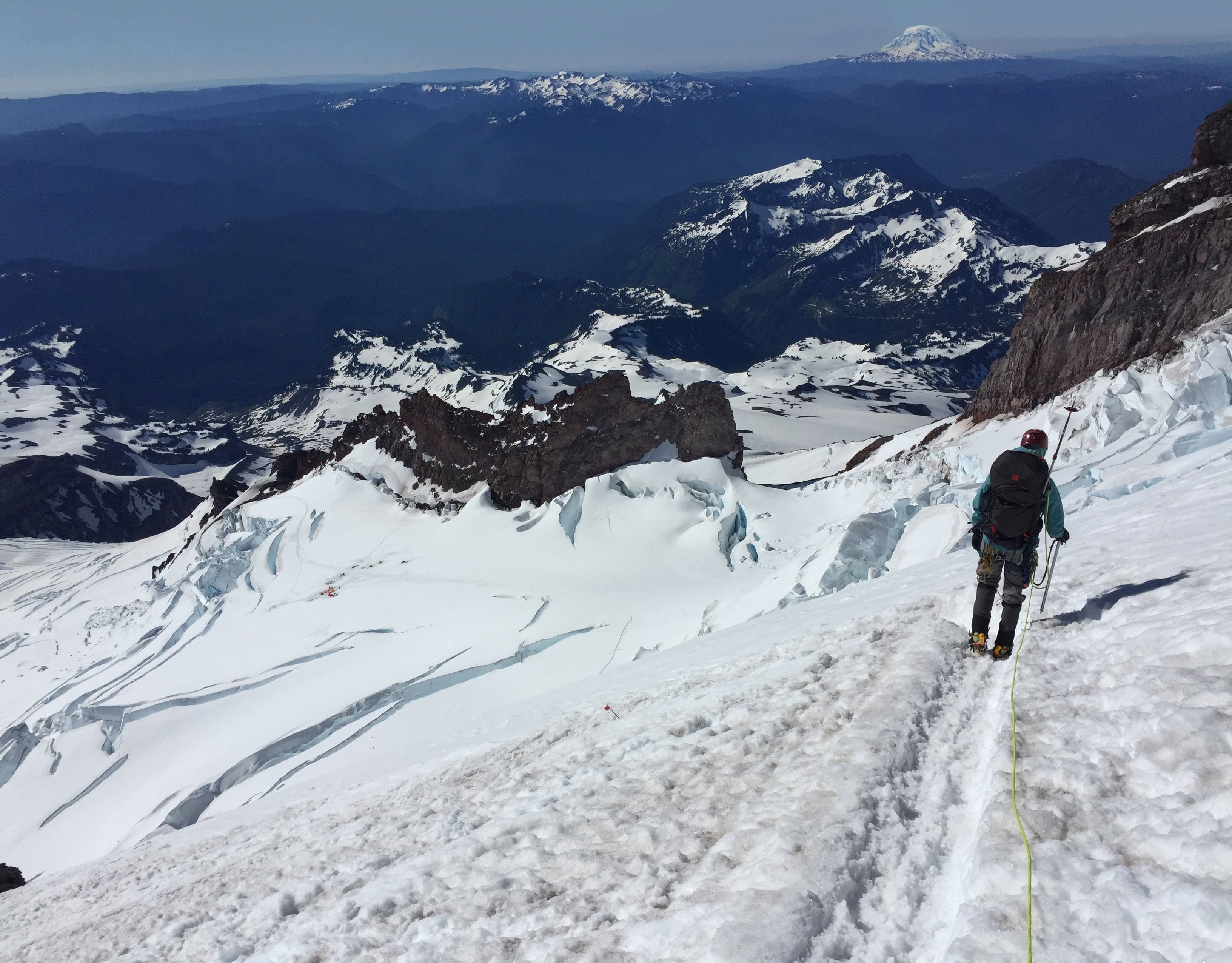 :-:Tents at the Ingraham Flats far below :-:
Knackered after a crazy day, we arrived back at paradise very fulfilled human beings. We told the rangers we were back, drank all the water we could and gawked at the many redundantly obese Americans who ate cheeseburgers in their car while looking out the window at the views. We piled into Luca's car for the long journey home, happy to be out of the intense sun (Heather seemed to have suffered mildly from heat stroke). We stopped at a quirky restaurant in Greenwater for a bite to eat and a beer (Mt. Rainier ale, it was called – brewed in Seattle) and stopped again in Enumclaw for some delicious coffee, chocolates and ice cream. We were spoiling ourselves and we couldn't give a toss. We changed the driver a couple of times on the way back as we were all pretty pooped and in the darkness arrived back in Vancouver, safe and sound and proud.

:-: Luca, glissading down to Paradise :-:
Climbing Rainier was one of the most incredible experiences of my life and I will cherish those memories forever. It was the last big trip I would take over here before heading back home to Ireland and what a bang to finish it on. I will miss these mountains, I will miss these trees and rivers, I will miss the snow and the rock, I will miss all the incredible people. These Vancouverites who at first seem normal until then you find out that they have casually done the most incredible things. I feel like I have integrated well, I feel like a part of me has become one. This year I learned and achieved more than I could have ever dreamed and Rainier truly was the summit of summits. Thank you, VOC. It was a joy climbing it with you, Heather and Luca! Here's to many more in the future! When I return here again, the most beautiful place on earth.
"The mountains are calling and I must go" – John Muir