Before I arrived in Vancouver in August it was inconceivable to me that I would ever enjoy climbing, but soon enough my roommate convinced me to give it a try. Next thing I knew, I was in a car headed to the rock party in September overhearing my driver talk about a beginner friendly ice climbing trip she went on the year before. She explained that sign-ups fill up pretty fast every year. Even though I never thought it was a trip I would never attend, the conversation never left my memory. Months passed and I started to get hooked on climbing more and more. Although I take my time and still consider myself a beginner when I saw the "Daughter of Ice" trip popping up on the website I could feel the enthusiasm stream through my body. This is something I should do once in my life and I figured this was the opportunity. I convinced my friend Charlotte to sign up as well, so on our bike ride back home on a not-too-rainy Thursday, we stopped to sign up right as the clock turned 8 to ensure we got a spot.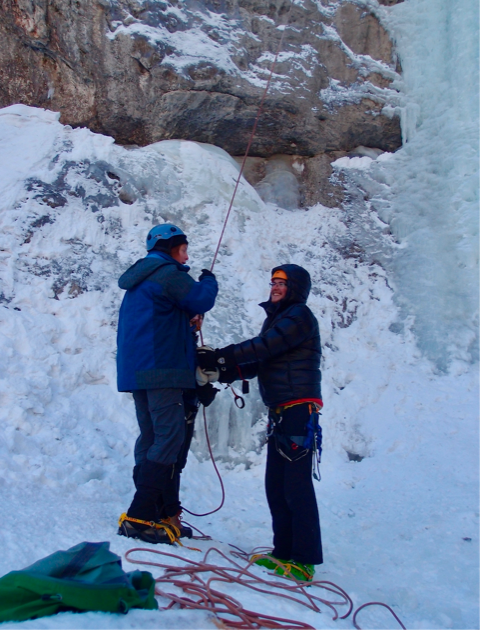 During the pre-trip meeting, we asked if a 3-season-tent would be fine. We got a rather unconvincing "Yes…" as a reply, but with a trip to MEC planned the next day to get some snow stakes and an emergency shelter to use as extra ground isolation I was not to worried. To get more warmth we even invited Esther as extra tent buddy.
Charlotte spotted Harlin on our way back from MEC even though he had some difficulties recognizing her from the pre-trip meeting and I had some difficulties recognizing him. He asked us if he could join our food-group. We explained that everyone should just bring their own food: sharing is caring. After this reply, I am not sure if Harlin brought anything except oatmeal. I believe everyone was happy to feed him though.
Because the trip was a car-camping-trip, we got somewhat too motivated and bought a lot of food, it was quite the challenge to get it from the No Frills next to MEC to our homes in Kits on our bikes. It was even a bigger challenge to fit in the car in the morning after 30 minutes of sleep. But oh well, at least we know now which groceries are still eatable in freezing temperatures.
Yes. 30 minutes. Some people wanted to leave around 2.30AM from Vancouver to get a full day of climbing. Charlotte and I really did not want to leave that early, and we had a different reason than you might think. There was a party in East Van that Friday with our favorite DJ that we could not miss. So after a quick breakfast (?!) at Naan around 4AM, we jumped in Charlotte's bed for a solid 30 minutes of sleep. At the time, I did not realize that a lack of sleep not only makes me more tired and more annoyed by life in general but also colder. The party was great though. No regrets. My apologies to all the people who had to listen to all my complaints about the cold the first night.
So, Charlotte and I passed out the moment we sat in the car. Still, Harlin decided to take the more scenic route for us. Luckily, Esther was there to keep Harlin company while we were not really being of any service to keep Harlin awake. I woke up a couple of times though to enjoy the beautiful landscape, especially after a little slip on suicide road. I think my heart was in my throat, but of course, I did not say anything.
After a few hours of sleep, we arrived in Lillooet. Time to explore (in other words to buy some liquor). After visiting the first liquor store we came across, we decided that the beer was not good enough and that there must be a BCL. Perhaps within walking distance? The village should not be too big. Charlotte and I bought some coffee at the gas station before we could continue our search. Esther used this time to visit the dollar store and an empty supermarket. The quietness of the dry valley village made it feel like we were the new main characters of a horror movie. The next liquor store we found was not bigger than the first, but a cute little lady greeted us with enthusiasm when we entered. All the bottles were displayed in very straight rows and almost sorted by color. We were still not really satisfied by what they offered, but Charlotte, Harlin and I decided that we would buy a cheap box of 24 beers anyway. Right at the moment, Charlotte picked up the box we overheard Esther asking the cute lady "Excuse me, is there maybe a BCL nearby?" The three of us looked at each other ashamed while we listened to the woman confirming that there indeed was one a few km away. Feeling a bit guilty Esther and Harlin bought a can with a mixed drink and Charlotte and I bought the big box of beer because we did not yet realize how long it takes to freeze a beer.
Finally, we found the BCL and Esther bought her Fireball, and I am very thankful she did. After we watched Esther exploring the last supermarket of Lillooet where she bought some crips and we were very sure we could cross Lillooet off our bucket list we were ready to leave for the campsite.
The road took us through beautiful dry mountains with old snow, abandoned houses and frozen waterfalls. When we arrived the sun was shining bright and surrounded by beautiful mountains with deep layers of untouched snow, everyone was getting relaxed. Everyone except me, first things first, I wanted to set up the tent and found a nice spot next to a few other tents right next to the frozen lake that was covered with a deep layer of snow and untouched except one trail of footsteps to the ice-climbing spot on the other side of the lake. I picked up a VOC shovel from the other campers and started to clear our spot, soon enough the others helped me. However, the stakes did not really stay in the layer of snow and Ice and I started to worry. Maybe the lack of sleep got me worried more than necessary. Esther sat down in her comfy little chair and Charlotte too was chilling and enjoying the last rays of the sun before she set behind the mountains. The tent was standing, but not secure. I could not rest. With some rope, some digging with my bare hands, and some creativity I made the lines stick to the ground. Then I finally felt satisfied, but very cold.
We decided to check out the area a bit before we started our ice-climb adventure since not everyone had arrived yet we decided that would not be a problem. After confusing crisping snow on the ground for breaking ice a few times, we made a few unnecessary escapes to 'safe ground'. However, this safe ground could have been confused by the ice, because everything looked exactly the same with the amount of snow on top. We arrived at a little bridge and we actually saw some streaming water, so maybe our concerns about ice breaking were not that weird. We were now getting in the shadow of the mountains and decided that some ice-climbing would warm us up.
So, after making the beginner mistake of putting my crampons on before my harness resulting in a struggle to get my feet through the harness, we left to the other side of the lake. After a 2 minute hike through a little forest, we arrived at the frozen waterfalls. The ice covering the rocks looked magical and the people in their colorful jackets trying to master this miracle were an interesting looking contrast. Not long after I arrived I was given the task belaying someone. "Harlin does not want to wait for the explanation and wants to give it a try," explained Eric. Sure. He explained that I should belay him somewhat farther away then I was used to from indoor climbing and I had to make sure I was on a flat surface because it is not uncommon that ice as big as a microwave falls down. I smiled. "Sure." I walked some further away from the ice, while Harlin was getting ready for his first ice-climb attempt. I tried to get some feeling of the tension between the rope in combination with my gloves before he started. He was getting the hang of it pretty quickly it seemed. I was impressed. Then he fell, my both hands grasped the rope tighter automatically. Harlin fell down a few meters because of the flexibility of the rope and at the same time, it was trying to pull me off the ground. My heart was feeling light before my crampons got a grip on the icy ground again.
Soon after everyone arrived at the spot, it was finally time for a proper explanation. We get some tools and started to practice our swings at the bottom of the ice. It is not that easy to swing a tool in hard ice that allows you to hang your full weight on it. After a few tries, I felt more like I was cutting ice instead of climbing it. But then I finally got it in, also it is easier to get it in an already existing hole (which is not considered cheating I believe…). Right arm as far up as possible. Left too. Squat. Right crampon in the ice. Left crampon in the ice. Steady? Stand up on your legs.
Repeat. It sounds easier than it is. Trying to get your crampon really sticking in the ice can be kind of frustrating. When I asked if there was a trick to it the instructors explained that you have to put your toes a bit up and then down, and then keep your heel down or up? Well, there was still some discussion about the right angle. The main message, however, is that your toes are going to hurt while you're trying to get them in the ice, and Edith can tell you everything about that.
After a bit of practicing the cold started to get me. The beauty of the mountains could no longer make me forget that my body was struggling, especially with the lack of sleep and the sun having disappeared awhile ago. After some practice, everyone had to watch and wait a lot, since there were not too many ropes set up yet. "Is someone cold?" Eric asked and I was looking around to see if anyone else was struggling as much as I was. When it did not seem to be so, I smiled and took his puffy jacket to get somewhat warmer. Soon enough I decided that I was too tired and that it would be dangerous to give climbing another try that day. Charlotte and I opened a beer, our only not frozen beer, and soon after we left the ice-climbing spot to get back to the campground. Since it was getting colder and darker Esther and Charlotte were getting more thankful that I already fixed the tent.
I hid in the tent as soon as we got back to take a nap and get "warm". Getting warm in the tent was not really working though and after trying to get some sleep I left the tent, to eat some half frozen dinner. Seeing the struggle of other people getting their food half warmed up when it was only going to get cold when half finished did not really convince me to warm up my food. Moreover, I was really hungry. The cold food settled in my stomach as an ice block and the cold was spreading through my body. I felt terrible. Charlotte and Esther tried to warm me up with hot chocolate and fireball. The beers were getting slushy and colder already and we started to realize that they would be frozen and undrinkable very soon. Trying to heat beer with gas does not seem to make beer very tasteful. Heating it on a fire, works if you take the beer off at the right moment. Watching the instructors prepping a proper meal with kale and spices like it was a comfy kitchen in a warm house instead of a picnic table covered with ice in the dark with -20, I almost started to think that the cold might just not be for me. Now I realize it was just the lack of sleep in combination with the cold that was not a right for me. After a lot of fireball hot chocolate, being covered in blue gore-tex pants, sitting close to the fire and eating marshmallows I finally started to love life again.
The next morning we realized the only thing not frozen was oatmeal. Charlotte and I were the only "smarty-pants" that brought two enormous bottles of water. The first we shared with everyone the night before. The other one froze during the night. Our gas, intended for cold temperatures, was only meant for certain cold temperatures and we totally forgot to sleep with it to keep it warm. Winter-camping-beginner mistake.. So the only drinkable water was now my hydro-flask with 0.7 L. Great. We did have some water for coffee and oatmeal though and borrowed the gas from some more experienced winter-campers. We shared one big pan with oatmeal with the four of us (Harlin, Esther, Charlotte and I) on the middle of the lake, because that was the spot where the sun first reached the valley over the mountains.
The moment I realized my bad experience of the previous day was only because of tiredness, was when I was somewhere on the ice. I looked around me and realized that I was standing on the ice, I could not stop smiling, and I was not even that high at all! The feeling of being one with the ice when you get the grip of it is indescribable. You feel one with a nature miracle that seems untouchable and untameable, but there you are. I kept on smiling until my arms started to burn and I really had to go down. I just got down when Jeff asked me to belay me, totally forgetting about my tired arms, I searched for another carabiner to give it another try. However, that was not a big success. I did not make it far at all, but a nice little stranger gave me some tips. Maybe some holes in the ice helped me to cheat a bit, and not hurt my toes too much. While I was struggling Charlotte screamed at me that she was getting lunch. Food. While I was hanging there, I realized I would fancy some food too, and I don't think my love for the ice has over won my love for food yet. I found Charlotte at the car. The cheap no frills bagels got unfrozen because of the warmth of the car standing in the sun, or might consist certain ingredients that kept it from freezing. Also, rice-crackers with frozen salami are kind of tasty. More important, Oreos do not seem to be impacted by cold conditions at all.
After this wonderful lunch, Charlotte and I decided to follow the sun. The sun was still covering some of the mountains on the other side of the road. We decided to break a trail and Charlotte lead us through deep layers of snow until we were high enough to feel the sun cover our backs. We sat down and could see the ice climbers high up the ice on the other side of the valley. Sitting there being one with the mountains I realized how much I love the fresh cold air filling my lungs and the cold snow trying to find its way to my maybe not that waterproof gloves. I love climbing, but I also enjoy these moments of nothing and only being and sitting. Way too soon we were covered in shadow again, so we climbed higher. We continued this game a few time before I decided it was getting a bit sketchy and, thankful for our waterproof pants we could slide down the little mountain.
After another little climb attempt, we had to hurry back to the cars. After finishing the firewood the previous day and because of all the frozen food most of us decided it was a good excuse to drive to the closest village to get some burgers. With 3 others I took place on the table of the house of Joe, in other words, his RV. I was pretty excited when I volunteered to take a seat in it, but when I saw the old-school RV I must say I had my concerns about it taming the snowy and icy roads. However I got comfortable and the ride was great, until Joe screamed: "THÉ DOG!" I was confused, but apparently, there was a poster on the camp side with a picture of a lost dog. Along the road a dog was wandering around, that looked exactly the same. Of course, we had to turn around and he stopped. Charlotte, somewhat faster than me, already ran out of the RV gotten hold of the dog. When she looked up, a farmer on the land behind looked at her very strongly holding the dog in the grass just on the other side of the fan of his land. "Is this your dog?" she asked. "Yes." Oops. So we almost stole a dog.
The burgers were amazing. During the dinner everyone asked at least for one refill of their bottles, after a day of lack of water the water was somewhat warm and a refreshment. Also, Charlotte and I tried to de-freeze some beers in cups filled with hot water. The subjects of the evening were Edith's toes. Her big toes were very, very painful and very blue under the nail. We all decided to be wannabe doctors and looked critically at her toes. Nick told us very convincing about how it happens to him all the time. He explained you can just make a little hole in your nail with a needle to let the blood flow out and decrease the pressure. Someone else was not that convinced and said he has blue toes all the time and just let it be. No problem.
Anyway, Edith was really searching for a reliever for the pain and when I arrived back at the camp side with some boxes playing loud music and happy dance moves, she was trying to heat a needle to get the procedure started. The other serious climber faces around the fire with marshmallows needed a moment to adjust to my happy music, but after listening to Tash Sultana people started to appreciate it more (I hope). Edith and some assistance went to a place with more light and fewer people to finish the procedure and after not that long a relieved Edith took place next to me. Apparently, the blood flew out immediately after getting the hole in the nail. I must say that I thought my toes were fine at that moment. As soon as I got home and I really started to feel my toes again after being cold for three days, I realized my big toe hurt a lot. After it started blue and getting scared of the nail falling off, I also tried the method. It took me three holes, and some pushing to get most of it out though.
The next day I woke up just after some people left to get some breakfast at the same burger place, where apparently the breakfast is better then there MacDonald's-like burgers (which I really appreciated and I hate MacDonald's). Getting out of the tent excited for some oatmeal breakfast I realized three things: again nobody slept with the gas, the car with all my food was locked, and the driver was gone for breakfast. Charlotte, who went to bed late the previous night since she stayed up to play drinking games to stay warm and get a drunk, and to walk an unclassified person – who was not able to walk – to their car, was still sleeping in the tent. I decided to enjoy the sun, the view and some frozen trail mix someone left me to eat. After getting in the car and eating Oreos for breakfast. We got the gas to work and I decided to make my first instant coffee of snow. The gas might have worked, but it was still very cold. In other words, the water never boiled and the coffee was there on the gas while we were packing our stuff, bringing our stuff to the car, putting our climbing gear on and chilling for a bit. We decided to settle with very strong, almost warm, instant coffee and took it to the ice-climbing spot. On our way across the lake, we saw Joe soaked and covered in ice. "Do not climb the far right, left. It is a waterfall!" He looked stoked. "It was awesome!" he said.
Arriving at the spot we only had a short time to climb before our car was going to leave. With almost all the ropes filled Charlotte wanted to give the waterfall a try, but the rope was wet and icy and it would take at least two belayers to let someone "safely" climb up. Another rope got free, but we decided to not take the risk. Jeff however just too
some time with Charlotte to untangle and "un-ice" the rope and was pretty stoked to give it a try. Sure. Three belayers should do it.
Somewhat sad I could not climb longer that day I almost said yes when a car leaving later offered me the last spot in the car, but Charlotte was not really amused by my plan and I had to get back to Vancouver too. I know for sure though, that this was not my once-in-a-lifetime-ice-climb-adventure. I would love to give it another try, but maybe with some more sleep. Also, after eating Oreos for breakfast and lunch I am not sure when the next time will be I will give that another try.