After seeing that the weather forecast was not going to be suitable for the Squamish-Cheakamus traverse we decided to try to go into Snowspider Hut via Vantage Col. However, in the days leading up to the weekend the avalanche forecast was for High in the alpine and at treeline and as a result many people understandably bailed on the trip. We waited for the avalanche forecast to come out at 4pm Friday afternoon and when it turned out not to be High in the alpine we decided to go.
I was excited to be heading up the Cerise Creek trail again. The last time I had been to this trail was for my first VOC trip back in September 2012. At the end of that trip people had suggested I write the trip report – being the newest youngest participant on the trip. However, after a week of intense first year classes, any thought of writing a trip report was long gone. However memories of that first trip have stayed with me so I thought I would write a trip report about both trips here.
After moving to Vancouver and surviving my first week of university classes, I wanted to get out of the city.  One of the first things I did when I got to UBC was join the VOC. I needed a way of getting into the mountains and I knew from experience that outdoors clubs provide cars. As soon as I entered the clubroom (three clubrooms ago now…) I saw the map on the wall. I believe the same map is on the wall of the current clubroom but it looks much more familiar now than it did six years ago. I wanted to visit all the major places on the map. As soon as I got an online account, I registered for the first trip I saw: Glacier School 2 up Mount Matier. Note: I did not know what glacier school was but I wanted to climb something and luckily knew the basics of glacier travel.
The end of the week arrived quickly and at 4am on Saturday morning I found myself in a car heading down the Sea to Sky for the first time. It was exciting to talk with the people in the car. Quickly I began to recognize that there was a great community of people in the VOC as well as a lot of people who knew mountains to climb. At the trailhead everyone teased me about my long ice axe that my father had passed down to me. I knew it would work though so I was not too worried. That evening we camped at Motel 66 with a beautiful view up the Anniversary Glacier.
Back then I had a different mindset; I wanted to summit as many peaks as possible and had only just begun to realize how dangerous the mountains could be. Two weeks prior to moving to Vancouver, I had been on a week-long traverse of some mountains in Strathcona Park near Rambler Peak. We were trying to summit six peaks in six days. On the second day of the traverse though, one of the two people I was with fell 70m on a snow slope and then off a cliff. We found him on a small ledge below with a punctured lung, six ribs broken twice each, and a concussion. He was lucky to be alive and we all got flown out in a helicopter. The trip had shaken me but I did not want it to prevent me from going into the mountains so I was particularly determined to summit Matier.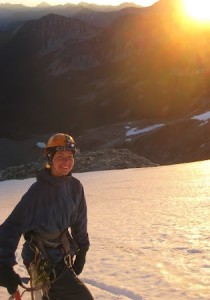 Early the next morning we headed up the glacier. At the col, when we stopped to rope up, it quickly became clear that we were short a rope. I offered to run back to camp to grab it. No one objected so I ran back down the glacier grabbed the rope and rejoined the group. After roping up and crossing the glacier, we were at the base of Matier. There were two options, a steep snow slope or a rock scramble to the summit. After seeing my friend slide on the snow two weeks before I opted for the rock.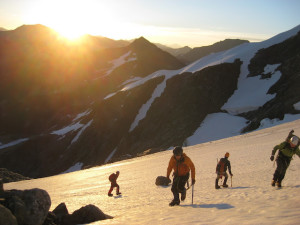 We decided to spread out and find our own routes to the top. As soon as I felt the rock under my hand I started climbing. It felt amazing almost as though I was dancing up the mountain, I had never before or since felt so in tune with the rock and place. After an unknown amount of time, I found myself on the summit. No one else was there yet so I just stood and took in the view. It was a bluebird day so I could see mountains well into the distance in every direction. I wanted to explore them all.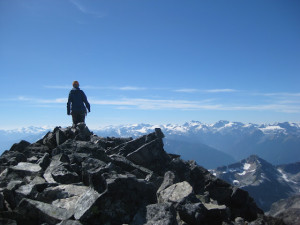 Six years later I find myself still discovering new locations – some of which, such as Twin One Lake and Snowspider Hut, I most certainly looked down at six years ago. Since that beautiful first VOC trip up Matier, I have done a great deal with the VOC. I have not summited as many peaks as I might have expected based on my first trip but I have explored a lot of the backcountry between Pemberton and Vancouver.  I learned how to ski. I have visited the club's four huts and then returned to each one many times for renovations and trail building. The map I first saw when I entered the clubroom has become so familiar to me. I have traversed many lines across it and still have many more routes that I want to visit. The Matier/Joffre area also means a great deal to me because two of my friends, Steph and Neil, died on Joffre Peak in 2015.
Thus, in 2018, when I found myself at the Cerise Creek trailhead, lots of memories were going through my head and I was not particularly focused on the present situation.  However when we were about to start down the trail, I looked down at my faithful skis and … the binding was missing two of the six screws that held it to the ski. After a bit of faff, I took two of the screws from another part of the binding and used them to reattach the binding to the ski. We did not have any epoxy though so we just hoped they would hold. A kilometer down the trail, I could see it was not going to work. We stopped to discuss. Finally, Tom and I decided to head back to Pemberton to attempt to fix the ski with some epoxy and perhaps a drill and new screws.
On the way into Pemberton, we picked up a woman hitchhiking from the Lil'wat Reserve. Her friend had died in a car accident that morning and so she was headed into town.  After stopping at the ski shop in Pemberton, which at this time of year is now a bike shop, we ended up at the hardware store. Screws for skis are rather specific and most epoxies take at least a few hours to set. After some debating, we decided to use the screws we had, use the holes already in the skis and the fastest epoxy we could find (note this is not how you should normally mount ski bindings and it may have been easier to just drive to Whistler). We had lunch at the gas station, mounted the skis using epoxy, nearly collapsed the picnic table and then drove back to the trailhead.
By the time we reached the trailhead, the epoxy was still soft. After three hours of sleep the night before, the most obvious thing to do was take a nap. Around 4pm Tom and I woke up and found Nick Matwyuk and Lena Rowat just about to start down the trail. After a quick explanation of why we were napping in the car, I checked the epoxy and it seemed ready to go so we started down the trail. At the turn off for Snowspider, Lena and Nick decided to lead us towards the hut because they had been there many time before. At the top of Vantage Col I realized that when we remounted the binding we had disconnected something that allowed the toe piece of my targa ascents to lock down. Thus I skied down with my toes in free pivot mode and felt as though I was learning to ski all over again. Just before dark we reached the hut and met up with the rest of our group: Mike Cancilla,Chris Barrington-Leigh, Verena Engel, and Jaap Pedersen.  After a relaxing evening in the hut, the next day we skied a lap and then headed back to the cars. My skis miraculously held up for the whole trip although now I think I need new skis and bindings.
Overall, it was a wonderful trip that brought back lots of good memories and created some new memories as well. Thanks Mike for organizing the trip, Tom for helping reattach my binding to my ski, and Lena and Nick for helping us reach Snowspider Hut!