Wedge to Currie Ski Traverse – Team Matchy Matchy Easter Long Weekend Friday April 19th – Sunday April 21st On the Easter Long Weekend of Friday April 19th – Sunday April 21st, Elliott S., Emily S., Mirko M. and myself decided to tackle the Wedge – Currie Ski Traverse. With conditions looking good through Friday to Saturday, and not starting to deteriorate until Sunday afternoon, we were optimistic that this would be a good window to try a three-day trip. This was Emily and Elliott's second attempt at this traverse (having tried a couple years ago and being weathered out), and Mirko and my first, so stoke was high.
We headed out Friday morning and began by having our two cars, Emily and Elliott, and myself and Mirko, meet at the Whistler Chevron at 8:00 am. Over some tasty breakfast sandwiches (which we highly recommend you stop by and try sometime), we looked over the map, traverse logistics and group materials. The route we chose was to go from Wedgemount FSR and not Blackcomb, in order to skip the chairlift and thus reducing added faff. For the traverse navigation, we used CalTopo maps, GPS, and followed Christian Veenstra's route. After a quick breakfast, we began our car shuttle by driving to the Currie end to drop off my car. We discovered that the road probably had not been maintained recently, as there were several large trees across the road. Fortunately, Elliott had his hand saw with him, and quickly got to work sawing the trees and removing the logs off the road (picture). We then proceeded in Emily and Elliott's vehicle to the Wedgemount Lake side. After a bit of trail and car faff, we began the traverse around 10:00 am. Using the Wedge FSR road, we discovered that we had to do a bit of boot packing to get in, although we all determined that we definitely could have driven up the FSR road a bit further than where we parked. Once we got to the snow line, it was very quick to connect back onto the main Wedgemount Lake hiking trail. The Wedgemount Lake switchbacks were not spectacular. The snow was minimal making the steep quick switchbacks more challenging and unfortunately Emily was having some troubles with her skins. After regrouping, we all agreed that we were all really hoping that these conditions would not be the case on the way down from Currie (stay tuned to find out if this was the case)! When we reached the lake, it was extremely windy and visibility was unpredictable. We reached the hut around 4 pm. After gaining most of our elevation for the trip, ~1200 m I think, we ladies were surprisingly tired and we all took a break at the hut. We were aiming to make it to the Wedge Glacier to camp, which would not have been a large stretch, but were quite comfortable at the hut. After some group debate, we decided it would be much nicer to stay in a nice warm hut for the night versus push a bit further to get to the Glacier where we would have to set up our shelter in a windy, cold, whiteout. We decided that we would make up that time in the morning by getting up at 4 am for a longer day. We all had dinner and went to bed early that evening. With four of us upstairs, the hut was very cozy for the night. We were happy to have the hut to ourselves.
The second day of the trip were the best conditions for our trip and we were lucky to have had absolutely beautiful weather to go along with it. We had an early rise at 4 am, and got going around 5:30 am. Crossing the lake and Wedge Glacier went fairly quick. Everything was filled in nicely, and we had a great view of the Wedge Lake glacial cave along our way. Our next long elevation gain was to the top of the Wedge Glacier to the Weart Glacier which was ~ 600 m. The drop down onto Weart Glacier was absolutely BEAUTIFUL and it was group consensus that this run was one of the highlights of the trip (picture). The ski down was incredible and it was beautiful to see such a vast empty Glacier with only us and the mountains surrounding it (picture). Crossing the Weart Glacier was also an experience in itself. It was just enough a slope to skate ski across and not need to put our skins back on. If the snow had been thicker, this would have not been the case. The snow created the illusion of thousands of tiny diamonds shimmering for kilometers across the glacier, which was an incredibly mesmerizing sight (picture). We then skinned back up and around Mt. Moe (and some other mountains I cant remember) towards Mystery Glacier. We then proceeded to ski down Mystery Glacier, which was another nice pitch to ski. Here, we spotted a group of five coming the other way. We watched them and did not envy them as they skinned up the steepest pitch we just skied. We then took a nice lunch on a small cull nearby (picture). After this break plus a small climb, we had a small steep notch to get down to head towards Hibatchi Glacier (picture). Hibatchi Glacier was fairly small and did not take a long time to cross. We finally came across the beauty that is Mount Currie. It was approximately around 4 pm in the afternoon by the time we reached this and there was interest in summiting the mountain that day. However, it had warmed up quite a bit since the afternoon and the snow was quite soft, making us question various hazards. Alternatively, there was also concern that if we chose to do it in the morning, it would be too early and it would be a sheet of ice. As a group, we decided it would be best if we did it in the morning but not too early. We would have a regular sleep and get up well rested in the morning for the climb (picture of camp).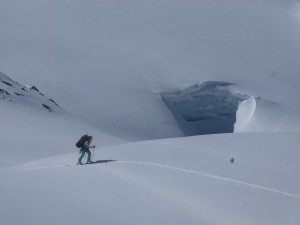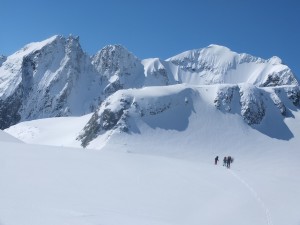 After a nice sleep from approx. 9 pm – 6 am, the team were up and ready to scale Mount Currie at 8 am on Easter Sunday! The Easter Bunny came Sunday and everyone received Easter eggs which was very exciting. The route was still quite icy and steep, so everyone except myself unfortunately had ski crampons to use. After deciding it was too icy and steep for me, I decided to walk. However, this was short lived. I was having troubles with my left ankle and tendon during our trip but fortunately it had not really started bothering me until towards the end of the trip. I could tell that it was inflamed and became angry as I started the ascent. Mainly aggravated by going up, I decided it would be best to not climb in order to preserve the longevity of my ankle. Disappointed, I waited at camp while the rest of our group went to summit Currie. Our camp was directly in view of the route, so I was able to watch the group as they made their way up Currie. At some point during this period, a large group of ten people come by our camp. I learnt from a member the group who came over to me to say 'hi' that they had been heli-dropped for the weekend, and had a large camp set up bellow us down the valley to do day trips from. I also learnt from the group that the previous group we had seen the other day had also been heli-dropped near Currie. I watched this group as the started heading up towards Currie. I could imagine what a surprise it was for our group on their ski down as they come across such a large group coming up (which they were)!
After lunch, we started our decent to finish the traverse. The exit was really the crux of our trip due to the bluffy nature of the terrain. In order to connect to the marked Currie hiking trail, it was key that we stayed as high and right for as long as possible. The terrain was definitely challenging so if you are wishing to do this traverse we HIGHLY recommend you do your reading of topo and GPS maps, and refer to other historical TRs in your planning. On Christian Veenstra's route, there was a small section he had to skin back up in order to meet up with the trail. As best possible, we tried to stay high so we could avoid this. With some intermediate navigation, we were able to meet the trail without skiing back up! My ankle was thankful for this. The rest of ski down was quite messy. The snow was absolute crap, which made it a challenge to ski on (picture). Furthermore, there was also tons of forest debris and fallen trees, which we had to navigate (photos). For the last 5 kms, we had to boot pack. As a group, we agreed that this was a rare occasion where we were excited for no more snow! It was extremely hot out and we were down to our warmest layers by the end of the hike. We made it back to our cars around 5 pm (picture). As a group we were tired and smelly, but relieved and excited over the completion of this traverse! I would like to say thanks to the group for an awesome trip!