The tale of a girl, her bike, and a two week epic through the Highlands of Scotland. 
Written by: Moe Nadeau
I'd like to preface this trip report by explaining why exactly I chose to suffer through one of the most grueling bikepacking trips known to fellow bikepackers. For me, this trip was so much more than seeking out a way to ride my bike. It was a trip of firsts: the first time I'd travel somewhere completely alone, the first time I'd be in the backcountry by myself, the first time I'd make risk assessments without others' opinions, and the first time I'd learn that my judgement was valuable and important. Being a woman in the mountain bike and backcountry scene can be difficult. Especially when you are raised in a world that is constantly judging women by their capabilities relative to men. I chose specifically to complete this trip alone so that I could practice self love and remind myself that being a woman is a beautiful gift I was given. It's something that I need to do more.
Day 1, 2, & 3 – from Vancouver to Glasgow to Tyndrum to Rannoch Hills:
It all started with a sketchy morning realizing that my tiny car was too small to properly fit my bike box in the trunk. It was 6:30 AM and I had a full work day prior to my red eye departure. I was determined to use every last minute of my vacation days. So I had to Jimmy rig a very questionable bungee cord setup and hope it would make it on the highway. The first obstacle was just getting to the airport and I realized that this was going to be the most hilarious adventure. Only two days prior did I learn, with the help of an old friend, how to disassemble my bike. I've been lucky and always had very experienced bike friends who have assisted in my maintenance needs. This would be the first trip where I needed to rely fully on my own skills (or lack thereof).
Nonetheless, I persisted, made it on the plane and was on my way to Glasgow, where I had a Warmshowers host awaiting my arrival. This host had offered to let me leave my bike box at his home which was amazing because I had a small backpack that I was able to put in the box with a few items for my trip after I completed the route.
When I arrived, I was greeted by the most amazing host, James, who prepared an incredible meal, which we shared and talked bikes all night long. His excitement in my adventure made me that much more excited and his generosity was truly the best welcome to Scotland I could of ever imagined. In the morning he offered up his tools, an adapter, a spoon (thank goodness!), and directions to the train and sent me on my way.
I made it to the train and knew I had two hours before the struggle fest began. I composed myself and took in the landscape as I enjoyed my last bit of time in excess of comfort.
My trip route followed the exact route provided by Bikepacking.com, designed by Alan Goldsmith, which the most elite bikepackers from all over the world compete in around the same time of year as I was going. I had purposefully planned my trip this way, in the hopes that I would get to meet some of my greatest idols – Lee Craigie and Jenny Graham! Along with some other seriously remarkable riders. I began my trip one week ahead of their scheduled start day, lining us up to finish near the same time.
When I arrived in Tyndrum I was lost and confused, but stoked as could be. I turned on my ridewithgps app and began to follow the prompts. The trip had finally started and I could only dream of what was to come.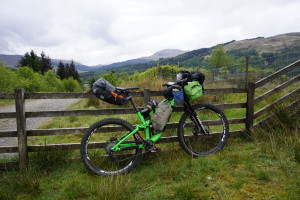 Where it all began! Note the peanut butter attached to the frame. 
My first day of riding was hilarious looking back on it. I stopped every 15 minutes to take photos of sheep, drink water, let out some big hoots and hollers, and generally breathe in the gorgeous landscape.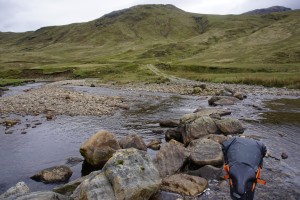 The first of many river crossings.
It was an easy day of riding compared to the rest and the weather was great. Not too hot, not too cold, and not a drop of rain … boy was this about to change. As I started at 2 PM, I decided to ride until about 7 PM and wild camp in a nice little forest. I hadn't made many miles, but I went to bed feeling proud and ready to tackle day two.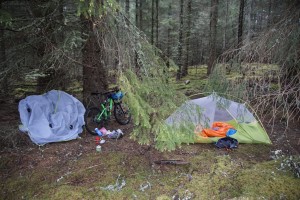 Night one Campsite.
Day 4 – Rannoch Hills to Kinloch Laggan:
I woke up feeling stoked and ready to ride. Camp take down was seamless and breakfast was delicious. I began my first epic descent full of smiles. I stopped to take a picture and my fancy camera (bought for this trip) was not working. I tried not to let it bug me and said to myself, "nothing to do but ride" and continued on. After the descent I pedaled through some forestry roads and onto a lovely gravel track where I passed some hill walkers feeling full of bravado. I was on a gorgeous lake and knew I was close to my first bothy (aka a hut to us North Americans). Little did I know that I would spend the next hour trudging through a bog and end the descent to the hut with falling over and being waist deep in peat moss and water. I had accepted that this trip would be wet and dirty about two minutes into the ride.
When I arrived at the bothy, I was greeted by two brothers who were doing a canoe trip. They offered me tea, in true Scots fashion, and we chatted about the hills. The walkers met up with us at the bothy and as we all chatted, a person on a bike passed us moving at an incredibly fast pace. He didn't say more than hello and was on his way. I soon followed and caught up to him, realizing he flatted from the unfortunate design of rocks on the trail that have been created to act as a drainage ditch due to the immense amount of rain Scotland receives every year. I offered him my pump and we got to chatting. He told me he was trying to beat the HT550 record as he didn't get accepted to race this year. It was then that I realized just how intense this journey would be. Unfortunately, he had to turn around due to this issue, but he sent me on my way with well wishes. My stoke was high and I was in the most beautiful valley. I climbed and climbed and finally reached the top where I was ready to do some technical descending.
This terrain was certainly challenging and I found myself taking exciting risks. The drainage ditches soon became my nemesis as I had to hop over them in order to save my tires. One ditch got me good and popped my bike tire. I quickly grabbed my tools and began the replacement process. However, something must have fallen out of my pump when I helped the man and I was no longer receiving any air pressure. No air pressure means no tire means no biking means Moe alone in the Backcountry over 20 km from any homes.
There was nothing to do but push. And so I did just that. I pushed and I pushed and I just kept pushing. I walked for hours. It was raining, I was tired and I was lonely, but I kept pushing. By about 7 PM I decided I had to eat. I cooked up dinner sitting on the ground in the open during a torrential downpour. I watched herds of deer run across the valley as I scarfed down my noodles and eventually willed myself to keep moving.
It was 9:30 PM when I finally came across a house. It was nestled in the forest but I saw lights! I had to knock, it could have been my only chance to get back on a bike. A man came to the door with the greatest look of astonishment on his face when he saw a young woman resembling a drowned rat at his door. The only words I could muster without breaking down in tears were, "do you have a bike pump I can use?"
I think he was honestly so shocked he simply answered the question and led me to the shed. Once we started pumping the bike is when the questions began. "Where did you come from?" "Where are you sleeping?" "Why are you by yourself?" "Have you seriously never been to Scotland before?" "You're going to ride that far?"
I must admit, this has got to have been the strangest interaction this man could have ever anticipated when he opened the door. I can see now why he had so many, very valid, questions. But I sensed the kindness in his voice and it really did help me to open up and explain my story. After I told him I wasn't sure where I'd be sleeping that night, he graciously opened up his home. Him and his family were staying in this house in the woods for a week as they rent it every year for a holiday. I was pretty lucky to have caught them because they only got in last night.
So I took the invitation and I spent the evening telling the family my story and sharing memories with a group of the kindest people that I knew I would never see again. It was so beautiful to be able to be so raw and accepting of their help and to experience how open people can be if you allow yourself to be vulnerable.
Day 5 – Kinloch Laggan to Cannich:
In the morning I woke with dry gear and a happy heart, fully ready to get back on the road and make up for all of my lost distance. My camera had magically come back to life! The family made me porridge in true Scots fashion, covered in Golden Syrup, and showed me to the nearest bike shop. I began down the road feeling invincible.
When I got to the bike shop, it was closed. So I killed time and read my book. Eventually people at the cafe beside it came to work and still no bike shop attendant. So I asked and was told it wouldn't be open today. Luckily I pleaded with the cafe workers and they opened the shop and let me buy a new tube and a bike pump! Good thing everyone knows everyone in Northern Scotland.
I WAS FINALLY BACK IN BUSINESS.
I began a short portion of road riding before making my way to a valley that eventually took me up an incredibly gorgeous climb. I was determined to push myself, so I climbed quickly and aggressively, making my way over the mountain in no time. I was nothing but smiles on the descent and I couldn't stop thinking of just how lucky I was. It was as if the events of yesterday didn't happen.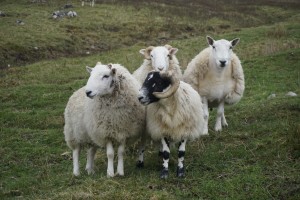 So many cute sheep!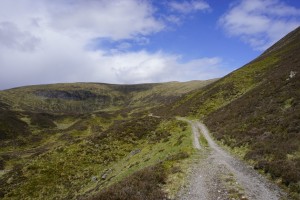 Into the valley… 
All of a sudden I was in Fort Augustus and it was teeming with tourists. This was my first chance to have WiFi and update my parents on my adventure. I ordered as much food as I possibly could and sat back in a nice cafe that looked out onto the Loch.
I was feeling good and knew I needed to make miles. So after a nice call to my mom, I continued over the next mountain pass. The first couple hours involved following the Loch on a forest service road a few hundred metres above. It was a lovely view and I was able to pedal super quick. I made it to the next town in no time and this is where my ascent became more difficult.
The climb was relentless. It just kept going. I made it into this strange world of barren land with nothing but windmills. It was so eerily quiet except for the continuous hum of the propellers spinning. In my head I was creating the next best sci fi novel.
At the top of the climb was a dam with super rocky flat terrain that I had to ride for a couple of kilometres. Now this was fun for about ten minutes. After that it was so intense to be continuously picking my line that I think my brain went into lockdown mode. I can't even remember some of this section, but what I do know is that it was making me a better rider.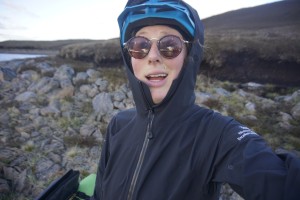 How I felt about riding the rocks.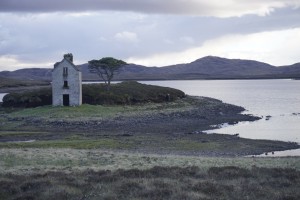 But looking back on it was pretty beautiful. 
At the end was a very dilapidated Bothy, followed by a squidgy bog I had to push my bike through. Nothing like sphagnum moss trails to remind me I was definitely not in Canada. (PS. I used to work as a wetlands conservationist so I do tend to geek out over the rad bogs in Scotland. I think it was the only way to help myself from getting frustrated that the route even considered that we could ride over this terrain).
It was finally descent time! This single track was minimally used and a bit "choose your own adventure" esque. It was so rad! It overlooked massive valleys and hills and I was stoked. But I didn't realize just how high and how long id been climbing. Once I finally got down to the farmers field areas, I thought I was done and then realized I had so much more descent. It was 8:30 PM and I had been riding literally all day. I hadn't eaten dinner and I was hungry and getting cold. I ate a clif bar threw on some extra layers and pedalled for the next 1&½ hours until I reached Cannich and found a campsite for the night! Setting up camp was a daze and I instantly fell into a well deserved sleep.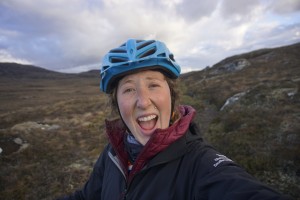 Stoke level: 100. 
Day 6 – Cannich to Deanich(ish):
I woke up and headed out for another early and big day. Yesterday I travelled 97 km and climbed 2200m. I was pooped. But I was ready to tackle another big day and be back on track. I rode hard and powerful through gorgeous valleys full of green and rock.
All afternoon was perfect and I made it to the last known spot to buy food before the Northern loop. It was a small town called Contin. The store had a very strange and minimal selection. I grabbed a tin of maple syrup, wraps, cookies, and pasta. I also picked up a banana for lunch which was one of my only opportunities for fresh fruit on the trip.
It was cold out and I didn't want to eat lunch outside, so I found a little school/community center that happened to be open and I went in there. Who knows if I was allowed to, but it offered me a nice shelter for my hour long break. I knew the afternoon would be a big push and I was beginning my travel through the most remote section, so I wanted one final meal indoors.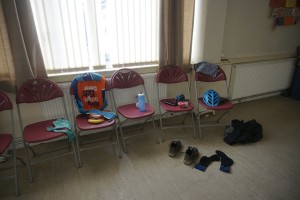 Great place to eat some wraps with hobnobs and bananas. That's a well balanced diet, right? 
The next set of hills was a beautiful climb around rivers and through valleys. It was chilly being this far North so I had to continue moving to stay warm.
The rain started around dinner time and I put on all my layers and cooked up some food, with the intent of continuing to ride well into the evening. It was about 9:30 PM when I decided to stop. I found a nice little spot by the river and headed to bed right away.
Day 7 – Deanich(ish) to Loch Shin:
It wasn't raining in the morning and I was stoked on this! However, it was still chilly so I got moving pretty quickly. I pedalled to a small community and began another glorious ride through the hills. This is where things started to get really hard.
The wind picked up and the rain started. Now I'm not talking about a light wind. I was riding through the most intense head wind/rainstorm I've ever witnessed. It was so brutally challenging. I was pedalling 3X as hard yet moving ½ the distance. It went on for so long. It was breaking me.
I knew there was a restaurant ahead and I knew it could provide me with warmth so I just kept going. But I was scared of what was ahead. I made it to the restaurant and was told it hadn't opened yet. So I pleaded and sat on the floor in the waiting room until it opened.
Here I tried my first vegetarian haggis, which was essentially just a whole lot of spiced lentils with "neeps and tatties". Which are normal potato and sweet potato. I was happy to be eating warm food but I was seriously soaked to the bone. I stayed there for so long, hoping the weather would subside and trying to find my will to keep moving. I called my mom and she told me to just get a hotel and stay the night until it got better. I should of listened, but I am notoriously stubborn so I headed back out.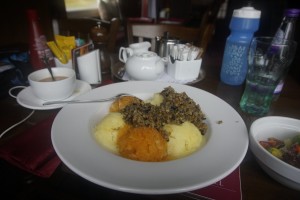 Like a good Scot I ate my Haggis.
It was so hard to combat. More of the exact same of everything this morning and so much less stoke to be riding. I was cold and tired and I kept hoping I'd finish the ascent. When it finally came I was so ready to descend into the beautiful lake system, however by the time I reached the bottom I was the coldest I'd ever been. I had to find shelter fast. I set up camp behind an old shed. I ate as quickly as I could and put on all my layers. I pulled out my phone and watched it turn off, thinking that the battery had just died. Little did I know my phone had completely died. It was only 6 PM but I was done.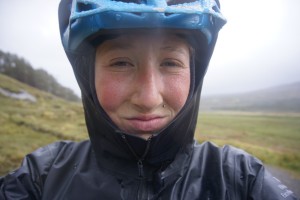 Surviving, n u? 
Day 8 – Loch Shin to Ullapool:
I woke up by 4 AM. Seeing that my phone had officially died I knew I had to just move to get to a town and find a solution. Luckily I spent yesterday at the restaurant studying my route because I had no paper map and had to route find using the little knowledge I had.
I couldn't believe I was travelling like this. I kept going until I finally reached a real road and I pedalled forever. At this point I didn't really know where I was headed, but I knew that if I continued West I'd eventually reach a town. And I did. It took some time, but I made it to Scourie. I pedalled extra off the path but it was a real town with a way to get my bearings.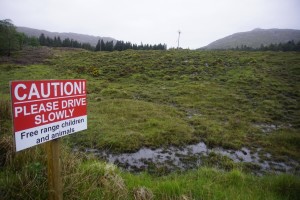 Watch out for them free range children!
I went to a cafe and a man who just came from a two week hill hiking expedition noticed I was also in the Backcountry and we got to chatting. He gave me tons of advice and I learned so much about Scottish history. Another man who was caravaning around Scotland came in and joined our conversation. He helped me use his phone to draw out my next route. I had to skip a small section of the trail and follow the road to Ullapool because I didn't have my phone. I was told I'd be able to buy one in Ullapool so I knew I would be ok. This route was frequented by many caravaners completing the North Coast 500 – a 500 mile drive around the spectacular coastline of Scotland. It was a breathtaking route, so I could see why there were so many on it.
I left both men feeling that incredible sense of Scottish hospitality, ready to get a phone and be in control again. The road was long but it was gorgeous. I was feeling great.
I made it to Ullapool and bought the cheapest smartphone I could find. It was slow but I was able to download my map and that's all that mattered. Today felt like a week's worth of adventure and I was so tired that I decided to get a b&b. It was very rewarding to be able to shower for the first time and sleep in a warm bed and dry out my tent. I went to bed at 8 PM and slept so deeply.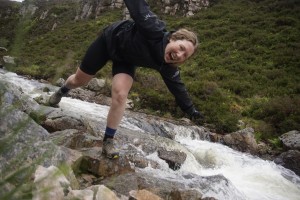 Happiness is dancing around a river at a pit stop to pee. 
Day 9 – Ullapool to Shenavall Bothy:
Waking up to breakfast being cooked for you is a feeling like nothing else. I was back in business and ready to tackle the final week of riding. I said goodbye to the lovely host and continued on my way. The start of the route was a major hike-a-bike that provided stunning views and led to some of my favourite single track of the trip. I was muddy and wet but so stoked to be riding well.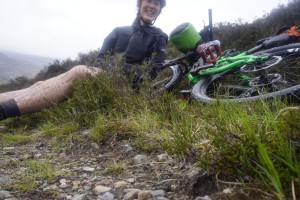 So much excitement for this portion of the trail!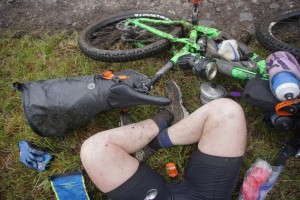 Classic view of me during lunch time – garage sale of all my items, muddy and wraps nearby.
I met a couple different walkers on this trail who were doing a famous walking route, the Cape Wrath. We shared stories and continued along. I eventually made it into the Shenavall bothy which was absolutely amazing. The area was gorgeous and the Bothy was so fun! There were a ton of people there and although I had wanted to push to the next bothy, I decided to stay the night and share stories with everyone.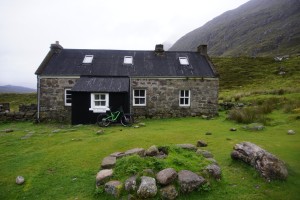 The bothy!
Day 10 – Shenavall Bothy to Big Sand:
When we woke up, we realized that it had rained so much overnight the river would be impassable. It was always known I'd have to cross the river with my bike above my head, but some of the hill walkers trying to complete a major challenge of hiking every Monroe went into the river and it was almost up to their heads. There were experienced guides in the hut who told me it was far too dangerous to do alone, especially because there would be other dangerous rivers, not just this one. The only way to do it was to go back out and around to Poolewe on the road. I had anticipated this because it was in the race rules that it would be accepted if the river was too dangerous. I was pretty bummed but knew it was the smart choice.
So I headed out, wished everyone well and began the long way around. It was another cold, wet, and windy day. I was muddy and soaked from the fun initial single track, but once I got on the road it was much less fun. The coastal winds pushed me back and I was struggling. It was seriously amazing to understand just how easily I was affected by the weather and type of terrain I was riding.
I pedaled for so long and still had a serious trek. Finally, I saw a sign for a cafe. I turned off and ended up having to bike 7 miles to get to the cafe, which would of just taken me to Poolewe. I was tired and cold and hungry. I ordered a meal and tried my best not to cry. But this weather was really taking a toll on me. I decided to call my mom and as soon as I did I broke down. She told me this was it, to be done putting myself through the struggle, I had accomplished an incredible amount and it was ok to stop. She said I was strong, brave, and far too stubborn. I hung up knowing I needed to take her advice. I asked the woman at the till if there were taxis or hotels in this town. Of course there were neither. I choked back tears as I thanked her anyway and I began to realize that maybe I was done. Maybe I couldn't continue.
But yet again, I was reminded of the generosity of strangers and how it would allow me to continue pushing through to my goal. A lovely woman came over and said there is no way she would let me out on my bike in this weather. If I couldn't get a taxi, I could disassemble my bike and put it in her car. And as she spoke another couple also came to offer assistance. Together they joined forces to find a solution and it ended up with me putting my bike in the car of the couple's and them driving me to their campsite to get me set up with a spot. It all happened so fast I could hardly even process it. One minute I felt so lonely and was on the verge of giving up and the next I was in a car that was warm, surrounded by extreme kindness and full of gratitude.
They dropped me off at the front desk of the campsite and made sure my bike was properly reassembled. I said my goodbyes, unable to express how truly grateful I was for their kindness.
This campsite had a laundry facility and an indoor cook space so I was able to wash and dry my wet clothing for the first time. Which let's be real that needed to happen regardless, because one shammy for a trip of this length needs a bit of love.
I went into the cook facility and began to cook dinner. I was warming up and feeling moons better than I had two hours ago. Experiencing these shifts in moods was something I realized that was so beneficial. Learning to cope with the goods and bads reminded me of my resiliency and drive. I was ready to tackle anything.
Two girls from Montreal invited me to their table and we spent the night chatting and drinking rum. It made me feel full again. I went to bed smiling and happy. It is true what they say – never scratch at night.
Day 11 – Big Sand to Dornie: 
I woke up to SUN! Can you believe it!? Sun! I literally jumped out of my bed and ran to the beach. It was absolutely gorgeous.
No better feeling than waking up to sun on your skin!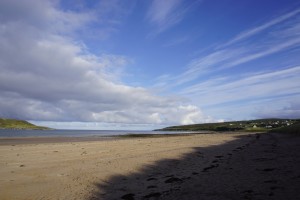 WHAT THIS IS SCOTLAND?! CAN'T BE. IMPOSSIBLE.
I grabbed my stove and cooked up breakfast on the beach. I was ready to make moves and stoked on the next section. I wound up high over the mountains and down into a nearby lach. The next few hours were amazing. I Arrived in Kinlochewe and had lunch at a cafe that all of the bikepacking community said was a must. It was delicious and I set off to travel as far as possible today. I went through Glencoe which was beautiful! I rode for a very long time before ending up in Dornie at 10 PM.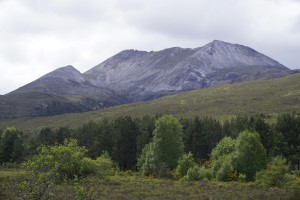 Gorgeous riding views.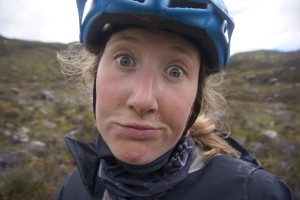 Another day, another silly selfie.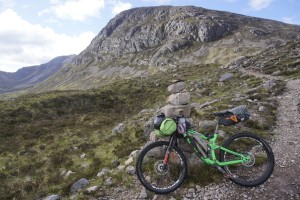 I was in pure astonishment at how beautiful this area was!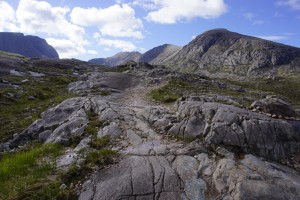 A shot of the technical slick rock.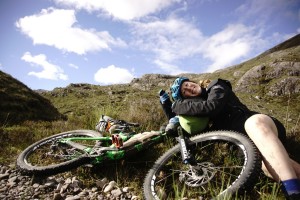 Happy girl riding this amazing trail!
When I pulled into the campsite for the first time I noticed two bikepacking rigs! I was thrilled. One man came out and he asked if I was from Canada, then pointing out the fact that I had a MEC tent. As it turned out a couple from Vancouver was also completing the HT 550 and I had caught up to them.
Day 12 – Dornie to Cannich:
The couple (Jamie and Karen) and I went to the bakery for breakfast and then decided to ride together for the day. I was thrilled they suggested it as I think I was ready for someone to talk to while riding. We had a big initial climb to another great track back into Cannich. We debated pushing further, but decided that we would rather have a beer and enjoy our night. I told them that I was eager to finish in two days and I think I helped push them to want to go for it as well, however we still had a good chunk of the trail left. I wasn't sure if they would stay with me or not, but I knew the weather was going to turn and I wanted to make miles while it was beautiful out.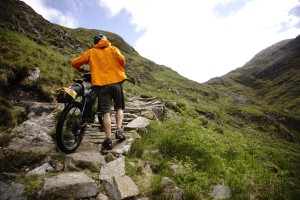 Looking up at Jamie, setting our hike-a-bike pace.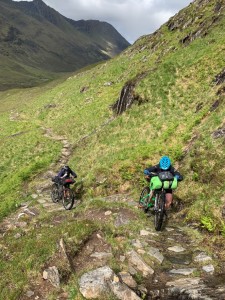 Some seriously amazing hike-a-bike views.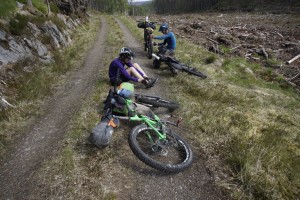 Roadside maintenance.
Day 13 – Cannich to Fort William:
Waking up, taking down my tent and putting on riding gear had now become part of my routine. I was actually worried to see what life would be like when I finished riding. I had nothing but  stoke now that I was riding with two wonderful people, the weather was amazing, and the views even better.
The start of our ride was a big punch, climbing for a couple hours straight up, but boy was it worth it when we got to shred a super fast logging road down. I had come to love the sections that weren't as technical for totally different reasons. Jamie clocked our speed at over 50km/hr.
At this point we were very close to the racers. Jamie had data and we were using a website called dotwatcher.cc to check their SPOT locators to see who would pass us. We had stopped in for lunch at Fort Augustus and saw that a couple of racers were getting closer to us. Unexpectedly, two had passed us in the night, so we were determined to see the others on the trail.
Dyke road/Railroad trail from Fort Augustus to Fort William. 
I urged Jamie and Karen to continue on with me and push to Fort William. We knew the elevation profile was minimal as we were following a dyke system for most of the route. It was the home stretch. They agreed to push, making our day over 100 km and 2700 m elevation. It was big, but we made it to Fort William, so ready for dinner. We saw that Javi Murchante was catching up to us and fast. We decided to grab some food and then wait on the roadside to see him. But he was so fast that we missed him when we went to order food! At least Jamie and Karen got to eat "the best Fish and Chips in Scotland".
We pedalled to our campsite and made a game plan for our final day of riding. They had agreed to finish tomorrow and I was thrilled. This meant I would finish two days ahead of schedule, even after all of the set backs.
Day 14 – Fort William to Tyndrum:
The weather was supposed to get worse as the day went on, so we woke up at 6 AM and started to ride as soon as possible. This route would be the reverse route that the walkers were doing on the West Highland Way. We saw people the entire journey. Our crew was so happy, we were smiling the whole way and I think the walkers thought we were crazy with some of the terrain we were bringing our bikes over. It was super technical stuff.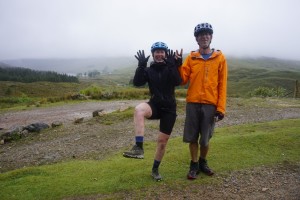 Day 12 of the trip! Feeling energized and ready to finish strong!
Eventually, Matjin Boonman caught up to us and we got to ride the ascent into the Devil's Staircase together. It was awesome to talk to him and ride together, but we really saw just how tired they were after this race. The end was near and he was determined to finish strong. He pulled ahead and we waited for the next rider to approach us.
The Devil's staircase was such a wild experience to ride down. It was extremely technical and when you add the endless stream of walkers heading up, it was such a hilarious challenge. Unfortunately the rain had started and we didn't get the classic view. We continued along and Nelson Trees passed us in full racer mode. He hardly even noticed us cheering him on as we approached the final 10 km.
The last fifteen minutes of riding ended on the same spot that the trail started. It was an incredible feeling to retrace our steps over this area that I had started out with such a different perception. The end was near and I couldn't contain my excitement! I hollered the whole way until we arrived at the final gate! We did it! We finished the Highland Trail 550. Over 900 km and 16,000 m elevation in 11 days and 2 hours.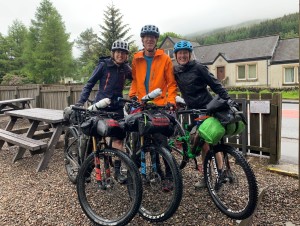 Our happy group at the end of the trail.
We went into the Real Food Cafe (a classic stop for all bikepackers) and celebrated with a delicious meal. We were soaking wet and covered in mud, but full of gratitude and a sense of accomplishment. Martjin and a few other riders came to the cafe and it was so great to chat with them and hear about how the trip was. To me, they are the most incredible athletes. I even got to meet Lee Craigie! Jamie and Karen surprised me with a hotel room (HURRAY for my second shower in 2 weeks!). Again, I was absolutely stunned by the kindness of these two people.
Day 15 – Tyndrum to Glasgow:
We ate breakfast and then stopped in the same cafe to plan our separate routes and part ways. I purchased a train ticket to head back down to Glasgow and they worked out their route to continue cycling! I couldn't believe these two were going to complete all of the bikepacking routes in Scotland. They had another month of riding in store. They are the most inspiring couple.
I said my goodbyes and parted ways with a new sense of self. I had so many mixed emotions on that train ride back to Glasgow. But one that stuck out was how possible it is to accomplish anything you set your mind to. I think it is so easy to not achieve your goals through self doubt and this trip was a beautiful reminder that anything is possible. I cannot even begin to express my gratitude towards receiving this grant. UBC VOC and the Mackenzie's made this trip possible and for that I am immeasurably grateful.