With the high avi danger and a less than spectacular weather forecast, Veronika, Todd, Anne and I decided to go looking for some sunshine in Tetrahedron park.  Our alpine start, and some snowmobile faff on the way up, had us putting on our skins in the parking lot at about noon.  We moseyed on up to the Edwards lake cabin thinking that it would be the only one we'd find empty.  We found it occupied by a friendly group of folks that had originally signed up to head to McNair cabin for the weekend.  The terrible ski conditions and the prospect of having a cabin all to ourselves made the decision to continue on to McNair an easy one.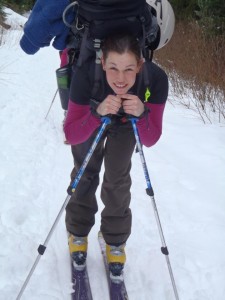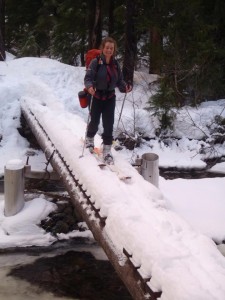 We took off into the woods, and after a couple of creek crossings, and very little progress, we were counting down the hours of remaining daylight.  I believe there may have been some talk of the pros and cons of sleeping under a tarp.  That's when we found the string of orange markers, and the old skin track, we should have been following from the hut.  That's also when the sun decided to make a brief appearance.  We were treated to some blue skies and a pretty nice sunset.  It was smooth sailing from there on.  We arrived at the hut shortly after dark which gave me and Todd and opportunity to test out our new zebra lights.  They're bright.  We heard a few loud whoomps as the snow settled on Chapman Lake.
Food time!  Dinner included ratatouille and cheesy tortellini.  We followed it up with chocolate fondue and fresh fruit.  So delicious – just the thought of it is making me smile.  With the prospects of doing any real skiing low, we'd brought along enough booze for a small army.  Our supplies included: wine, baileys, chartreuse, tequila, gin and fireball.  Sadly, after a few games of towering blocks (like jenga but different according to the box), we were too tired for drinking, and ending up going to bed early and getting a solid 11hrs of sleep.  Anne left an entry in the hut guest book (the previous entry was courtesy of Breanne and Merick), and we decorated it with some pretty outstanding artwork.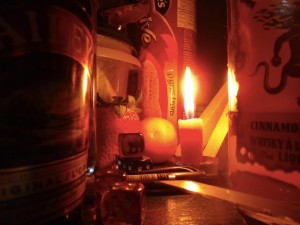 The next morning we woke up to maybe 10 or 15cms of fresh powder.  Anne used Veronika's milk and the left over chocolate fondue to make the best hot chocolate I've had in a while.  We packed our gear and headed out the door when SNAP, a tele cable broke.  Anne, of course, had all the necessary bits and pieces for a quick fix.  We skied back to Edwards cabin and then down to the car in steady snow.  It was actually quite pleasant.  By the looks of the downed power lines, and all the tree branches on the road, it had been much windier in Sechelt than up at the cabin.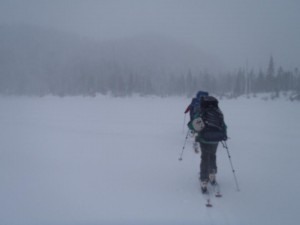 All in all, I'd say it was a fun weekend, probably as nice as it could have been considering the conditions.  I think it's safe to say that a good time was had by all!  All pictures are thanks to Todd.