After sleeping in at the trailhead of Mt Gimli, Jeff and I set off for Revelstoke around 9:00 with the goal of cragging in Begbie bluffs. On the ferry up from Slocan, I picked up a Revelstoke tourist information guide. In it, a description of the hike up to Mt. Begbie piqued my interest.
Begbie, along with other hikes in Revelstoke such as Mt. Cartier, is quite the slog. You start the hike at about 700m, so you have to gain 2,090m of elevation to reach the summit. It is not a technical climb, only 2/3 class the whole way up the ridge. The only technical part of the climb is navigating a bergschrund to get off the glacier and on to the famous "begbie ledge" — basically an exposed 2nd/3rd class walk to reach the ridgeline. This crux is apparently trivial later in the season, but we were not sure how it would be in early July.
Just to be safe, Jeff and I drove into Valhalla outfitters in Revelstoke to inquire about the route conditions on Begbie. The lady working there wasn't very helpful, and she hadn't heard of anybody who had climbed up there this year. I ended up purchasing an ice axe. Although I didn't expect to need it for Begbie, I left my crappy $30 stubai ice axe in Vancouver. I am planning on heading to the bugaboos before I go back to the coast, so I figured it was a good investment.
One of the Valhalla customers provided us with some of the most comical route advice imaginable. He basically told me that my short ice axe was useless, and that I should use a broom handle to probe the bergschrund. I imagined trying to self arrest with a broom and chuckled.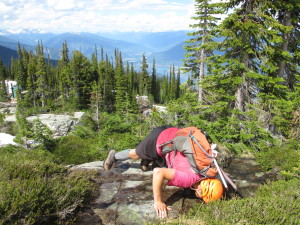 After our brief interlude, we headed to the Begbie trailhead. We departed at 12:30, which we figured would leave us with ample time to complete the trail. We made phenomenal time up to the camp, climbing to the top of the steep 7km trail by 14:45. There was no evidence of footprints in the snow, so we decided we were probably the first people to climb up Begbie this year. After a brief lunch, we continued gaining elevation to reach the glacier below Begbie.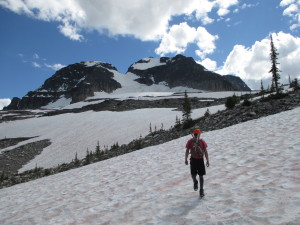 At about 15:45, we reached the bergschrund. It was quite overhung. We spent a long time deciding how to navigate it. The only logical way to get down, was to kick about 5 steps down to the begbie ledge from above. Having downclimbed a more difficult bergschrund on the tantalus traverse, I was quite comfortable with the route we would have to take to get down. I didn't want to peer pressure Jeff into climbing down however, so I waited until he reached the same conclusion himself. We ended up spending about 45 minutes deciding what to do, which we both considered time well spent.
Since we hadn't brought harnesses or a rope up, we attached 2 double length slings to one of the ice axes to use as a fixed line. Jeff led the way down from the bergshrund to the begbie ledge. Although a very easy scramble, we discovered that the begbie ledge is closely bolted, and has two sets of chains to rappel back on to the glacier. It has one exposed step with ratty old 5mm cord that I didn't feel the desire to hold on to.The scramble was easy, and we made it to the summit at 18:00.
We began our rapid descent back to the car at 18:30. We once again made stellar time, losing 2,090m of elevation in 2.5hrs to reach the car at 21:00. My ears equalized 7 times while we ran down the trail.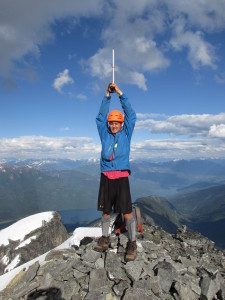 After a very quick dip in the river, we changed and ate dinner at the Village Idiot pub. We camped at the trailhead, with plans to wake up in the morning and have breakfast at the coffee shop "La Baguette."