We are ever-so grateful for Alfred letting us lot of dirtbags using his condo, but that was quite likely the worst night any of us had on the trip. The condo was a like a furnace. Way too hot to wear any clothes or stay under the sleeping bag, but way too drafty not to have any covers at all. This resulted in constant tossing and turning, but the real kicker was the motion activated lights, which would turn on anytime anyone shifted.
Christmas day was welcomed with a beautiful breakfast of bacon-egg-fried-rice from the Chinese leftovers. We then proceeded to spend the day cragging at the Junkyard. I'd spent the day soloing every climbable line around. Neil attempted to lead a short pitch without any draws, so I'd passed some up to him on clove hitches on one of the strands of halves. More bacon got cooked, so all-in-all typical day at the crag.
The unfavourably high avalanche conditions canned all of our alpine objectives, so we looked to something well protected. We'd settled on Evan-Thompson creek which contained a couple of 120 meter lines. One of them was Moonlight – a gnarly WI4.
Lachlan and Neil getting scared on a thin mixed route
The long drive over to the Rockies had been understandably filled with useless banter. At some point the conversation turned to protection on ice and rock. Then it turned to sketchy and dubious protection. This is when stacking nuts came up. Makes total sense on rock, but what do you do on ice? Well as it turns stacking your own nuts is the best thing you can do while climbing ice.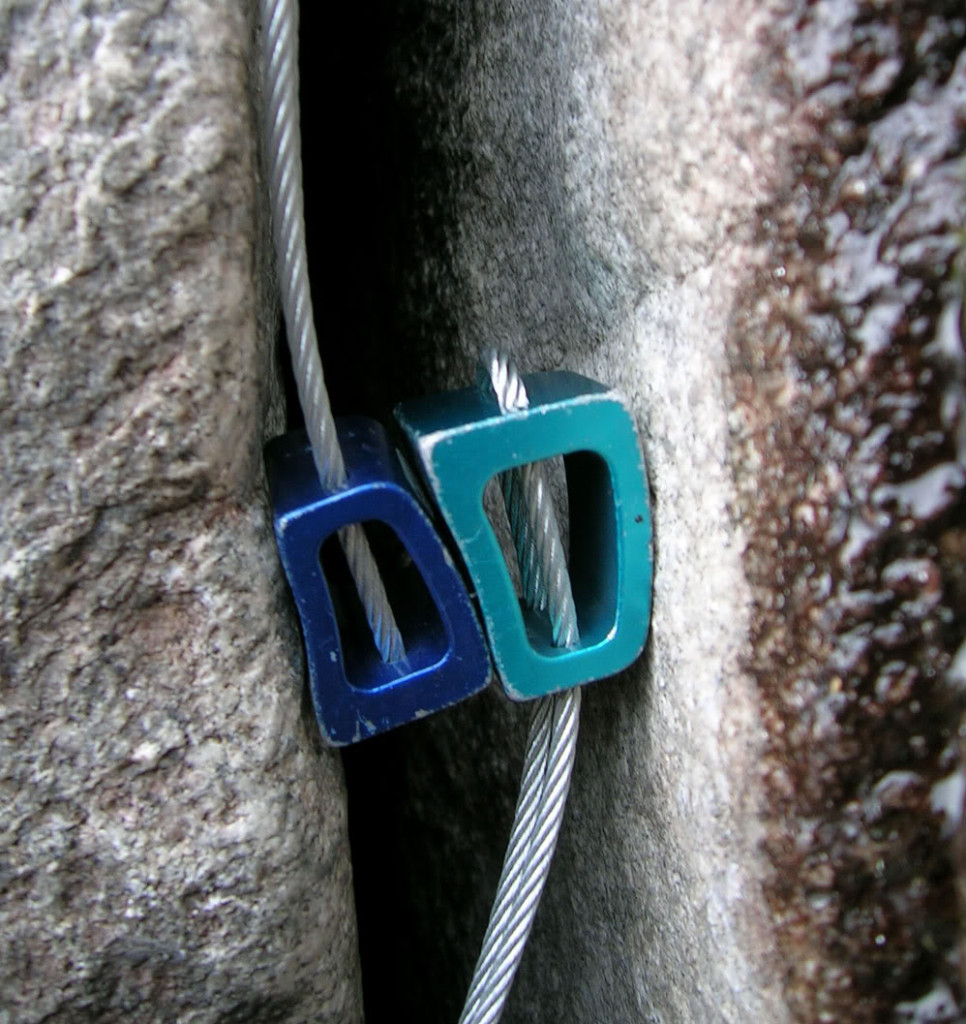 Some stacked nuts, non-human variety
This became a large motivator for me on this trip. I'd been intending on breaking into leading WI4. Days earlier, while in the Ghost, along with Neil, I'd repeated Beowulf that Ian and Alfred had done the day before. This gave me a little taste of what leading seriously steep ice is like, but the crux section was short-lived. Granted I'd spent around 2 hours leading that pitch, it proved to be not overly difficult. The rest of the climb took us through an absolutely gorgeous slot canyon, but left me desiring to get properly scared.
Then, I'd forth-ed Aquarius – another WI4. With a top rope and no gear to take out, I flew up it. It felt smooth and easy. It had felt like it was well within my reach to lead such flows comfortably. And now I was standing at the bottom of a huge waterfall that proved incredibly steep.
I racked up on hopped on the route. The first pitch was steeper than expected, but well hooked out. I'd brought Stuart up to the belay cave and proceeded to soil myself as much as the waterfall was soiling itself. Right out of the cave is the crux of the route – about 15 meters of near vertical ice. And it was gushing. Absolutely #$%&ing pouring. Right on the crux. Nuts. It was time to stack them.
This was the real test for me leading difficult ice. Steep and wet. Wet and steep. Steep and wet and long. Multiple screw placements. Can't look up. Get soaked. All scary thoughts running through my mind. After around an hour of peeking out of the cave and retreating right back, I got my shit together. I stopped thinking of the exposure, the steepness, the downpour, the pump, the potential fall. I simply told myself to have fun and enjoy the pitch. And with stacked nuts and screams of MEGA-STOKE I proceeded upwards.
Artem striking "The Artem" after climbing Moonlight
It was exhilarating! With every placement I got more and more confidence. Adrenaline was maxed out. I swam through the crux, and topped out the 60 meter pitch and the route. Stoke was through the roof! A definite highlight of the trip for me. And a proof that I was capable of performing such leads in the future.
We capped off the day with some verglass and drytooling. The next day brought more drytooling Shenanigans at Haffner creek. To end the trip, Lachlan, Ian, and Stuart went and climbed Louise Falls, while Neil and myself poached some disgustingly rocky turns at Lake Louise ski resort.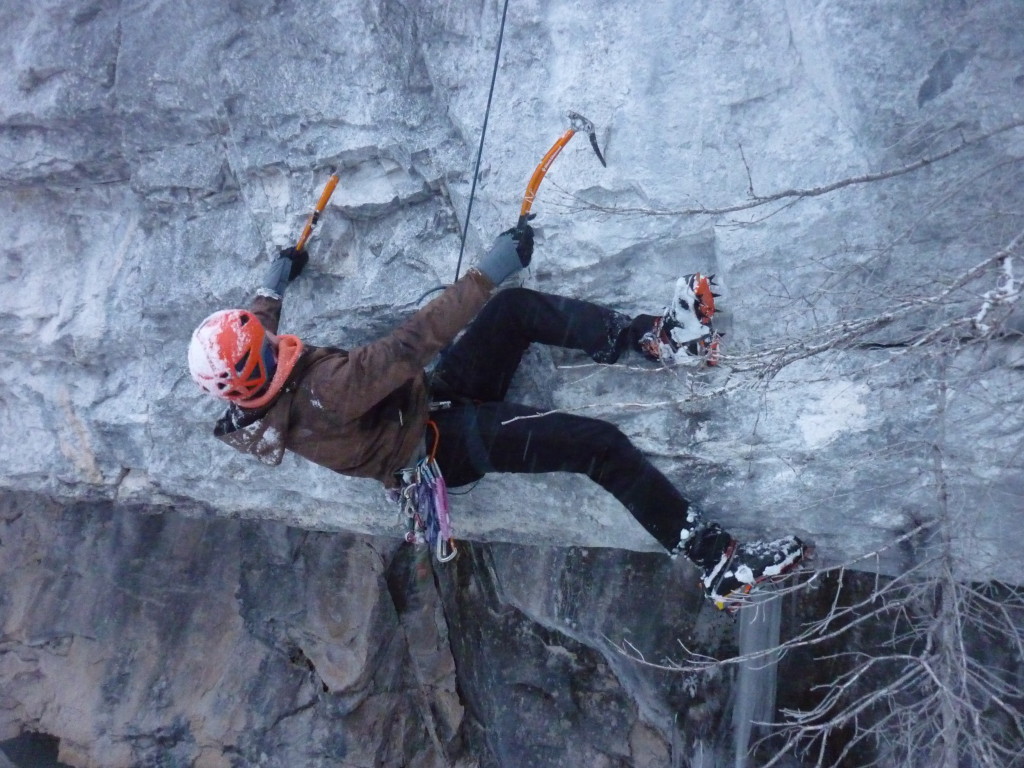 Artem drytooling, heel hook optional

The crux of the day came one the drive home. We were hoping to make it back to Vancouver that evening. But conditions proved terrible with an incredibly dense fog and broken headlights. For long sections our speed was reduced to 30 km/h. But one last stacking of the nuts put me behind the steering wheel and gunned Snow White safely for an early 4:00 arrival.
Let me conclude with that ice climbing is absolutely rad in every way. Admittedly dangerous and terrifying, it is extremely aesthetic. Few things feel as nice as a good swing of an ice tool to a solid stick. Climbing beautiful adventurous lines in gorgeous settings – what more can one ask for?