It is difficult to write a better trip report than Roland's so I thought I should just add some details and quote his summary of the trip.
"Executive Summary: Sphinx Camp seemed small this year. Just Cassandra and me. Can't complain though. We spent a cold Thursday night in the Taylor shelter, along with Gabe and Carly. Then we crossed over to Sphinx, skied the Garbage Pile and spent a warm Friday night at Sphinx."
After spending half of reading week "reading", I was desperate to get outdoors. I knew there was some kind of plan to ski into Sphinx and on Wednesday evening the plans were finalized. I caught the ferry back to Vancouver and the following morning I was picked up by Roland, in his new orange jacket, (to match all the orange fleece). We drove up the Sea to Sky through a bit of snow and parked two kilometers from the Garibaldi Lake trailhead, where we met Gabe and Carly. Roland announced it was his birthday and passed around some delicious cookies! After some faff we started up the road.
Luckily, Elise and party had gone up the day before on snowshoes and broke trail for us to the turnoff to Taylor Meadows.  We headed up, slowly counting down the 26 switchbacks.
"At the 2.5 km switchback we were having lunch when two skiers appeared. I noticed that they had the Parks patches on their shoulders and guessed that we might have a problem. After asking where we were going (meadows), they got around to asking if we were planning to spend the night and if we had paid yet, and when we admitted that we hadn't they kindly offered to relieve us of ten dollars each. It could have been worse."
We continued up the trail slowly and eventually reached the place where the trail splits to either Garibaldi Lake or to Taylor Meadows. After some discussion we decided to head up to Taylor Meadows and stay in the shelter, even though it was still quite early in the day.
" When we arrived at the Taylor shelter we found our Parks friends cutting snow off the roof, but they soon left before we had time to read the "no camping in the shelter" sign. It was quite cold in the shelter, perhaps -15C, though to save weight we didn't bring a thermometer. Before going to bed we dug a hole (about 8 ft) down to Taylor Cr to get water, and filled a water bladder. This was not real wise, as it was frozen almost solid by morning. It looked a bit like a frozen baby seal."
Photos: The Taylor Meadow shelter and the Black Tusk
After thawing the seal, Roland and I set off towards Garibaldi Lake while Gabe and Carly decided to head straight back to the cars. In Taylor's Cabin a short distance from the shelter we saw an abandon tent set up inside. There was too much snow surrounding the cabin to go in easily so we didn't investigate.
"While heading to the lake, we briefly saw Elise and party. We are grateful for them going up a day ahead of us and breaking a lot of trail with snowshoes. They had somehow persuaded a random stranger to share his one-person tent with the three of them."
Initially the plan was to ski to the lake, take a look and then ski back down to the parking lot. However, once we saw the scenery, the great snow conditions and mountains in the distance, how could we turn around!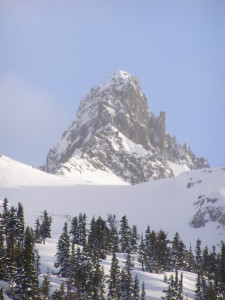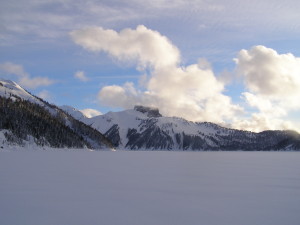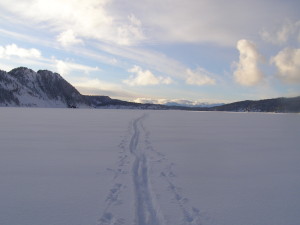 Photos: Crossing the lake
We quickly broke a trail across the lake and dug through the first layer of snow on the other side to get some water. Most of the way across the lake I was trying to decide if it was actually frozen, and discovering water only a few feet under the snow was not particularly reassuring.
Photos: Burton Hut in the snow and the Table
As Roland said, "The scenery was totally knock your socks off gorgeous."  The mountains looked spectacular as always on a crystal clear day and compared to the recent (lack of) snow conditions the snow was great!
"Avalanche conditions appeared reasonable. We didn't bring avalanche beacons up with us. We tried to get something going on the Garbage Pile, but snow seemed to be well-attached, and abundant. We didn't go up the Guard Deception Col though because it might not have been stable enough. I dropped into an eight foot tree well (buried tree) while trying to boot pack a path to the outhouse."
Photos: Roland trying to start an avalanche on the Garbage Pile, the Guard Deception Col., and on top of the Garbage Pile looking back towards the lake
"The Hut is in good shape. We needed to do some digging to get in. The new door looks good. The industrial paint on the walls seems to have the mould under control. The Coleman lamp needs new mantles. As Cassandra and I lay in our sleeping bags wondering what to do with the night, a party of three exhausted snowshoers arrived, and we made them welcome, and collected thirty dollars from them, for the Club."
The next morning when we got up it was entirely fogged in. Luckily we had a trail to follow back across the lake; otherwise we certainly would have gone off track. We skied down what Roland called the scenic route and stopped to look at the Barrier. Roland convinced me to take my skins off and for the first time ever I was "reasonably" successful skiing down!
Photos: Coming back across the lake and Roland and the Barrier,
"After I had told stories of boot packing the whole trail, going down with skins on, etc, in the end we just skied the whole thing except for switchback #8, which was scary. At one point I planted a pole and got it caught in a tree, and ripped the handle off my pole which resulted in some very serious laughing. Cassandra fell quite a lot on the way down. She claimed to totally enjoy it, though. As we skied down, we passed/scared a lot of snowshoers going up. We talked to some of them and they said they were going to Sphinx. Note to self: Probably best to avoid weekends at our Huts.
When we got back to the Jeep it was snowing very hard and it snowed all the way back to Vancouver."
I am so glad I got to go up to Burton Hut with Roland Burton. It was a wonderful trip with spectacular scenery! I hope I will get to return to the area again soon, hopefully to ski the Nevé!