Over Easter weekend, a group of keen VOCers made the holy pilgrimage south to Smith Rock for four days of stellar climbing. The first and most committed (or insane, you decide) car group arrived on Friday morning, sometime in the ungodly hours between 2 and 5am where nothing good ever happens, and the last group trickled in around 4pm on Friday.  For a Smith Rock rookie like myself, the sight of Smith's golden towers rising out of desert floor was borderline euphoric.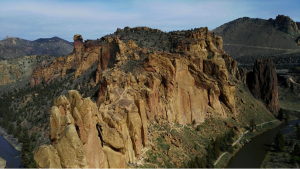 With over 1800 routes and all levels of difficulty, there was more than enough rock to go around. From the crimpiest of crimps to bomber jugs larger than the average Vancouver apartment, Smith offered no end of interesting routes. Different groups had different objectives for the weekend, including projecting harder routes, camping out at the bottom of 5 Gallon Buckets for a turn on its beautiful buckety holds, and tackling some of Smith's spectacular multi-pitches.
I got to do my first multi-pitch on Sky Ridge, which includes some sufficiently exposed pitches and tops out with amazing views of Mt Hood, Jefferson, and the Three Sisters. Thanks to Noah for the first class gear placement and coaching me through hanging belays and all the other joys of multi-pitching. This was also the swan song for my dad's pink hightop lace up climbing shoes (which I have been using for reasons of nostalgia and thrift – mostly the latter) whose soles started to fall off at the top.  They chose a great climb to retire on.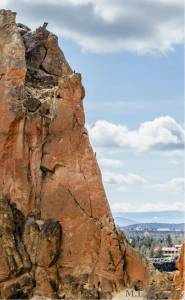 Smith was kind to me and also presented the opportunity to lead outdoors for the first time, which was sweet times. When we weren't climbing we were chilling hard at the crag, hiking all over Smith's beautiful river canyon, and basking in Roseanna and Gabriel's flute and violin duets. Each evening we convened back at the campsite for dinner, trading stories and successes from the day. Most of us ate like kings (perks of car camping) or practiced the age-old art of mooching off of the people who were eating like kings. Then it was off to sleep under stars and sagebrush. One night we were a little concerned about Noah, Kotah, Matt and Tim who still weren't back at the campsite by 10, however it turns out they were just busy getting their rope stuck… twice. The second time turned out alright though because Matt got some top-notch time-lapse shots like this: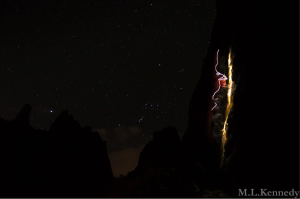 Smith is an amazing place to climb whether you are Alex Honnold or have never touched rock before and everyone in between, as evidenced by the fact that 20 of us went down for 4 days of climbing and no one even suffered. The campground is perfectly set up for minimum hardship (picnic tables and heated bathrooms?!) and maximum time on the rock. I feel super lucky to have been able to experience Smith with such a rad group of people. Good times were had by all. Big thanks to Matt for making it happen!