It was decided that the winter longhike this year was to be held at Seymour and the stoke was high. Very high in fact; there was such a demand that trip-organizer Byron Wilson had to increase the number of places from forty to sixty! The plan was to hike up the backcountry trail running alongside Seymour ski resort and in groups dig and sleep in snow caves for the night. Spirits were high at the pre-trip and it seemed like we had a good bunch of people going.
:-: The hike in, Tabea Stephan :-:
The group met at parking lot 1, near the base of Seymour. About 35 people showed up, fewer than anticipated but more than enough to have a great time. We started our trek up to the snowcave site, some of us skinning up, but the majority hiking. The trail pretty much followed the ski-piste the whole way up, making for a fairly straightforward hike in. One couldn't help but stop on the way up to gawk at the views; we had been blessed with a blue bird. The whole way up we had the clearest views down onto Vancouver and you could even see the snow-capped mountains on Vancouver Island in the distance. Needless to say, many photographs were taken.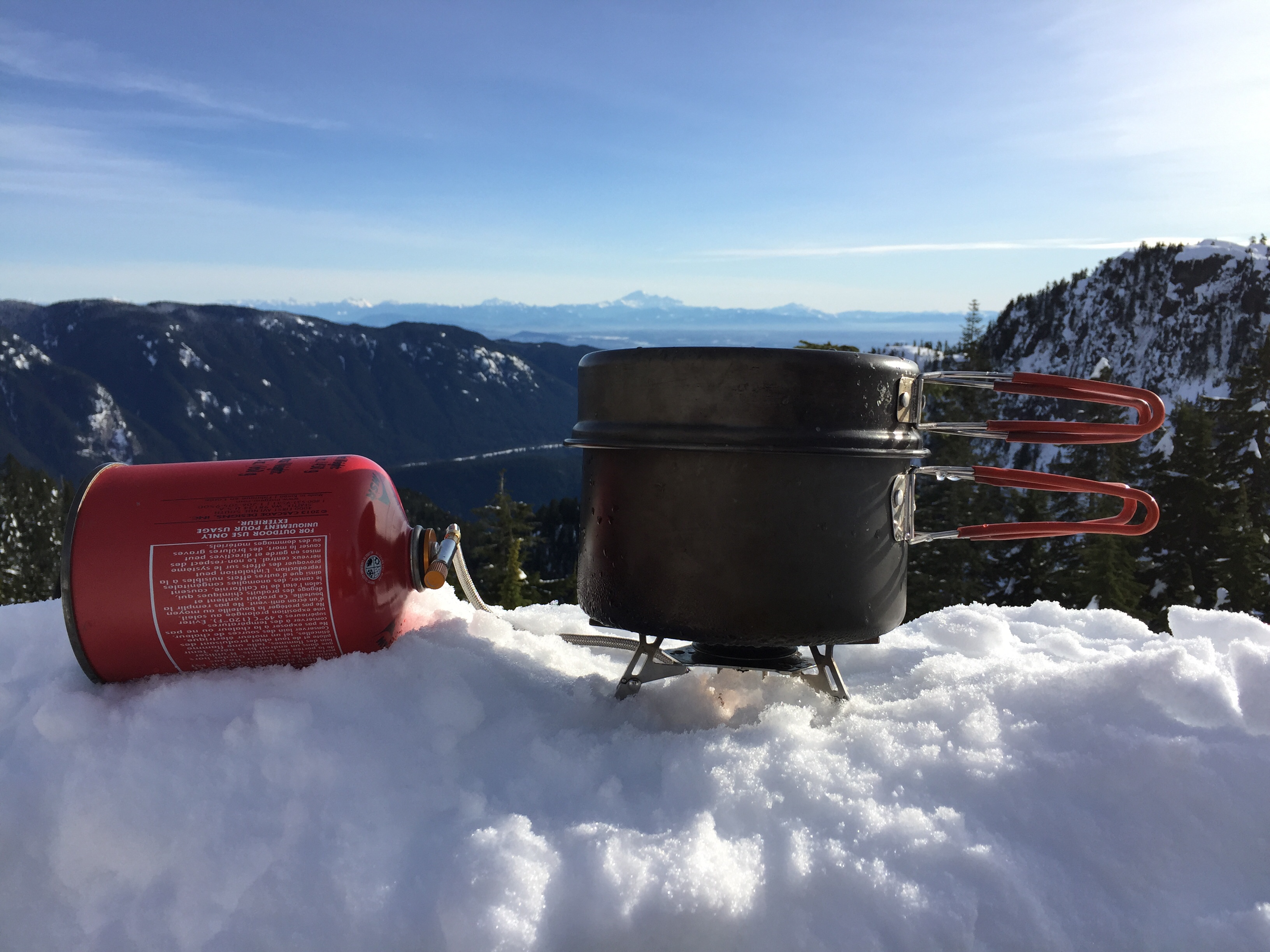 :-: Cooking up some monch, Shane Monks O'Byrne :-:
After about an hour of leisurely-paced skinning I bumped into Nathan Starzynski, who had taken the cheaters way up and hopped on a snow mobile (he works for Seymour). A few of us had taken a wrong turn that would have led to the bottom of the valley, which he swiftly rightened, sending us on our way to the snow caving site.
I somehow made it to there quite early, even with all my viewing stops (there were a lot of people confused on where to go). Seeing as I was there first, I tried to snag the best spot I could for a snow cave and ended up picking a south-east facing slope that had the most incredible view. The sun was high and the air was clear and you could see for miles. The vista looked down onto Surrey (the delta area of Vancouver) which was trapped against the ocean and encompassed by tall, snowy-peaked mountains. The real treat however, was the view of Mt. Baker in Washington state; it was clear as day and dwarfed the surrounding area.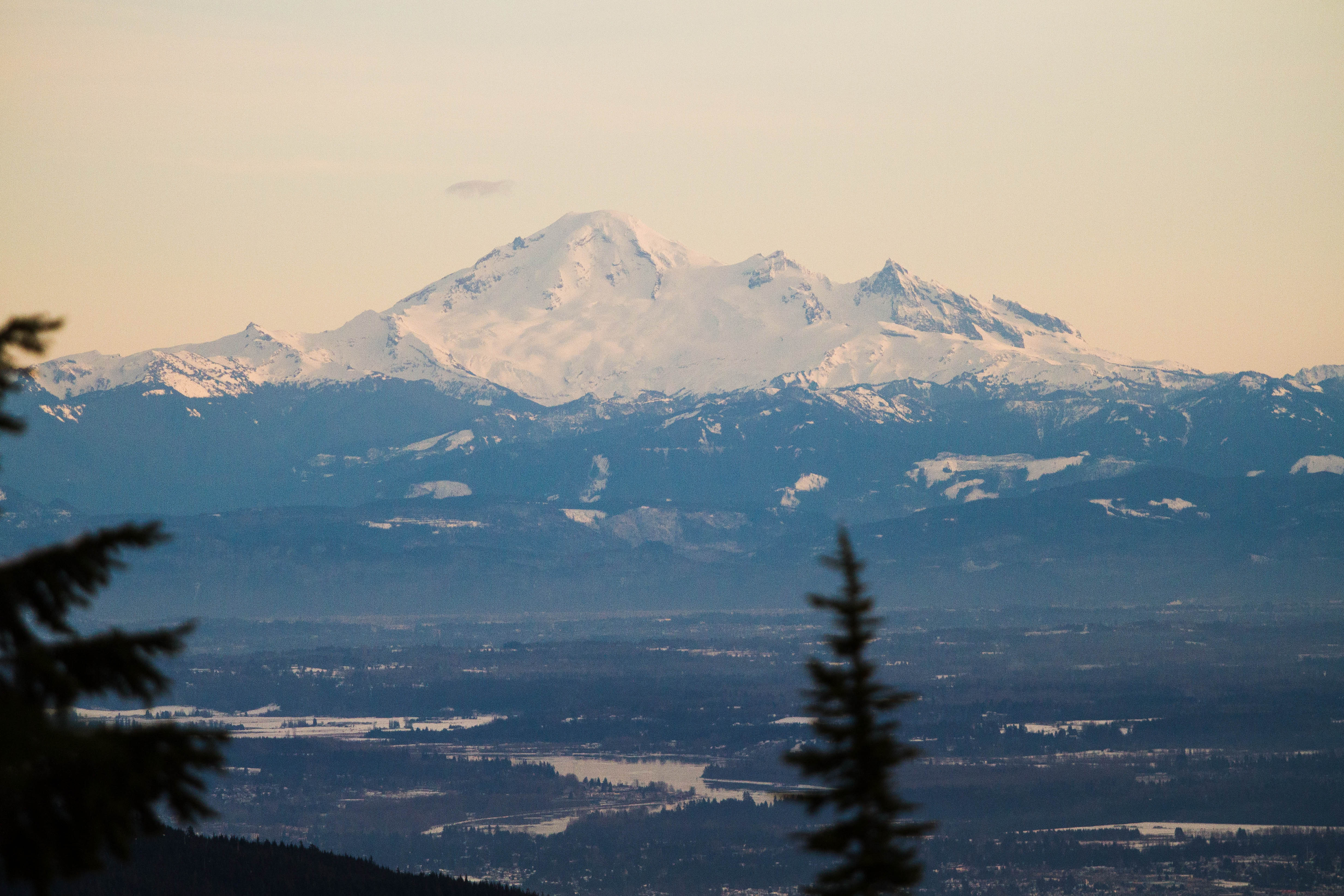 :-: Mt.Baker, Washington, Brandon Everell :-:
Post-haste, I got to work on digging out the snow cave. This thing would have to fit five fully-grown men (one of whom was 6'4"), so there was no sense in dawdling. About fifteen minutes later the rest of the gang showed up, I had made substantial headway and there was now a deep entrance into the side of the hill. My group consisted of Sam Van Stroud, Louis Barrowcliff, Andrew Midwinter and Evan Trofimchuk and between the five of us, we were charging through the digging. At the start, the cave was pretty tight, only one person could work at a time and it was wet, sweaty, tiring, mole work.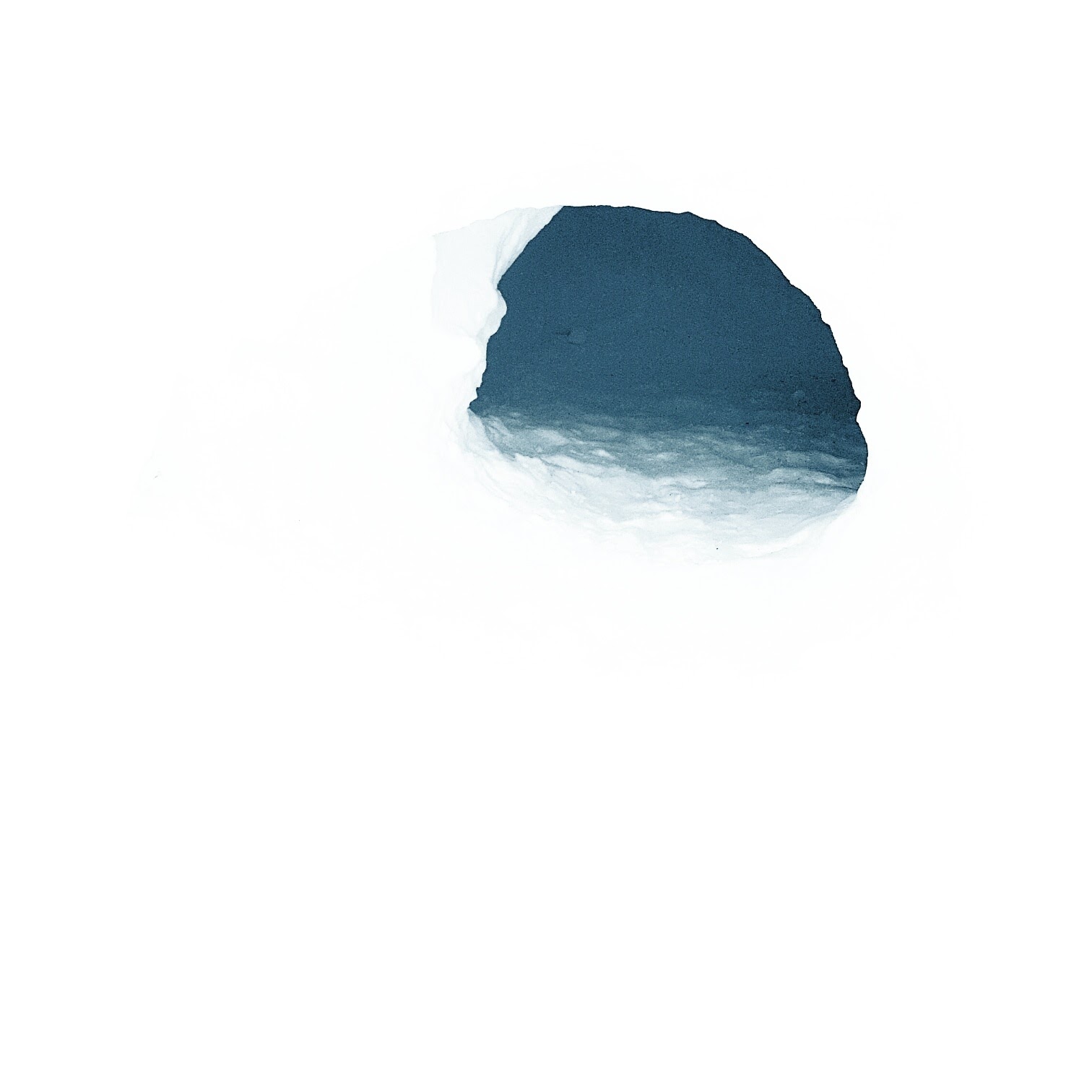 :-: An artsy entrance to a snow cave, Stephanie Lee :-:
After about half an hour we ran into a problem; we had hit rock at the back of the cave – this would call for some ingenuity! We decided instead to make two bedrooms, one to the left and one to the right of the entrance. With three people sleeping in one and two in the other, it would take more time but would be worth it in the end. By this stage we could start to fit two people in the cave, one to dig the cave and the other to shovel the snow out. As the cave gradually got larger the left room was really gaining shape and there was now enough room for a third person to start digging out to the right.
Finally, we were done. About two and a half hours of graft and it had paid off, we had a cosy snow cave all to ourselves! After all the final touches were made we inflated our sleeping pads, puffed up our sleeping bags and laid everything down, ready for a good nights sleep… But only after the party!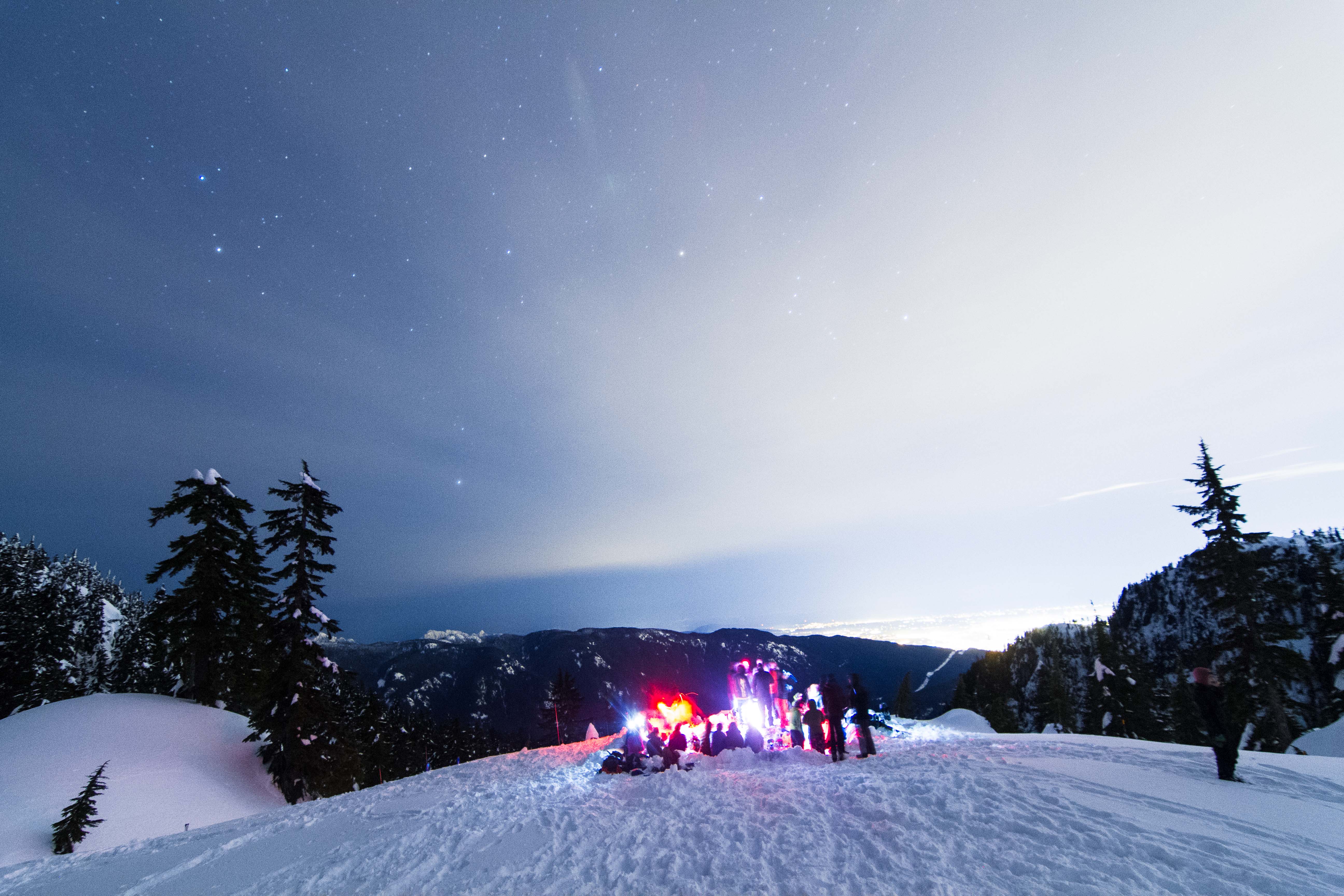 :-: Huddle together for warmth, Brandon Everell :-:
Many people were still building their snow caves and the sun had yet to set so I decided it would be a good time to go and build a ski jump. I found the nearest suitable spot, just a minute out of camp and started piling up some snow. It didn't take long and only 15 minutes later the jump was finished. I was stoked to hit it!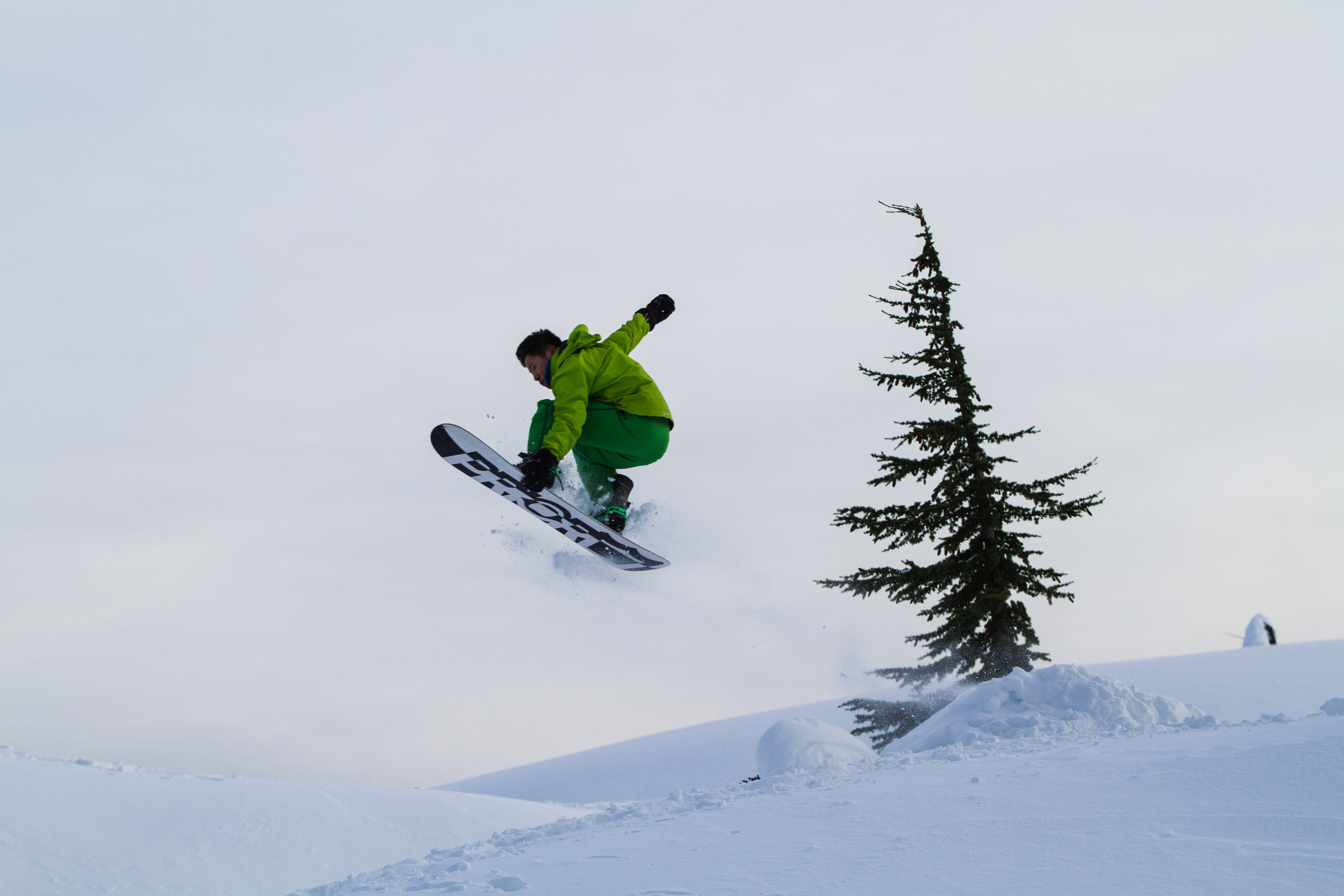 :-: Alex, getting some air!, Brandon Everell :-:
The first couple jumps were a bit dodgy to say the least, I was a bit stiff and rusty and bailed more than once. But soon I found my flow and got some gorgeous whips and a few 180's in too. I was getting pretty tired when Alex, a VOC splitboarder joined me. He downplayed a bit, claiming he too was 'rusty', he then proceeded down the hill, off the jump and straightaway landed a sick 360-grab. This was going to be a fun evening.
I headed back down to camp, the whole VOC gang was chilling around the 'kitchen' area (some make-shift snow-benches surrounding a central platform). Some people were chatting, some were eating and some were doing anything they could to get warm; the digging had people drenched and with the sun on it's was down, it was far from toasty. I had cleverly brought two sets of gloves with me for just this scenario, however I had also foolishly used both sets of gloves while digging. My hands were damp and freezing and I spent half my time that night trying to warm them up. Eventually good-Samaritan-splitboarder, Alex saw me shivering away and lent me an extra set of arc'teryx gloves which made an immediate difference.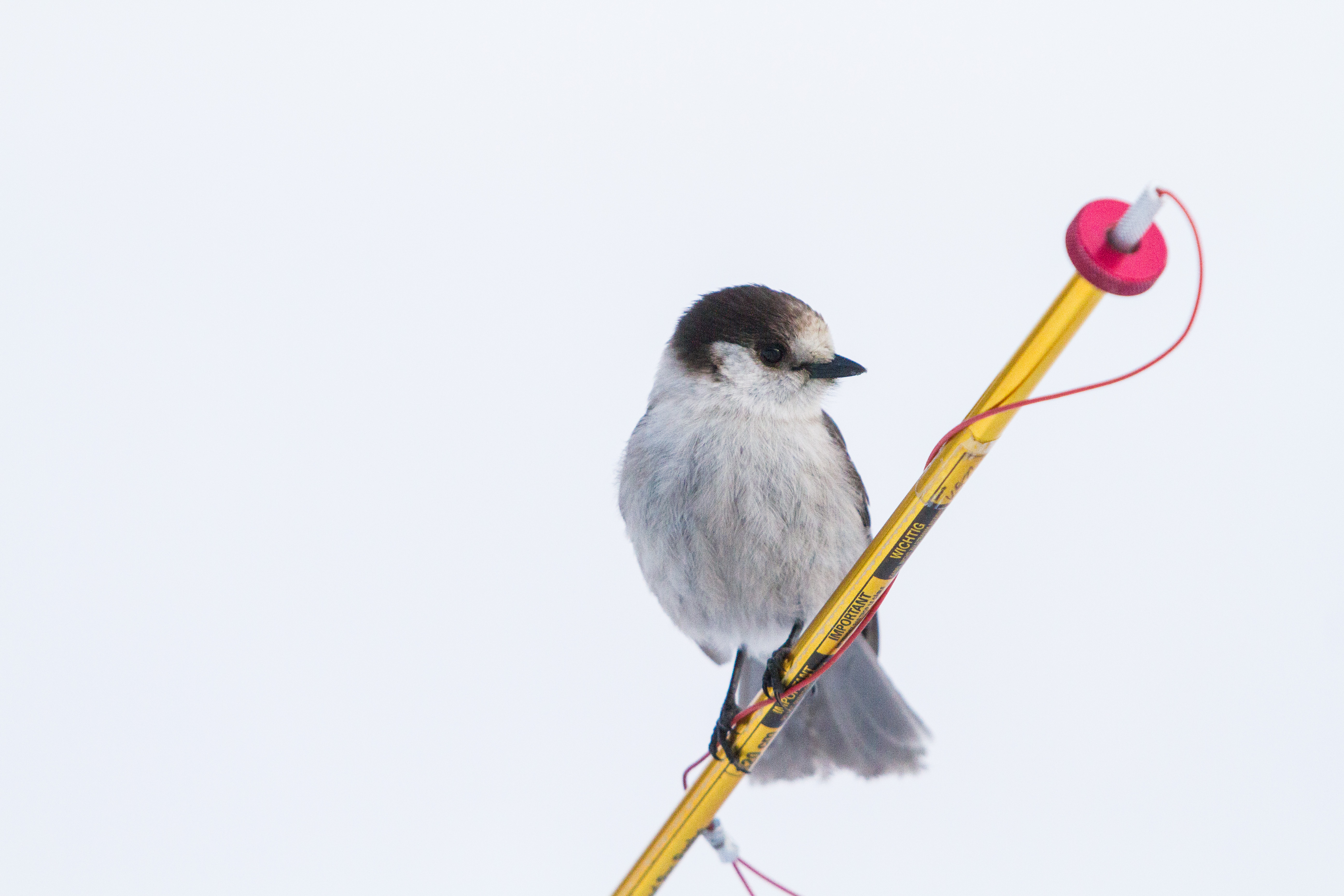 :-: Pretty Whiskey Jack perched on a probe, Brandon Everell :-:
The sun had set, the snow caves were all finished and people were famished. It was time for some good grub. I don't think I've ever seen so many MSR stoves in my life: reactors, whisperlites, dragonflys and pocketrockets, they were all there, a conglomerate of red butane bottles. And the smells were good too, everything from curries to pasta dishes, beef stroganoff to Lobster thermidor (okay maybe the latter was exaggerated).  My belly was rumbling and it was time to get our couscous-chili dish going.
Nathan had lugged a set of speakers of monstrous proportions up the mountain with him. I'm not talking about a small Bluetooth speaker, I mean these things literally filled a 75 litre backpack, came with an enormous subwoofer and required it's own power-bank. This, of course was pretty rad, so what can a man do but hook up his phone and play some filthy techno… So, I did just that.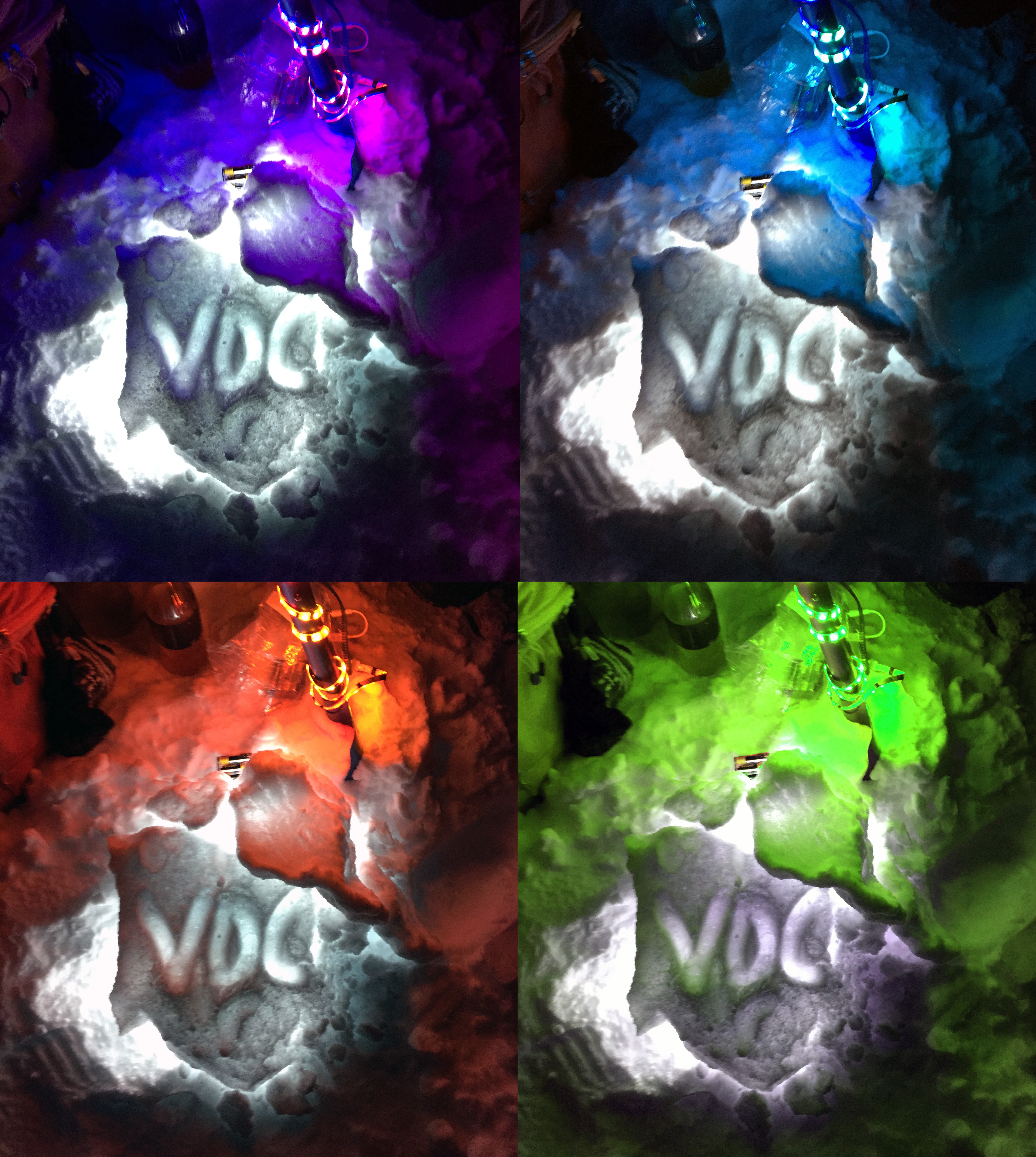 :-: Lights display on the wiggle floor, Shane Monks O'Byrne :-:
Drinks were flowing while people were eating and there was a general good-buzz around the place. People who weren't eating were up on the dance-floor (or as it was renamed: 'the wiggle floor', due to the horrendous dancing). I'm ashamed to say I forgot my own drink but was lucky to be surrounded by good friends who just so happened to also have alcohol. Needless to say, I suckled off their generosity until I was merry.
After a while, more people joined on the dance floor and we got a light display going. Nathan had brought some color-changing-LED's which we wrapped around a snow-shovel and also some fairy lights that we put under a slab of snow, making for a lovely light display. It was all pretty much picture perfect, you couldn't ask for a better night.
The strangest thing about winter camping is time itself. This may sound philosophical, but I mean it. You could be bopping-away, having a whale of a time in the pitch-black, look at your watch and see that it's half seven in the evening. And, I think that's what made the night so lovely, we were tired from the day, had started the evening early and by 10PM almost everyone had hit the hay. I was among the last couple folks awake and we arranged to climb to the top of First Peak for sunrise. This involved setting the alarms for 6AM, which wouldn't be too hard seeing as we were having an early night. I walked down to my snow cave, scuttled in the entrance and crawled into my bag, ready finally, for some rest…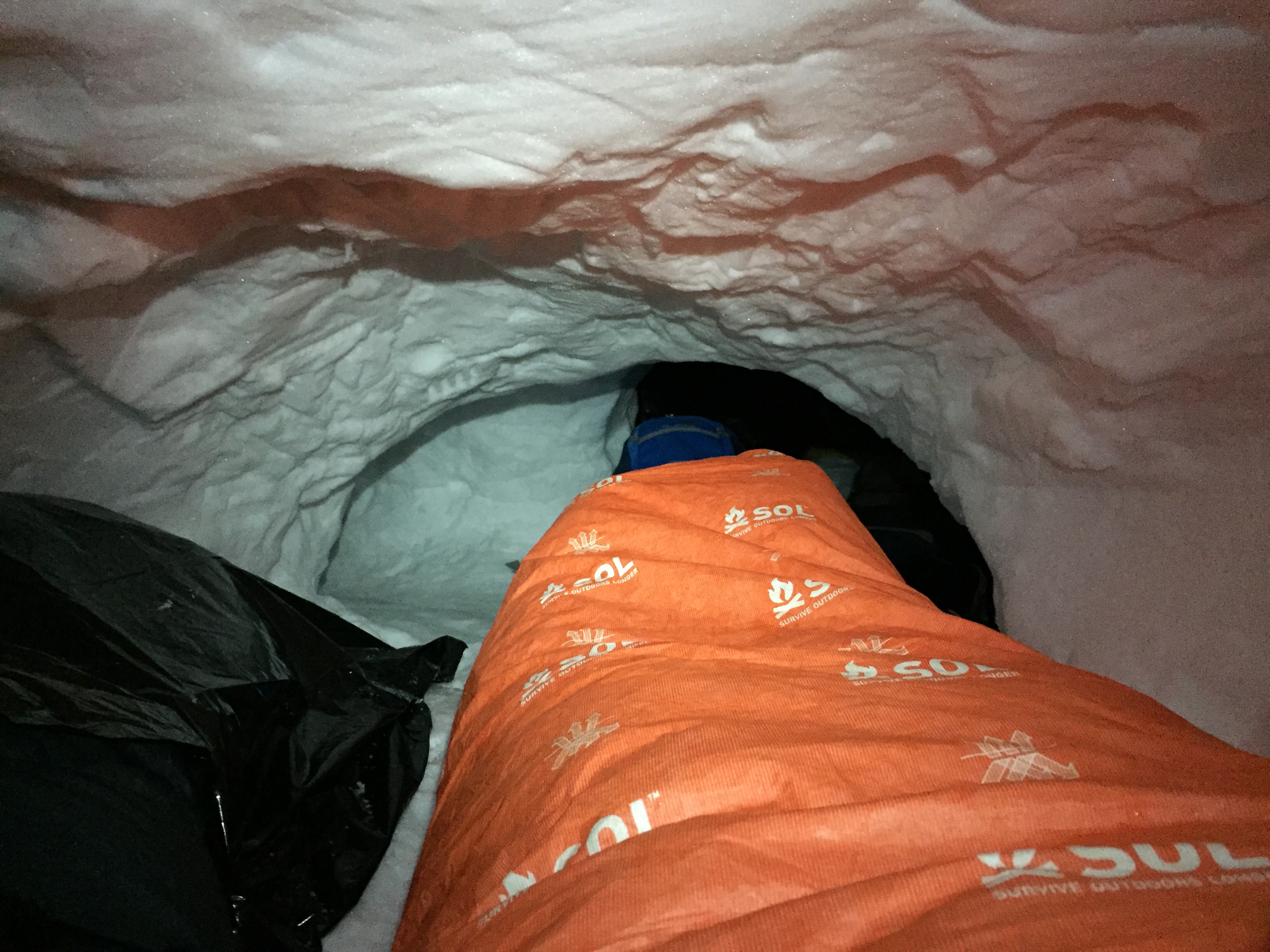 :-: Waking up in a snow cave, Shane Monks O'Byrne :-:
6AM and I was cosy. Cosy enough that I scurried around trying to find my phone so I could hit the snooze button. But by the time I found it, I was awake and already chilled from the frosty morning air. I inhaled deeply, letting the cool, fresh oxygen fill my lungs. 'This would be a good day'. And exhaled.
The rest of the gang in our snow cave awoke and started packing up and soon enough we were ready to go. We walked to the centre of camp, expecting to see others there but it seemed we were on our own! Our troop were hiking except I had decided to skin up, hoping that I might get some decent skiing on the way down. We waited around until quarter to seven seeing if anyone else would stir but after it was clearly a no-show, in the dim light, we set off on our way.
The first part of the climb was mellow enough, skin-up, ski-down over rolling terrain. However soon enough it became clear that I would not be able to do this with skis on my feet – it was far too steep, even for switchbacks. After twenty minutes or so it was getting pretty challenging, even with the skis in hand. We were on the last stretch up to First peak and it must have been a 60-70 degree incline. One foot in front of another, head down, we just kept on truckin', kicking steps into the snow. And soon enough it paid off, we had made it to First peak before sunrise!
:-: A grainy, early morning photo of the ascent, Sam Von Stroud :-:
I like descriptive writing, I like adjectives and I like using complicated words to describe a scenario, 'just for the hell of it'. But there have been a couple of times in my life when it has been hard to put a scene into words on paper. This is one of those times. It was magnificent. We had arrived about twenty minutes before sunrise, just in time to see sleepy-Vancouver awake from her slumber to the west. Street lights flickered off and cars took to the road. The full scale of Vancouver Island was visible far in the distance, beyond our little city and across the sea. To the North, east and south we were engulfed by beautiful mountains. All shapes, all sizes and all unique. From up here we had an even better view of Mt. Baker; what a site to behold! But there, in the hazy distance, a lone peak, impossibly high without a reference point: Mt. Ranier, the tallest mountain in Washington state, standing at 4392m and training ground for some of the world's greatest expeditions.

:-: Our view of the sunrise over Mt.Baker, Shane Monks O'Byrne :-:
How fantastic it is to look out onto such an assortment of mountains, many of which have taken lives and yet they seem to hold such mystery. What is it, that pushes us up to the alpine – is it the lust to prove oneself or a craving to find inner-peace. The age-old question that needs nor has an answer. We do it because we love it. I look out onto the panorama and see several that I will climb and it stirs a deep humbleness; truly, we are dwarfed, overshadowed and dominated by these great mountains. At the mercy of mother-nature.
The sun had just started to rise above Mt. Baker and the mountains were set alight, a bright pink, early morning glow. The white snow reflected all the light that the sun had to offer. We stayed up there for over half an hour, absorbing the surroundings and letting the sun warm our bones. Finally, it was time to leave – this was the fun part! I clipped in my skis and started off down the steep slope we had climbed up. It was icy as hell and extremely wind-swept but it's always fun being on skis, pretty much no matter the conditions.
I left the guys behind me as I made my turns down towards camp, but as I got near the bottom I looked to the right and atop a small ridge was a good group of VOC'ers enjoying the early-morning view! I herringboned over as far as I could before taking off my skis and scrambling up to them. There were about fifteen people or so who had in fact got up there for sunrise, allegedly leaving just after us. We traded stories about the beauty of the morning and I sat around some more – in no rush to head back down.
After a short time, I put back on the skis and headed back towards camp. On the way, I bumped into my snowcave-partners who were on their way back to camp, having come down from first peak. I met them just beside the jump I had built the previous day. Louis chimed up saying we should film a video of me jumping over him as he lay on the ground… courageous. After a short bit of fun on the jump, we all headed back to finally have a spot of breakfast.

:-: Evan, having a good yawn – chilling out after breakfast, Shane Monks O'Byrne :-:
I brought unlimited porridge and granola and by the end of the meal I was happily stuffed, ready for the day. Snow conditions were poor for skiing; it had not snowed in a week and there were windslabs everywhere. No one felt like hanging around so most people started to move out promptly. But first we had an important task to do: collapse the snowcaves! The five of us plus Nathan went down to our cave, lined up in a row above it, ready to start stomping. Nathan had his hero5 out for filming, we played Genesis, by justice and when the scene was just right we all started pounding into the ground furiously, seeing who could break the snowcave first. It was tough work; the cave must have been well over a metre underground and it took a lot of jumping and stamping to finally make it cave-in. By the end my boots were adequately filled with snow and the deed was done.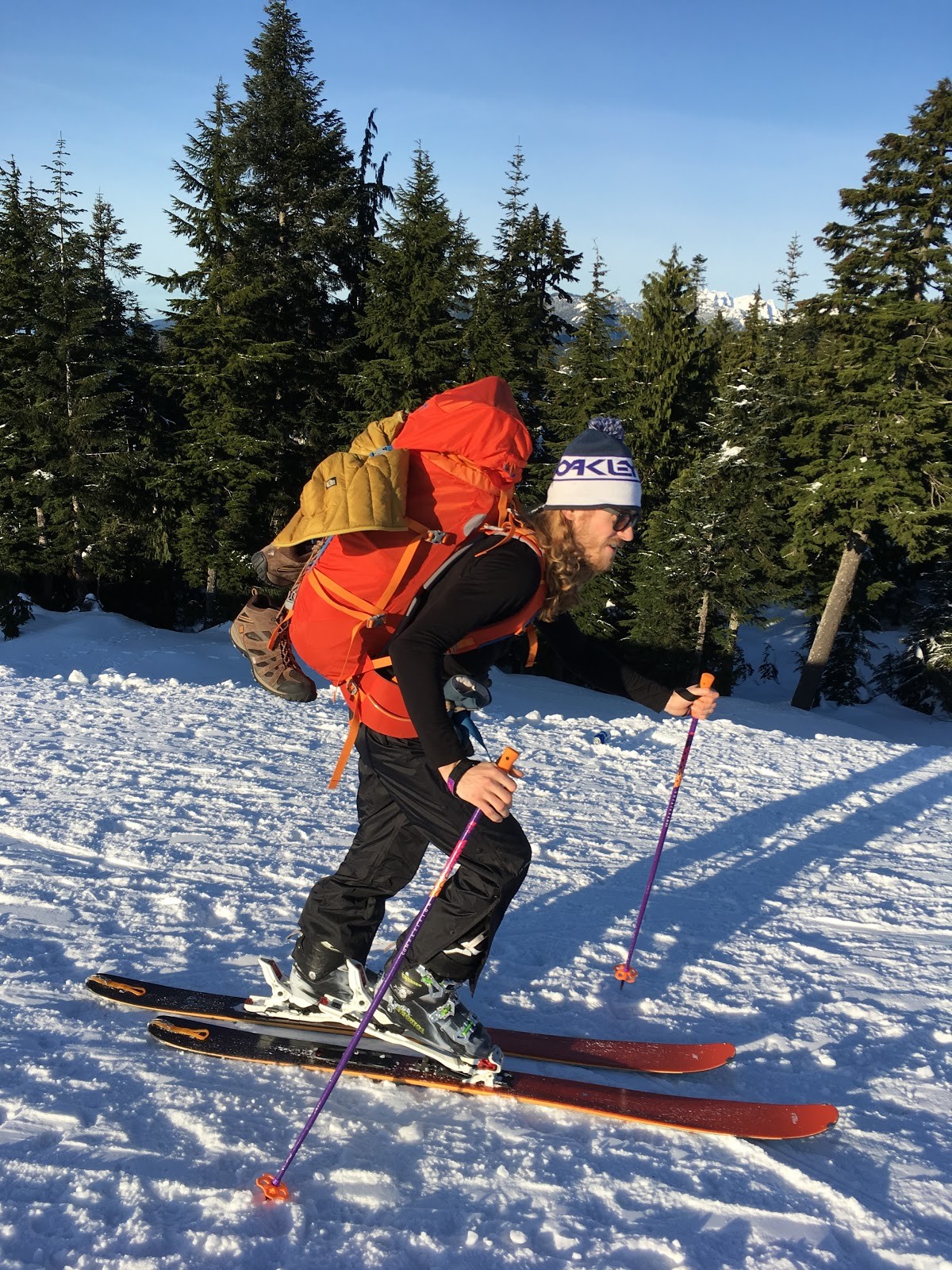 :-: Mountaineering man, me, Evan Trofimchuk :-:
We didn't hang around too much longer, stopping only for a short chill-out on the benches, looking out on the morning view of Baker. Before long, we had our packs on and we started the hike out. I had my skis on, so soon enough I left the group behind and continued my way down to the car, where I would wait for them. It was an interesting descent. I had 15kg backpack on, skiing down a skinny backcountry track while floods of people hiked up in the opposite direction. It became a game of frogger as I skied in out and of them, flowing like water between boulders. Before long though, I was at the car, extremely satisfied with how the weekend had turned out.  While this weekend was a fun group exercise to do, there was also more to it than that; As an active member of the outdoors community, it is vital that you also have the survival skills that allow for a safe backcountry experience. Building a snow cave is playing in the snow for big kids, it might be an enjoyable activity, but it also might save your life.