Trip participants: Josh, Bobby, Nikhil, and Vincent
——————
"You sure you want to be wearing those hardshell pants?" I asked Nikhil as he stepped into my car.
"Nah man, I think I'll be fine," he replied as I started driving.
"Umm… I think you should get some shorts. It's going to be 31 degrees Celcius today."
As we turned around, Bobby asked, "Do you think I need shorts too?" He was wearing softshell pants.
Josh and I simultaneously replied, "Yes."
Nikhil graciously lent Bobby some shorts and luckily he did. It was a hot hot day.
As with any trip with Vin Sanity (aka me), it involves a trip to my favourite restaurant, McDick's (McDonald's). Fun fact, a lot of athletes like eating at McD's. Another fun fact: Usain Bolt, the fastest man alive, ate only chicken McNuggets during his stay in Beijing for the 2008 Olympics. Ergo, eating McD's is warranted.
And rightly so because we hiked over 18 kilometers. Starting elevation at 760m and gained 1323m to reach Cypress Peak (2083m).
We left the car at 9am. Unfortunately I had to park the car further back due to a really rocky section of road that I didn't want to take my family's car over. After slapping on some sunscreen and a couple swigs of Captain Morgan's, we were off!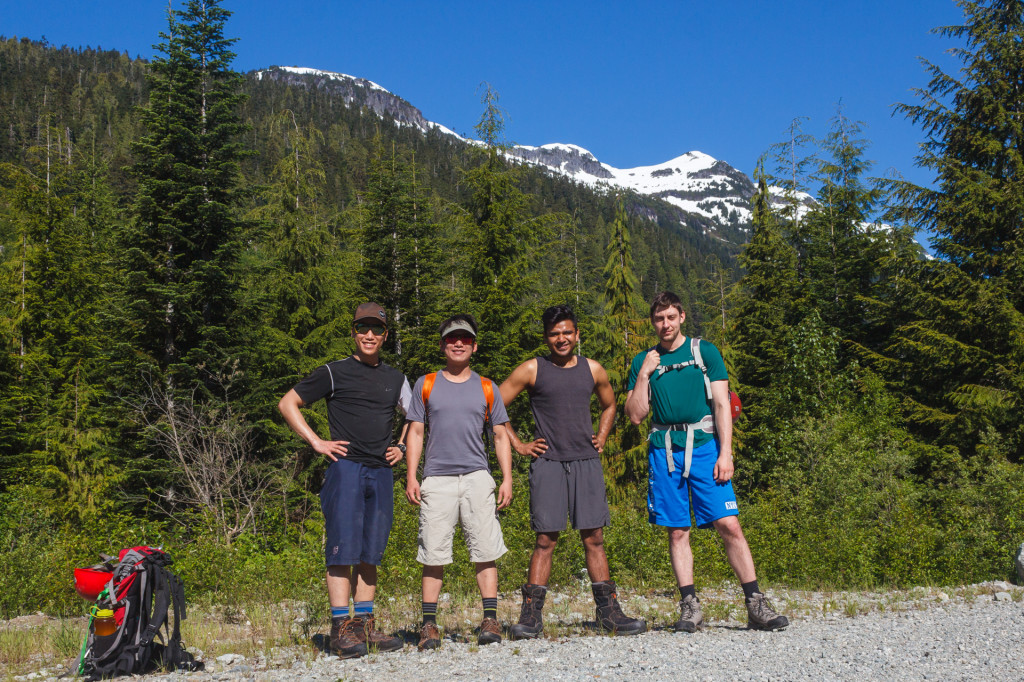 We must've crossed over a hundred waterbars on that deactivated logging road. Good thing I brought my good ol' backpacking boots. Josh on the other hand made the blunder of bringing approach shoes and got wet and cold feet. Don't be Josh. Be Vin Sanity. Wear the right footwear.

But Bobby got the right idea of making a bridge of rocks. I followed suit so that Josh wouldn't have to keep dunking his feet into water. You're welcome mate.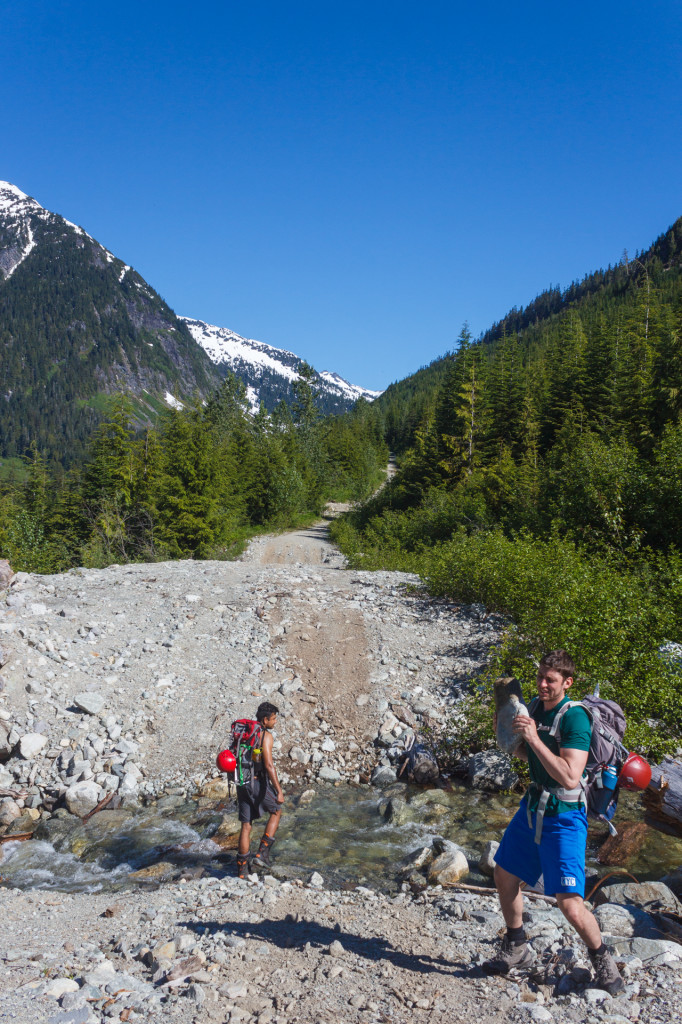 Eventually we made our way to the creek. Man oh man, it was roaring! After some precarious log hopping, we all made it across.
Thanks to the insane past season we had, snow started pretty much immediately after the creek crossing. If I knew and were in any better shape, I'd carry my skis and skin on up.
The rest of the approach was hot! I drank about 4L just on the way up. I carried only 2L and had to refill at one of the rock formations midway up with melt water. Be warned if you do this, the way that the snow interfaces with rock creates a bergschrund-esque danger. While filling up on water, we saw and thinner extension of snow to the right of us collapse and fall into the depths of the 'schrund. We made the intelligent call to move a bit more to the left where rock extended beneath our snow extension instead of a void.
As we approached the top of the ridge, Bobby and I caught sight of what looked like a human at the top of the ridge. But the human form inhumanely slid to the left with an uncanny speed. Weird.
As we got closer, we got to examine remnants of a cornice break. Just imagine get pummeled by a 3x3x4 meter block of ice. Devastating. And there were still bits of cornice left hanging, ready to break and smash anything below.
At the top, we saw that human again but on a snowmobile. Ah! That explains how that person slid to the left so smoothly! We saw them rip up a slope in the distance with their buddies.
Looking onwards at our objective, we eyed what route would work best for our approach. As we had observed from below, there was still cornice danger. The cornice looked massive from below, looking like it extended some 5 meters or more. We decided to give the ridge a wide berth or 5+ meters in case the cornice broke—we didn't want to get taken down with the cornice should it break. And given the high ambient temperature and solar, it could've broke if we made the poor decision to walk on the very edge of it.
Beyond the corniced ridge lay what appeared to be the crux that Matt Gunn describes in his Scrambles book. It was mostly covered in snow so it made sense to just follow the snow until we hit the rock and had to start scramble.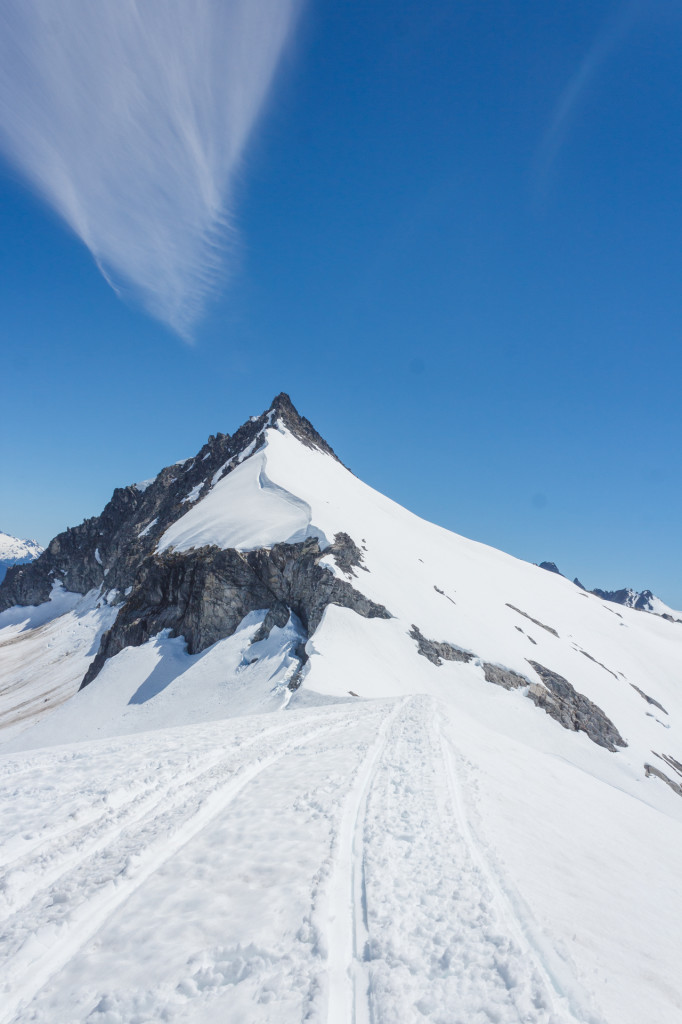 It was an easy scramble. Barely any exposure. A couple loose rocks here and there but all in all, a very fun final push to the summit. 10/10 would do again.
Since I'm currently behind in the Peak Bagging challenge, I had to do what I had to do to get as many points as possible. I stripped naked for a naked summit shot while doing a Captain Morgans pose with a bottle of Captain Morgans covering my family jewels.
After lounging around at the top for half an hour, we slapped on some more sunscreen and made a speedy descent down. It took us 6 hours to climb up and 3 hours to get back to the car. Dang, it was a tiring long day. My big toe hadn't hurt that bad in a long time. I had 12+ hour days in my ski touring boots but didn't have any issues with foot pain after two rounds of boot punching. I guess my ski touring boots are actually now more comfortable than my backpacking boots?
Nikhil and Josh were pretty done too. Instead of hopping over the water bars, they just tromped their way through indiscriminately. I would've done the same if my feet were already soaked from falling into the creek on the way back too!
Get out there and bag some peaks!