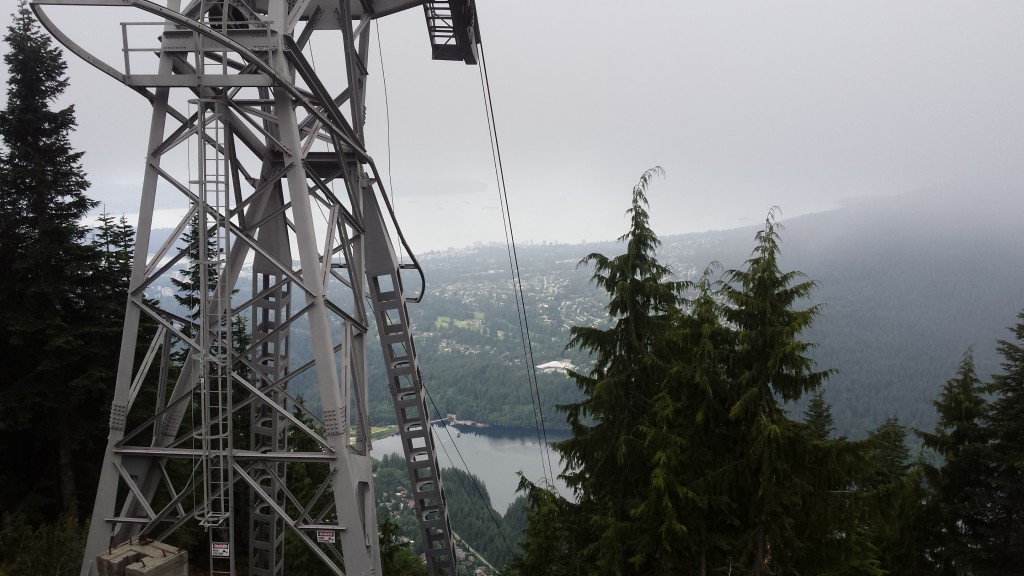 It was Friday afternoon and i´ve got an idea to do a Grouse Grind which is well known like no stairs easy walk. It has been first day after while when the trail was officially open. I have this idea regularly when I forgot how I felt after last attempt and no better plans are in my notebook. I also joined to the VOC during last week so I said maybe someone could join. Harlin joined and we moved meeting time one hour later at 10 am in front of the gate. In the end we met accidentally at the bus station.
When we got off I did a short warm-up, Harlin said that he has biked in the morning and he is ready. When we were both ready I set up my poles. Stopwatches began to run. We knew that we won´t talk too much on the way up so deal was see you by the chalet. As I mentioned it was opening day and number of enthusiasts made the trail pretty busy. What´s new on the trail? Stairs are still there, some of them are new, another old, trail is in a very good shape, wet closer to the top because snow is still around. And no I didn't count stairs, I was just catching a breath and sometimes I glanced on the tree in which part I'm.
Chalet, time 40 minutes, not bad, but not my best. Harlin came couple mins later, also in good time. For descent we had at least two options – gondola or BCMC trail. We both have been on the Grouse many times and we always took a gondola down but not on Saturday. Main hiking season is coming and usually gondola is not waiting for you on the top of the mountain so let's prepare our knees. Way down we spent with chatting and also brought back on the trail one yelling girl who took somewhere a wrong turn. BCMC trail was, surely, less busy. To get down took us less than an hour and joke let's make a second lap didn't find a acception so we caught a bus, seabus and skytrain.
What´s next from this area? Maybe Grouse Grind just like a warm up(:D) and then continue all the way to Goat or Crown Mountain.