My girlfriend, Georgie and I had been trying to organize a canoe trip for months but leading a busy life can make freeing up time a difficult task. We finally managed to book off the 17th and 18th of June for an overnight canoe trip up Indian Arm. We had heard a lot about the popular kayaking route just East of Seymour and were stoked to get up there for ourselves. It was my first time renting the VOC canoe and I had only seen a couple of people ever take it out before, I couldn't wait to get out on the water in the light-weight, red canoe with a yellow 'VOC' emblem spray-painted on the side.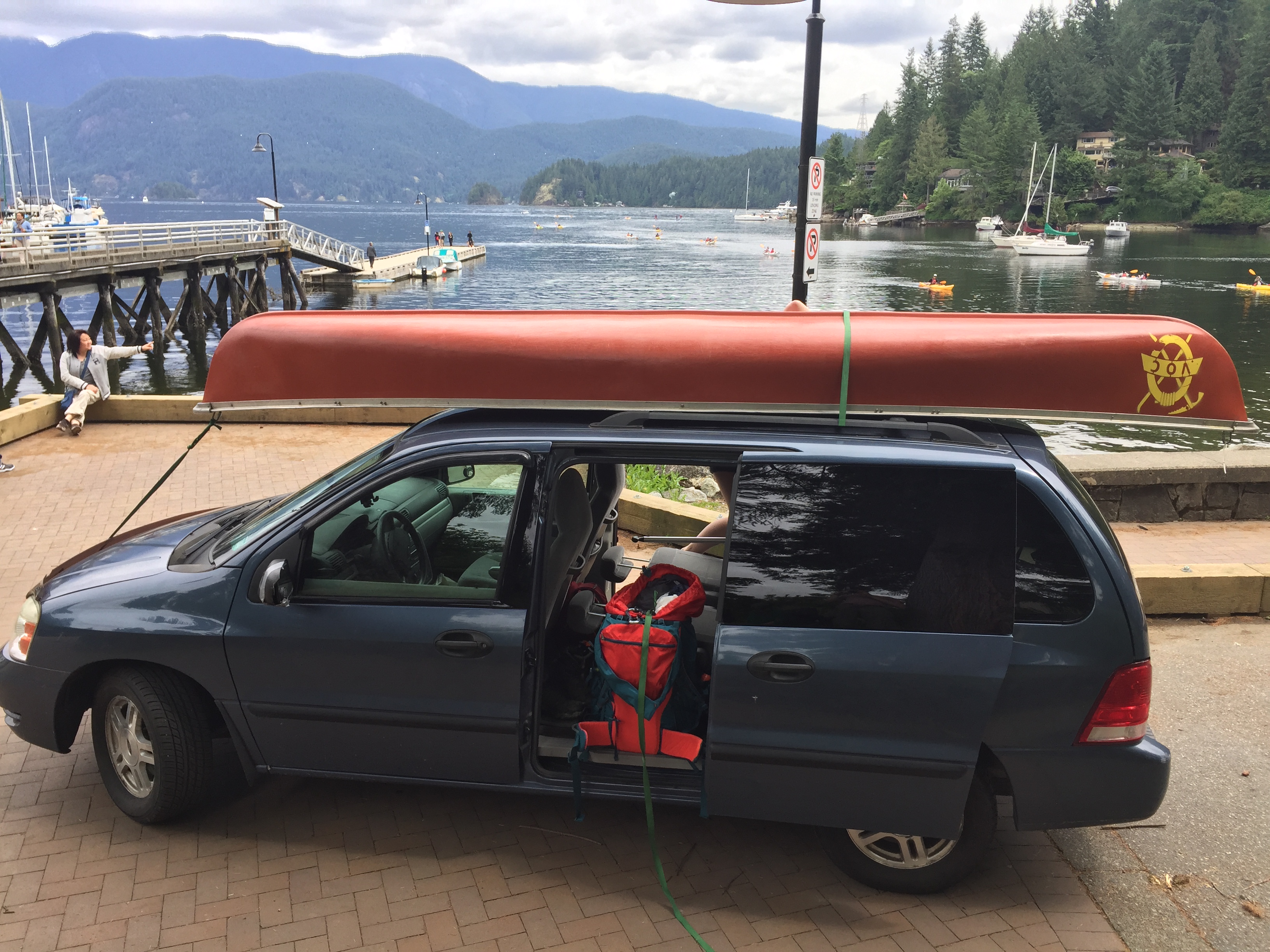 :-: I'd weld it to the car if I could :-:
We arrived at Deep Cove at 12.30PM on a warm, sunny Saturday and the place was buzzing. Neither of us had ever been there before and we were taken aback by the beautiful and quaint little town. We were hard put getting a parking spot because of the crowds so I off-loaded the bags, the Canoe and the Georgie at the beach beside Deep Cover Kayaks and drove about 10 minutes away to find somewhere to park the car overnight.
After having a quick coffee and a donut, by 2PM we were out on the open water and heading North-Eastward up the fjord, both of us ecstatic to finally have a weekend to ourselves. The houses we passed on our left were incredible; the dream homes etched into the cliffs had magnificent views and all had personal jetties. As we canoed further North and the houses thinned out, it was evident that many of the homes were only accessible by water.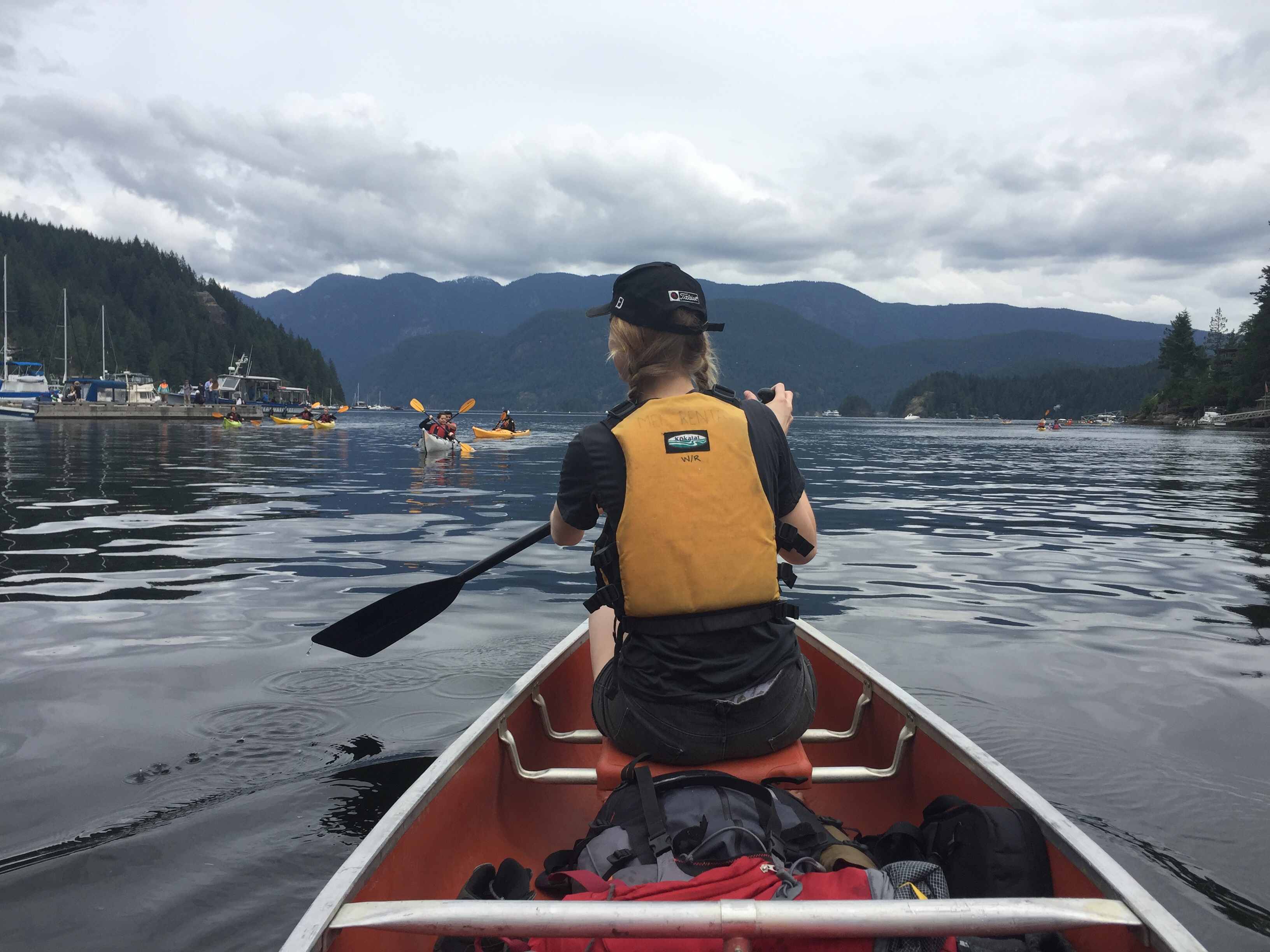 :-: Canoeing out of Deep Cove :-:
After a short while we passed by Twin Islands, the first camping spot on the Indian arm and the furthest distance that you're allowed along the fjord if you rent from Deep Cove Kayaks. Luckily, we had a lovely VOC canoe instead so we happily paddled onwards, soaking in the freedom of it all. There was no rush and we knew that there were more campsites further ahead.
The trip was stirring up memories from back home in Ireland, the glaciated and heavily forested surroundings reminded me of a previous canoe trip I had taken with Georgie on Lough Dan, an equally beautiful place. The mountains were higher here though, they towered above us and on many there were still patches of snow to be seen, even in late June. We were in awe of them and craned our necks up, down, left and right absorbing the fantastic surroundings.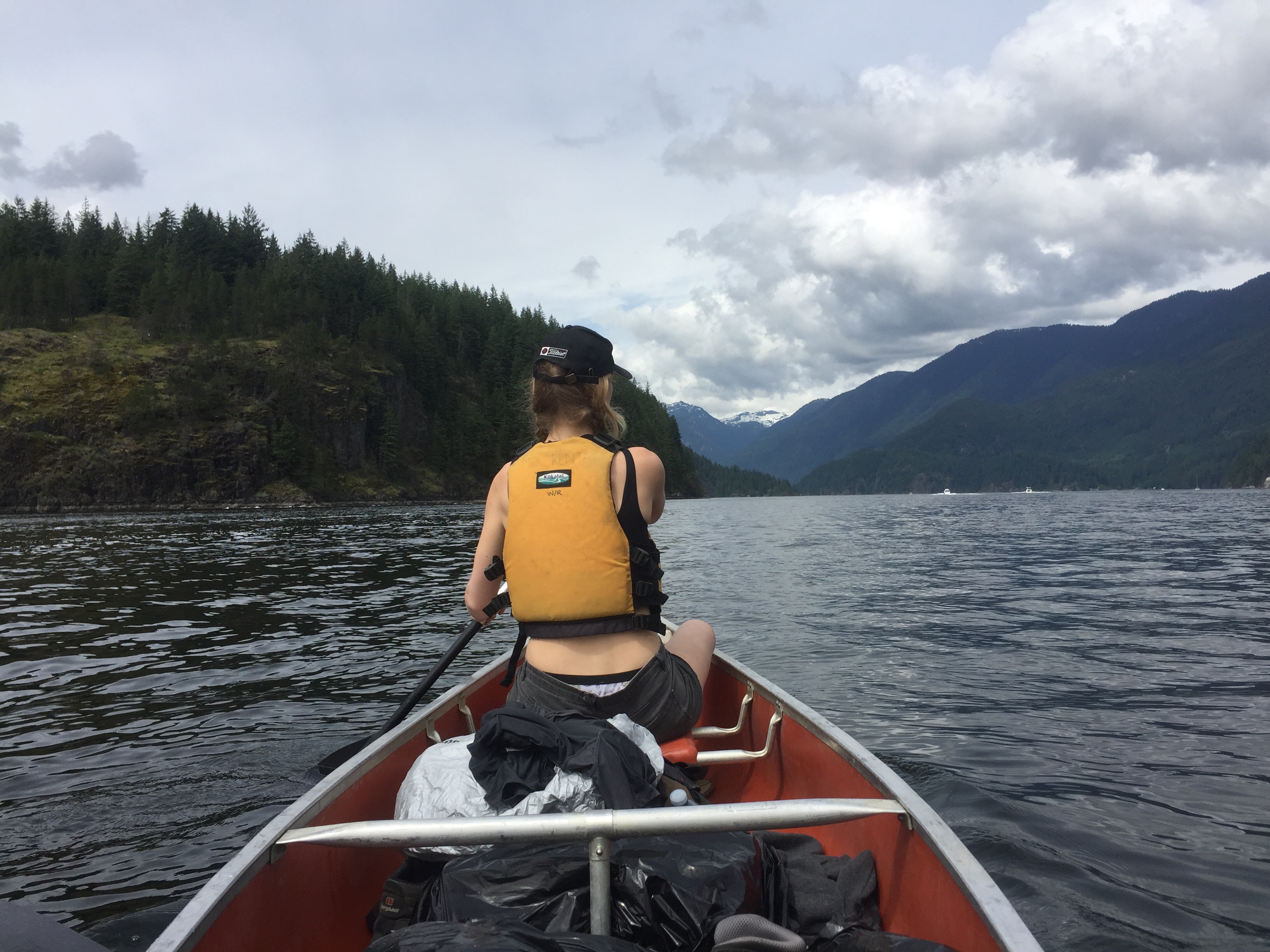 :-: Beside Twin Islands :-:
Some friendly seals came over to us as we passed Buntzen bay, about half way up the fjord and followed us for a short while. There were some large, unsightly factories on the East side of the water and we wondered why they hadn't been torn down; they seemed to take away from the remoteness and magnificence of the place – a sign of civilization where civilization needn't be!
We stopped on an abandoned Jetty for a spot of lunch just North of Buntzen bay, tying off the canoe and munching on some crisps (chips) and a sandwich and rehydrating. We had contemplated taking a dip but it was a bit windier here and the cloud had shrouded the sun. When we had eaten an adequate sufficiency, we were back on the water and whizzed up Indian Arm with the wind at our backs and the rising tide pulling us in.
:-: Coming into Buntzen Bay :-:
The Occasional obnoxious speed boat would pass us by sending a rocky wake towards us, even if I tried to flag them down. A couple of times some water actually came in over the side, spooking us a little – capsizing a canoe is a far stretch from fun. Soon, we approached Croker Island and saw Berg's Landing campsite on the left. It was a relatively flat bit of land amidst towering, cliffy mountains and by the time we landed it was 6pm, giving us plenty of time to set up camp and relax in the evening.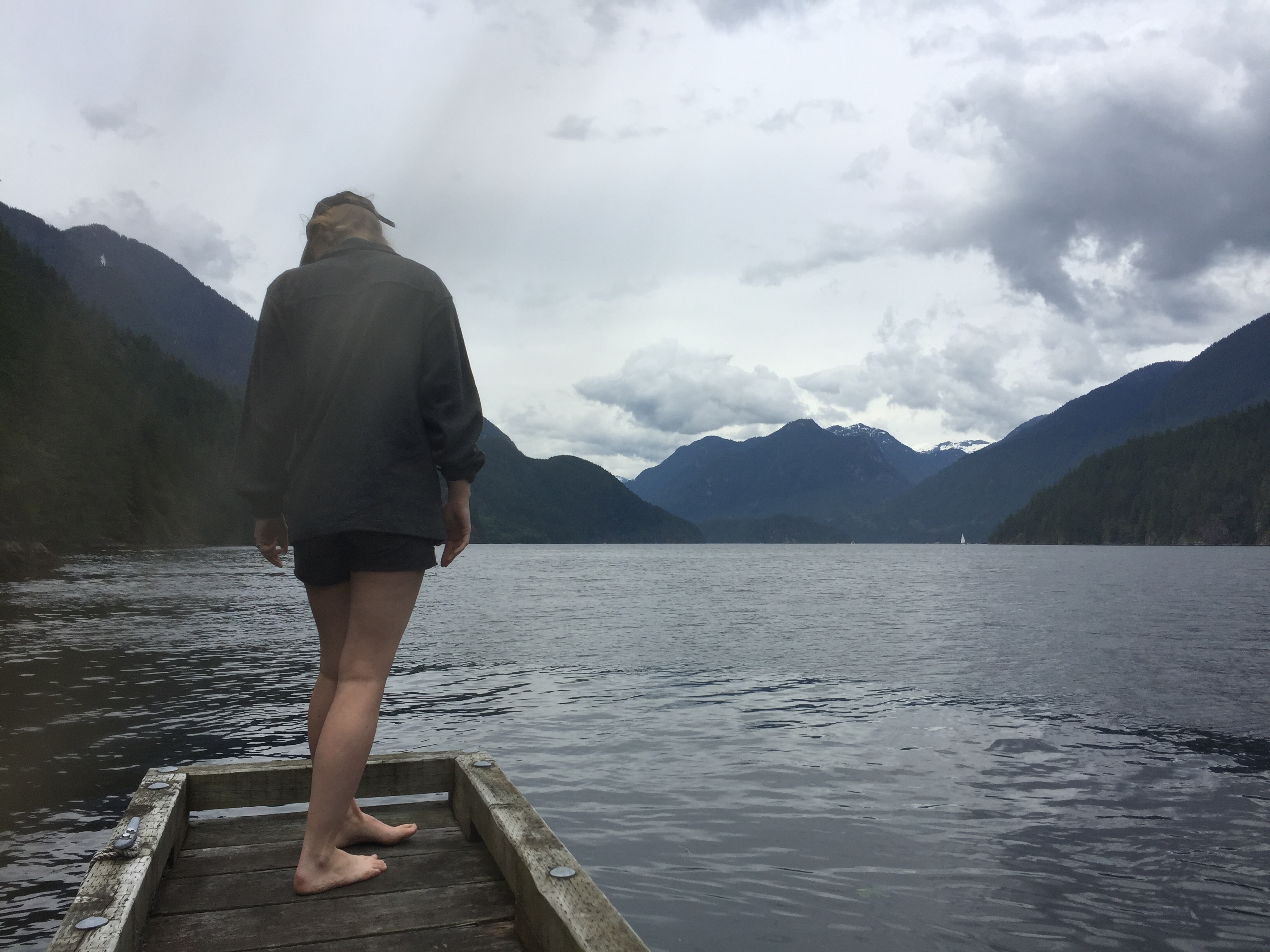 :-: Lunch part 1. :-:
We pulled the canoe ashore and rigged a lean-to shelter with my tarp above it. Our view looked South onto Indian arm and it was truly magical – we couldn't have snagged a nicer spot. The low-hanging, wispy clouds made for a picturesque and mysterious vista, masking the towering peaks above.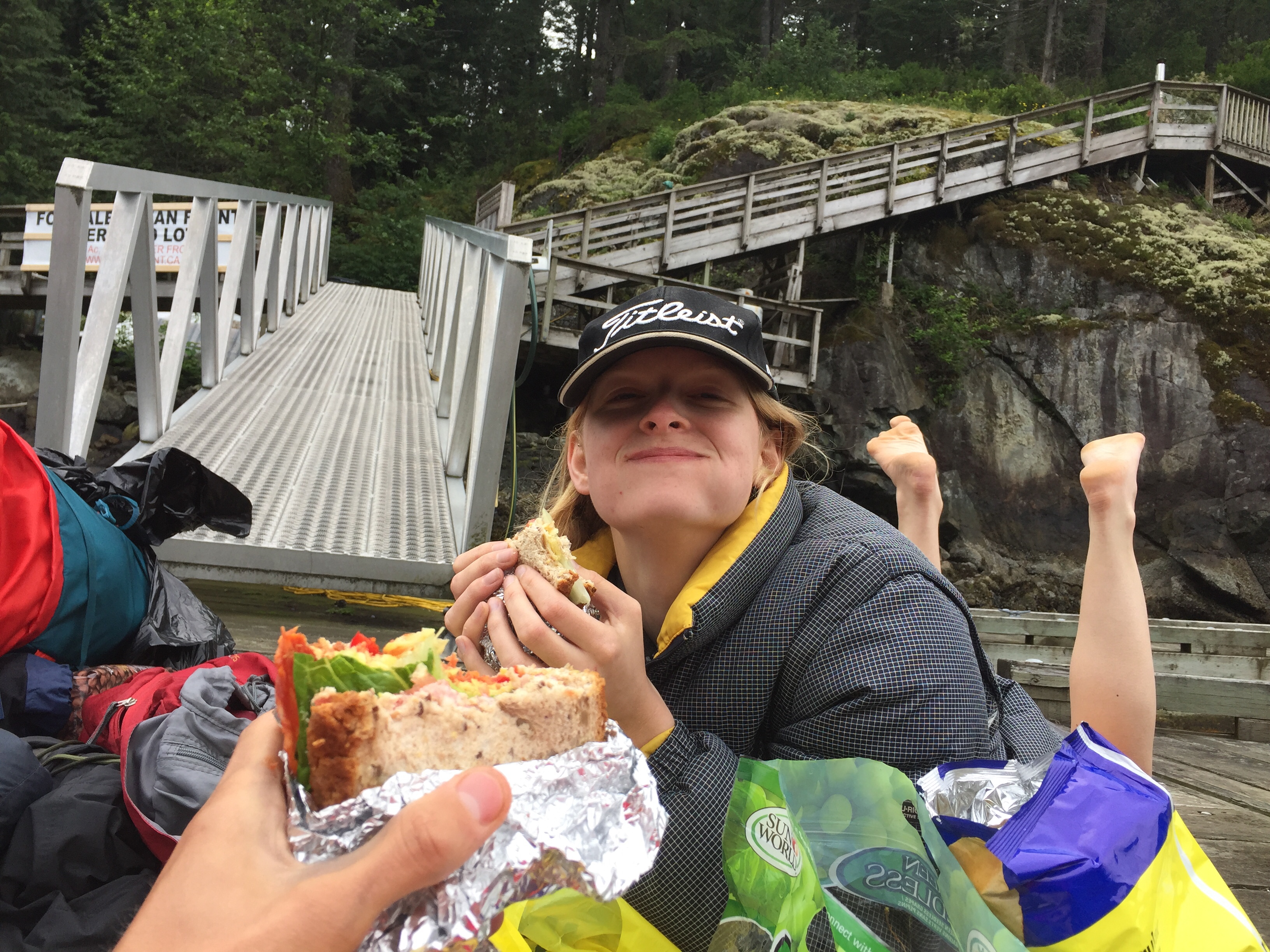 :-: Lunch part 2. I'm sure she'll love me for uploading this :-:
A fellow camper came over and greeted us as we set up the tarp; she had been here on her own the past 5 days, despite the rain storms that had ripped through. And she seemed happy, clearly content in the tranquillity of the place – no rain would dampen her spirits. But other than her, we were on our own and very much looked forward to our own place of peace.
When camp was set up, we lathered ourselves in bug spray and sat out on the rocks taking in the views. We meditated for a while; at first I meditated as I usually do, feeling each part of my body and relaxing it finishing with my head. After my body was fully relaxed, I listened. I listened and tried to pick out every district sound I could hear: The roaring of a river behind me, the mosquito buzzing at my ear, the lapping of the waves on the shore, the breeze rustling the branches of the trees and to my own breathing.
:-: Dry land! :-:
We popped our bottle of Chilean red wine and enjoyed it throughout the night. Georgie kicked my butt at beach tennis but I kicked hers at uno. And as night started to fall we couldn't have been happier. With the last remnants of dusky light we started to cook up a delicious vegetarian bolognaise.
It was fully dark by the time it was finished and under the light of our headtorches we filled our bellies with food. A little too much it would seem as we started to get full when we were only halfway through. Still, when you've got a good case of the munchies, you'll eat anything. Soon enough, it was all gone. As was desert…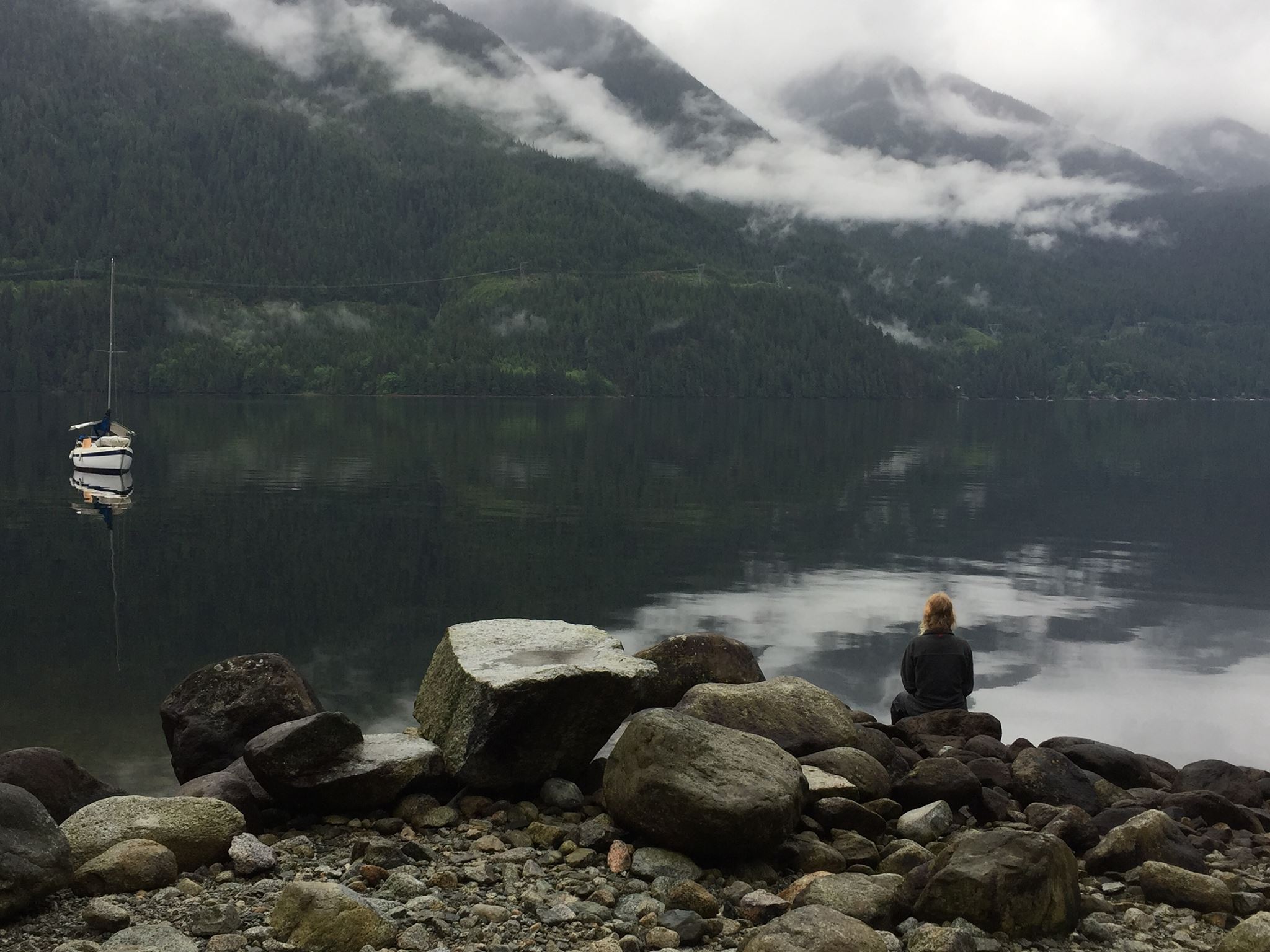 :-: Meditation on the rocks, shaken not stirred :-:
Full of content, we fell asleep under the tarp, the pitter-patter of rain lullabying us to sleep.
We woke late, in no rush to get home, especially with the consistent rain. We cooked up a fierce porridge and went over to the local river to fill up our Nalgene's (I even got to use my Sawyer filter on the water! See, it wasn't a useless purchase). While we were there, we decided to skinny dip in the icy water, and boy was it icy. As an Irishman might say: 'your goulies would shrivel up inside you'. It was a quick in-and-out, that's for sure. We had some more morning meditation before packing away the wet tarp and everything else and at 12PM we were in the canoe once more, heading back to deep cove.
:-: Our tarp setup over the canoe :-:
Aside from the consistent drizzle (which didn't bring us down!), we were in luck, there wasn't a drop of wind and the tide was going out, pulling us with it. On the way back we pulled in by a waterfall on the west bank of the fjord and enjoyed it for a short while. There were hundreds of jellyfish floating around the plunge pool; kind of weird, they must enjoy the turbulent water.
After only three or four hours we were back at Deep Cove, a little damp but safe, sound and thoroughly reinvigorated after a fantastic weekend! There's no nicer way to see an area than by canoe (although skiing is pretty good) and I would urge any competent VOCer to take that baby out! It's not used as much as it should be and for such a light-weight canoe it's very stable.