On July 15th 2017, several VOCers were able to gain invaluable skills from the ever-knowledgeable VOC alumnus Sam McKoy. The wonderful Else Bosman and Luca Malaguti, participants from the last year Alpine Skills course, were also there to impart their expertise. Participants included myself (Heather), Genevieve, Esther, Bobby, Mirtha, Arash, Lukas, Glen, and Steffen.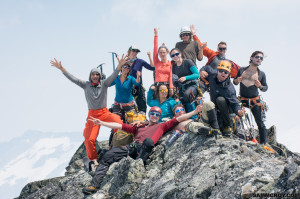 About the Alpine Skills Course: Sam McKoy works summers with NOLS as a mountaineering and hiking instructor and winters as an ACMG Ski Guide. This is not a guided trip: however; it is a trip to promote epic VOC adventures by passing on little tidbits gained from Sam's past VOC and more professional experiences. One of this course's goals is to allow its students to gain confidence in the mountains, so they might lead and teach future VOCers.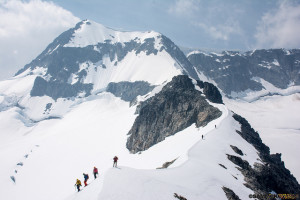 We left Vancouver around 5:30 am Saturday morning, regrouped briefly at Galileo's and set off for the popular Wedgemount Lake parking lot. With our heavy packs, we steadily gained the 1160 meters in 3.5 hours. At the lake, we found an appropriately rocky campsite within walking distance of a pristine stream (camping on the harder rocky area serves to reduce the environmental impact of this sensitive alpine environment – vegetation up here grows by the inch and dies by the foot). Afterwards, we headed for the Wedge Glacier where we practiced: walking on ice with crampons, different techniques to overcome obstacles on glaciers, protecting yourself with ice screws, and traveling with rope teams. At around 6pm many of us went for a refreshing swim before dinner. Everyone shared a bite of their intricate meals; Mirtha's spicy peanut rice noodles, Luca's homemade vegetarian spaghetti with "meat" sauce, Else's delicious "Dutch" mashed potatoes and sausage shloop, and Steffen's "anything with chicken in it" meal. It was a chilly evening for July and we went to bed early for a big Sunday!
On Sunday we woke to a nice morning, got out of bed and had our big breakfasts. As we packed our bags, it started to rain, with increasing volume until the snow came. We waited it out for 1.5 hours, but thanks to caffeinating that morning, not many of us got in a powernap. The rain subsided but the clouds remained low, so we set off for a group of rocks perched scenically above Wedgemount Lake.
This group of rocks was used for various practice stations such as: alpine rappelling, scrambling, protection placement, knots, and anchor building. We moved through these stations, all the time receiving little tricks-of-the-trade from Sam. The second half of that afternoon was geared toward crevasse rescue. With a little overview and our G1 training, our teams were able to perform efficient 2:1, 5:1 and 6:1 crevasse rescues in no time.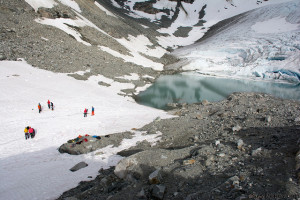 Feeling famished and cold around 6pm, we headed back for some food. Somehow, able to suppress hunger for pleasure, Luca, Bobby, and Lukas ice climbed on the steep glacier walls for another hour. We ate and laughed until it was time for bed, it felt like Christmas Eve, all of us were stoked to attempt the class AD (assez difficile) NE arête route up to Wedge Mountain.
We woke up at 5 am, had a hearty breakfast and packed our packs with crampons, ropes, and snacks. We set off for the toe of the glacier and roped up in 3 rope teams of 4 people. We started from the toe around 8am and set off together. We had scoped out our route during the days before and now on the glacier, we were pleased to be moving towards our goal. Looming to the North West was a thick grey haze, an unpleasant reminder of our forests burning in the interior. Luca lead the first >40 degree snow and ice slope. After feeling a little exposed at the top of this steep section, we gained a valuable lesson in strategic picket placement, but it all worked out. After a quick snack break, and almost dropping one lunch into a crevasse, we looked towards the daunting massive cornices hanging a ways off. Sam, armed with our full stock of pickets, led our rope teams up another steep snow slope to the saddle that continues onto the NE arête. After some contemplation of weekend objectives, snow conditions, and time management, we decided against summiting. As Sam says, he can't even count how many times he has had to walk away from a summit opportunity. Sometimes, you just need to know when to call it. After this, it felt like we had all the time in the world to get down, so we began the faffiest ridge scramble of all time. Culminating in an exciting alpine rappel, Glen was the first brave soul to trust the dyneema-slinged rocks to his body weight, which took a long time for 11 of us to get down. At the base of the rappel was an intimidating snowy and icy slope.
When we got enough nerve to move, it was not so bad. After practicing some fun self-arrests, we slid down the snow slope, roped up, and jogged down the glacier (which some of us enjoyed more than others). After a second dunk in the lake we walked down the steep Wedgemount trail. Most of us finished with extremely sore feet, but were greeted by Genevieve's bag of local and delicious cherries.
Thank you Sam McKoy, Else Bosman, and Luca Malaguti for donating your time to teaching some VOC weirdos the way of the wild! We all have heightened our goals for the summer with our newly acquired skills.
Written by Heather Filyk
Edited by Glen Healy