2017.12.15-16
Partcipants: Lucy BP, Anne V, Else B, Joe OB, Jeff T, Martin C, Flo M, AlbertoCS
Flo and I had been talking about skiing SE slopes of the Black Tusk while Garibaldi Lake was still unfrozen and blue. Joe had started an email faff two weeks in advance. We combined the two, and named the trip the Faff Task, or the to make things easier, the Faff Tusk. It wasn't that faffy, if you consider that there was only about 90 emails to get things sorted. Four participants would attempt to climb Black Tusk, while the other four would concentrate on doing beautiful turns with a view of the unfrozen lake. But then, we had a slight issue with the car spots. Lucy is good at organizing things, and suggested the below pick up map, which worked out quite well!
Conditions report: spring-like snow, most of us carried skis on our packs until the junction at 6.5 km. It was hard snow and rather sketchy at times, we all wondered how marginal it would be on the way down. Some skinned up with crampons, some hiked with crampons, some simply hiked.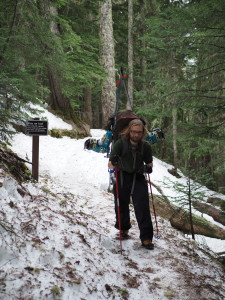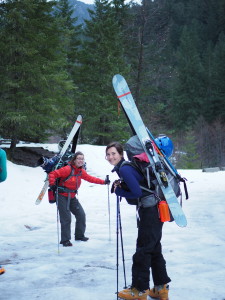 At the Black Tusk/Panorama Ridge junction there's an outhouse, so we dumped our camping gear and went up to ski a couple of laps. We had been pretty efficient getting up, only about 4 hours overall from car to camp.
Soon we realized that: Garibaldi Lake was frozen, it was really cloudy, the snow pretty hard, the forecast was for snow. Far from the trip we had dreamt of…of warm weather, blue skies and the pretty unfrozen lake. We skied snow similar to the one I've learned on in the Pyrinees, so I kind of felt at home. Martin said it was like skiing in the resort, without the crowds. We didn't see anybody, except for two fast trail runners with microspikes and two skiers on the way down on Sunday.
Being almost the shortest day of the year, we returned to camp at 4PM, set up the tents, ate and faffed until we had nothing else to do but sleep. The climbers would set off at 7AM for the summit, the skiers would wake up at 7AM for a relaxed breakfast after nearly 12 hours of tent rest.
The above photo is of Flo skiing on Sunday after a layer of 5-10 cm of fresh snow that fell overnight. Visibility was good enough for skiing, but not so good for climbing (see below photo by Else B), so the climbers abandoned their plans and we all reunited to ski a couple of laps before heading back down to the cars.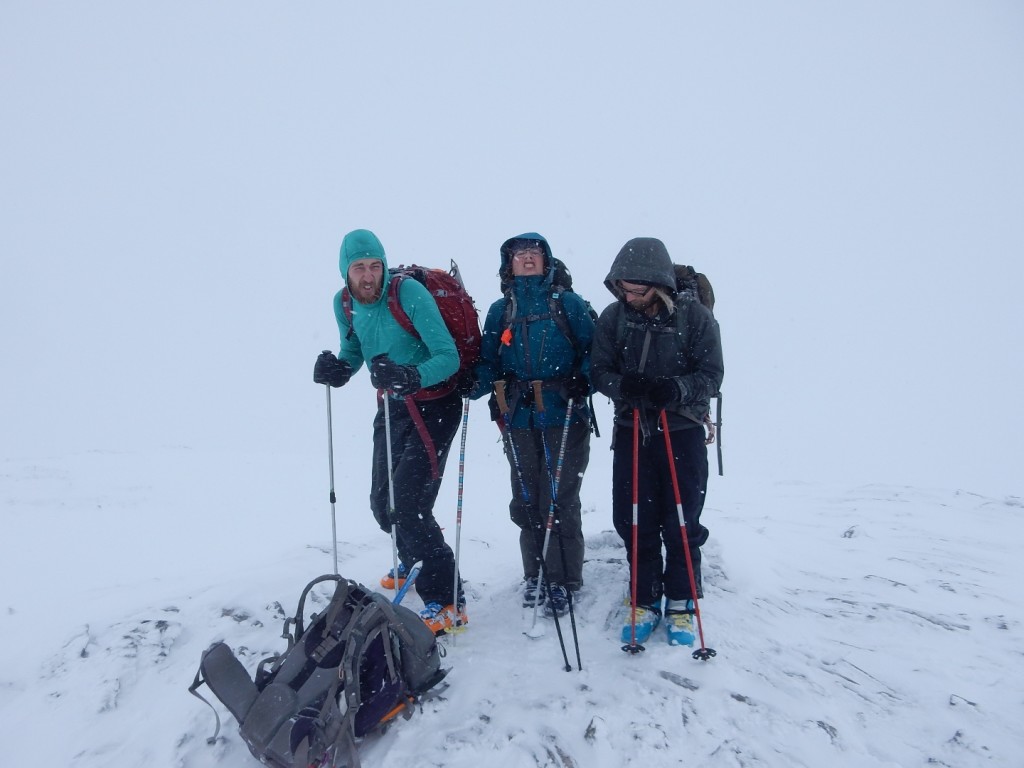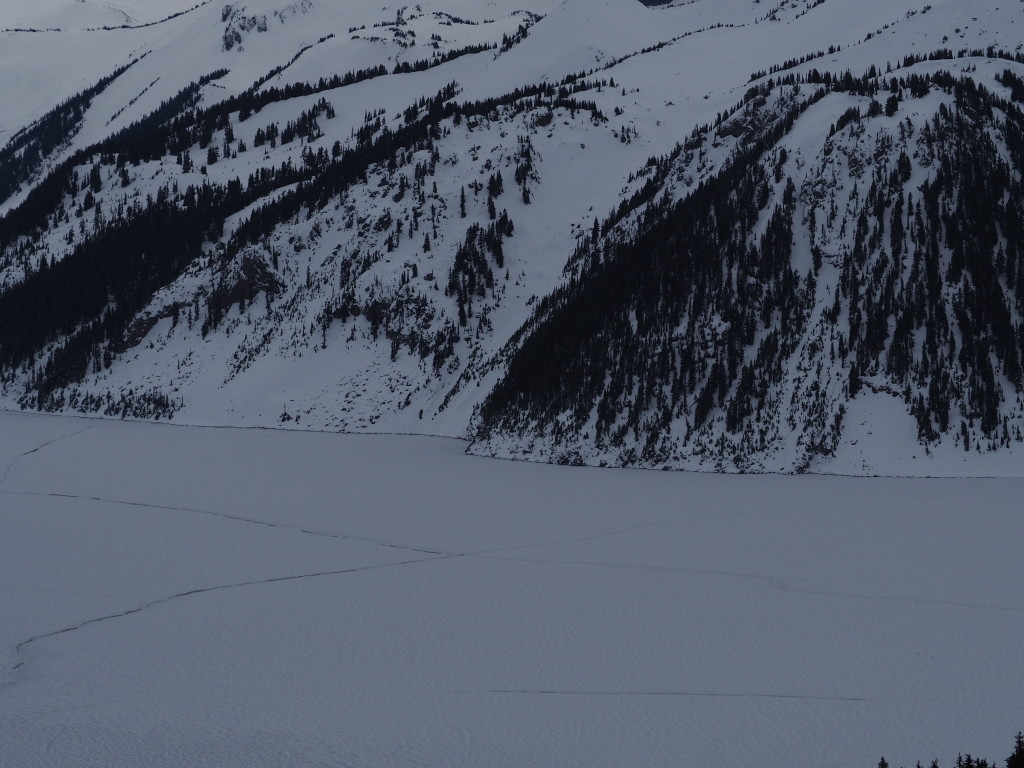 Saying goodbyes to the frozen lake while snow dumped on us (about 20 cm or more by the time we left!), we skied the sketchy switchbacks with a bit more snow than the day before. Anne was the bravest (or the one who cared less about her skis) and skiied quite a ways down. I hit some rocks and so did Jeff. We hiked down from km 4, but it was silly and we should've removed skis earlier.
All in all a great weekend, where we didn't achieve any of our main goals, but got to ski quite a lot on hard snow and got back to winter camping…it had been a while! Hopefully with the storm last week things have improved.
Thanks to all for the great company, and to Flo and Jeff for providing wheels. It wasn't that faffy after all. We will just have to come back next year, perhaps a bit earlier in the season.