Welcome to the story of the annual Womyn's Traverse Bushwhack.
    We (Else, Heather, and Dakotah) are all relatively experienced and wanted an objective with a little bit of adventure and unknown, while keeping with the traverse theme; however, we only had one car – this left us with "loop" options. We shifted our plans from the Whistler area – recent heavy snowfalls would make for slow and dangerous traverse conditions – to the Manning Park area where we happened upon the Skyline Trail, which Baldwin suggests can be made into a 1-2 day 15 km loop. We found almost no other information and we were set to do some trail blazing.
    We picked up Natalie on the way and were very excited to learn that we all had very heavy skis and Fritschie plate bindings! Sweet relief from spending all season with our "light and fast" friends who just can't understand the struggle. Team Fritschie arrived to Manning Park late morning, after some car faff we were skinning down a cat track when Ski Patrol came by. The two male patrollers were weary of our plans and told us we would be walking an extra two km from here and advised us to go to the cross-country trails (an unmarked pull-out with an opening). They also cautioned us that there is poor vis so no helicopter would be coming to get us and they are not responsible for helping backcountry skiers. Slightly deterred, but not enough, we set out for the summer trail, which is completely unmarked in the winter. We kept a mild pace so that we could chat up the mellow trail until we reached the base of the unnamed peak, which the summer trail hugs. We thought about going straight up to the peak and then back down, but remembered the book's line about it being a summer trail and it crossing some avy paths, and decided to hug the peak through the trees, following the GPS map – a decision we would look back on in incredulity and bitterness.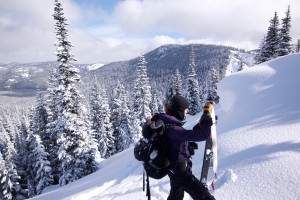 Natalie Makepeace dealing with iced up skins in the most open area we reached – treed trail in the background.
     For about 1 km (that took us 3 hours to complete) we traversed steep slopes, that we either sloughing off beneath our bottom skis, or were mine fields of iced meter deep tree wells, with branches throwing you back every way you went – real type 2 fun. During an unexpected snowfall (5-8cm), we finally made it to our disappointing "alternative" campsite for dinner – on a treed and sloped ridgeline that is the "skyline" – note this is not an alpine ridge, it is not broad, and it does not have many views unless you are poking your head out of the trees. We had a very enjoyable dinner with laughter, wine, and delicious hot chocolate and baileys.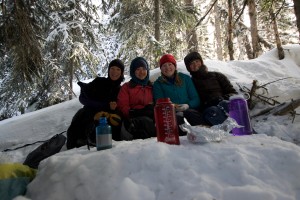 Natalie, Else, Dakotah, and Heather at their dugout kitchen in the forest.
    We ditched our dreams of competing the loop – it looked like it would be a solid bushwhack back with the potential to hit many creeks and decided that we would try to make it to Snow Camp Mountain the next day. Once again, our travel through the sloped and treed ridge was slow and we turned around – with some hysterical laughter since none of us could catch a break from the trees, the steep skin tracks, or our subpar gear failing. We decided we would not hug the ridgeline this time, but to go over the ridge. The way back was wonderful, a very mellow, open treed, and broad ridge brought us to the top of unnamed peak, which we dubbed the Bush Saviour, and then skied down a steep ridgeline with a few convex rolls (these parts were hard to avoid but the snowpack was very settled except for the recent snow was sloughing). After that was a nice 100m run through sparse little treetops. We descended the trail the entire way with some side stepping, but did not need to put skins on, the snow was fluffy and all our worries were behind us.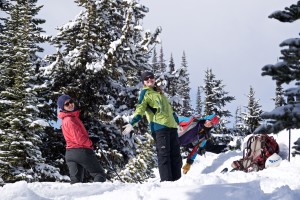 Happy to have sun and a turnaround time! Else, Dakotah, and Natalie.
    Afterwards we wondered if our being 4 women influenced the ski patroller's scepticism of our endeavour; we agreed that this could have influenced them, but this trail was so brutal that he was probably just trying to dissuade us from going to that particular spot. In total we did about 14 km with 750 m gain – we were inspired to do some trail running this summer, but probably won't be back to ski there anytime soon.