All pictures were taken by Josi.
Cerise Creek, the Flavelle Hut and the Anniversary Glacier are all on the boundary of the popular Joffre Lakes Provincial Park, somewhat beyond Pemberton.
Why go there? Carla and I used to take our children there. There's a pretty handy glacier, with not too much driving and not too much walking. VOC used to do glacier school there; I was teaching in 2009. Josi hadn't been there and her drone likes glaciers. We wanted to take Julia somewhere not too difficult, to see some of Canada. Mid-week usually means not crowded. The Authorities, no doubt due to the over-popularity of the Joffre Lakes Provincial Park, and a desire to please the First Nations folks, are planning to emphasize the area as a Nature Conservancy and I expect there will soon be quotas and rules and fees, so better enjoy it before all that happens.
We had one empty seat in the CRV, so we advertised on the VOC web site, and soon we had Akasha to fill the seat. I was excited; I'd never met an Akasha; I looked up the name on the web;  in Urdu-Hindi, Nepali and Bengali, it means "sky".
So, with Carla (driver) Julia and I from our house, Akasha from Campus, and Josi from North Van, we set off to do the big drive, not too early. First stop was the Visitor Center in Squamish because Carla likes it, and they have toilets. Then we drove to Squamish Airport to drop off some things with Blackcomb Helicopter. Then to McDonalds Pemberton because it was lunch time.
At the trail head we found one guy trying to hitch-hike to Quebec, and a van full of ladies from the Czech Republic, who planned to stay at the hut with us. They had three dogs, and the trip was looking like an all ladies trip, except for me.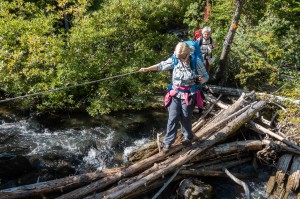 Sketchy Bridge

According to my GPS, the distance to the hut was 4.7kM, and it took us nearly three hours. Eating blueberries slowed us down somewhat. Akasha got bored and went off to climb Vantage. We prepared our nourishing mac'n'cheese and went to bed. Now, it's a nice hut, spacious, clean, solar lighting, outhouse, wood burning heater, but I think I would have slept better in my tent.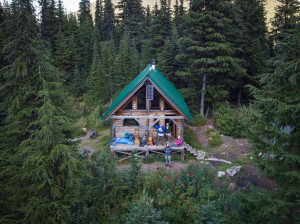 THE HUT
From time to time the dogs could be heard downstairs noisily drinking water. One of them snored. And of course they had to be let out to pee. Eventually morning happened.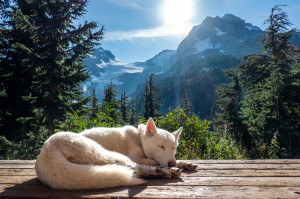 STELLA, or more likely CRYSTAL, THE DOG
We had several objectives. I thought that getting to the glacier might be cool, Josi wanted to fly the drone from the large lateral moraine.
THE VERY LARGE LATERAL MORAINE
A HAPPY DRONE
Carla and I were thinking of heading towards the Vantage Col to see if we could see Mt Snowspider, and Akasha looked like she wanted to climb Joffre. While Josi and Akasha went up the moraine, the rest of us went down the moraine to the lake at the end of the glacier. I found a nice cave under the ice but my photographer was kind of worn out so I got no pictures of beautiful me in the cave.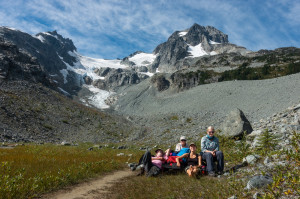 Waiting for Akasha
We sat at the lake for a while wondering if we would ever see Josi and Akasha again, but eventually they came down, and then it was time to head back to the car. Drive home was pretty uneventful. Thanks for driving, Carla.
The saga continues because Julia's jacket got dropped on the trail on the way out. Skilful use of the Internet revealed that it was picked up and is now at the "place of the dogs" up Callaghan Country. An expedition is being organized to retrieve it.