Amidst the chaos of a workhike in which surprisingly little work happened on our behalves, and another couple pretrips occurring simultaneously, we somehow reached a mutual conclusion of a daytrip to the Coleman Glacier and swing some mildly heavy stuff into chunky frozen water. Logistics are discussed, some trips to mec are made, and levels of stoke skyrocket.
It is 3 am. Nobody purchased parking passes for the national forest. Will Smith shoots me(Heather McFadyen) a message that a) him and Seton Kriese are running late, and b) if I could purchase a pass. Unbeknownst to Will, I just moved and do not have a printer. One very chill border crossing later, we meet the other car at the ranger station, who also does not have a parking pass (or a portable printer). It's 5:45 am and the ranger station (to buy passes) wouldn't open until 8. Unwilling to let the early morning slip away from us, the other car drives off to get reception and purchase a pass, and both cars pass info are hastily written on paper and left on the dash for the mercy of gun-tootin' burger-muchin' trailhead-patrollin' rangers.
After reevaluating our stoke levels, the approach hike is an easy uphill, fairly conversational until Will goes "oh yeah, did I forget to mention there are a couple creek crossings?"
I quite like my new boots, but their tread isn't quite as sticky as I'm familiar with, and all of a sudden I'm refilling my face with water. Was the shininess and comfy fit worth it? Zach Lazatin lends me some handy poles and off we go.
We easily gain Heliotrope ridge within 2 hours of setting out.
Shirts are put back on, moraine is ever-lamented, and we find a trail to get down to the ice itself.
Intro to Ice Climbing 101 begins. No syllabus, no homework, no final, just stoke for dayz.
Seton goes off to set some anchors and show us how it's done.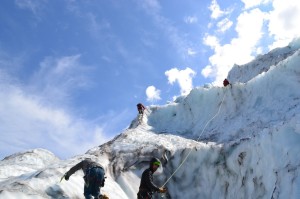 As the day goes on the ice gets somewhat mushy and jackets are worn less and less. The ice became sketchy and we considered heading out early because of a big scary cloud. Jacky pees with the gopro still recording.
A simulated crevasse rescue later, many questions discussed, and fuzzy peaches shared, we start to head out.
We wonder how many more years of global warming this glacier will take and how much ice once filled the valley. The joke goes: we're the golden age for ice climbing; good equipment, and we still have ice!
Will goes back up for a misplaced ice screw, and I start solo up the trail to the ridge. … And wait… … and nobody comes up.An hour later I suppose they must have gone a different route, and have a pleasant trail run back down to the cars. *do not attempt a 5km trail run in new boots
We reconvene at the trailhead, where everyone was just discussing whether 20 minutes waiting on me would be case to go to the ranger station and report it. The food discussion is prompted, and we all agree on crossing the border before eating.
After google maps turned up no results for "sat juno", we call Jacky and Zach back to find out they'd said "fat tuna". Sushi is eaten in copious amounts, religion is debated in even more copious amounts, and the next outing is discussed.
Naturally there's always something left behind in someone's car. Sorry Seton.
seracs = climbed
ropes = explained
knots = discussed
food = eaten
feet = sore
stoke = ready to go again!!!!!
H