By Taniya Adak
I have rightfully taken the honour of writing this trip report as I  have been wanting to go to the Brew hut for long (given that this hut is built and maintained by VOC) and also because it was my first backpacking trip with my husband, Gaurav.
Trip goers included Roland, Ellie, Taniya and Gaurav. We were all picked up by Roland in his new jeep and left the city by 9 am and headed north straight to the trailhead after a short break in Squamish. We took a left turn from highway 99 onto Chance creek FSR, then drove quite a few kilometers with a few specific turns at forks on rough road and crossed some water bars until we were convinced that it was close enough to the trailhead. We started our hike along the steep trail crossing some rocky fields, streams, marshy areas and over the tree roots. It was a pleasant hike as it offers variety and frequent views.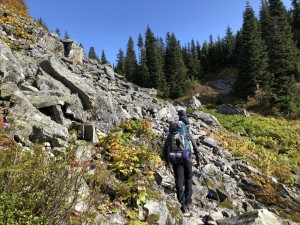 We spotted a variety of mushrooms. We also met a few people going up but mostly as a day hike. The trail was however narrow at times making us appear hidden behind the shrubs from other members.
After about 3 hours of hike that involved multiple short breaks, we were exposed to a subalpine meadow that contained Brew Lake.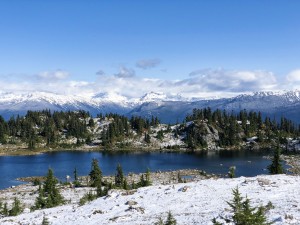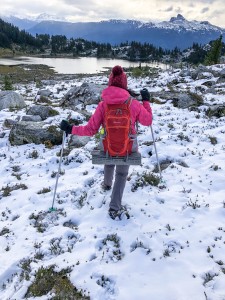 Brew lake was not frozen but was cold enough to discourage the faint hearted to go for a swim. Soon, we started our hike towards the Brew Hut which was still not visible. Rocks were partly covered with snow. We kept moving in a general direction that would take us to the hut. After hiking up some steep rocky fields we reached a beautiful hut on a picturesque ridge. It was windy and cold. We were among the first people to reach the hut which was clean and well insulated. Roland ignited the wood burning furnace.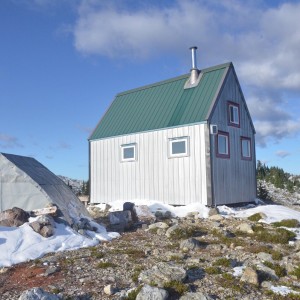 Soon, this hut was filled with warmth from the fireplace and with incoming people who were filled with gratitude for the hut. Indeed, I have never been this comfortable on a backcountry backpacking trip to a cold mountain. Soon enough the hut got filled with about 20 people including two dogs and four children.
One father with two children slept in a tent outside. No points for guessing who he was. I found the location and build of the outhouse great. It was clean (numb your nose). However, it came with an instruction to pedal thrice, which seemed unnecessary. We also moved some wooden log near the hut so that it is less likely to get buried under the snow in the winters.
The sunset was beautiful as it was a clear sky with some clouds that turned pink and orange during dusk. After dark, the wind picked up speed resulting into colder outside. However, the clear night sky on a new moon was out of ordinary, as it revealed zillions of stars. Spectacular! Inside the hut, the two dogs were very friendly and all they needed was some food and petting. Gaurav and I made our first attempts at astrophotography but in vain. We could barely stay outside for 10 mins. We have great appreciation for people who brave the cold winds and sacrifice sleep to capture great shots. Everyone in the hut retired to their sleeping bags by 10 pm. All we could hear was the howling wind outside and the wood- crackling sounds from the fireplace.
Next morning, I woke up with the sounds of hustle only to see that one of the dogs was standing tall on Gaurav's thighs and Gaurav seemed unfazed; he was loving it. Everyone got up soon after that and started with backcountry-feasible chores as preparations to leave began. We had our breakfast, filled up our water bottles from a partly frozen lake and set off.
Descending was uneventful, rather pleasant as it mostly downhill and crossing over the talus field. We got to the car in couple of hours.
Then we set off for Vancouver. We stopped at the Squamish McDonald for a quick lunch and coffee. We were safely dropped at our respective homes by Roland and thus we departed with gratitude for a nice weekend.