After a lot of incertitude about the weather and not seeing pouring rain at 6am, we headed to Squamish! The sky was not looking so bad until we passed Squamish and continued north to go to Electric Avenue. At that point it was raining/drizzling and everything was already seriously wet. However, we were so motivated that after a while waiting for the other car to arrive and wondering what should we do, we decided that the wet wall was not going to stop us. We also considered going back to Smoke Bluffs and climb there, since it is more exposed to the sun and easier to be drier, but we stuck with Electric Avenue.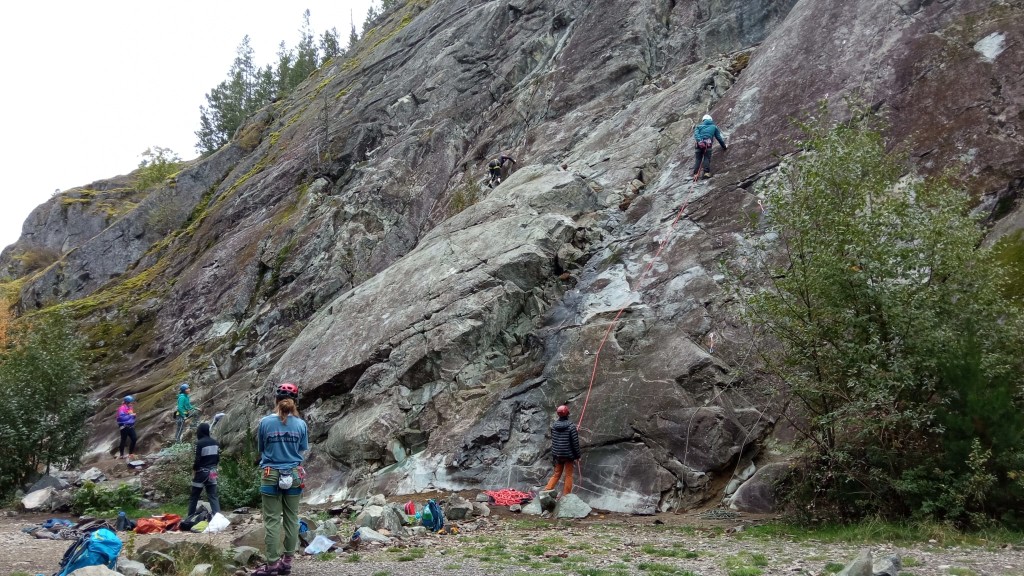 We climbed mostly in the west face, as it was drier. The east wall even had parts with dripping water, ups. But the drizzle stopped for some hours so we had some good fun on the slippery rock soaking our hands from time to time in unexpected puddles in the wall. At the end the brave ones even set a rope in a challenging crack and did some multi-pitch.
Somewhere after 1pm, despite our efforts of ignoring the rain and the cold and imagining a blue sky in our mind, the idea of heading back to Squamish and grabbing some warm Mexican food became more powerful. So we finished cleaning the anchors and went down to the village. When going south it turned out that it was not so wet and rainy in other places over there.
Finally, we enjoyed some burritos and tacos in front of the Chief and returned returned home with good music and tired and happy bodies.