Photos by Lauren Vis.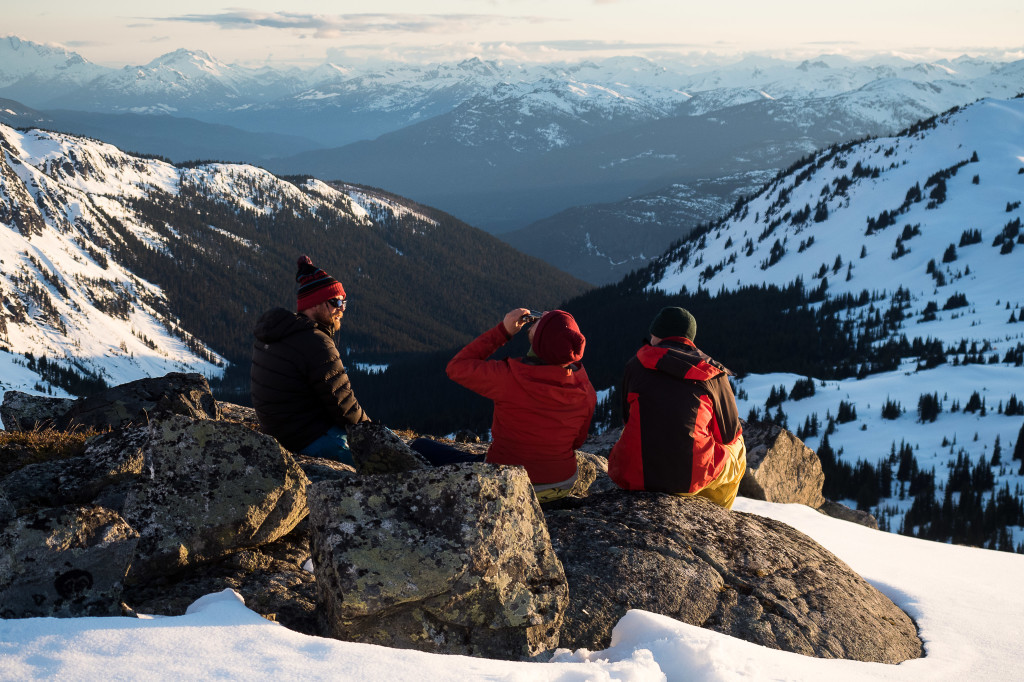 Spring traverses are absolutely my favorite type of skiing, but I've been working on the 'why'. After all, the snow is usually awful, the pack is usually heavy, and you usually go sideways more than down. The root of it all goes back to my first backcountry ski trip on the Neve with the VOC. (VOCJ57 p 271) I was so new to the mountains and just in awe at the scale of it all, and in a way I still am. Skis are such a nice way to move through this humbling terrain under your own power, and moving fluidly out there makes me feel like we are all a part of nature together.
This spring a group of friends was keen to try a route connecting a few mountains in Garibaldi Park, a traverse from Mt Currie to Blackcomb. Or, more accurately, the mountain's names Ts̓zil (Lil'wat) to Cwítima/Kacwítima (Lil'wat) or Sk̲wik̲w (Squamish).  The traverse is most commonly done in the other direction (we would find out why). However with the lifts on Blackcomb closed for the season, the trail on the West side of Mt Currie seemed like an attractive way to gain elevation quickly.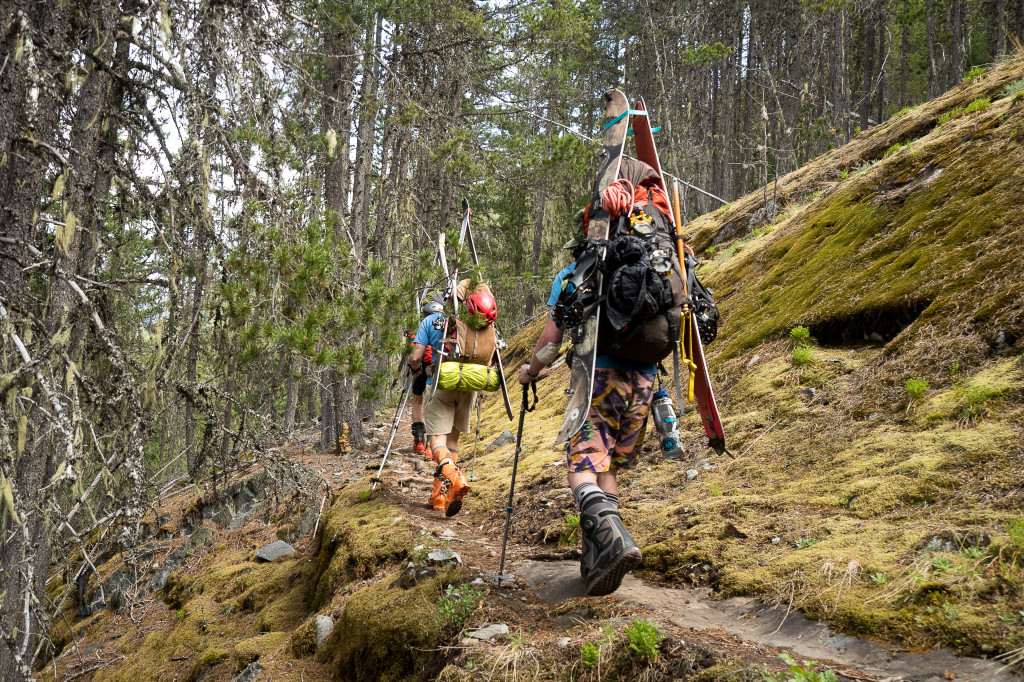 On day 1 we donned our 5 day packs with skis strapped on and walked up from Pemberton to the snowline at around 1300m, thankfully the snow was hard enough to kick steps rather than sink. On a prior trip on the Pemberton Icecap, I had a heck of a time dealing with the snowline where there was not enough snow to ski, but too much snow to walk. In this case we made fine time, and by evening the skis were on our feet where they belong. Of note, this access trail would work fine in either direction. We made our first camp near the treeline at 1750m. We admired ravens flying in a big cloud over our camp, riding the thermals on the ridge leading to Mt Currie.
On this trip were Lauren, Charlie and Will. This was Will's first ski traverse!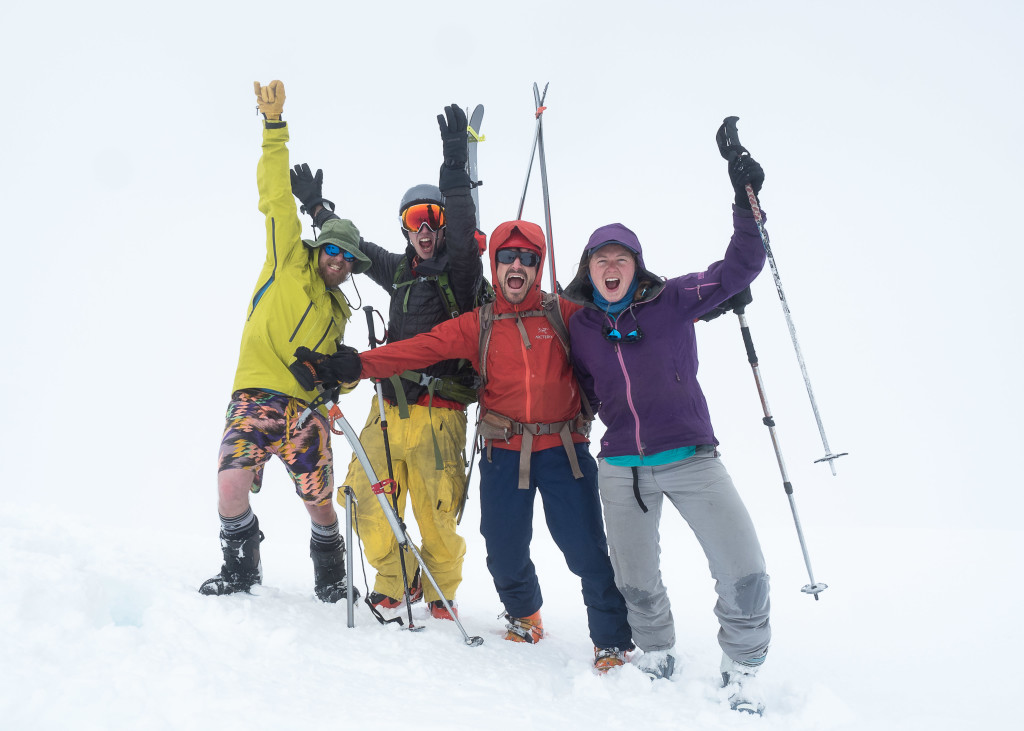 Summit of Mt Currie (Ts̓zil)
The second day we traversed around to the South face of the mountain, dropped our heavy gear, and bootbacked up the 600m face to the summit at 2590m. It was nice to have ice axes, but a bolder party wouldn't necessarily need them. The summit is big enough and we were able to ski directly off the top. Credit to Charlie for convincing me to hike to the true summit rather than being satisfied by simply the col. Visibility was poor on the summit, but shortly we skied out of the cloud and the view opened up to sun beams lighting up the Sea to Sky from Pemberton to Whistler. It was magic to throw turns up there with good friends.
After the descent we bumped our camp along into the Mystery Creek watershed and did rock paper scissors (best of 7) for who would cook dinner. Lauren won! Apparently the ACC hosted a ski camp here for many years, I can see why, it is a beautiful spot.
On Day 3 we donned ski crampons and climbed a small glacier to gain Hibachi Ridge, following the Baldwin route, and worked our way over to the Mystery Glacier. It was painful to go up these awesome North faces rather than down. I can see how a S>N route would give this trip better skiing.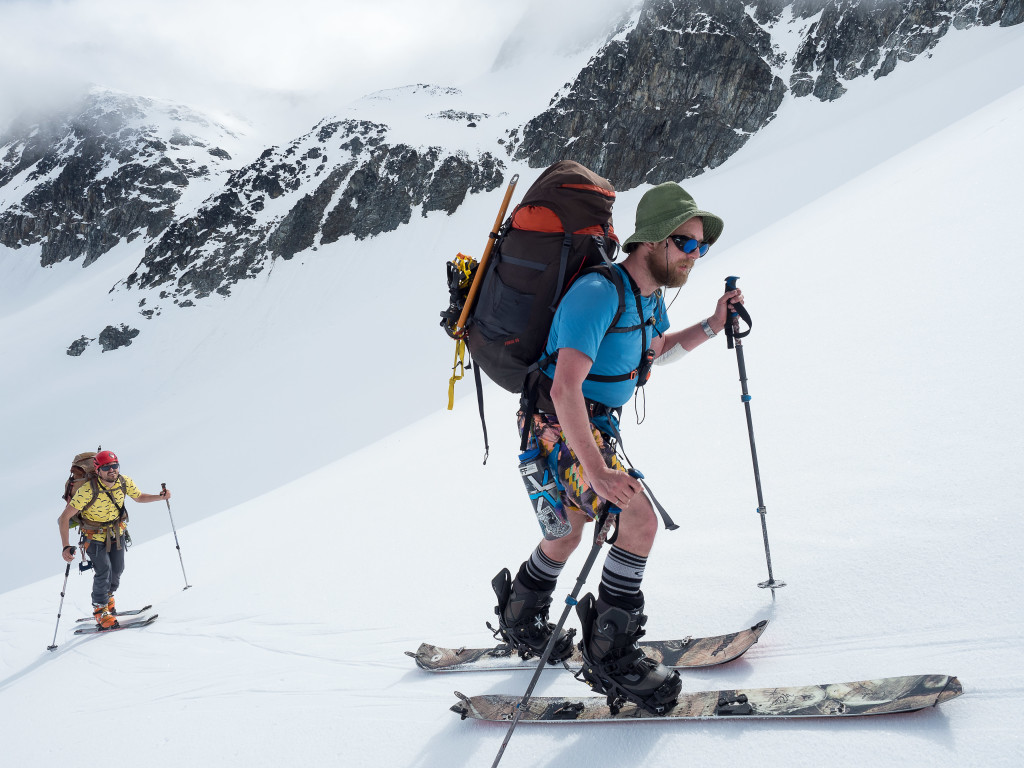 On the way we came to a bump on Hibachi ridge and had to rope up to do some climbing. Charlie led and belayed me up, and while on top we rigged a pully to hall up packs. Next time I would try to stay low and traverse the drainage near the treeline to avoid this obstacle.
When we got to the top of the Mystery Glacier, we got our first sight of the expanse in the distance: the Weart Glacier. The Weart is a 5km by 2km icecap tucked behind Wedge, it is massive and was so great to see this milestone on our journey.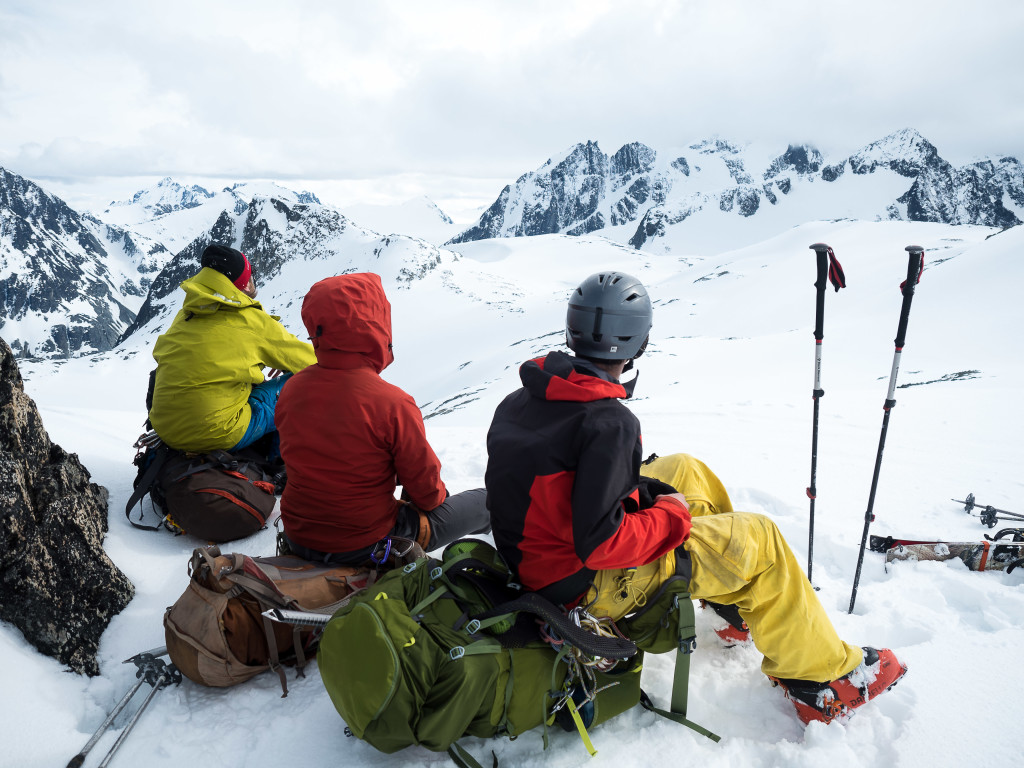 We traversed rolling terrain over to a ridge above the Weart and enjoyed a dinner while admiring the fading light on the glacier. The next morning we motored across to the col directly east of Lesser Wedge, where we dropped our heavy gear and climbed the small peak to the east of the col. It was a good spot to gain some views! We had a party lap on the way back to the packs but vis was in and out.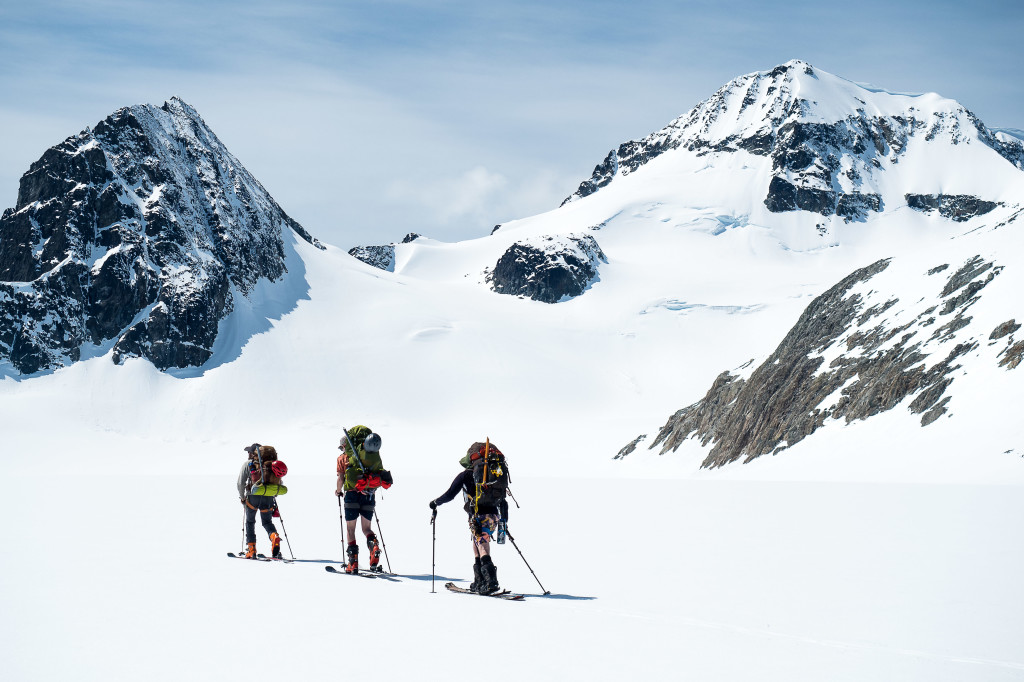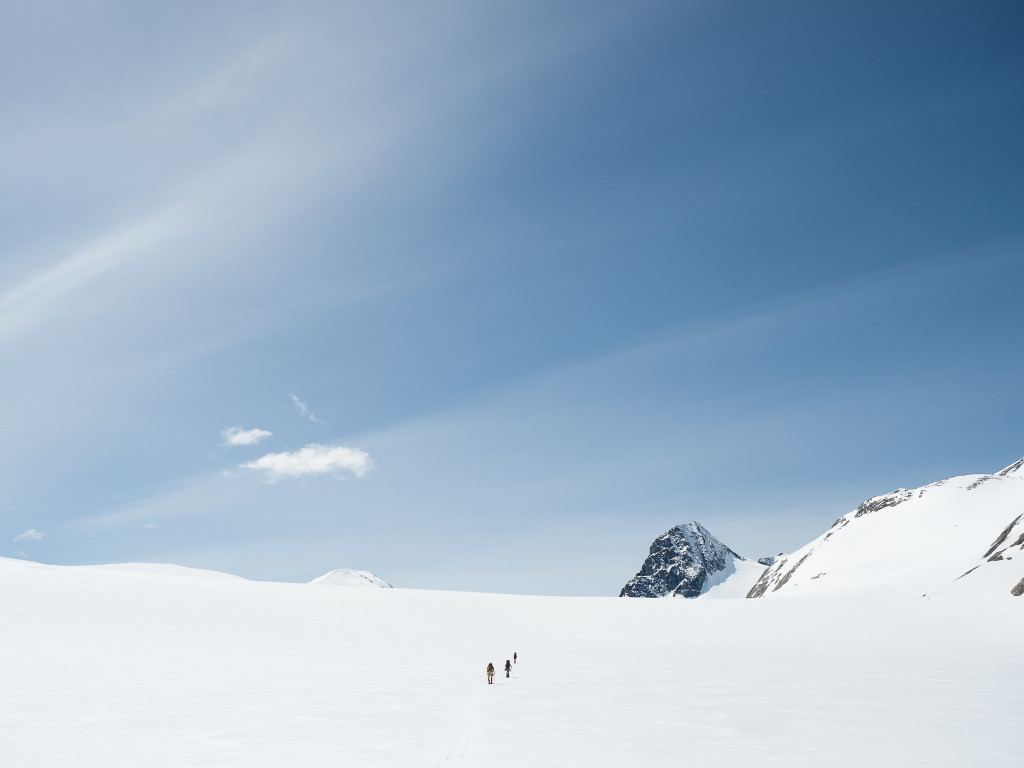 Soon we were descending down to Billygoat Lk, the descent quickly turned into a downhill bushwack as the trees closed in. With skis on our packs we trudged downhill and tried to avoid the cliffs. At the last crux to gain the bottom of the valley, snow collapsed under me and I tumbled into the mud on the valley bottom below. Covered in mud, skis on my pack, I was thinking this is simply classic south coast skiing.
We finally made it to Billygoat Lake where two Goldeneyes were hanging out in one of the only spots of open water on the frozen lake. After all the trials I was happy to see the birds. I've heard that birders have a spark bird, and I think these two may have been mine.
We made camp at Billygoat and enjoyed a lentil dahl on the side of the lake, and then settled in for a very peaceful sleep, blissfully unaware that our most difficult day still remained.
The next & final morning, we awoke to pouring rain on the tent. A sinking feeling settled in my stomach. We had planned to take a high route over to Decker to gain the spearhead, but given pouring rain it did not seem smart to go up into the alpine, because I know from past trips that if you are soaked from rain and it begins to turn to snow it is very difficult to stay warm. I will take all rain or all snow, but both is trouble.
Next bad omen, we discovered that in the night critters had stolen our spoons from the cooking area. I'm serious.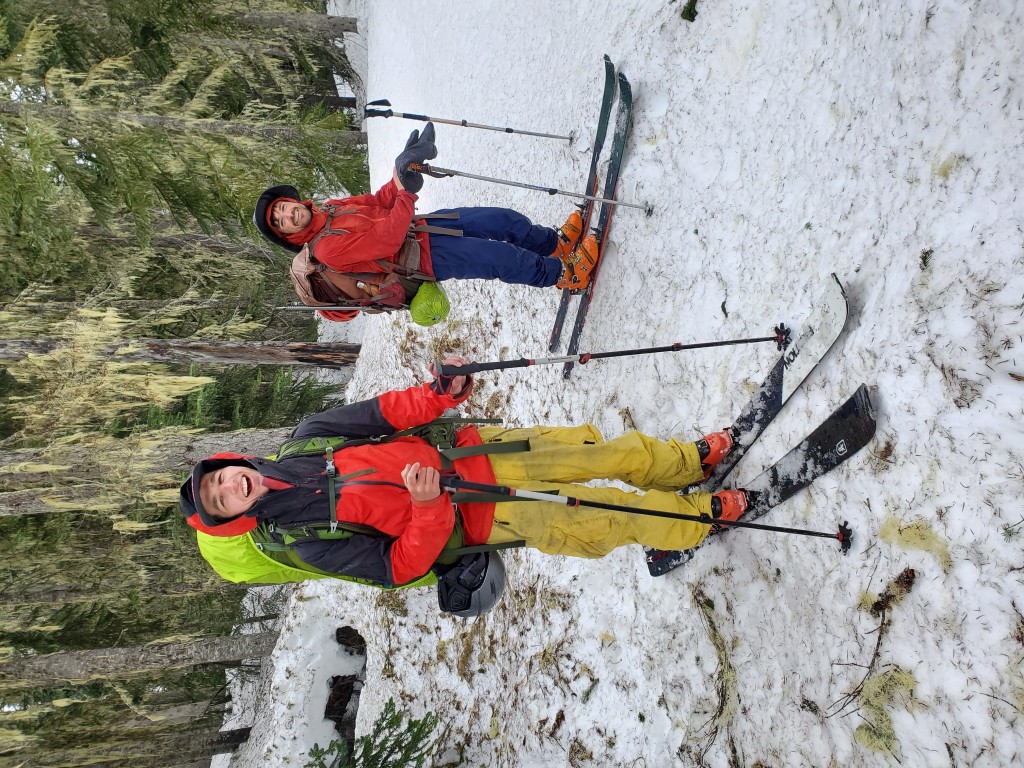 Spoons gone forever we investigated alt options: Baldwin describes a lower route, "About 1 km after crossing the main branch of Wedge Ck., switchback up steep terrain E of Spearhead Ck to gain a bench near treeline at 1700m." Usually if Baldwin says steep it means it means ultra steep & probably only barely skinnable, so we thought this route was probably sandbagged. We discussed how Baldwin is notoriously understated, but given the weather in the apline we decided to go for it.
After leaving the tent everything got very wet very fast. I had forgotten a backpack cover and so Will graciously traded my sleeping essentials into his pack.  I feel like this was a good decision so that if we happened to be forced into staying another night, I would at least have dry sleeping gear.
We got to the Baldwin recommended spot and began switchbacking which quickly turned into a bootpack straight uphill. Still not sure if we did this right. We had to avoid small cliff bands which kept threatening to block our progress, but we did not encounter a section that we could not work around. All of us took a turn breaking trail and our small team dug deep to get it done. Gaining the required 300m here was more difficult than climbing 600m up the face of Mt Currie.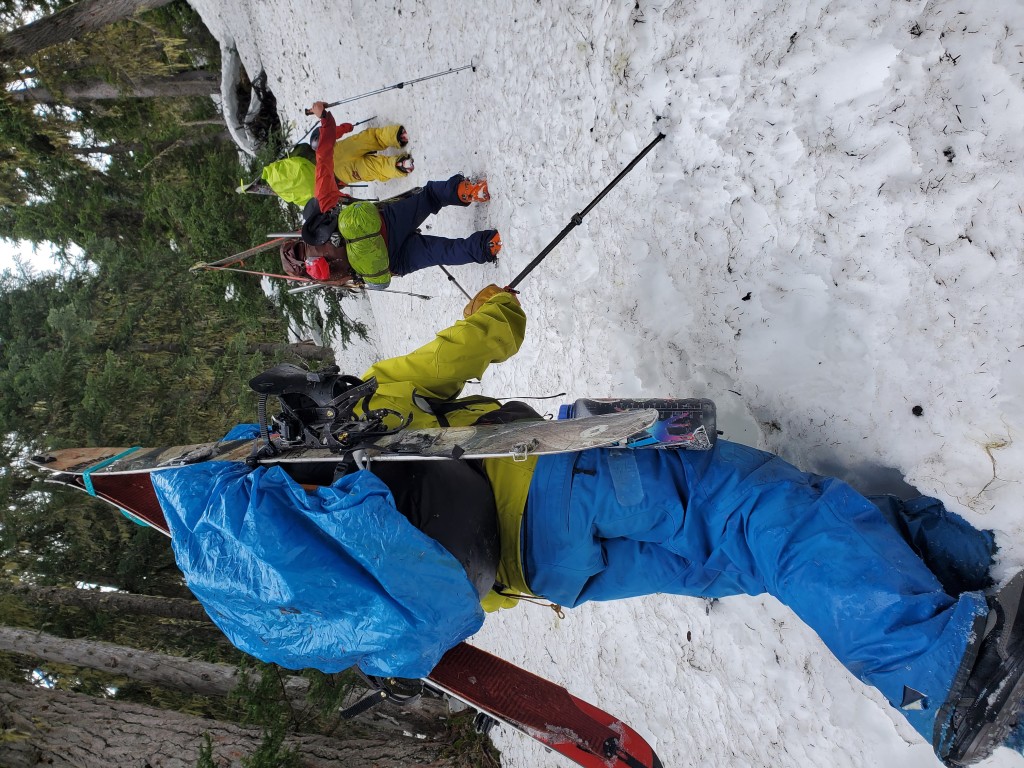 Once on the magic Blackcomb bench at 1700m we screamed, danced, and ate most of our remaining food. Visibility was poor but it was simple to traverse the bench back into the resort, and then we were home free! Nearing the familiar 'poop chutes' we chose a nasty tree descent potentially due to mental fatigue, I'm not sure what the best choice would have been here. However, once in Blackcomb we skied all the way to the parking lot in the sunlight, probably the most pleasurable ski out Blackcomb I've ever experienced.