Rather than bore you with details, I'll just do a quick sketch of the highlights. I offered to supply my Jeep if we were short of cars, and we seemed to be short.  My doctors all agreed that I could not go unless I got a driver, as I'd probably fall asleep and get all my passengers killed.  An excellent driver did the driving except for a small bit where I drove over a sharp rock and destroyed a tire. I paid $ 182.95 for gas and another $1k for new tires. I've twice emailed the VOC Treasurer to find out whether I will get reimbursed by VOC for the $182.95, but so far I got no reply.  Maybe Treasurer is busy.  Anya did an incredible job of organizing the participants with their various speed restrictions, snowshoes versus skis, having to work on holidays etc. 
We did a lot of hurry up and wait. I saw four black bears and one grizzly at Callaghan, but others in our group claimed 15 bears. The grizzly was eating grass, as there was nothing else up yet. Imagine waking up after 5 months hibernating with nothing to eat, and finding you now have babies and only grass for breakfast!  A tasty human would be welcome.  While we were waiting at Callaghan we encountered several van-loads of tourists who had paid $170 to see bears.  At Pemberton we had the usual cultural experience dining at Macdonalds.  The Jeep got extra points for having a chain saw attached to the roof rack.

Friday night, we slept at the 2km gate, as planned.  I slept in the Jeep.  We decided to get up at 6am but at 5:45 I decided to open the Jeep door and this set of the "Car is being stolen" alarm.  Not a nice way to be woken up.We had keys for the gates, but we did not need the keys as somebody with a big truck had ripped off the locks.
The walk to the hut was 4 km longer this year because some recent snow blocked the road. I mostly stayed where our cars parked, ate my pumpkin pie and read my murder mysteries. As we were parked 1.5 km from Meager Hot Spring I was very tempted but did not want to give the Club a bad reputation with the Authorities. Covid reared its ugly head as Cassandra was too sick to go and Lucy had a persistent sore throat. Lucy decided to not do the traverse, so Alberto decided to not do the traverse, and then several others decided that not doing the traverse was a good idea. As to the work accomplished at the hut, you will have to ask others, as I wasn't there.  Back at the cars Morgan said that the skiing was perfectly awful but she planned to do the fall trip, on just boots.  Everybody I asked wished they had used snowshoes instead of skis.

I made several mistakes. I found I could not break my resilient eight person chocolate Easter bunny with an ice axe so I ended up eating four portions myself, which left me feeling a bit ill. My sleeping bag was not warm enough (2C at the Jeep Sunday morning). I didn't bring enough warm clothes. Of course if you are car camping and sleeping in the Jeep, you can always turn on the heater.  No trip report is complete without a picture, so here's one of logging stuff waiting to release its carbon dioxide into the sky to do the global warming thing.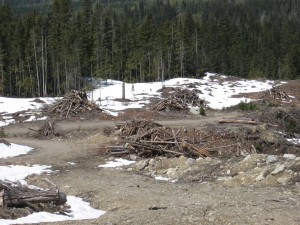 Free the Carbon.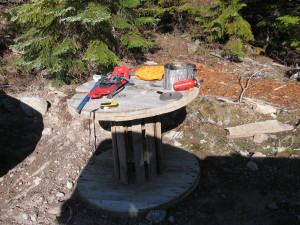 Coffee table at campsite.