Trip date: January 9 – 14, 2023
Trip participants: Nick Hindley, Steve Stosky, Sam McEwen, Esther Li, Duncan Pawson, Val Fazio, Alissa Butcher, Natasha Beaulac, Nick Brown, Graham Haber, Tara Hartzell, Matt Hill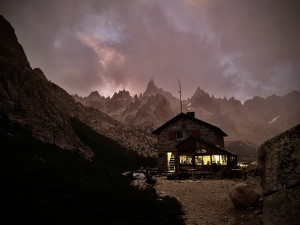 Frey is an alpine area in the northern part of Argentina's Patagonia region, just outside of the town of San Carlos de Bariloche. It consists of two idyllic alpine cirques, rimmed with over a dozen granite spires – or in Spanish, Agujas, which is more fun to say. Laguna (lake) Toncek lies in the main cirque, with Refugio Frey situated at it's northern end. The refugio is a stone structure with a catered kitchen, dining/chilling space, and sleeping area upstairs. Pesos are lighter than beer, so I'm a strong proponent of the euro-style model they've adopted here; post-climb prepared dinner and cold beverages at your disposal.
Jan 9 – I arrived in Bariloche around 1700, following a 23 hour bus ride, of which I slept for about 18 hours. Solid. Nick Brown and I caught a taxi from downtown Bariloche to the trailhead at Villa Cerro Catedral. We set out around 2100 and arrived at the refugio a few hours later.
Jan 10 – In the morning I poked around at various tents in search of others from our group who had, and would continue to, gradually filter into Frey over the next couple days. All of our group had been in attendance at Duncan and Val's wedding in Val's hometown of Mar Del Plata, on the East coast of Argentina, a few days prior. Many familiar faces from BC (and the VOC) managed to shake off the wedding hangover and punch it to Frey on a quick turnaround.
Eventually I tracked down Sam McEwen and we began to scheme the day's objective. We settled on Ñaca Ñaca Crunch Crunch (4p, 5.9) on Aguja Abuelo, and followed this with Del Techo (4p, 10c) on the same spire. An interesting highlight of the day came atop p2 of the latter route, mantling onto a ledge, then throwing wide stems and hand jams to climb past a small cave, evident to be a condor's hangout spot. Andean condors are the largest flying bird in the world, so I'm glad no one was home as I thrutched upwards.
Jan 11 – The night was windy as all hell. It died down significantly come morning, but whitecaps still swelled across the small lake as we set off around 0900. Steve Stosky joined our rope team and we hiked two hours across to the far cirque to get on Imagínate (5p, 5.10) on Campinile Esloveno. This is an epic route. It sports the standard Frey sandbag, making for some highly engaging climbing. I was glad to not be on lead as Steve quested up two runout pitches; across a wide undercling traverse, then through extremely exposed face climbing. The granite is solid and highly varied; featuring flakes, knobby face climbing, beautiful cracks, and fun huecos towards the top. The giant hueco belay station atop pitch 3 is a particular treat. We crested onto the top of the spire and didn't waste time before rapping down, eager to regain the shelter of the east face from the cold wind.
Jan 12 – Duncan Pawson, Sam, and I hiked across to the upper cirque again, this time climbing Buch-Goin (4p, 5.9+) on Campinile's south face. Meanwhile Nick and Steve did the second ascent of Quatro Queso (6p, 5.12a) on El Gruyere, which had been established by friends Paul Mcsorely and Jojo Das a couple weeks prior.
Jan 13 – My final full day in Frey was spent on Frey's most classic route; Sifuentes-Weber (4p, 5.9) on Aguja Frey. A stones throw away from the refugio, Esther, Steve and I delighted in fun climbing and a vista over the lake. The winds had finally died down enough for the condors to return. They soared above and below us, riding thermals and occasionally casting their immense shadows across the warm granite in front of us. We finished the day with a much needed swim in the cold water of Laguna Toncek, and beers in the refugio.
Jan 14 – Alissa Butcher, Natasha Beaulac, Nick, and I hiked out to the town of Villa Los Coihues. Following a half day rest, resupply, and nudey dip in the river, we headed to the airport, bound for El Chalten for the next leg of our Patagonia adventures.