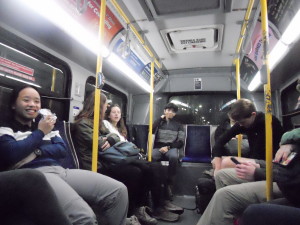 The first of many highlights would be the 6:30am meet up at the 14 Hastings bus stop at UBC where there were many early morning commuters that boarded the bus surprised to see many jovial UBC students in outdoor attire sitting at the back.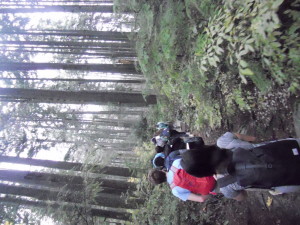 The beginning, minutes in after the trailhead, finally getting to stretch our legs.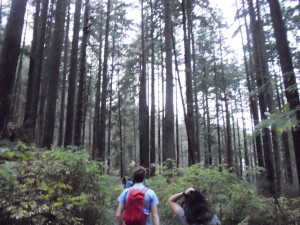 With the elevation and the mist, it was hard to see how high up we were, but the trail was nicely laid out with many markers on trees and twigs. It was reassuring to realize these tags were reflective which would have made it easily identifiable if it got dark because all one needed was a headlamp to spot them to navigate their way back.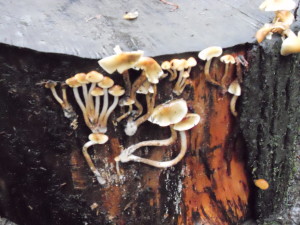 Identifying mushrooms along the way. This was of some interest of mine, building from the curiosity of wild mushrooms from a previous hike.
Duncan was very knowledgeable about trees and adept at finding large ones. This was the first of three large trees we got up close and personal with. This one turned out to be hollow – perhaps made up of two trees? It could fit 7.2 UBC students. (the .2 being a part of someones leg)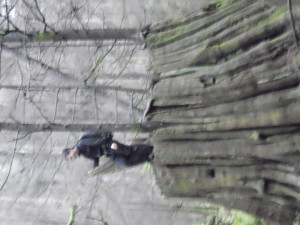 History of early settler logging.
In the end, we all made it back safe and sound. It was the first time for most of us to see trees so old and so large. It was a good experience and I can see myself go again. After we had reached the waterfall, a group decided to explore further up the waterfall and another group decided to return back to the trailhead and back home. It is a beginner friendly hike and a beautiful chance to get some fresh air and be in a magical and ancient forest.