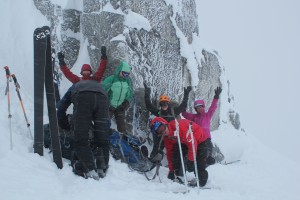 The not-quite-the-summit-yet-shot taken by Scott MacPherson.
Veronika Schmitt, Anne Vialettes, Nicole Ong, Steffen Randahl, Scott MacPherson, Andrew Hill, Isabel Verse, Thomas Vogel, Jake Alleyne, Anna Stemberger, Thierry Heger, Adriana Muja.
Anne and Veronika organised a great trip up to Mt. Rohr! The 12 VOCers meet at the trailhead at 9.30 am. Thanks to our great driver Adriana, we had a reasonable start time in town. I enthusiastically put on the skins, all motivated to get ready…wrong way around, because my skis are equally pointy both ways:-)
After the faffing around is done, the group of fabulous VOCers heads out on the trail. It is an easy start on the logging road leading into the forest. After an hour or so we find a nice meadow for snacking, chatting, waiting for the rest of the group. We are then following some tracks in the snow, leading up a bloody steep section. After already falling over my skis on the easy bits of the way, I kind of get into the groove by then. So I ignore the steepness and pretend I have been doing nothing else in my life then skiing so far ( but truly it's been just the last one month of it). But then, Jake seduces me to take the upper part of the two tracks, catching my attention with mentioning that there is water on the upper track. Of course, that sounds good, because I feel thirsty. But then, what do I see? This waterfall- like thing, that seems impossible to ski over. After negotiating with myself whether to go back and take the lower and easier track or forth I decide to just throw myself at it, already seeing myself breaking the ice-bridge over the waterfall and taking a refreshing bath. I indeed had a refreshing faceplant at this point, but the ice withstood my impact. Excellent. So on we go. We then arrive at the first lake. While hanging out there waiting for the rest to catch up, we have awesome conversation about cheese, skiing, quality food, tar sands.
A bit above the lake we then build our camp. It is early, maybe two pm. Quickly we put up tents, toilet and kitchen, to have time for a few runs before the night catches up. The good skiers are putting their tracks into this beautiful and steep slope. Veronika, Steffen and me find our slope a bit lower. Scott is taking care of finding a nice line for telemark newbies.
Time for dinner in our wonderful kitchen. Veronika and Anne spend some time on top of the table making announcements and plans for the next day and for passing along delicious shared drinks in original glass bottles. Thanks guys;-)
7.30 am next day. The first group is taking off to approach Mt. Rohr. It is pretty white everywhere, it is a bit windy. And off we go. It is a nice skin up. Anne, Veronika, Scott and Thierry break trail. It is getting steeper and higher. Nicole's GPS says we are at 2100 m. We continue, not really seeing much more then white, sometimes we see a rock higher up. A very refreshing breeze is getting more intense the higher we get. At the big rock we saw earlier and probably only 100-200 m from the summit the group decides to turn around because visibility is poor and conditions are not precisely comforting. Of course some of us have the motivation to go up nevertheless but are awesome and relaxed enough to keep the groups interest in mind.
Skiing down is awesome. It is my first time really doing a bigger slope in the backcountry and generally and now I am hooked. Much less scary then I am thinking it would be on the skin up, when looking down.
On the way back we meet the second group which started later. People now follow their interests, skiing or going back to camp.
At around 12 pm we leave the camp to go down. We reach the part that already has been bloody steep on the way up. This time we have another slope than the waterfall slope. It is great fun to ski and fall it down, luckily the snow conditions are really stable that weekend. The good skiers put some beautiful lines into the snow of that slope, and then the rest of us comes and well, I'd say lines do not look that pretty afterwards anymore;-) Anne takes some time to teach tele skiing. Adriana then leads the way down through the trees, Jake watches the end of that part of the group. It is a bit tricky and icy, but we all make it, maybe collecting some bruises here and there, but you gotta have something to show off with afterwards, eh.
The first people arrive at the cars and we then wait for Veronika and Scott who are taking care that the rest of the group is arriving safely.
Time for food and beer. We meet at the Howe Sound Brewery in Squamish. But we are not the only ones that are hungry. There is also rats that are hungry, and this time they have chosen Veronikas fleece to chew on overnight in the car. A big whole is showing at her elbow.
An awesome trip is over. Writing this now, it is three days later and I am still smiling, because it made me so happy. Thanks to the organizers Anne and Veronika for putting up this wonderful trip and keeping everyone together and thanks to the advanced people for looking out for the beginners!