Mt. Matier
Veronika Schmitt, Todd Mackenzie, Charlie Beard, Erica Lay, Knut Kitching
Good weather and low avalanche danger made the decision to climb Mt. Matier easy.
It was around 7 am when Todd, Charlie and I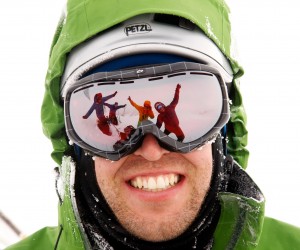 picked up Knut, who was still busy with packing. We then met Erica, who was wearing her new red jacket, which apparently has perfectly sized pockets for skins. A coffee stop at Tim Hortons and washroom stop at the gas station in Pemberton were mandatory and we eventually made it to the trailhead by a reasonably late 11 am. Knut started stressfully packing his backpack while eating breakfast and preparing lunch sandwiches on his skis.
I was manually assessing whether Erica's chest pockets were really big enough for skins. My conclusion was that, if you don't have massive powder skis and/or a big rack, you might be lucky and actually fit skins in them. Just before locking the car, I intelligently suggested to bring Voilé straps on the trip (this sentence will gain more importance later).
The weather was very nice and sunny. In general one would bring sunglasses; Todd brings his case without sunglasses and prefers to borrow them from me, because he doesn't want to get snow blind. Joffre Peak looked very nice and I was daydreaming about skiing the central couloir.
We arrived at Keith's Hut around 2 pm and the sunny ambience convinced us to take a nice family-like picture in front of the hut. Charlie was totally flirting with the camera. From our lunching position we observed the awesome Anniversary Glacier and decided to ski it after lunch. Erica, Knut, Todd and I pitched our tents quickly, which gave Charlie, who had decided to sleep in the hut, enough time to break his binding. Thanks to my glorious idea to bring lots of Voilé straps and the excellent problem solving skills of the group, we managed to strap Charlie's heel into his bindings so he could skin and ski but should refrain from bailing. Charlie is an excellent skier, so we were confident and started our afternoon skiing mission. The run was great, actually it was awesome. I didn't even bail, which made me extraordinarily happy.
After that, I was hungry. Luckily Todd brought ingredients for cheese fondue, which we followed with surprisingly tasty vegan brownies, prepared and carried up by Erica for my birthday. Very delicious.. She even brought candles, which turned out to be less tasty than the brownies. We had lots of food and a bit of ukulele music. Keith's hut is generally very busy and this weekend it seemed that there was a pot meeting, at 9.15 pm everybody left to smoke pot outside.
We wanted to start at 6.30 the next morning but we left at 7.30. I think that is pretty normal with a big group of five… Some guy in the hut said his friends left at 4.30 to climb Mt. Matier. That's a bit early I thought, they must have still been stoned or really slow, or both. We reached their high point after 1.5 h, just when they started to ski down Anniversary Glacier. I figured they were not going to climb Matier, but I was actually also unsure if we would, as we skied into a cloud. We reached the Col and very soon after had to take off our skis to start boot packing up the NW face.
 The weather wasn't bad; from time to time we could see little bits of blue sky and wind blown snow around the peak above us. The summit ridge was very nice in these alternating weather conditions, though I thought it would be easier to get there! When we started kicking steps up, the snow seemed to cooperate well. Later, the slope became icy and very sketchy without crampons. I remembered a guy in the hut asking me if we were bringing crampons and I told him that we wouldn't climb if conditions were bad. The ice was close to the summit, so Todd spent some extra time to carve very nice stairs up the icy part. Erica didn't feel that well so she and Knut turned around to wait for us back where we dropped our skis.
I also felt like turning around, because my fingers got very cold, but then Charlie took over the lead and soon we made it over the sketchy part to better snow. Walking along the summit ridge was very beautiful and we had a little lunch sitting on the partly sunny and cloudy summit. Once in a while a mountain poked through the clouds, I don't know which mountain it was; it looked like Mt. Baker, but was due North of our summit. We were a bit scared of climbing down, because the steps we kicked on the way up were unpleasant to descend. We soon met the others, with Erica proudly sitting in Knut's survival bivi bag after a quite challenging downclimb, especially if you are on the verge of passing out.
We put on our skis and appreciated the nice snow on another beautiful run down Anniversary Glacier.
After packing and relaxing in the hut we began the challenging ski out from the hut on icy and crusty skin tracks. We reached the car perfectly at 5 pm just as the sun dipped below the horizon.
Was snow problem!