Participants: Katherine Valentine, Nick Matwyuk, Artem Bylinskii, Samuel Mckoy, Jessica Litman, Kate Wootton and Helene Gylling
The trip started saturday morning, promissing late (6.20) with a drive to Pemberton to pick up Sam. The convoy consisted off 2 cars (not bambi, aka my car) since we the previous night had determined that the Hurley road better be driven in a car with a functional CV joint. This resulted in drivers Artem and Nick having a very fun ride up to about where we thought was the start of a road, supposed to lead us closer to the trail head. After a good 15 min drive, we realize that we are in the wrong valley and have to turn-around. We continue up the hurley in such a speed that we miss the actual road. So after this turn-around we start getting suspicious that maybe we are not actually getting lost, cause the drivers are having a little too much fun for this to be coinc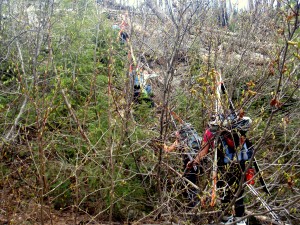 idence..
Anyways, we finally make it on the right road but have to stop about 4 km before the trailhead because of the roads condition. Up we go with skis strapped to the packs. Not far up the road, we approach a small creek which we think is where the trail starts, and start bushwacking up a steep hill with burned out trees (which color your lighter trousers!!).
On the top of the hill, just when the last person (me) arrives, it is suddenly clear that we, once again, are in the wrong valley.. Allthough this time we only have to follow the logging road quite a bit longer to get around the mountain. So once we actually reach the trailhead, people (me) start to get hungry and we stop for lunch before heading up towards Waterfalls peak. At this point we put on skis and skins (swonshoes in Katherines case, which I'll return to later), and get on with it.
A few hours, and what appears to me, several altitude meters later, I find myself in a deep crisis (lack of energy and fitness) and we stop to take a longer break. It was the original plan to camp at the lake close to the peak, but since the wind was quite strong we end up camping just a few meters from the place we had the break. During the last few meters up to this camping place we see what we think might have been a wolf on the top of a cornice. This was later reinforced when we go up on this cornice to have a run down a slope we had picked out during the break.
https://picasaweb.google.com/113078006779202719184/201206WaterfallsPeak?authkey=Gv1sRgCPnBhYzJzZ7m2wE#5750794462915528530
The run was not wery impressive though. Quite icy at the top only to then become breakable crust. We quickly give up skiing for the day, allthough Artem and Nick decide to give the crust a go with some nice drops. I guess the most impressive thing about this is when Artem manages to roll quite a few times coming down, but in the end, stands up with his hat still attached to his head! ->see link to Nicks pics above for a nice photosequence of the event:)
It was our hope and plan that Katherine during this run had managed to set up the camp and obviously made dinner since she couldn't ski with her snowshoes. We return to the spot deeply disappointed though.. We soon get the camp set up and start cooking dinner. Or rather Kate, Jess and I start to cook dinner, since some of the VOCs most experienced and hard-core persons after several attemps do not manage to start their stove, for which they had no pot either. But of course the shovel made the stove slide, the gas-suction in the bottle was misplaced and the ignition tool did not work. So I mean, it wasn't their fault that it took them just about 20 minutes to start the stove after help from our lighter. However I will defend Katherine on this one since she had no part of the stove faff, being way to busy laughing at the boys with us!
After a mixd experience with sleeping in a snowcave/circus-tent, we set of the next day to summit Waterfalls peak. The weather was pretty bad, but we put our faith in Sams prediction of sun later on, and put on sunscreen. On the way to the summit Nick, Artem and I decided to take a smaller detour down a slope which looked pretty damn good. This turned out to be a right observation since the slope was facing north and had accumulated the small amount of snow which had fallen during the night, thanks to the wind direction. The result was a perfect angle slope with a solid crust under 5 cm of new powder! Nick and I ended up spending most of the day just skiing up and down this beautiful hill while Katherine (still on snowshoes) and Artem attempted a hike over a ridge, and Kate, Jess and Sam went out to explore.
We left the mountain around 3pm and had a really nice run down until we reached the trees and the snow became really wet. This slowed us considerably down to a pace where it was almost possible for a snowshoer to follow (which ment that Katherine of course could keep up). The plan was to go to Sam's place and have a BBQ when we got to Pemberton, but it ended up being pretty late and we decided to go to Mile One for dinner.
On top of this awesome weekend I finally saw a bear on the drive back. I guess  Vancouver just has it all; skiing in June, awesome people, fun roads, amazing wildlife and still a lot to learn…